Mister wanted french toast this morning, and I'll be honest. I didn't feel like making it.
In fact, he specifically asked for coconut flour flatbread french toast, and I had never before concocted such a thing.
It sounded amazing, really. It also sounded like a bit more work than what I was feeling up to…being in the throes of a wicked allergy attack lately.
I found myself wishing I fed my kids boxed cereal.
I was tempted to tell him to go find whatever in the fridge and eat it.
But the more I thought about coconut flour flatbread french toast…and a lazy an easy way to make it, the more motivated I became to actually cook something today. So, off to the kitchen I went.
It took a couple of tries to get this "right", but thankfully Mister, my Research Assistant, is always up for helping with the testing and QC phases of recipe development.
This Spiced Coconut Flour Skillet Cake is grain/gluten/sugar/dairy free.
Don't panic…it is not flavor free at all. It's lovely with a nice hot cup of tea or your favorite coffee.
We don't have a dairy issue here so we put butter on top of our Spiced Coconut Flour Skillet Cake. But if butter is a no-no in your house, you could spread some delicious virgin coconut oil on top, or even coconut butter.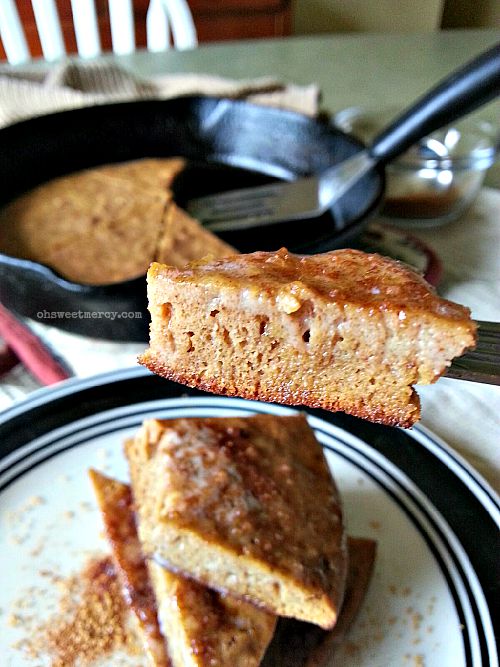 I haven't tried making it egg free, but you could possibly try it with your favorite egg substitute. I have used this chia egg replacer in other recipes before and it works pretty well.
If you've made my Homemade Chai Spice Blend, you could use this instead of the individual spices listed in the recipe. Start with a half teaspoon and adjust to suit your tastes.
Coconut flour can be a little finicky.
The thing to remember about coconut flour is that it is a THIRSTY little guy. It soaks up a lot of liquid and begs for more. I've found that the absorbency of coconut flour varies from brand to brand and even lot to lot.
The amount of liquid in this recipe worked perfectly for the coconut flour I have – it's an organic coconut flour from a local bulk foods store. I don't know the brand.
You may need more or less liquid, but the batter should end up being like a slightly thick pancake batter. The picture below isn't the greatest but it should give you an idea what your batter should look like.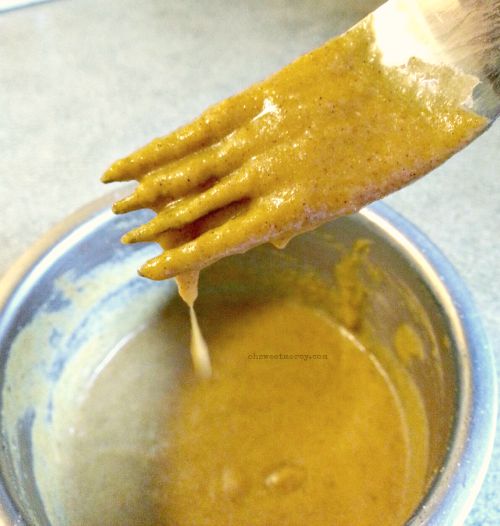 This Spiced Coconut Flour Skillet Cake can be getting in your belly in about 15 minutes.
Preheat a small cast iron skillet (mine is about 8 inches across, like this one) while you're mixing up the batter. When water sizzles and skitters across the surface of the pan it's good to go. This skillet cake cooks in about 9 minutes on my electric stove with the burner set to medium heat.
Top it with butter and some "cinnamon sugar" made with 1 teaspoon of xylitol and 1/2 tsp of ground cinnamon. Or whipped cream. Or stevia-sweetened Greek yogurt. The cream cheese "frosting" I use on my Dark Chocolate Coconut Cake in a Mug would also be delicious.
I love not counting calories on the Trim Healthy Mama plan, but here's some nutrition info if you're into that sort of thing.
This Spiced Coconut Flour Skillet Cake is a nice, solid S recipe. That means it's higher in healthy fats and low in carbs. This probably falls into the Heavy S range so you won't want to eat it after a big, fatty meal.
If you have it for breakfast, be sure to include a bit more protein with it as it doesn't quite have enough protein to be considered a meal. Remember you want your meals centered around 20 grams of protein. Eating a half cup of 0% Greek yogurt would do the trick.
Curious about why I don't have to count calories and I'm still losing weight? Check out my Trim Healthy Mama Review and my One Year Trimmaversary update!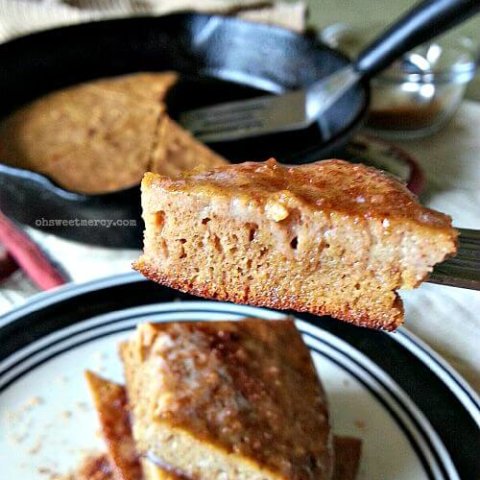 Spiced Coconut Flour Skillet Cake | THM S, Low Carb, Keto
Yield: 1 to 2 servings
Prep Time: 7 minutes
Cook Time: 12 minutes
Total Time: 19 minutes
A delicious, low carb, grain/gluten/sugar/dairy free skillet cake that cooks quickly, right on your stove top! Made with healthy coconut flour and coconut oil, it's a delicious and satisfying low carb treat.
Ingredients
For the Skillet Cake
2 eggs
2 Tbs coconut flour
1/4 c unsweetened almond milk
1 tsp coconut oil
1/2 tsp pure vanilla extract
1/2 tsp baking powder
1/2 tsp cinnamon
1/8 tsp cardamom
1/8 tsp ginger
1/8 tsp nutmeg
1/8 tsp cloves
Dash of sea salt
Sweetener of choice (I used 3 packets of an erythritol/monkfruit sweetener as I was out of stevia)
Additional coconut oil for the skillet
Cinnamon "Sugar" Topping
1 tsp xylitol or granulated stevia blend such as THM Gentle Sweet
1/2 tsp cinnamon
Instructions
Preheat an 8-inch cast iron skillet on a low burner on your stovetop while mixing the batter.
In a small bowl, whisk together two eggs.
Add coconut flour, baking powder, sweetener, spices and sea salt. Mix well, it will become very thick.
Add almond milk, mixing gently until smooth. Add more almond milk or coconut flour as needed, in small amounts, until you achieve a thick pancake batter consistency.
Add coconut oil and vanilla, mix well.
Turn burner to medium heat. When water sizzles and dances across the bottom of the skillet, it is ready.
Add about 1 tsp coconut oil to the skillet and coat the entire bottom.
Gently pour batter into skillet
After about 3 minutes, cover the skillet with a lid.
Cook 9 more minutes, or until completely cooked through.
While skillet cake is cooking, mix together the Cinnamon "Sugar" Topping ingredients.
Top cooked skillet cake with butter, coconut oil, coconut butter, yogurt, whipped cream or other desired toppings and sprinkle with Cinnamon "Sugar" Topping before serving.
Recommended Products
As an Amazon Associate and member of other affiliate programs, I earn from qualifying purchases.
Nutrition Information:
Amount Per Serving:
Calories: 254
Cholesterol: 0mg
Sodium: 0mg
Carbohydrates: 9g
Fiber: 5g
Sugar: 0g
Protein: 14g
Be Sure to Pin This Spiced Coconut Flour Skillet Cake Recipe to Your Favorite Boards!