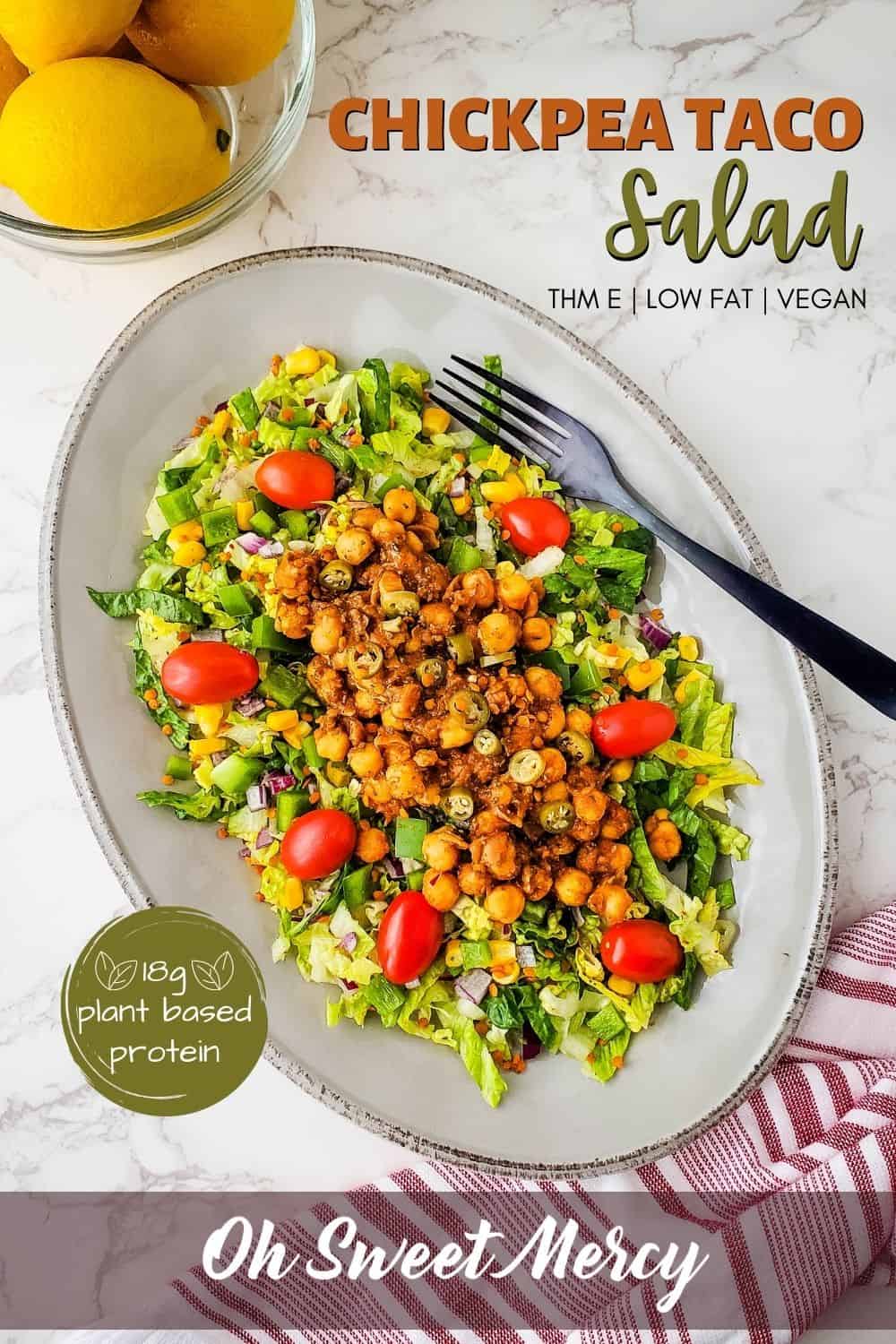 ---
Want more plant based meals in your menu? Give my low fat Chickpea Taco Salad a try! It's super easy to make and filled with all the taco flavor goodness you love. Crispy, crunchy, and lightly dressed, it's a low fat, healthy carb THM E meal that's delicious meatless, or with lean grilled chicken or fish for added protein if you like.
---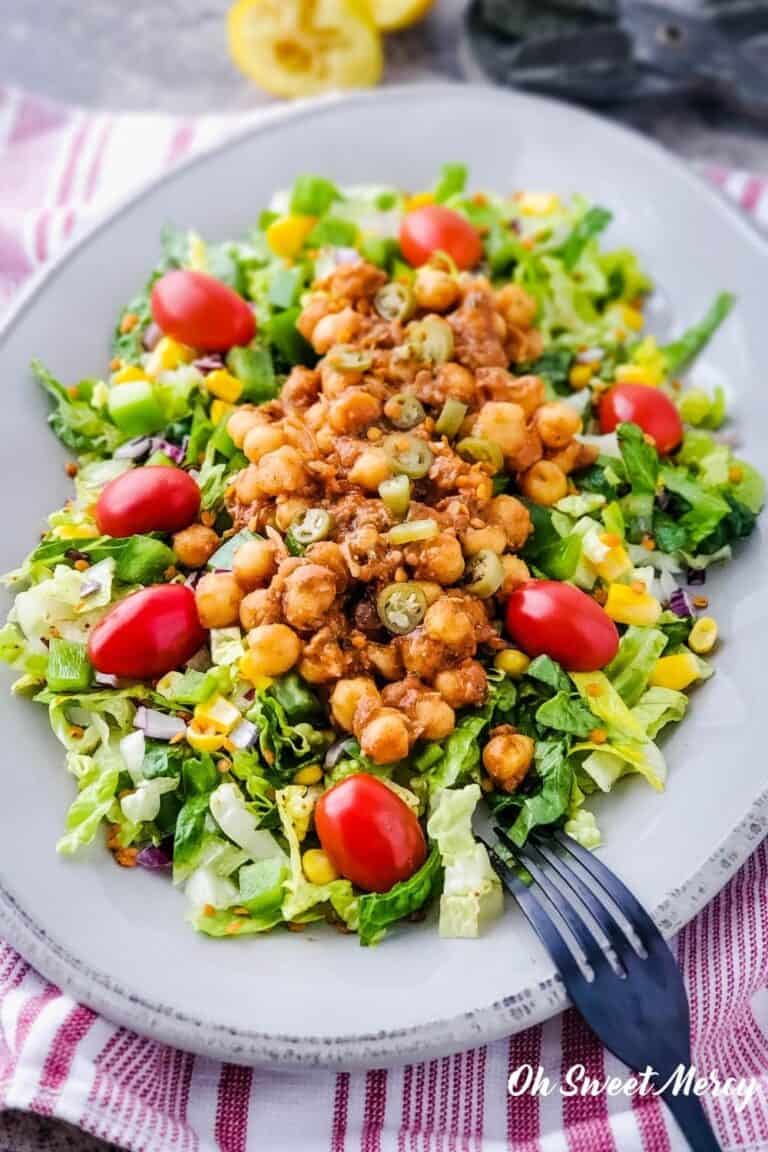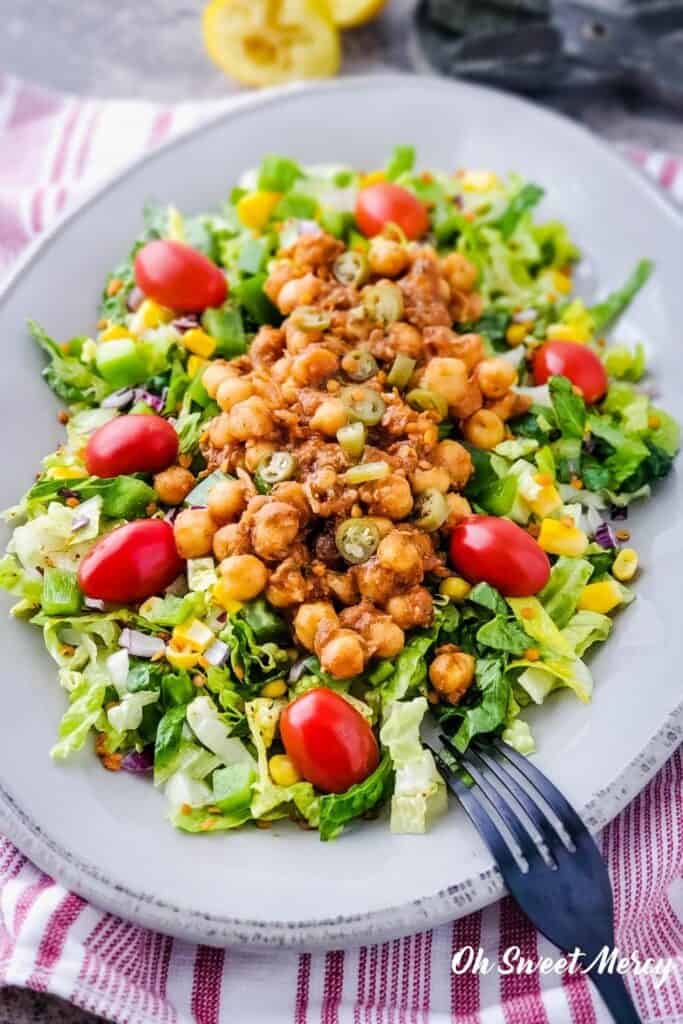 Since I began incorporating more meatless and entirely plant-based meals in my days I find I feel better overall. Legumes, like chickpeas, are a great source of plant-based protein.
Lentils are my most favorite, btw, and I have some yummy lentil recipes for you to try:
Red Lentil and Delicata Squash Soup THM E, vegan and allergy friendly
Lentil Burgers Even Carnivores Will Love – THM E, vegan
Crunchy Roasted Red Lentils – THM E, vegan, allergy friendly
And, my most favorite black beans ever, just because:
Chili Lime Black Beans in the Instant Pot THM E, vegan, allergy friendly
Really, you could use any kind of legumes in this vegan taco salad recipe. I just love the creaminess of chickpeas and their subtle nutty, earthy flavor.
You'll see how easy this healthy, fresh, THM taco salad recipe is below. No special ingredients needed, either!
What Do I Need For This Recipe?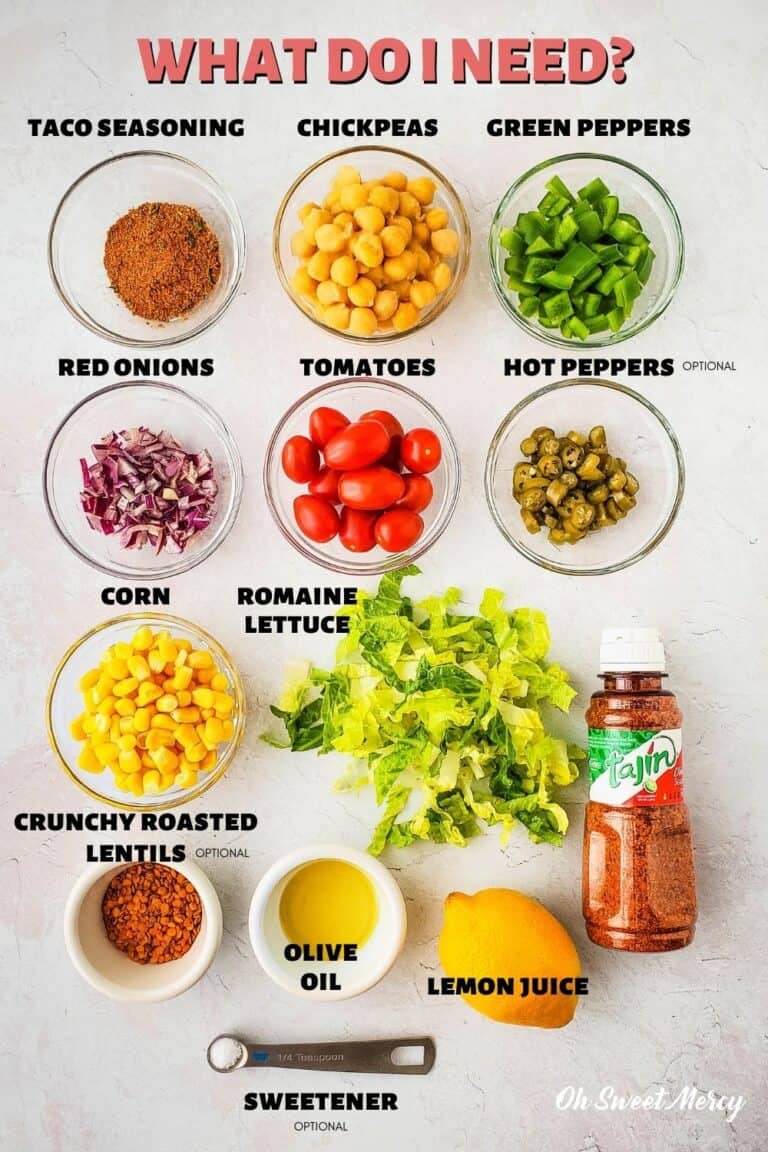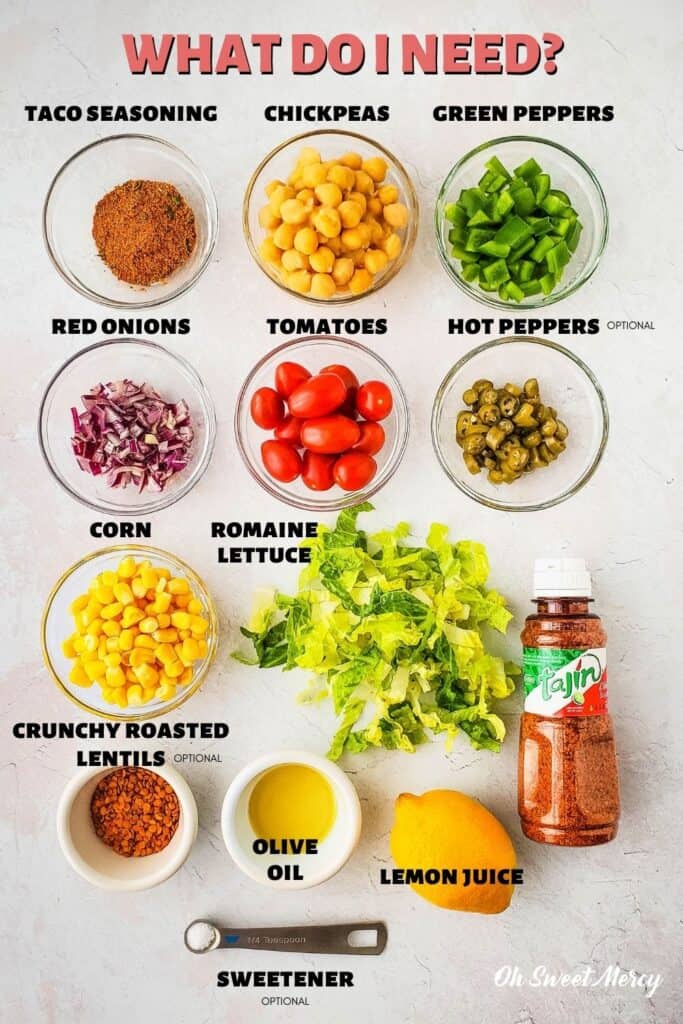 Chickpeas (or any cooked dry beans/legumes)
Taco seasoning (try my easy Healthy Homemade Taco Seasoning instead of store bought)
Romaine lettuce
Tomatoes
Red onions (or yellow onions or green onions)
Peppers
Spicy peppers such as fresh or pickled jalapeno or Serrano peppers
Corn
My Crunchy Roasted Red Lentils or crushed tortilla chips (be sure to use on-plan chips for THM)
Salsa, pico de gallo, taco sauce, or hot sauce (optional)
If you can have dairy, fat free Greek yogurt works in place of sour cream
The Instant Cheese Sauce from Trim Healthy Future (page 380) would also be a fantastic dairy free option
You'll also make a simple light dressing using:
Fresh lemon juice (bottled is ok but fresh is best)
Olive oil (or you can use MCT oil or even omit it if you want for an oil free salad)
Tajin (or cumin, chili powder, or other taco-inspired seasoning)
Pinch of sweetener (optional)
Salt
That's it! You don't even have to cook anything! However, I do find the chickpea taco mixture has the best flavor if you warm up the chickpeas and taco seasoning with a bit of water, then allow it to cool.
But, if you're in a hurry just skip that step and mix the taco seasoning into your chickpeas. Be sure to drain them if using canned.
What About Protein In Chickpea Taco Salad?
Chickpeas are a great source of plant-based protein. One cup has 12 grams of protein. This salad, as written below, contains close to 20 grams of protein (recommended by the Trim Healthy Mama plan) at 18 grams of plant protein!
For me, this is a satisfying meal and I don't feel the need for more protein. However, you may need extra protein with your THM E meals and that's fine. It's easy to add lean protein to this meal, like grilled chicken breast or ground turkey.
See my recommendations below for adding protein to this meal on your THM menu.
How To Fit This Tasty Low Fat Chickpea Taco Salad Into Your Trim Healthy Mama Menu This Week.
Always consult the Trim Healthy Mama Plan Book for the most accurate information on how to put your meals together.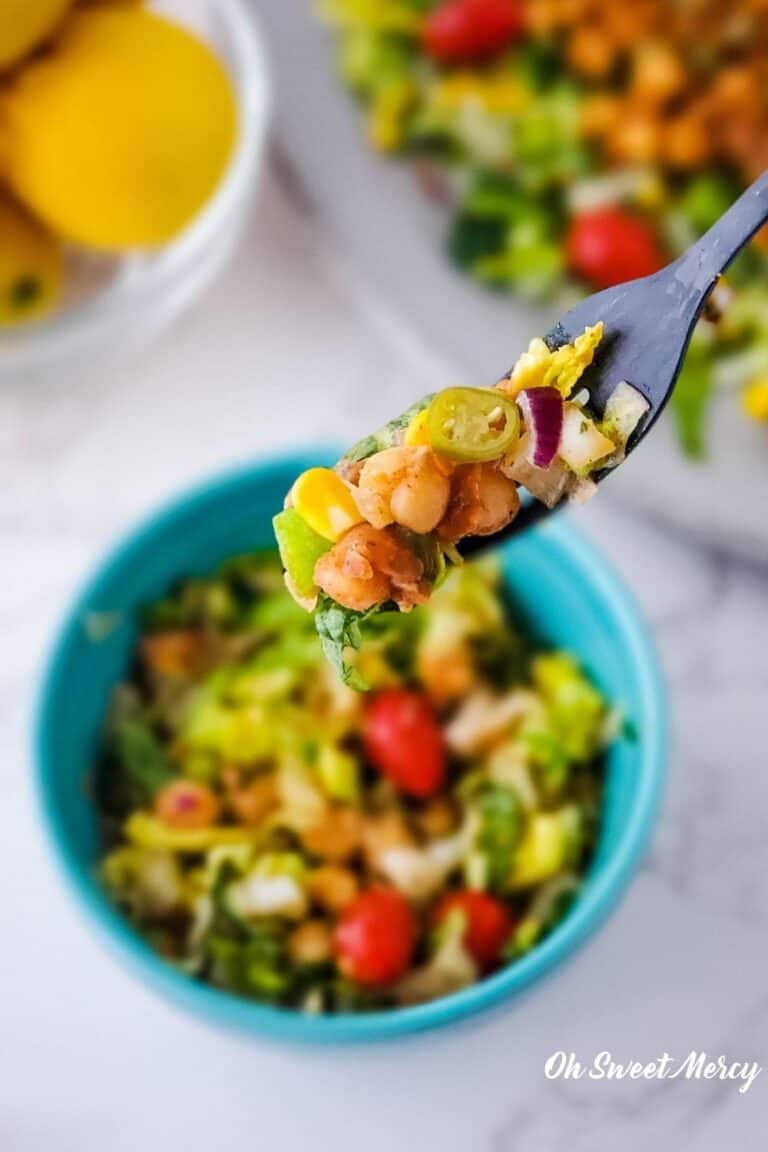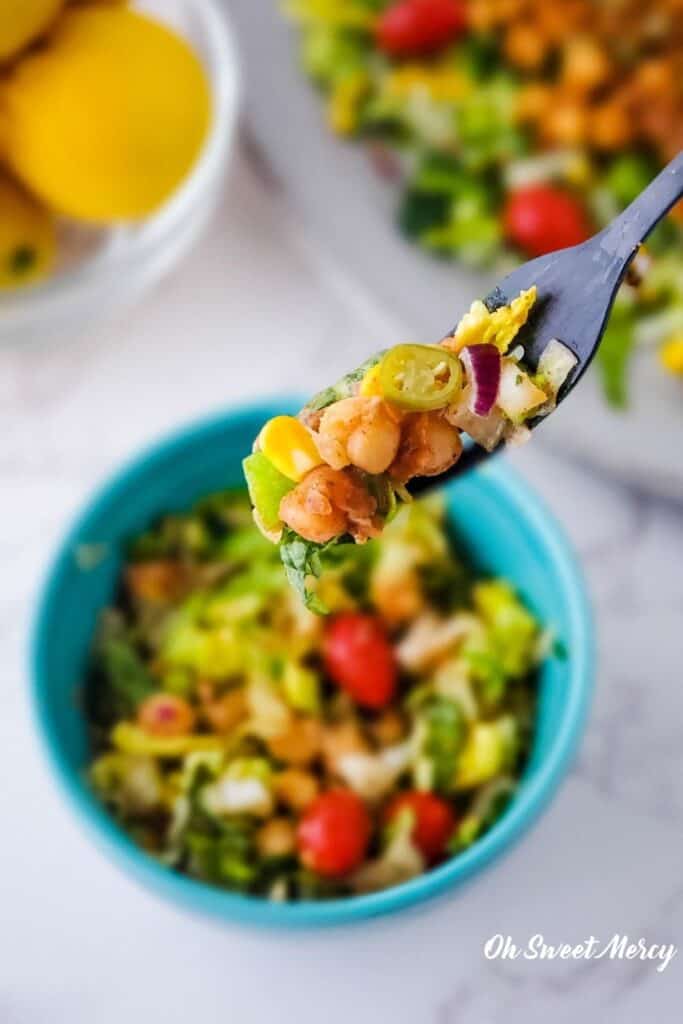 When you're eating a meal that's low fat, flavor and texture make a huge difference! I love the crunch in this salad from the veggies. Adding crunchy roasted lentils gives it more crunch, but it's still delicious without them.
And if you love spicy foods throw those pickled jalapenos (or whatever your favorite hot peppers are – I love making these Pickled Serrano Peppers, but with a THM sweetener) on there.
As written, this healthy low fat taco salad makes a great meatless and dairy free option. However, if you can have dairy low fat Greek yogurt is a terrific replacement for sour cream.
If a dairy free taco salad is what you need, vegan sour cream could work just watch the fat grams to keep your salad within THM E guidelines. Omitting the oil to make room for the sour cream is an option.
In addition, keep in mind that Crossovers (XO) are still on plan! If you really, really love taco salad this may be where you splurge on a Crossover now and then. Use a bit more oil to dress the salad. Add some cheese. Don't count how many Popcorners you crunch over your salad (just keep it reasonable).
Enjoy it!
Adding More Protein To This Meal.
If you need more protein in your meal here's a few ways to do that:
Add lean grilled chicken
Mix in cooked ground turkey breast with the chickpeas
Omit the oil in the salad and make a Fuel Pull smoothie with added protein, like my Dairy Free Chocolate Chip Shake.
Have Collagen Berry Whip from the Trim Healthy Mama Cookbook, page 375 – omit the MCT oil
Adding a plant-based protein powder to a smoothie, shake, or other beverage (or a dessert recipe) keeps this an entirely plant-based meal. My absolute favorite plant protein powder is the new THM Creamy Dreamy Plant Protein Powder.
I hope this gives you some ideas on how to enjoy this salad in a way that works for you. Enjoy the fresh, crisp, crunch of this easy low fat salad!
PIN IT!
Pin this yummy THM friendly recipe to your favorite Pinterest boards with the image below: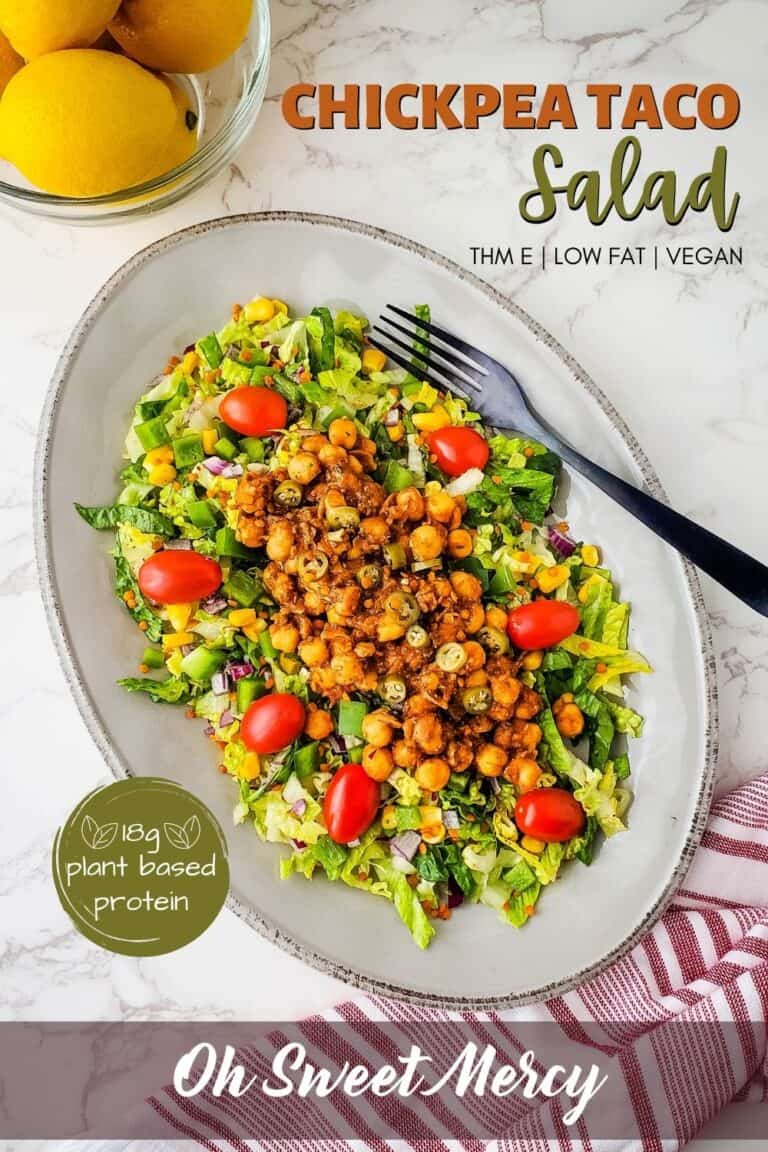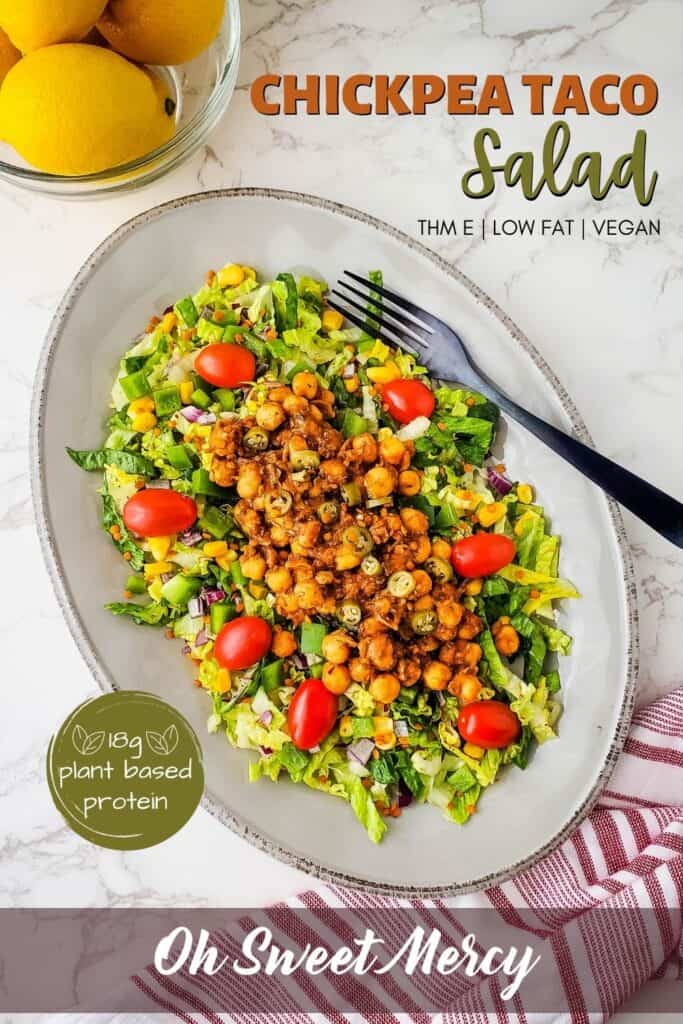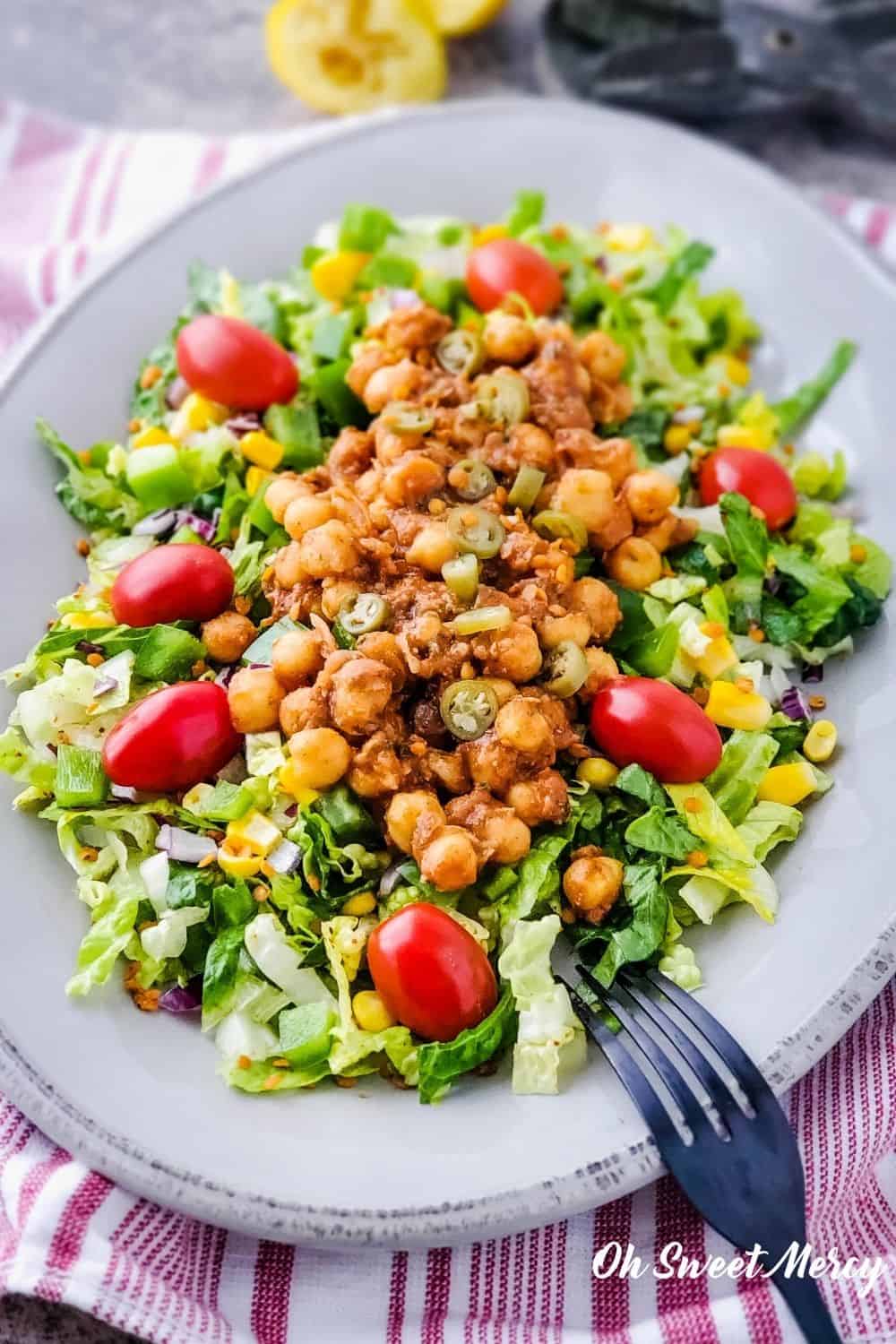 Chickpea Taco Salad | THM E, Vegan
Easy, low fat, flavorful chickpea taco salad is a vegan THM E choice anyone will love. Crunchy veggies, taco seasoned creamy chickpeas, a little spicy pepper (if you like), all tossed in a simple vinaigrette.
Dairy free, nut free, gluten free.
Ingredients
1 cup chickpeas, cooked (or use canned) and drained
2 to 3 tablespoons water (optional)
4 cups romaine lettuce, thinly sliced
1 teaspoon olive oil
1 tablespoon lemon juice
1/2 teaspoon Tajin
Pinch or two of on-plan sweetener, to taste or optional
1/2 cup cherry tomatoes
1/4 cup green peppers, diced
2 tablespoons onions, diced
2 tablespoons corn kernels
Pink Himalayan salt, as desired
Jalapenos, pickled Serrano peppers, etc. if desired
Taco sauce or hot sauce, if desired
Instructions
If your're warming the chickpeas, add them to a pan along with the taco seasoning and 2 to 3 tablespoons of water. Stir and warm over medium heat for 5 minutes and remove from heat while preparing the rest of the recipe.
If not warming the chickpeas, combine the chickpeas and taco seasoning and set aside.
In a big salad or mixing bowl, add lettuce, olive oil, lemon juice, Tajin (or chili powder, cumin or other taco type seasonings, if desired), and pinch or two of sweetener, if desired. Mix well to coat the lettuce.
Add peppers, onions, tomatoes, corn, etc. then top with seasoned chickpeas.
Garnish with Crunchy Roasted Red Lentils (or regular brown lentils) or a few Popcorners for crunch, salsa, taco sauce or hot sauce, or other on-plan taco salad toppings.
If you want more protein, add grilled chicken breast.
Notes
Nutrition Info Notes.
For Trim Healthy Mama, we only count the ADDED fats in our THM E meals. The nutrition info below shows more than 5 grams of fat, but that calculation includes fats naturally present in the ingredients.
If you use 1 teaspoon of olive oil (or less) this falls within the THM E guidelines.
You can omit the oil all together if you want something else in your meal with added fats. Add salsa, taco, or hot sauce for more flavor.
Nutrition Information:
Yield: 1
Serving Size: 1 recipe
Amount Per Serving:
Calories: 340
Total Fat: 10g
Saturated Fat: 1g
Trans Fat: 0g
Unsaturated Fat: 7g
Cholesterol: 0mg
Sodium: 780mg
Carbohydrates: 54g
Net Carbohydrates: 35g
Fiber: 19g
Sugar: 7g
Protein: 18g
Nutrition information is approximate and based on the best knowledge available at the time of recipe publication. Your results may vary due to differences in ingredients. You can make your own calculations if this recipe does not include nutrition info by using an online calculator such as https://recipes.sparkpeople.com/recipe-calculator.asp