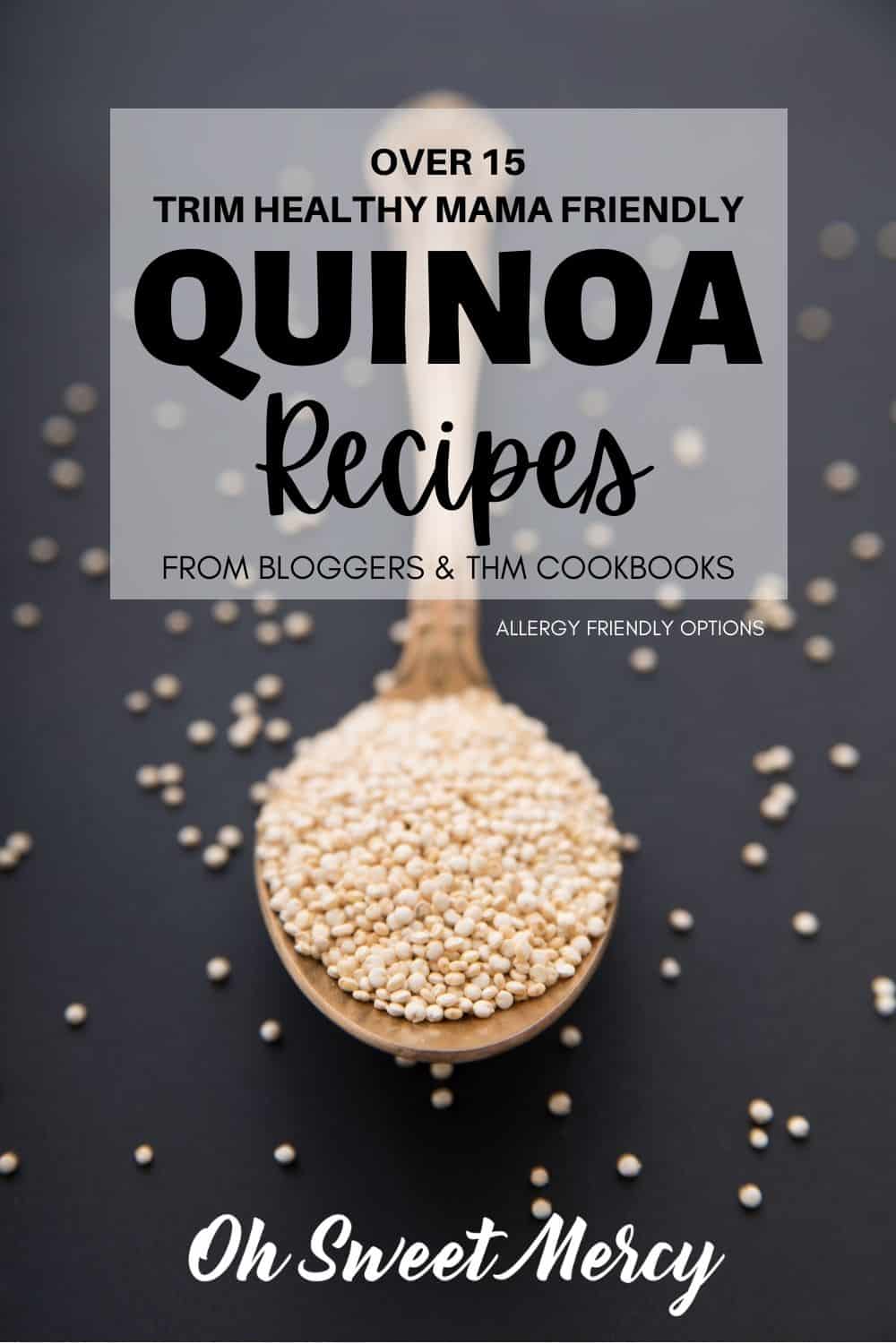 ---
Quinoa is a delicious and versatile superfood! Sweet or savory, this tiny little seed is packed with nutrition. It's a wonderful THM E food and I've rounded up over 15 tasty Trim Healthy Mama quinoa recipes just for you. So grab your menu planner and add these yummy dishes right now.
---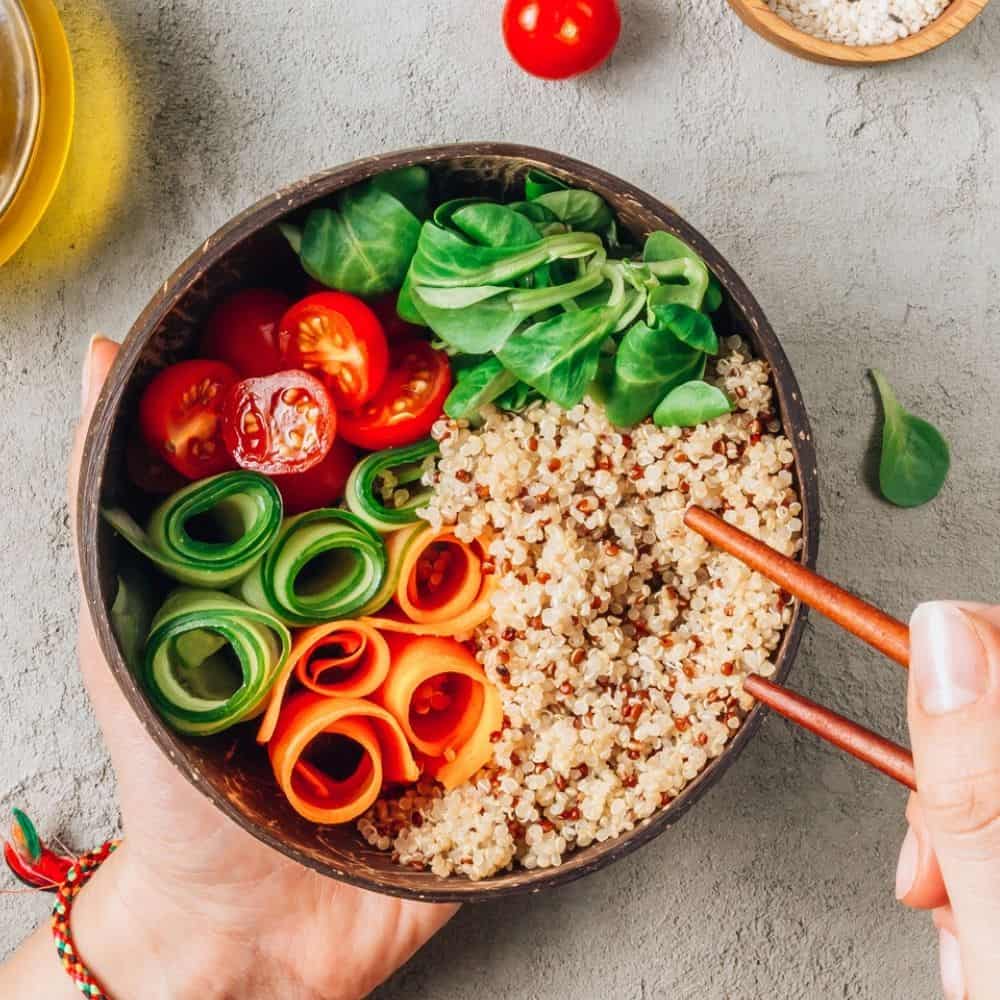 Did you listen to the Poddy on January 26, 2022 (Episode 261)? It contains a Superfood Spotlight you don't want to miss: quinoa!
Quinoa is one of my favorite THM E foods. It's technically a seed but we use it like a grain and it's sometimes called a pseudograin.
If you can't have gluten or grains in general, quinoa is probably perfect for you! And, as Pearl and Serene shared, this tiny little seed has some amazing properties!
Benefits Of Quinoa.
I won't list them all here so make sure to listen to the podcast for all the info they shared. But here's a few good reasons why healthy quinoa recipes should be on your THM meal rotation:
Very anti-inflammatory!
Contains quercitin (a natural antihistimine) and camphorol
A complete protein containing the 9 essential amino acids our bodies need but don't make
High fiber, has more fiber than brown rice
Very helpful for headache sufferers as it's high in magnesium
Helps weight loss
Great source of lysine, iron, and B vitamins
Very satiating
What Does Quinoa Taste Like?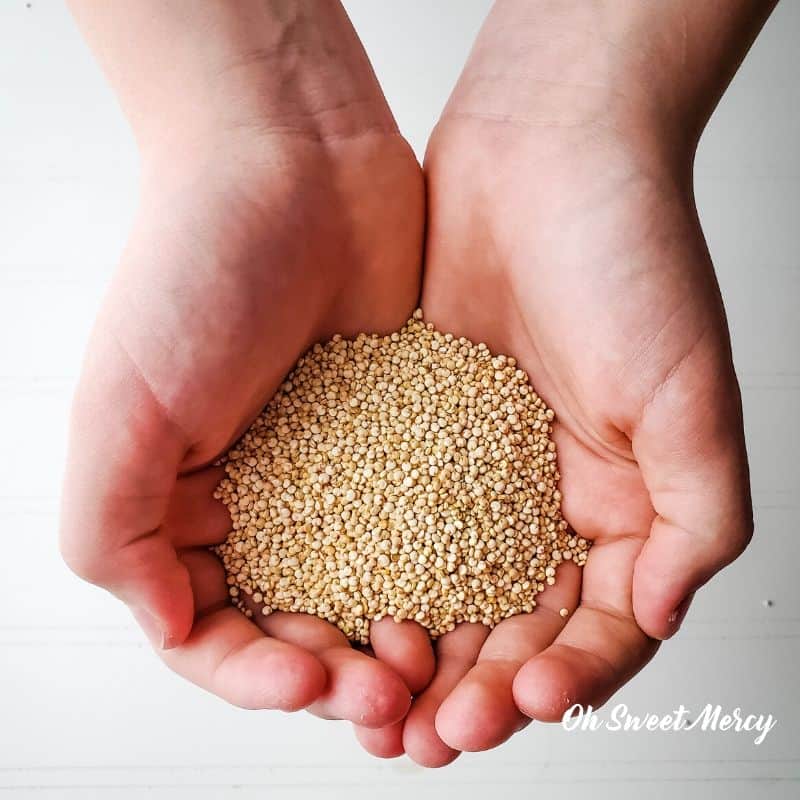 The flavor of quinoa varies somewhat, depending on the variety. You might be most familiar with white quinoa, but it actually comes in several colors.
White quinoa is most common and usually easily found in the grocery store. It has a milder flavor, somewhat nutty and earthy. It's also more delicate and fluffy when cooked.
Red quinoa has a more robust flavor. It has a more nutty taste and chewier, which makes it great for cold salads. Red quinoa is a great substitute for nutty, chewy farro in my Veggie Packed Grain Bowl.
Black quinoa is more earthy in flavor, but with a subtle sweetness.
Not sure which quinoa you'd like? Try tri-color quinoa, it's a mix of white, red, and black.
How Do You Cook Quinoa?
Quinoa is super easy to cook. If you like to soak grains, nuts, and seeds to reduce phytic acid soaking quinoa is easy to do.
My favorite way to cook soaked quinoa is in my Instant Pot, using this simple method from All The Nourishing Things. I cook it this way often and it turns out perfectly every time. See this spoonful of fluffy quinoa?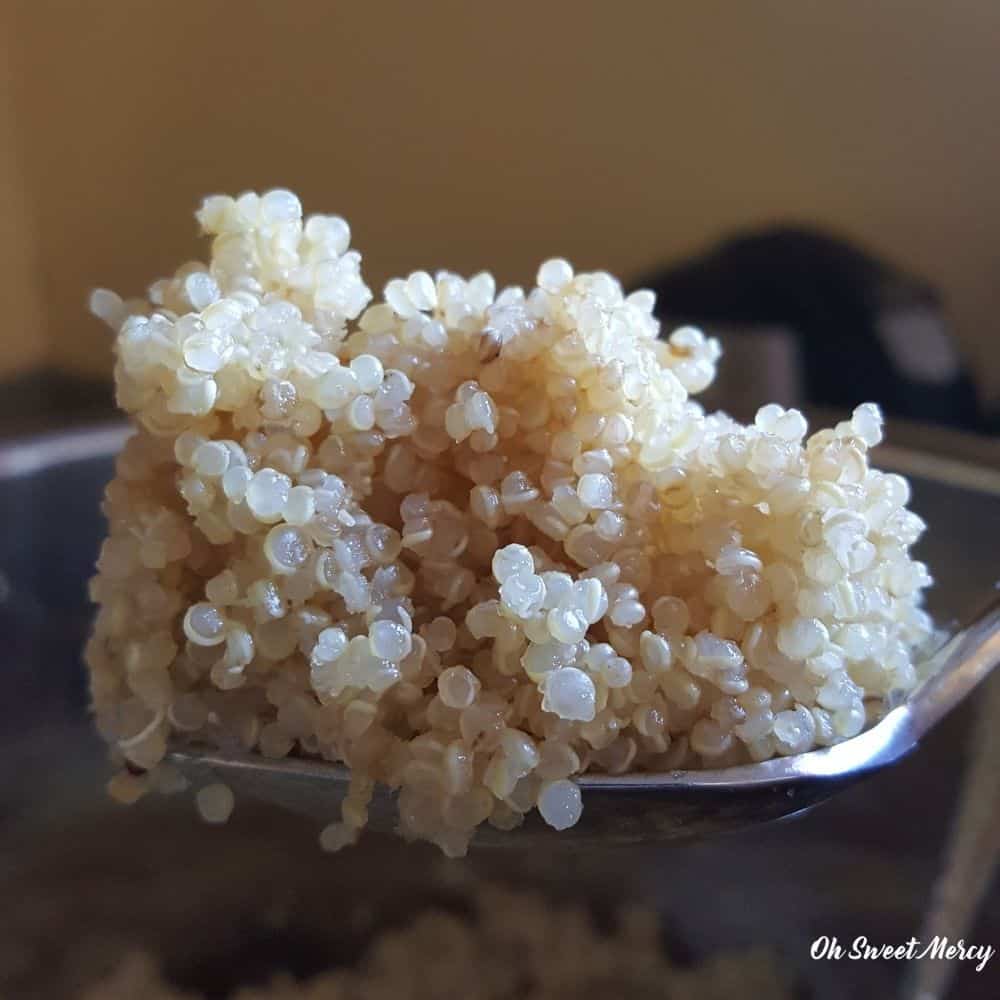 No Instant Pot? No problem! Add your dry quinoa to a bowl and add enough water to cover by a couple inches, plus a tablespoon of something acidic, like lemon juice or apple cider vinegar, per cup of quinoa.
Cover the bowl and let soak on the counter for 8 hours. Drain and rinse well, then put your soaked quinoa in a pot. Add enough water to just barely cover the quinoa.
Bring to a boil, then reduce heat, cover the pot, and simmer for 12 to 15 minutes or until the water is absorbed. Let it stand for about 5 minutes and fluff with a fork.
Don't want to soak your quinoa? That's fine, too. Just follow the cooking instructions on the package.
And this is very important:
If you're not soaking your quinoa (and the package does not indicate that the quinoa is pre-rinsed), MAKE SURE TO RINSE IT VERY WELL BEFORE COOKING! Quinoa has a coating called saponin, which is very bitter. Rinsing it well before cooking removes that bitter coating.
Can You Freeze Quinoa?
Yes! This makes preparing THM E meals super easy, so make a big batch of quinoa and freeze in recipe-sized portions for later on.
Or, if you're a solo THM-er, freeze in single serving portions – 3/4 cup.
Tips for freezing your cooked quinoa:
Allow your cooked quinoa to cool to room temperature, or refrigerate until later.
Squeeze out as much air as possible from your zipper freezer bags to prevent freezer burn.
Even though you think you'll remember later, label your bags with the date and amount of quinoa. Oh, and don't forget to write QUINOA on the bag 😉
Frozen quinoa should keep well for up to 6 months.
To use later you can add the frozen quinoa to chili or soups in the last minutes of cooking to warm the quinoa.
Let it thaw in the fridge and use in cold salads or other recipes.
How Do I Use Quinoa In Trim Healthy Mama Meals?
Always consult the Trim Healthy Mama Plan Book for the most accurate information on how to put your meals together.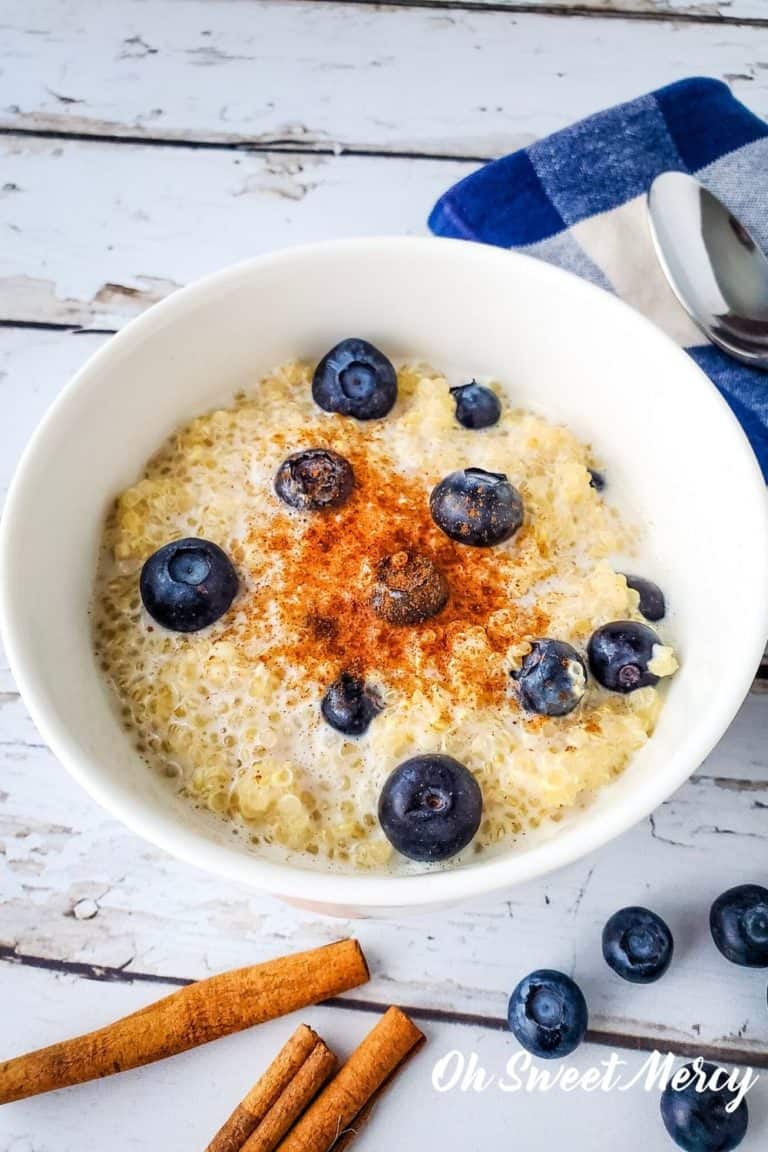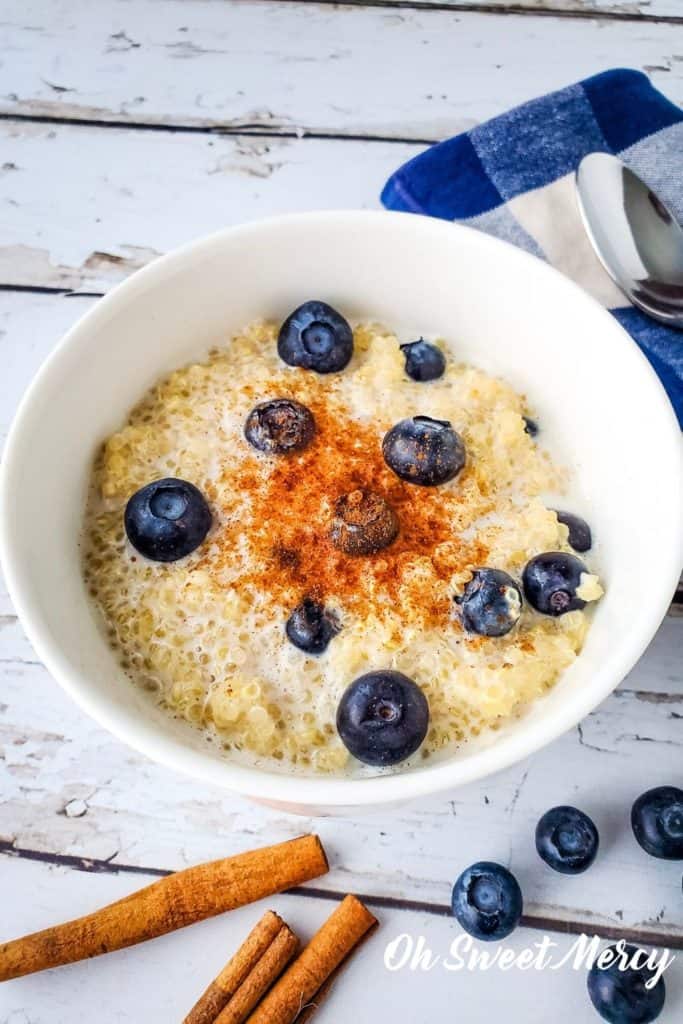 Quinoa is so versatile! It's perfect for sweet and savory recipes.
Since quinoa is a healthy complex carbohydrate source, we mainly keep this tasty little "grain" to THM E meals. This means keeping our ADDED fats very low. Quinoa naturally has a small amount of fat but we don't count that toward our fat limit for THM E meals.
I try to note how much added fat is in my quinoa recipes, but as a general rule 1 cup of cooked quinoa has 3.55 grams of fat. A serving of cooked quinoa on the THM plan is 3/4 cup and has 2.67 grams of fat.
A 3/4 cup serving of quinoa has just over 6 grams of protein. Generally, we want 20 grams of protein in our meals. Adding a very lean protein such as grilled or baked chicken breast or lean fish makes a tasty meal with plenty of protein.
If you'd like to keep your meal meatless, add a smoothie or shake for extra protein (just keep your total fat grams for your meal within THM E guidelines. Look for Fuel Pull shakes and smoothies with very low or no added fat if you have fat in your meal.
The THM classic, Fat Strippin' Frappe on page 418 of the Trim Healthy Mama Cookbook is a great choice.
Other options are the whites of a hard boiled egg, scrambled egg whites, or fat free Greek yogurt. Or stir collagen, whey protein powder, or on-plan plant based protein powder into your meal if it is a soup or has a sauce.
Add quinoa to soups and salads! Its delicious flavor and texture adds interest (and nutrition) to your ordinary soups and salads.
Make a grain bowl! If you'd like to add black beans or sweet potatoes, remember that each of those things are starchy and carby. While we embrace healthy carbs on THM we do keep our servings reasonable – 45 grams of net carbs or less.
I usually do 1/4 cup of each of those to get a 3/4 cup serving. Be sure to add plenty of non-starchy veggies. Fresh herbs and a simple dressing of fresh lemon juice and 1 teaspoon of olive oil makes a delicious and easy vegan quinoa "grain" bowl.
Can I Have Quinoa In A THM S or THM FP Meal?
Generally, we keep THM E foods in E meals most of the time. On occasion, having a small amount of an E food in an S or FP is fine (like adding a bit of oats to a meatloaf). A small amount spread out over a whole recipe doesn't cause a Crossover.
Crossovers are on plan though! And S Helpers (be sure to consult the plan book for all the pertinent details on each fuel type). Quinoa as part of a XO or SH is a very healthy option.
The only meal type where quinoa is definitely not allowed is in a Deep S meal. Those meals are simply protein, very few carbs from non-starchy veggies like leafy greens or zucchini, and pure fats.
Give These Tasty THM Friendly Quinoa Recipes A Try!
If you have any of the THM cookbooks, here's a list of recipes to try. I've noted page numbers and common allergen information for your convenience.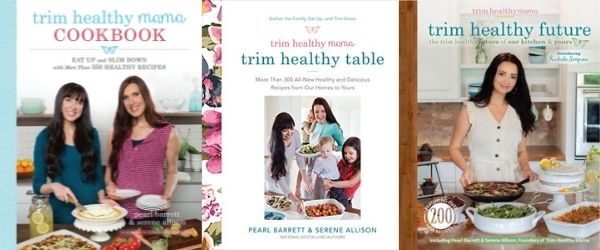 Don't have any THM cookbooks but want to add them to your library? Click these links to get: the Trim Healthy Mama Cookbook, Trim Healthy Table, and Trim Healthy Future.
Quinoa Recipes From The Trim Healthy Mama Cookbook.
Quinoa Goes Cajun, page 69 ALLERGY FRIENDLY
Quinoa Salad, page 232 (also linked below) ALLERGY FRIENDLY
Creamy Grains, page 252 (several variations) calls for whey protein powder but can easily sub another dairy free protein powder. While this doesn't call for quinoa you can use it. I made the mango version with quinoa and found it a bit soupy, though tasty. Using less water (I'd suggest 1/2 as much) would be better.
Trim Healthy Table Quinoa Recipes.
Creamy Lemon Chicken and Quinoa Soup, page 147 CALLS FOR DAIRY
Sopa de Quinoa Trimmy Bisque, page 189 ALLERGY FRIENDLY
Cherries On Top Chicken Salad, page 305 ALLERGY FRIENDLY
Hangry Pockets, page 320-323 Can be made allergy friendly, make E style
Recipes For Quinoa In Trim Healthy Future.
Quinoa Tuna Patties, page 148 CALLS FOR DAIRY, BAKING BLEND OR OATS, AND EGGS
Greek Chicken Soup, page 178 ALLERGY FRIENDLY
TIP: in most recipes calling for rice, quinoa makes a great substitute. Depending on the recipe, you can also sub quinoa for oats and farro or other cooked grains.
THM Quinoa Recipes From Around The Web.
Most of the recipes below are from bloggers who focus on creating Trim Healthy Mama friendly recipes. A few are not, but the recipes are either already THM friendly or can easily be tweaked to be so.
I've indicated in the description of each recipe any common allergens (or if the recipe is free from them) as well as suggested any tweaks or substitutions in order to make a recipe THM compliant. Be sure to read the descriptions!
I hope this list of fabulous quinoa recipes helps inspire you this week (and for weeks to come) to include this healthy little superfood more often.
15+ THM Friendly Quinoa Recipes
Sweet and savory recipes using the amazing superfood quinoa, all Trim Healthy Mama plan friendly or easily tweaked.
Be sure to read the description for each recipe, I've noted if it has any common allergens (or is free from them) as well as any tweaks or substitutions to make the recipe THM friendly.