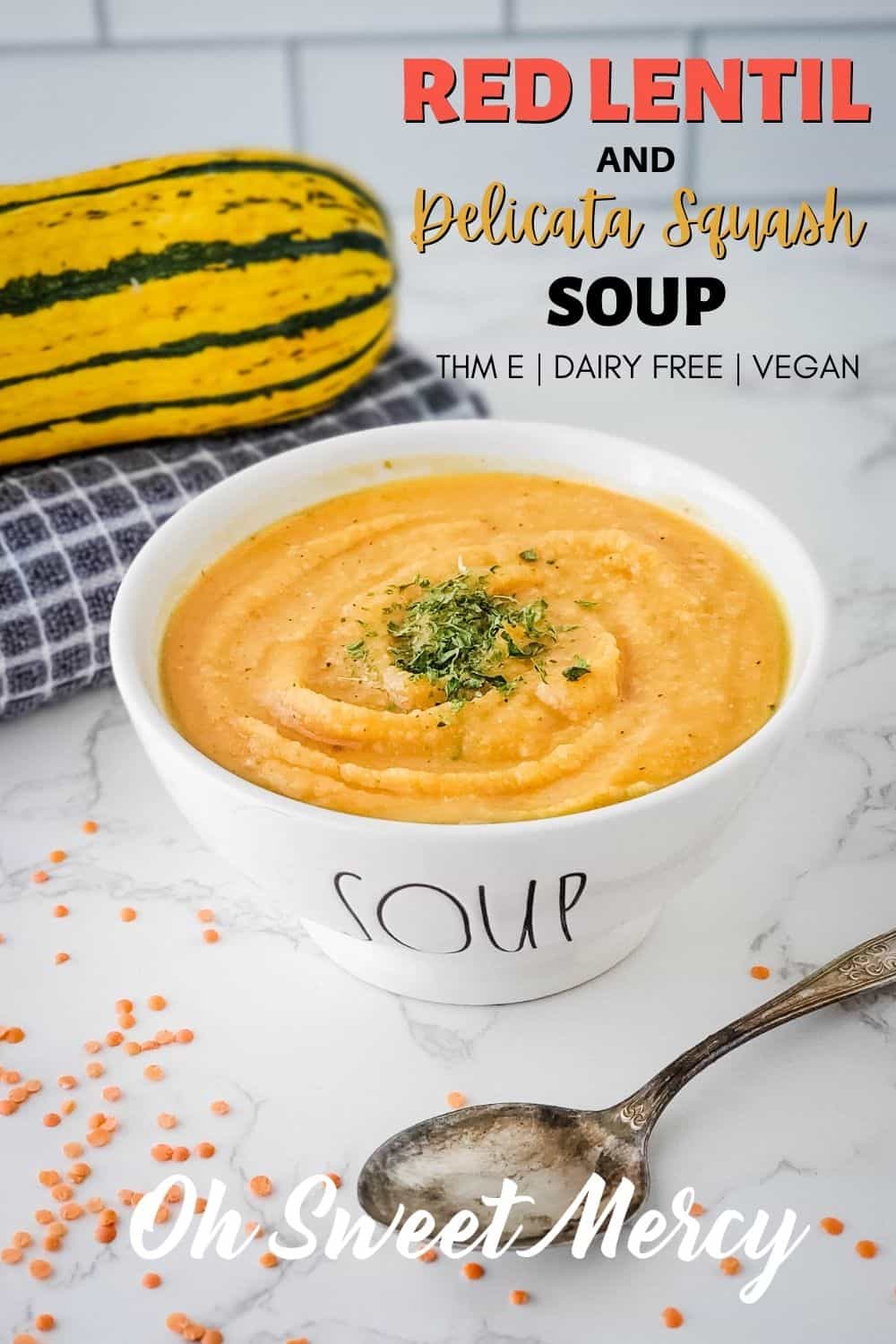 ---
Red lentils are perfect for creamy blended soups! I've combined them with delicata squash and simple seasonings, bringing you a bowl of warm and comforting nourishment with just a hint of natural sweetness. Trim Healthy Mamas, this soup is a low fat THM E, just be sure to pair it with a bit more protein or add some to your soup. Dairy free, too!
---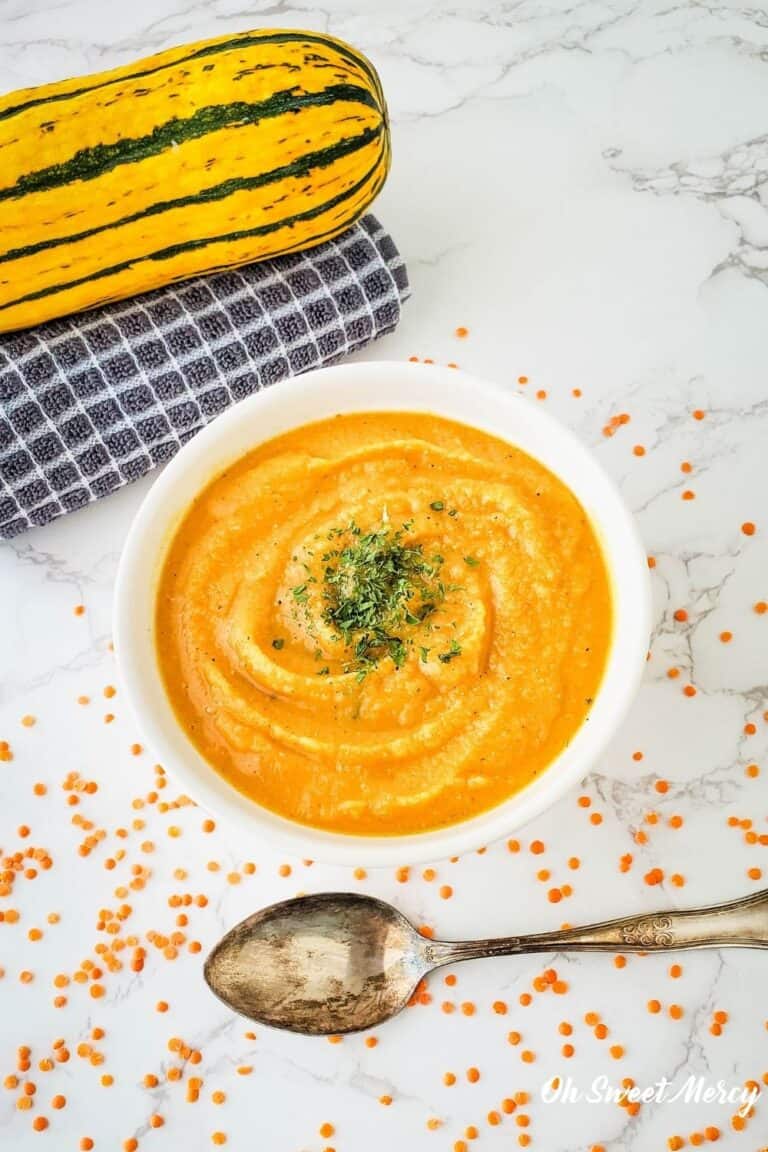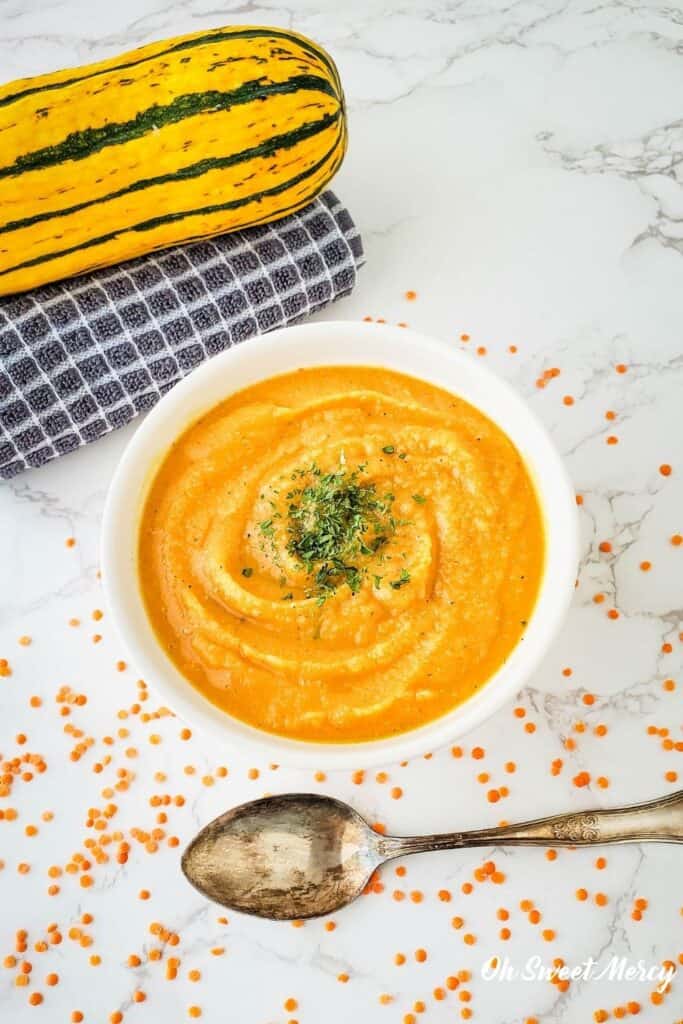 The weather right now in Northern Indiana is cold and snowy. Pretty typical for the latter part of January. And, perfect for comfort foods like thick, creamy, hearty soups.
Potato soup was always a favorite of mine as a child. However, on THM I limit how much potatoes I eat and I am now dairy free, so my mom's yummy tater soup with lots of heavy cream and butter is not on my menu anymore.
However, so many delicious soups are! This comforting red lentil and delicata squash soup, while not exactly like potato soup, fills that void for me.
Since my husband is not a fan of soup, generally all the soup-eating here happens at lunch. I'm glad both the kids enjoy soups and don't mind helping with recipe tasting.
We all very much enjoy this filling red lentil and delicata squash soup. The squash gives just a hint of natural sweetness. In addition, red lentils are actually considered "sweet" as compared to their more earthy green and brown counterparts.
A sprinkle of thyme, with its earthy and peppery flavors, makes this soup just perfect. And yes, we've thrown in plenty of onion and fresh garlic too.
A bowl of this creamy, blended red lentil and delicata squash soup on a cold day is like a big, warm hug. Especially with a nice slice of crusty sourdough bread to dunk in it!
What Do I Need For This Recipe?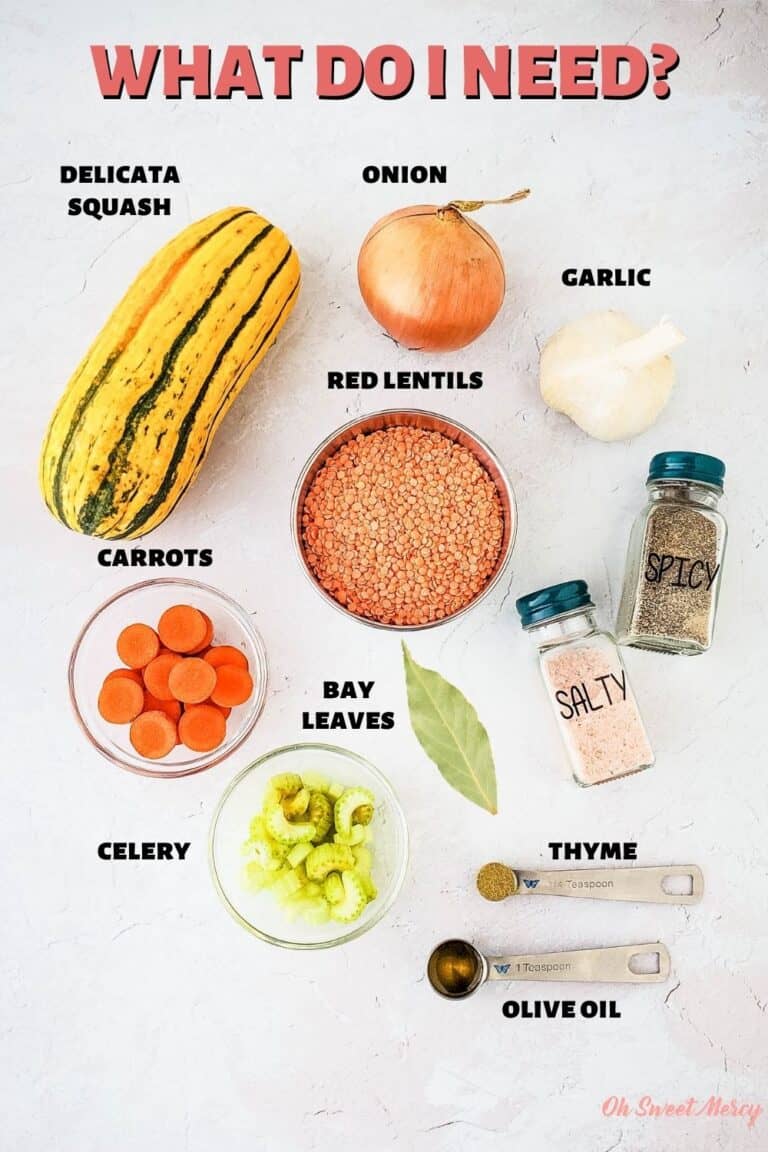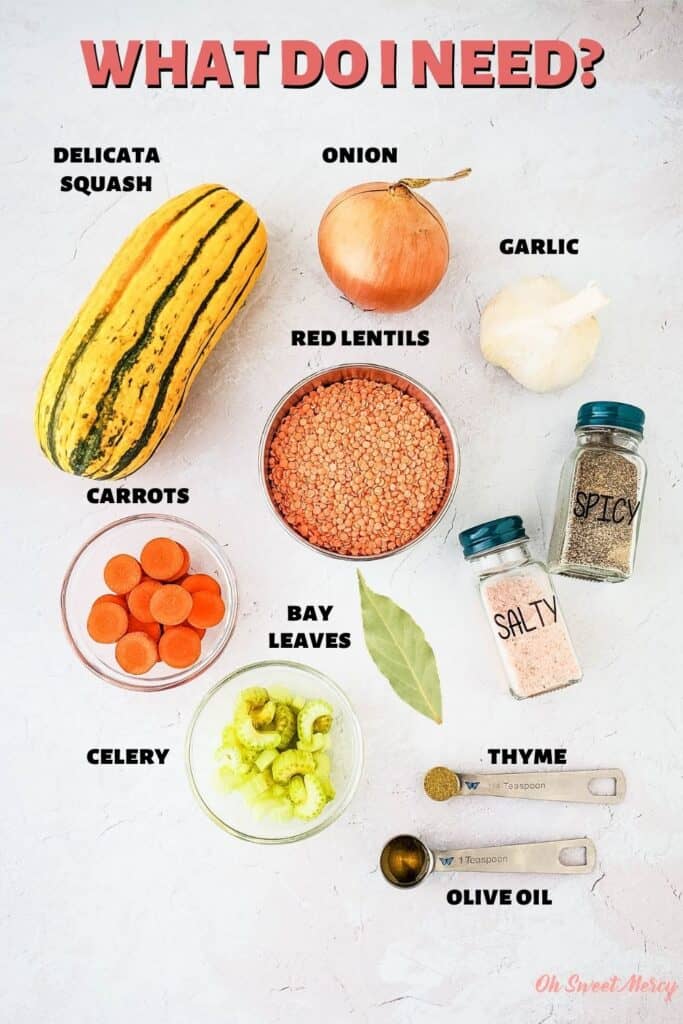 Just a few simple ingredients are all you need! If you don't have delicata squash, try acorn, butternut, or even sweet potato. The carbs will be higher, as they are E fuels on the THM plan (delicata is a FP – Fuel Pull).
Red lentils
Delicata squash
Onion
Garlic
Celery
Carrots
Olive oil
Bay leaves
Water (or fat free chicken or vegetable broth)
Thyme
Salt and pepper
What Is Delicata Squash?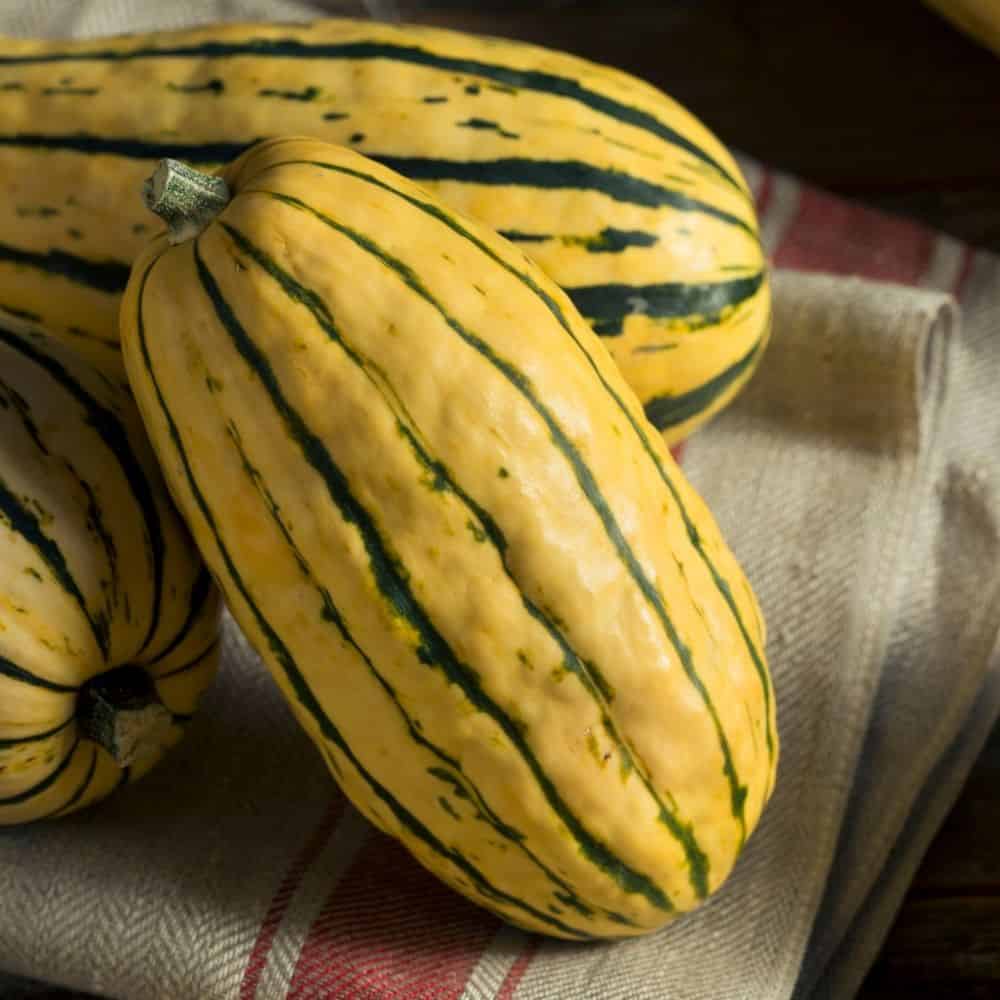 Delicata is a small, winter squash. It has delicate skin, which is edible, and is considered a Fuel Pull on the Trim Healthy Mama plan.
This healthy squash also goes by the names bohemian squash, peanut squash, or sweet potato squash. It's a member of the same family of squashes that contain summer squash, spaghetti squash, and zucchini.
It's similar in flavor to butternut squash and also sweet potatoes. The delicate sweetness of a delicata squash is delightful in this red lentil soup.
What If I Can't Find Delicata Squash?
Delicata squash may not be in every grocery store but not to worry! You can substitute with butternut or acorn squash or even sweet potatoes.
Or, you can even leave it out completely and just make red lentil soup. However, if you can get your hands on some delicata squash, I highly recommend using it!
We have a Whole Foods an hour away, which is the only store I know of in the area that carries it. I rarely go that way but my daughter is over there often and she's super sweet and will pick some up for me if I ask.
Want more low fat lentil or soup recipes? Try these:
Lentil Burgers Even Carnivores Will Love (THM E)
Crunchy Roasted Red Lentils (THM E)
Dairy Free "Cheesy" Broccoli Soup (THM FP or S)
Homestyle Vegetable Soup (THM E)
Creamy Turkey and Rice Soup (THM E, Dairy Free)
Simple Low Carb Ramen (THM FP or S)
Garlic and Rosemary Tomato Soup (THM FP or S)
Or, check out my Soups category for other fuel types.
Tips For Making This Low Fat Lentil Soup with Delicata Squash.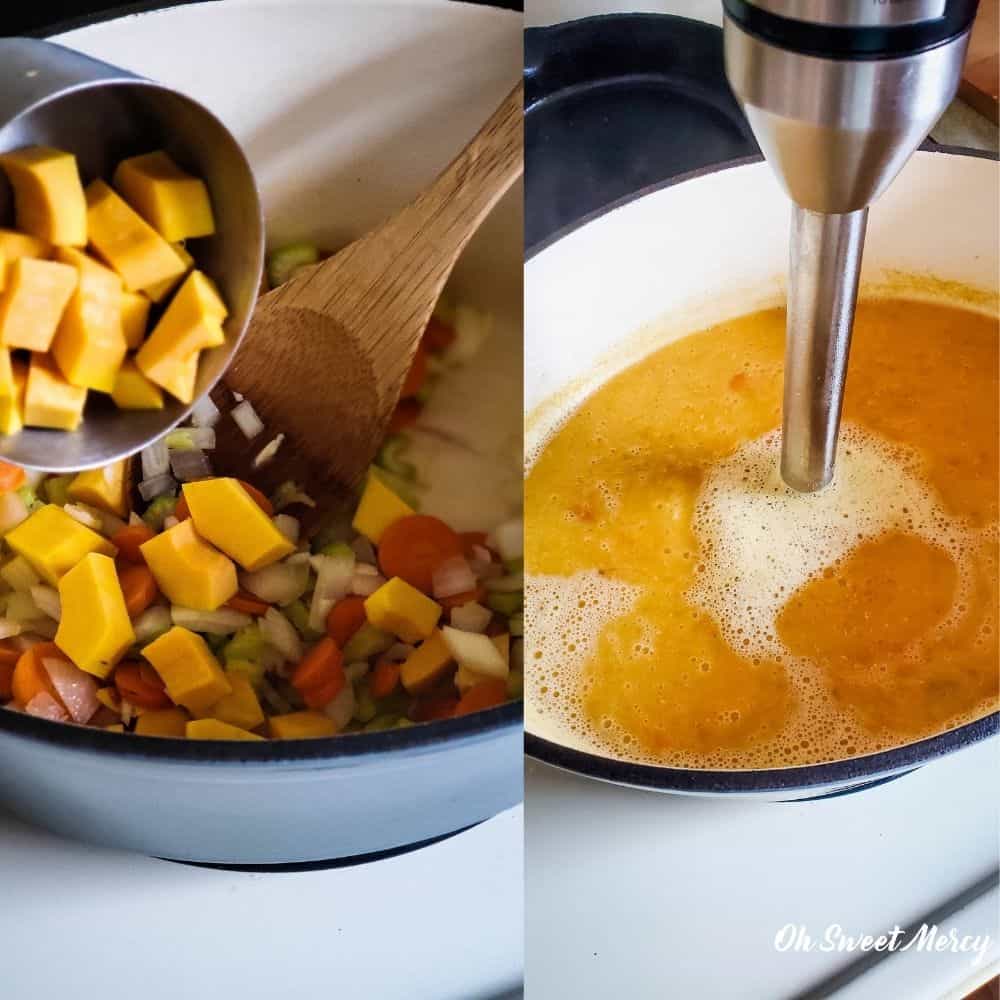 One of the best things about this soup? It's a one-pot recipe! Cook the soup and blend it right in the pot, how easy is that?
You'll want to peel the delicata squash for this blended soup recipe. While the skin is edible it's best left on for roasting or air frying rather than blending in a soup.
Saute all the vegetables in a bit of olive oil (I just use 1 teaspoon since it's a THM E soup) until they're fragrant and begin to soften. You can also use a bit of broth or water instead of oil for a completely added fat free soup.
TIP: count your bay leaves (especially if you've got fragments…) when you put them in the pot! This makes it easier to know you got them all out. Generally, no promises though… #askmehowiknow
Skim the foam that develops (totally natural when cooking lentils) and discard. Though if you forget it will not kill you. I sometimes get busy and forget to check for foam and we're all still alive here!
Once everything is soft and squishy, it's time to blend. A stick blender is my favorite way to blend soups. Partly because of how easy it is and partly because I've had bad experiences with blending hot things in my regular blender.
But, if you do use a regular blender, I recommend blending in small amounts. Do NOT use a bullet blender, they can not allow steam to escape, which means pressure builds up. Which can mean a disaster.
Store any leftovers in the fridge, it should keep well for about 5 days or so. It freezes beautifully, too! If you batch cook, make a bunch and freeze for easy meals later on.
How To Fit This Tasty Lentil Soup Recipe Into Your THM Meal Plan This Week.
Always consult the Trim Healthy Mama Plan Book for the most accurate information on how to put your meals together.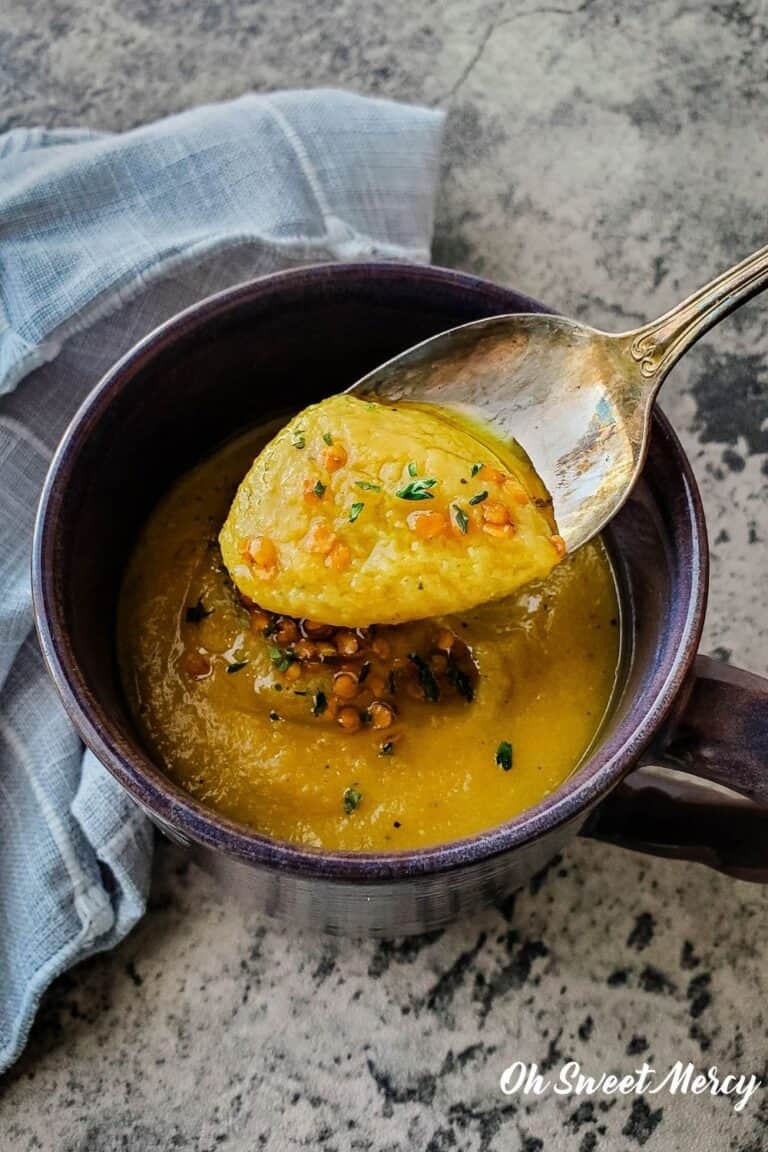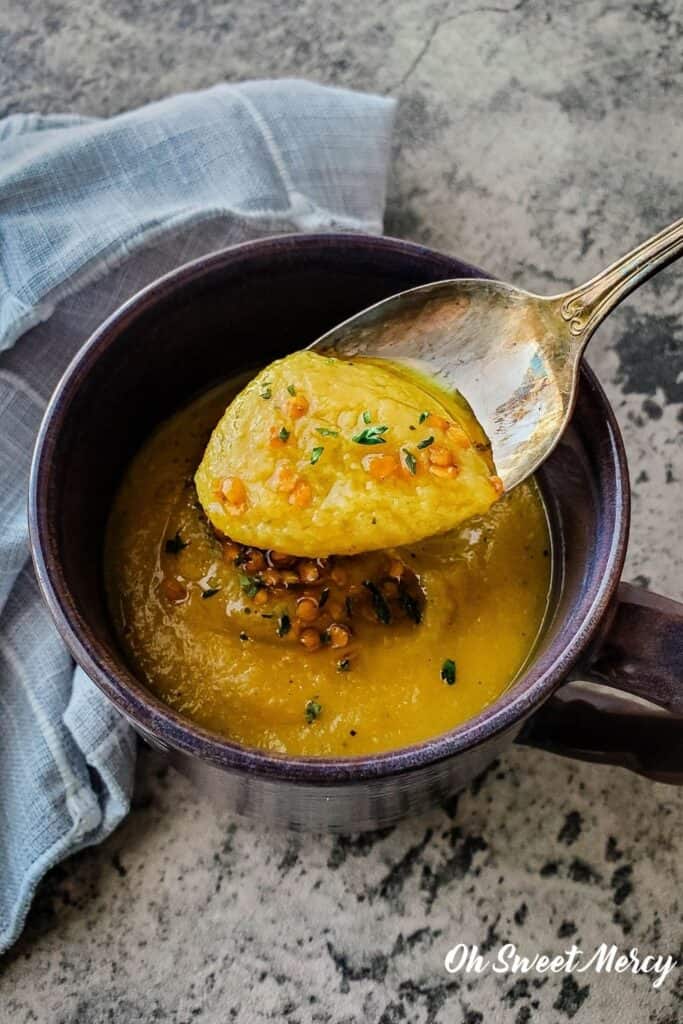 Lentils naturally have a bit of fat but with the Trim Healthy Mama Plan, we are concerned with added fats in our THM E meals. This recipe makes just a bit over 5 cups, so for simplicity's sake each cup has 1 gram of ADDED fat.
Since there's virtually no added fat in this soup, I love a little drizzle of olive oil on top, some chives or parsley, and a sprinkle of my Crunchy Roasted Red Lentils.
If you're having a salad, dessert, sandwich, or other food with your soup be mindful of the total added fat and be sure to keep it at 5 grams or less.
Each cup of this soup also has 10.3 grams of protein. Many times that's enough for me when I eat lentils, however if you need more protein with your THM E meals be sure to add some. Lean meats like chicken breast or fish on the side, stirring an on-plan protein powder (collagen or Creamy Dreamy Plant Protein Powder from THM are great options) into your soup gives it a protein boost.
I don't think I'd try whey protein powder, unless you do it before blending. It tends to curdle in hot liquids. Blending might smooth that out but I can't guarantee it!
Here's some suggestion for enjoying this delicious soup:
THM E Style
1 cup of Red Lentil and Delicata Squash Soup (1 gram fat)
Salad with Fuel Pull dressing, such as my Creamy Garlic Lemon Salad Dressing (1.6 grams fat per tablespoon)
Blueberry Lemon Smoothie (with 2 tablespoons Creamy Dreamy Plant Protein Powder or 10g protein's worth of an on-plan protein powder)
1 cup of soup (1 gram fat)
2 baked chicken breast tenders or lean fish
Steamed broccoli, green beans, or other green veggie, without fat
Strawberry Beet Smoothie (3.2 grams of fat)
THM XO Style (Crossover)
A Crossover has THM E carb limits and over 5 grams of added fats.
I hope this gives you some ideas on how to incorporate this yummy soup into your THM meal plan!
PIN IT!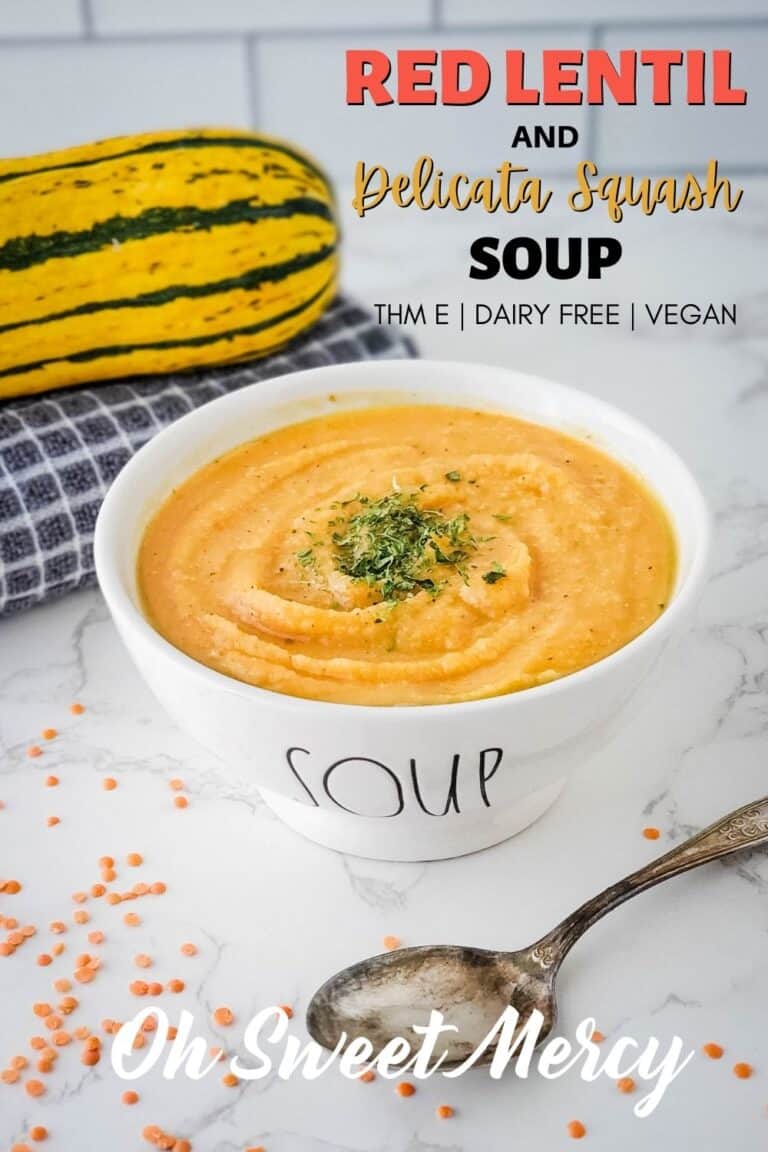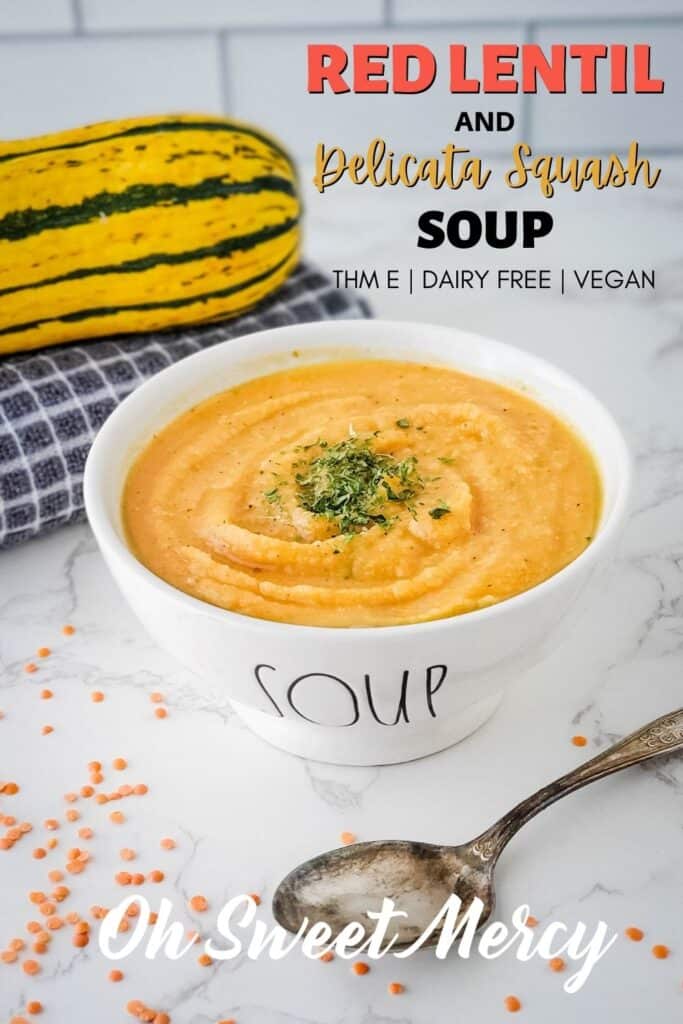 Red Lentil and Delicata Squash Soup | THM E, Low Fat
Yield: 5 cups
Prep Time: 20 minutes
Cook Time: 30 minutes
Total Time: 50 minutes
Red lentils and delicata squash, cooked with onions, celery, carrot, and garlic, plus a pinch of thyme and blended until smooth and creamy makes the most delightful blended lentil soup! Low fat, THM E, and dairy free!
**Use soaked or unsoaked lentils (if soaking, add 8 hours of soaking to prep time).
Ingredients
1 teaspoon olive oil
1 cup delicata squash, peeled and diced (about 1/2 small)
1 onion, diced
3 stalks celery, sliced
2 carrots, sliced
2 cloves garlic, minced
2 cups soaked lentils (1 cup dry)
2 bay leaves
4 cups water (or 6 to 8 for unsoaked lentils) or fat free broth
2 teaspoons salt
1/4 teaspoon ground black pepper
1/4 teaspoon ground thyme
Instructions
In a large soup pot, heat oil over medium heat.
Add squash, onion, celery, carrot, and garlic and saute, stirring frequently, until fragrant and vegetables start to soften (about 8 minutes).
Add lentils, bay leaves, and water and stir well.
Bring to a boil, then reduce heat and simmer for about 20 minutes or until the vegetables and lentils are very soft.
If using dry lentils, add more water if needed or to your preference for consistency.
Remove bay leaves.
Using a stick blender, puree the soup until smooth and creamy.
Or, puree in a regular blender in small batches the pour back into your soup pot.
Add salt, pepper, and thyme and simmer a few more minutes, adjust seasoning as desired.
You can add more water or broth to thin if too thick, I like a thick, hearty soup so it should be on the thicker side as written.
Notes
Substitute butternut squash, acorn squash, or sweet potatoes if you don't have delicata squash. Note that it will increase the carb counts as delicata is a FP (Fuel Pull) squash on the THM plan.
You can also just use red lentils and not add any squash or sweet potato. For a bit of sweetness, add some on-plan sweetener if desired. Use small amounts (I'd start with a doonk of Pure Stevia Extract - 1/32 tsp - or a teaspoon of a granulated sweetener like THM Super Sweet and add more if needed).
Nutrition Notes

Total fat in the nutrition information below includes the fat naturally present in red lentils. For THM, we're only concerned with the ADDED fats in our THM E meals. 1 teaspoon of olive oil spread out over 5 cups of soup (or more) will end up being 1 gram of added fat per cup or less.
Recommended Products
As an Amazon Associate and member of other affiliate programs, I earn from qualifying purchases.
Nutrition Information:
Yield: 5
Serving Size: 1 cup
Amount Per Serving:
Calories: 184
Total Fat: 1.9g
Saturated Fat: 0.3g
Trans Fat: 0g
Unsaturated Fat: 1.5g
Sodium: 702mg
Carbohydrates: 34g
Net Carbohydrates: 28g
Fiber: 6g
Sugar: 3.9g
Protein: 10g
Nutrition information is approximate and based on the best knowledge available at the time of recipe publication. Your results may vary due to differences in ingredients. You can make your own calculations if this recipe does not include nutrition info by using an online calculator such as https://recipes.sparkpeople.com/recipe-calculator.asp