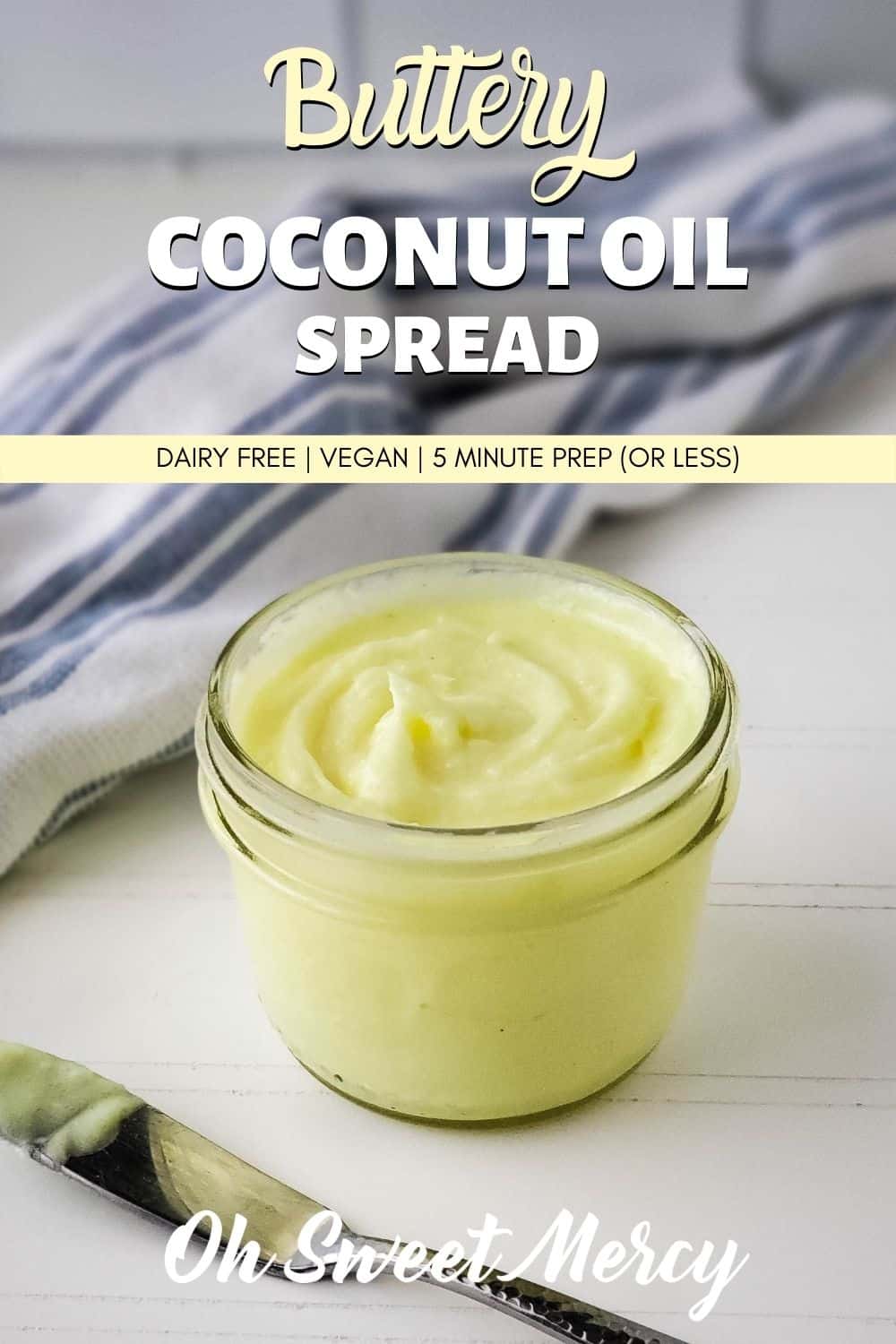 ---
Looking for a dairy free sub for butter? You can purchase buttery coconut oil, sure. But why not make your own? My easy buttery coconut oil spread recipe has just a few simple, healthy ingredients and whips up in 5 minutes or less.
---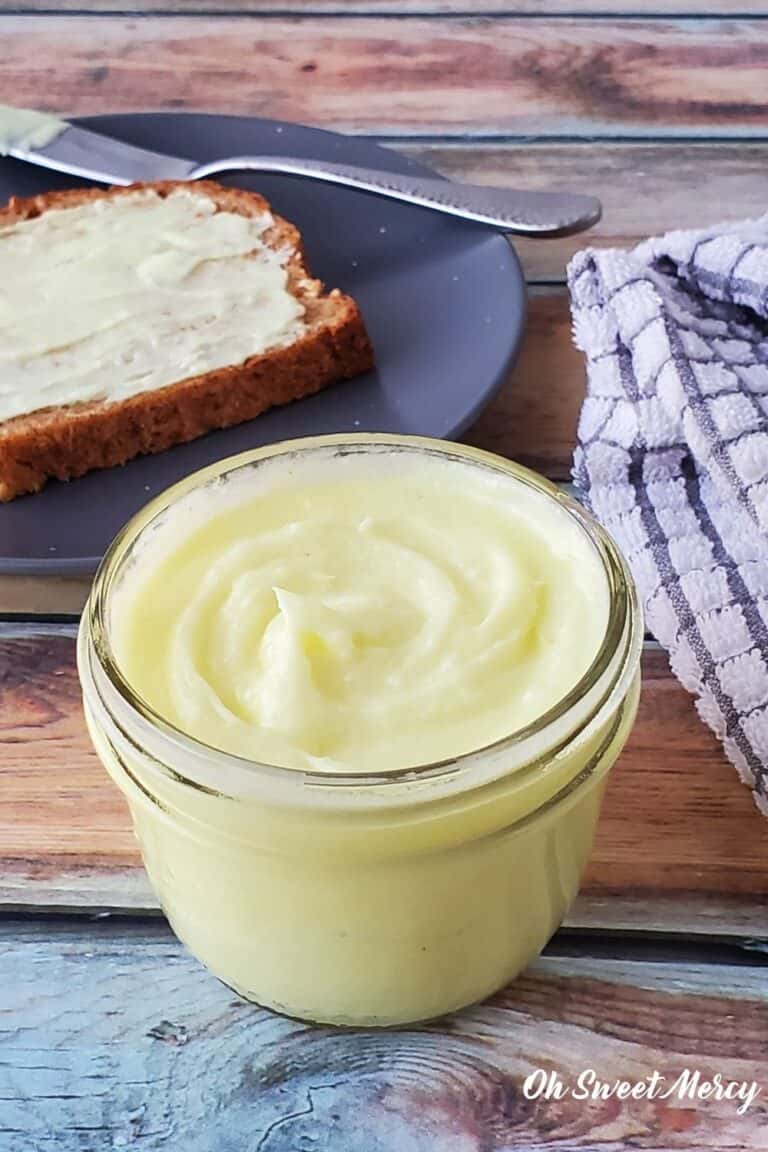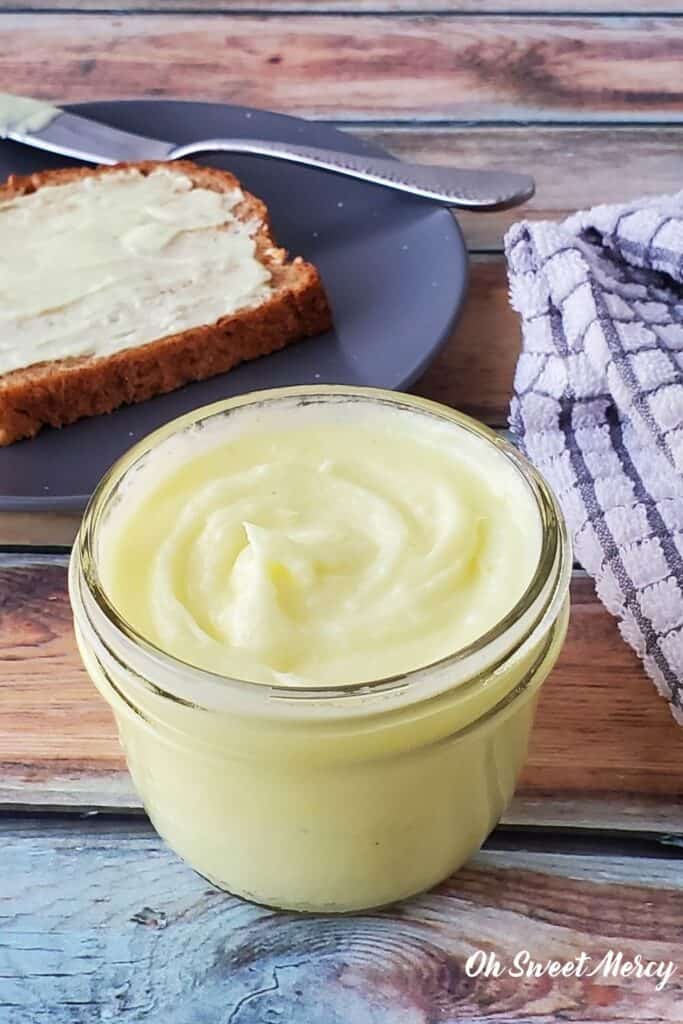 We love butter in this house. And, since we don't have any life-threatening dairy issues we can enjoy that creamy, golden goodness.
However, we also love buttery coconut oil! It makes popcorn taste like you're at the movies. Yes, that's a Crossover, if you're a THM. Those are still on plan.
What Do I Need For This Recipe?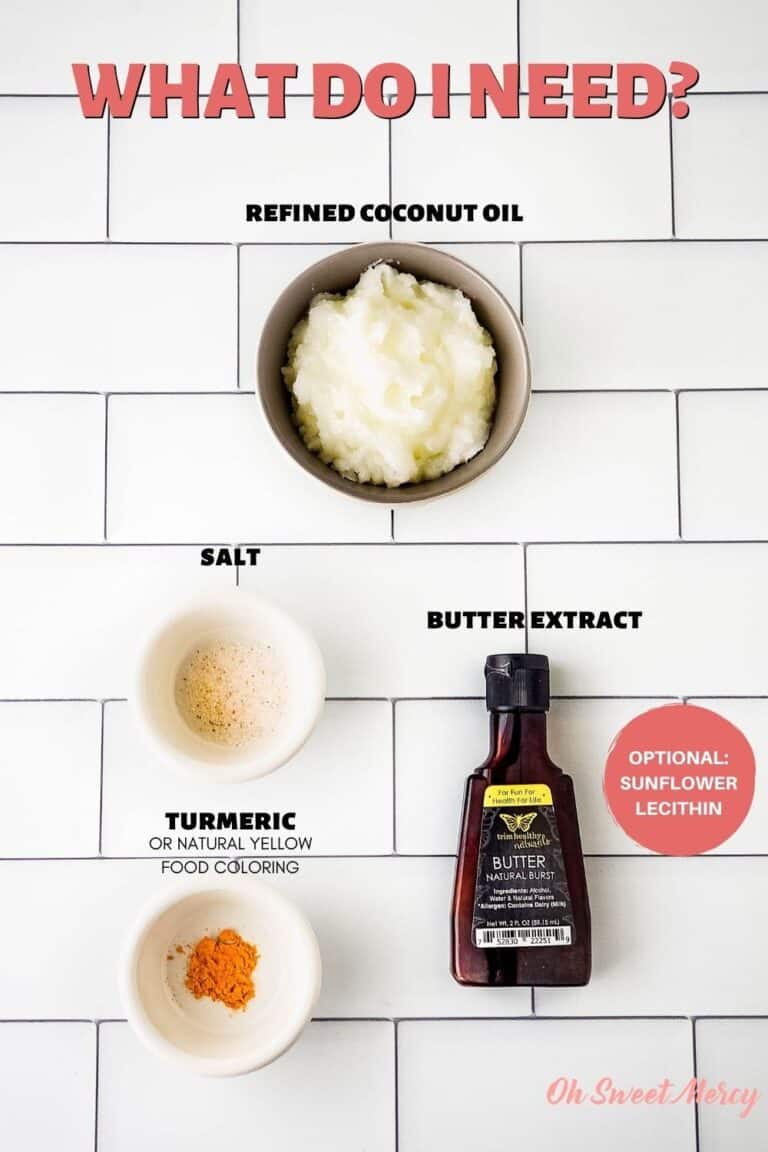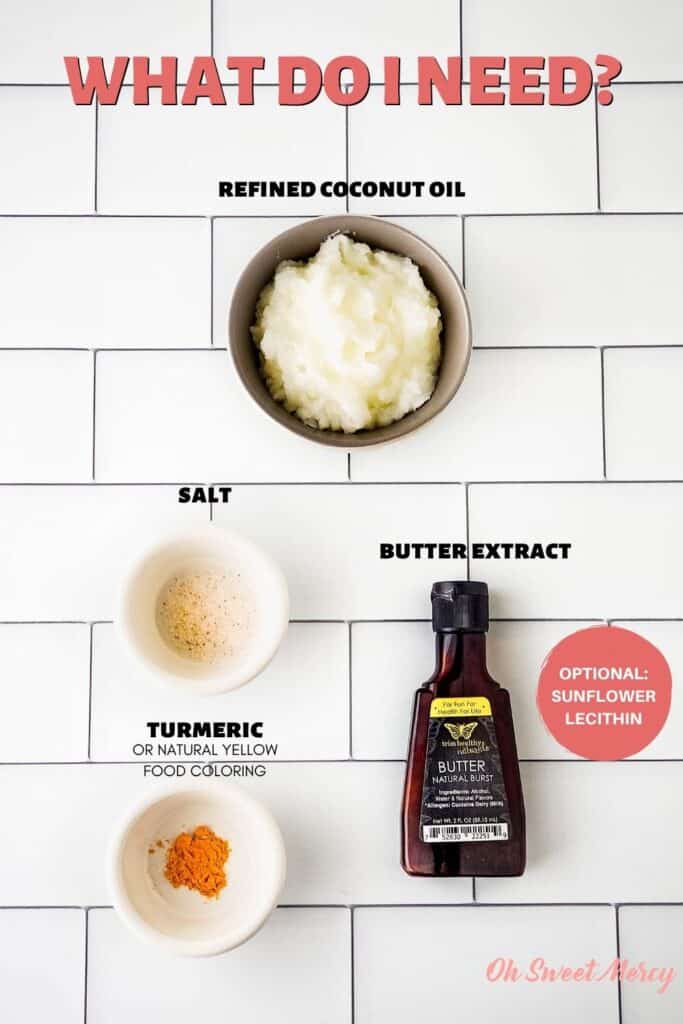 You need just a few ingredients for this simple, 5 minute (or less) recipe. Just beat or whisk together all ingredients until smooth and creamy. I like to use the whisk attachment on my hand blender.
My initial recipe includes:
Coconut oil (refined, for neutral flavor)
Butter extract (I prefer the THM Natural Burst Butter)
Turmeric (optional, for color)
Salt (optional)
Of course, after I took the ingredients photo above, I got a brilliant idea. Also, I found some natural yellow food coloring and gave that a try instead of turmeric.
What was my brilliant idea? Adding THM Simply Sunflower Lecithin! Totally optional, but I feel like it helps give this homemade buttery coconut oil spread butter-like.
The natural yellow food coloring also gives it a more natural butter color.
But, if you don't have either no worries. It's still a delicious substitute for dairy butter.
Does It Taste Exactly Like Butter?
No, not 100% exactly. Hey, it's not real butter so give it a break 😉
But, it does taste surprisingly butter-like, in my opinion. It's delicious on toast, bread, cooked veggies, and other foods you'd put butter on.
Of course, if you're following the THM plan, being liberal with this on sprouted toast or bread will put your meal into a XO (Crossover).
CROSSOVERS: These meals are still on plan, just less conducive to weight loss. Have one now and then and don't feel guilty. And, if you accidentally make a XO when you were going for an S or E, don't feel guilty! Just try not to eat them too often if you're seeing slow progress. Check the plan book for more details on the specific THM fuel types.
The quality of butter extract does make a difference. I use Trim Healthy Mama Natural Burst Butter. It does say it contains milk, so if you have serious dairy allergies, make sure to find a butter extract that doesn't contain any milk.
This one from Wilton is certified Kosher parve, which means there's no dairy in it.
How Do I Replace Butter With This In Recipes?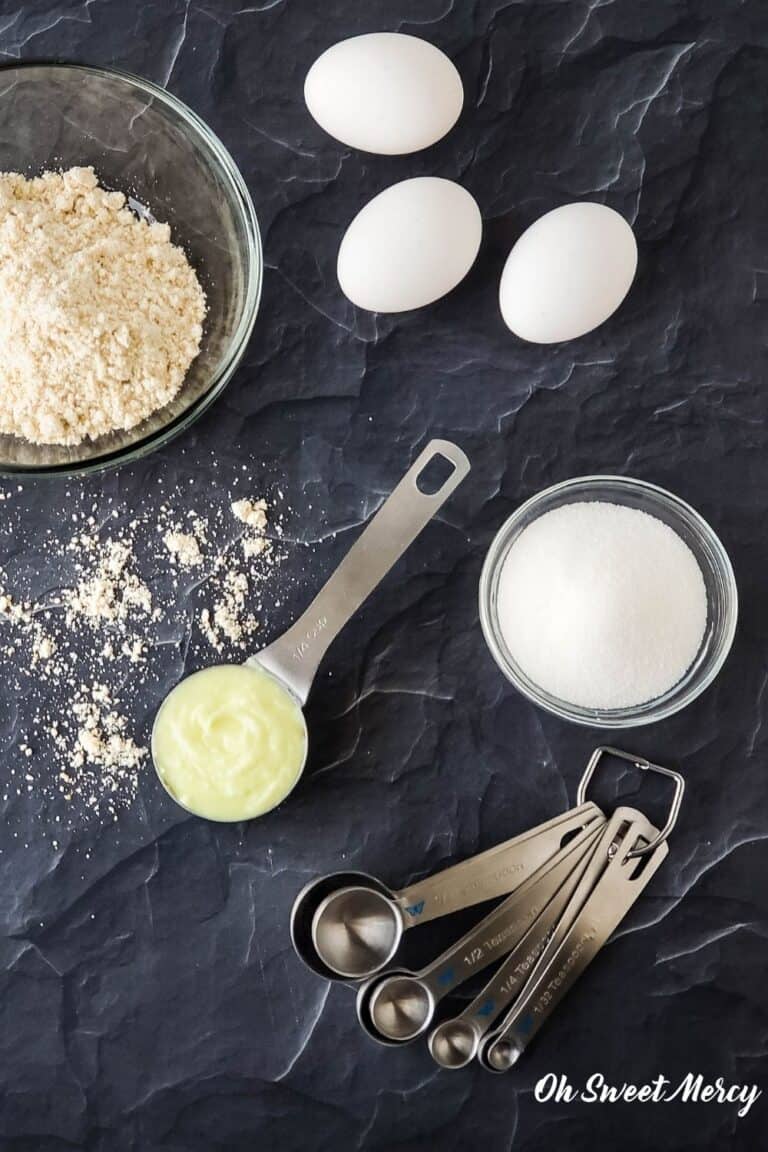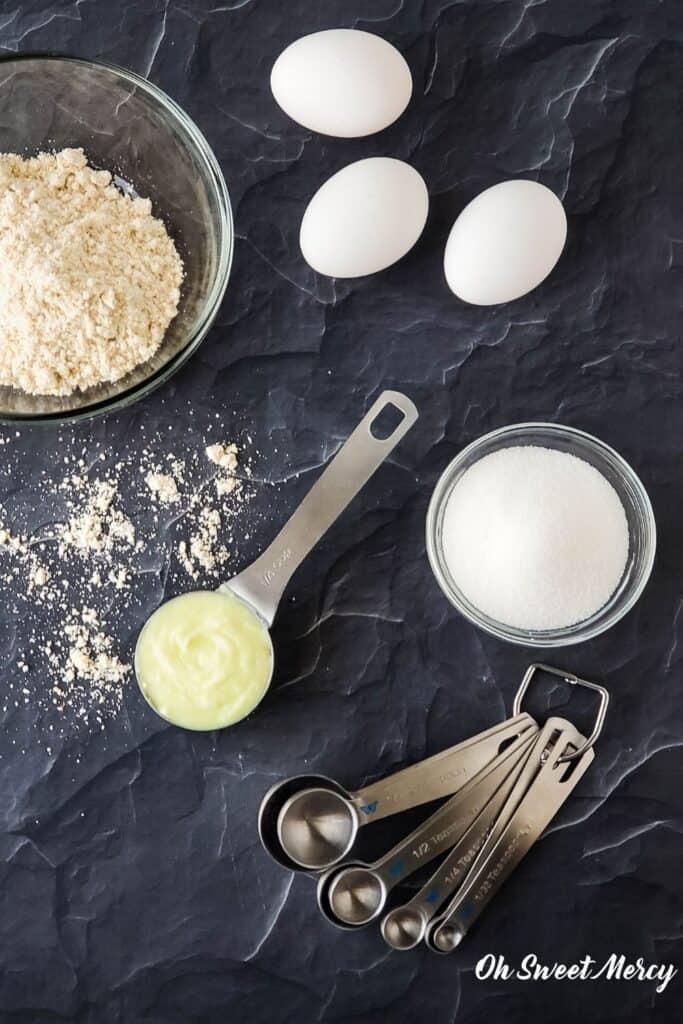 Generally speaking, buttery coconut oil subs 1:1 for butter. I have found, however, sometimes using coconut oil results in a more oily outcome, depending on what you're making.
Coconut oil also melts very easily. For things like fat bombs or protein balls, it's usually best to refrigerate or freeze them.
If your kitchen is hot in the summer, it will turn to liquid.
Need some ideas? Here's some recipes that work well with buttery coconut oil:
How Does This Fit Into The THM Plan?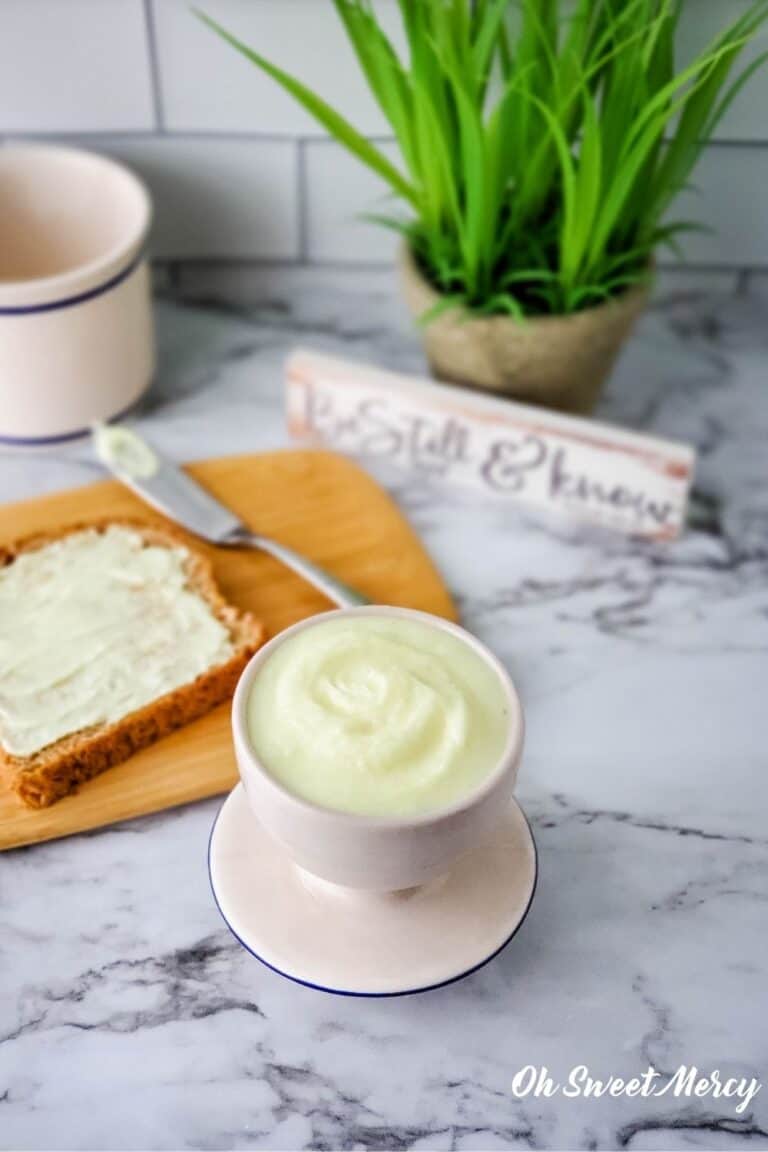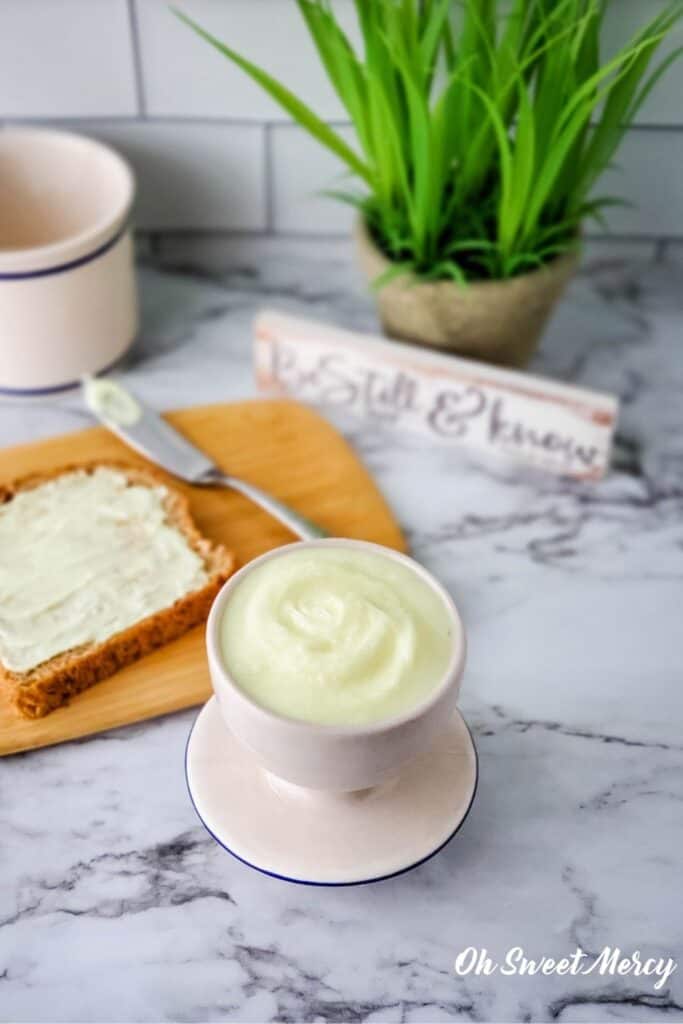 This is a fat, so the guidelines for fats apply here.
For low carb meals (THM S), use as much as you prefer. Balance is a wonderful thing and highly encouraged on THM. So, try to balance your high-fat meals with lighter ones.
For low fat, healthy carb meals (THM E), there is a limit to how much added fat goes in our meals – up to 1 teaspoon or 5 grams.
So, use this like you would butter and keep the plan guidelines in mind.
This dairy free buttery coconut oil spread whips up, literally, in 5 minutes or less! I hope it helps you on your journey to better health!
Pin It!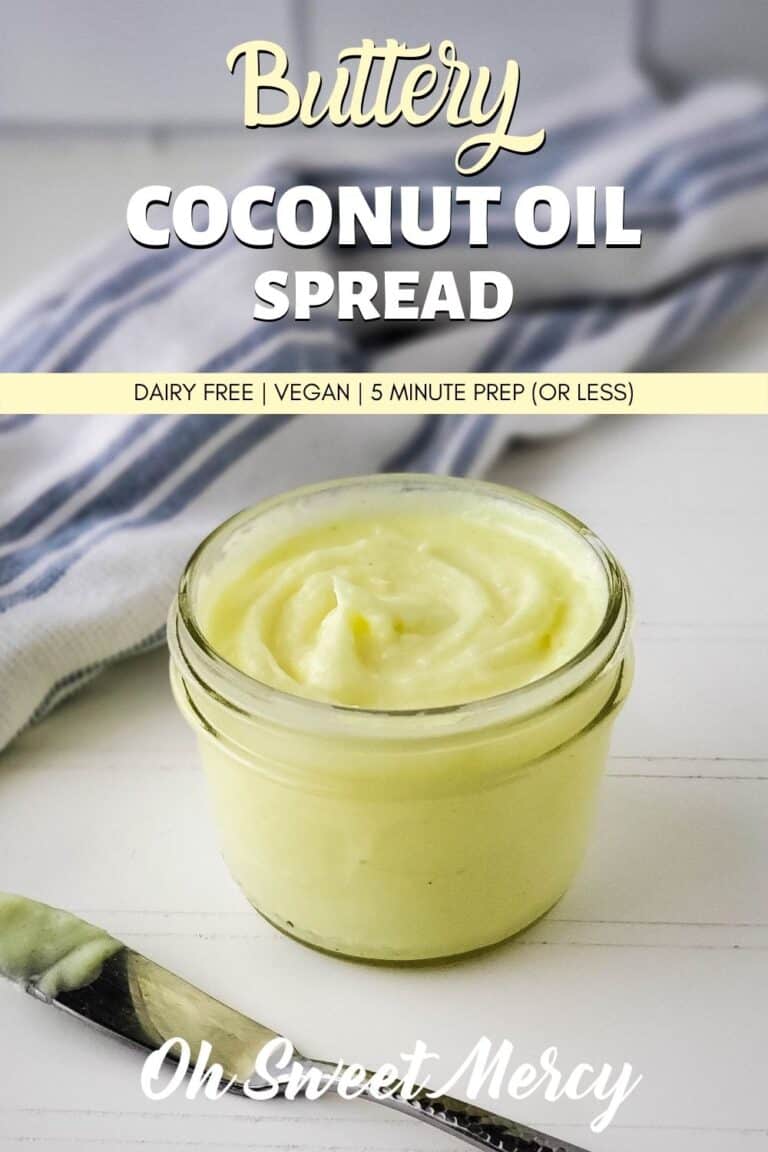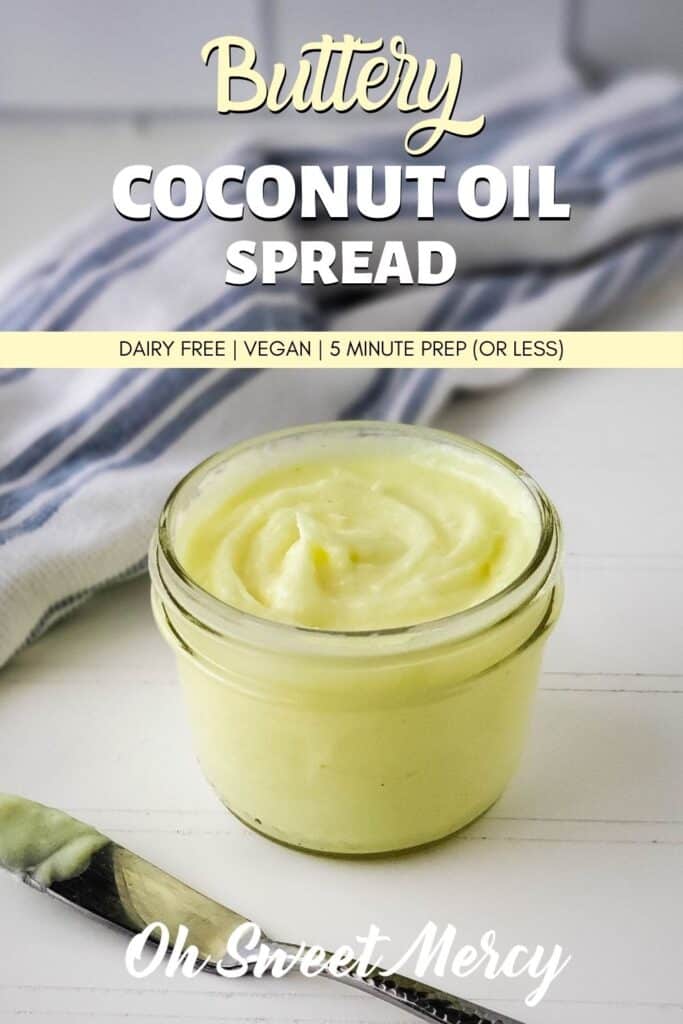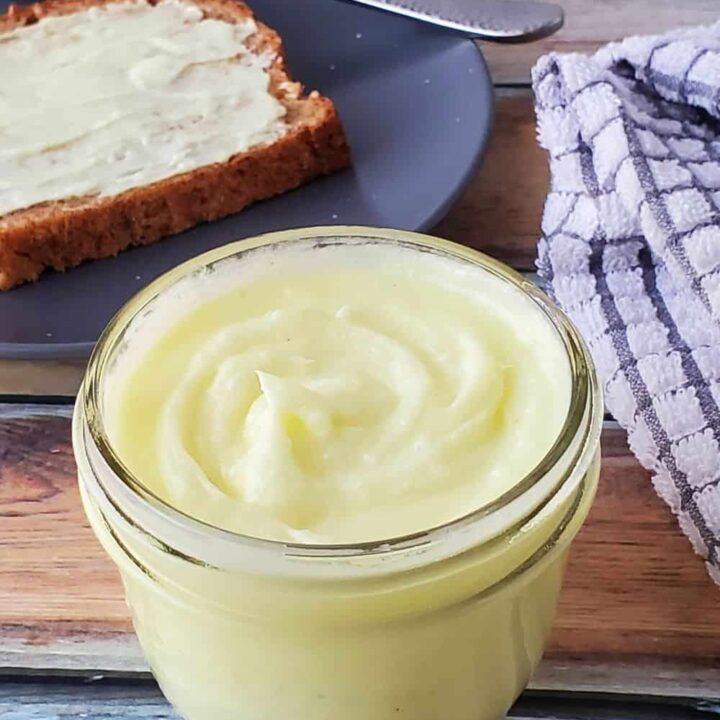 Easy Buttery Coconut Oil Spread | Dairy Free
Yield: 1 cup
Prep Time: 5 minutes
Total Time: 5 minutes
This easy buttery coconut oil spread whips up in 5 minutes or less. Great on toast, cooked veggies, or anywhere you'd use butter.
Ingredients
1 cup refined coconut oil, softened
1 tablespoon THM Natural Burst Butter (or other butter extract) *see notes
2 to 3 generous pinches of turmeric, for color OR 6 to 8 drops natural yellow food coloring (optional)
1/8 teaspoon high mineral salt (or to taste, optional)
1/2 to 1 teaspoon THM Simply Sunflower Lecithin (optional)
Instructions
In a mixing bowl, beat or whisk all ingredients together until whipped smooth and evenly incorporated.
Store in a tightly closed container.
Notes
Since butter extracts can vary in quality, I recommend adding 1 teaspoon at a time until you get the flavor you like.
Recommended Products
As an Amazon Associate and member of other affiliate programs, I earn from qualifying purchases.
Nutrition Information:
Yield: 48 teaspoons
Serving Size: 1 teaspoon
Amount Per Serving:
Calories: 43
Total Fat: 5g
Saturated Fat: 4g
Trans Fat: 0g
Unsaturated Fat: 0g
Cholesterol: 0mg
Sodium: 7mg
Carbohydrates: 0g
Fiber: 0g
Sugar: 0g
Protein: 0g
Nutrition information is approximate and based on the best knowledge available at the time of recipe publication. Your results may vary due to differences in ingredients. You can make your own calculations if this recipe does not include nutrition info by using an online calculator such as https://recipes.sparkpeople.com/recipe-calculator.asp