---
This gorgeous Frozen Hibiscus Lemonade gets its beautiful coloring from hibiscus flowers. Not only beautiful, they are a healthy source of Vitamin C! Make this pretty, sugar free drink on a hot summer day for instant refreshment.
---
When you think of a refreshing, frozen beverage for a hot summer day, what crosses your mind?
Maybe something tropical? Maybe something a beautiful red color? If you want something gorgeously colored red, but don't want artificial colorings, hibiscus is what you need! Not only does it provide a pop of spectacular color, it's actually good for you — unlike artificial food dyes.
When I was pregnant with my daughter, I developed an aversion to red food coloring.
If a food was supposed to be red, it didn't bother me. But red jello made my skin crawl.
Looking back, that was a good thing – red dye is really unhealthy. I still kind of get the heebie jeebies over it though, and it confounds me that one of my now-15-ear-old daughter's favorite foods is Red Velvet Cake.
That cake has about a gallon of red food coloring in it, and how I feel inside when I see that cake (and her eating it) is probably pretty much what Dracula experiences when he sees garlic. Or sunlight.
According to the FDA, food colorings are important because they make the food look healthier. This sounds more like a justification of deception, as it allows food processors to hide damaged or diseased products.

Read more: The Dangers of Food Dyes
The above statement on the FDA's position on food dyes is absolutely ridiculous to me! How about just using high quality, healthy ingredients? Food colorants are just one of many substances and foods banned in the rest of the world that our wise-and-looking-out-for-our-best-interest FDA allows in the products that fill Americans' refrigerators and pantries.
People are confounded over the rise in psychiatric and emotional disorders in children. Look at what many kids eat every day and ask yourself if you really believe there's no connection between what you put in your body and the behaviors and abilities that come out of it – especially when you're talking about young, developing minds and bodies!
Just because a product has FDA approval doesn't mean it's really safe, or good for you. Do your own research and decide for yourself.
Food manufacturers do know one thing, however. Colorful foods are more appealing.
There's just something about [natural] deep, red color in foods.
Fresh, juicy, ripe strawberries kissed with morning dew…sweet-tart pomegranate arils bursting in your mouth…tingly, bright pink grapefruit. They are gorgeous to look at…almost seductively alluring. You just want them so badly!
Pregnancy with Mister brought on wicked cravings for pink grapefruit – like, I would dream about it all day long, because it was my before-bed snack. My mouth would water at the thought of biting into those sweet-sour segments – and they had to be ice cold. I was slightly obsessed.
Then there's beets. Those are simply gorgeous! That dark, ruby color beckons me…then I get smacked with the flavor of dirt. Blech. I so want to like beets…and while I try them on occasion, I just can't get past feeling like I'm eating dirt. Sister? She LOVES beets.
Update: we actually both love this Roasted Garlic Beet Dip!
Again…I am totally confounded there. There was ONE time ONE day during my pregnancy with her that I actually craved beets. I had some at ONE meal, didn't even eat them all, and never wanted them again.
I ate mac 'n cheese like it was going out of style, and she has never liked it.
Kids are so weird.
Hibiscus flowers are a lovely deep red – and edible!
They're also very good for you, as hibiscus flowers are rich in Vitamin C and antioxidants. Studies have shown that it's effective in lowering high blood pressure and hibiscus tea has been used traditionally for a number of ailments and conditions such as insomnia and skin irritations. Studies also show it can help combat obesity and its complications, including diabetes and cardiovascular disease.
I recently picked up some dried hibiscus flowers at a local natural foods store because I LOVE raspberry hibiscus tea. One hot afternoon, I got the idea to pop some of those gorgeous red petals into a frozen lemonade. I often add strawberries, but was out and wanted a red lemonade – sans carcinogenic colorant. The tangy flavor of hibiscus pairs very well with citrus, so it was a match made in heaven.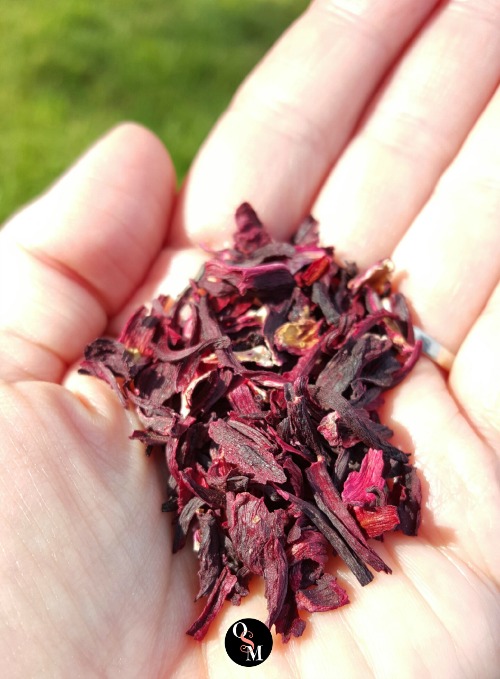 The result was a beautifully gorgeous and tasty beverage that's good for you in so many ways.
You have a few options for making this healthy Frozen Hibiscus Lemonade:
add the hibiscus flowers with all the ingredients and blend away
steep hibiscus flowers in lemon juice for several minutes before blending with the rest of the ingredients
steep hibiscus flowers in lemon juice for several minutes/hours/overnight/until you think about it, then strain before adding the lovely red-colored lemon juice to your blender jar
The first two methods will result in tiny, little pieces of hibiscus flower dotting your drink. This doesn't bother me a bit and since it's the quickest and easiest way, that's what I do. Steeping and straining are for you if you have a textural issue.
If you use the first method, it may look like you didn't add enough hibiscus – it will be a light pink. But after a few minutes, you frozen hibiscus lemonade will be a deep, gorgeous tropical red.
No need to be confounded by this delightful beverage.
Whip up a glass of this Frozen Hibiscus Lemonade and enjoy the rich, natural, vibrant hues of nature. You can feel good about giving this to your kids, too.
Look for dried hibiscus flowers at your local natural foods market or from my affiliate partner online, such as these Certified Organic & Kosher Dried Hibiscus Flowers.
You may also love the beautiful color and healthy goodness of my Blueberry Lemon Smoothie (with a Secret).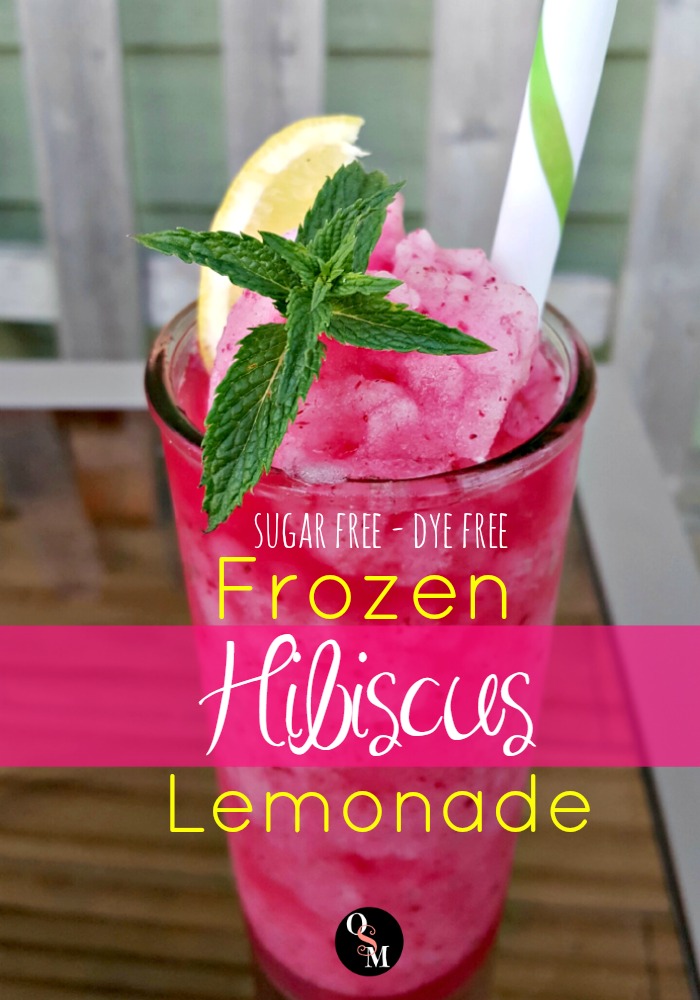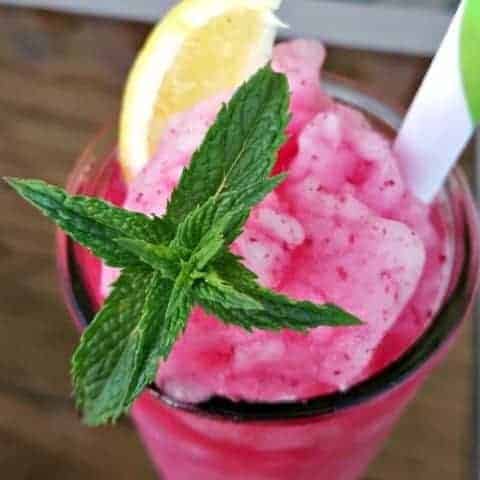 Frozen Hibiscus Lemonade | THM FP, Sugar Free
Yield: 1
Prep Time: 5 minutes
Active Time: 5 minutes
Total Time: 10 minutes
This gorgeous Frozen Hibiscus Lemonade gets its beautiful coloring from hibiscus flowers. Not only beautiful, they are very healthy! Make this pretty, sugar free drink on a hot summer day for instant refreshment.
Ingredients
1/4 c lemon juice
1/4 c water
12-14 ice cubes
Instructions
QUICK AND EASY METHODS:
Add all ingredients to blender jar and blend until smooth.
OR add lemon juice and hibiscus flowers to blender jar and let steep until juice is reddish, then add remaining ingredients and blend well.
STEEP AND STRAIN METHODS:
Steep hibiscus flowers in lemon juice until it is a reddish color, strain and add juice to blender jar.
Add remaining ingredients and blend well.
OR steep for several hours/overnight, strain and proceed as above.
Recommended Products
As an Amazon Associate and member of other affiliate programs, I earn from qualifying purchases.
Nutrition Information:
Yield: 1
Serving Size: 1 recipe
Amount Per Serving:
Calories: 10
Total Fat: 0g
Saturated Fat: 0g
Trans Fat: 0g
Unsaturated Fat: 0g
Cholesterol: 0mg
Sodium: 153mg
Carbohydrates: 0g
Fiber: 0g
Sugar: 0g
Protein: 0g
Nutrition information is approximate and based on the best knowledge available at the time of recipe publication. Your results may vary due to differences in ingredients.
Like this recipe? I'd be honored if you shared with your friends…be sure to Pin to your favorite Pinterest boards.