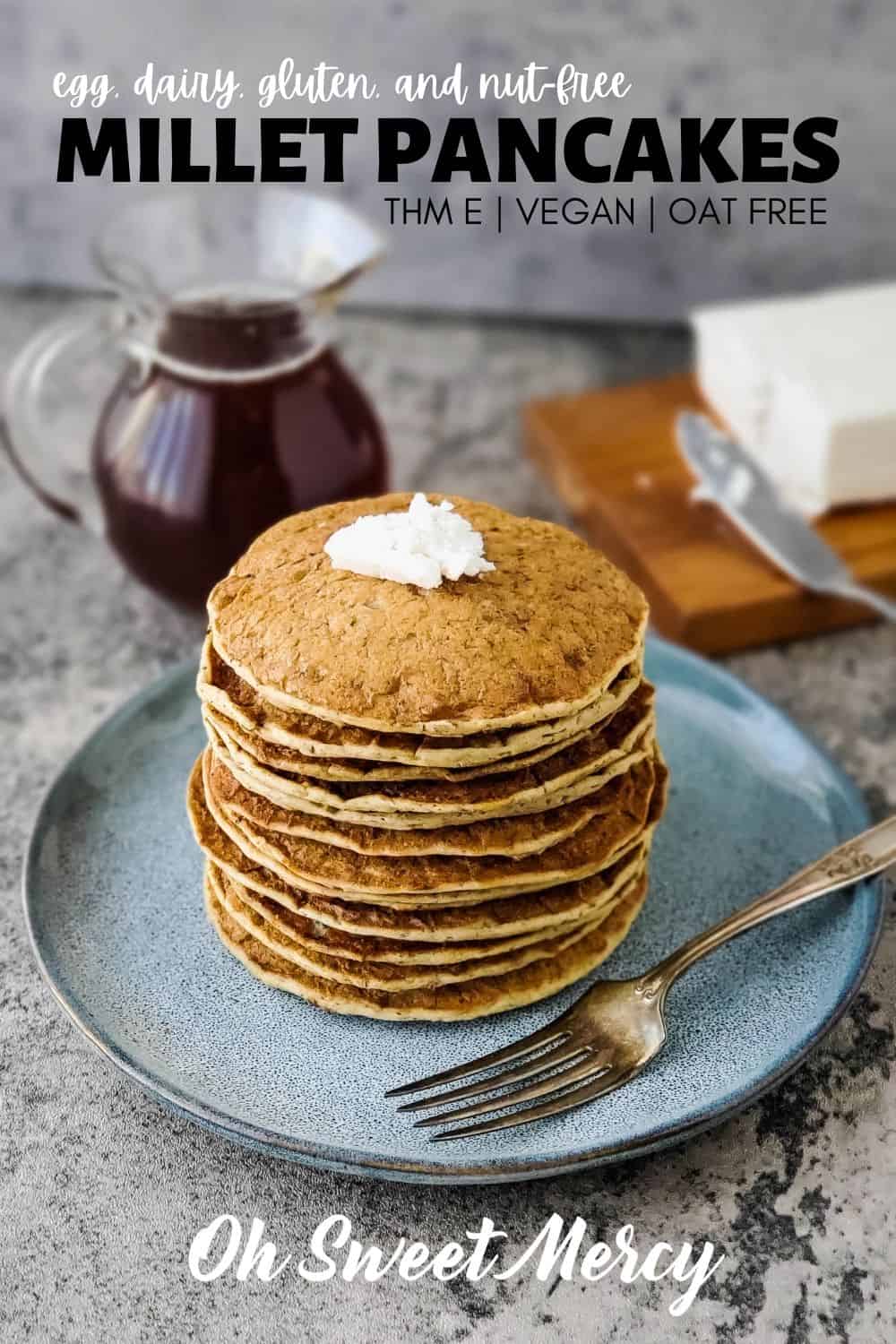 ---
My Millet Pancakes are free from eggs, dairy, nuts, gluten, and grains (millet is technically a seed) but that doesn't mean they're not delicious! They're perfect for the allergen conscious Trim Healthy Mama craving pancakes and a tasty THM E breakfast choice.
---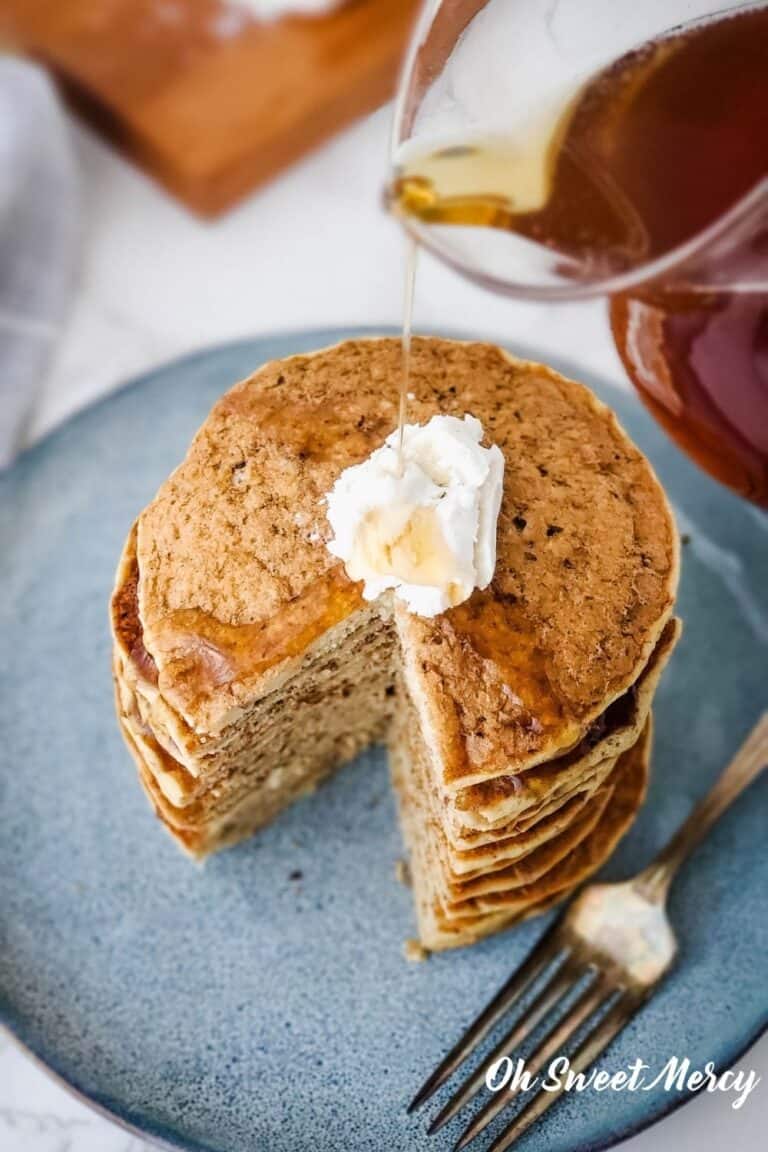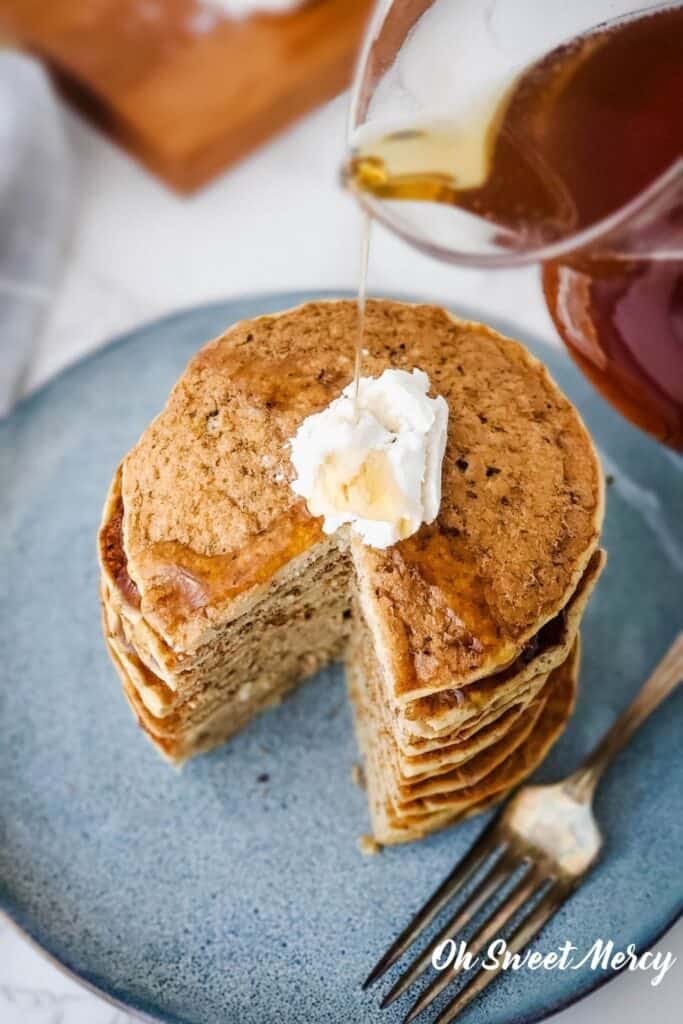 Egg free, dairy free, grain free, gluten free, nut free, sugar free, vegan pancakes? That taste good? Am I talking about sparkling magical unicorn stuff here?
For the past 7 months I've eliminated a number of foods. Most of them, sadly, make bread-y foods on THM easy and tasty.
I've tried making pancakes, muffins, and brownies all with mostly disappointing results.
So when I finally made pancakes that held together, looked like real pancakes, and were NOT gooey and super mushy inside I honestly almost started crying.
While I try to create recipes with minimal "special ingredients" using things you can easily find in the grocery store, sometimes that's just not possible.
Like when you're trying to create the Magical Unicorn of Pancake Recipes.
I can find the two more special ingredients in local stores, and you can easily order them online too.
What Do I Need For This Recipe?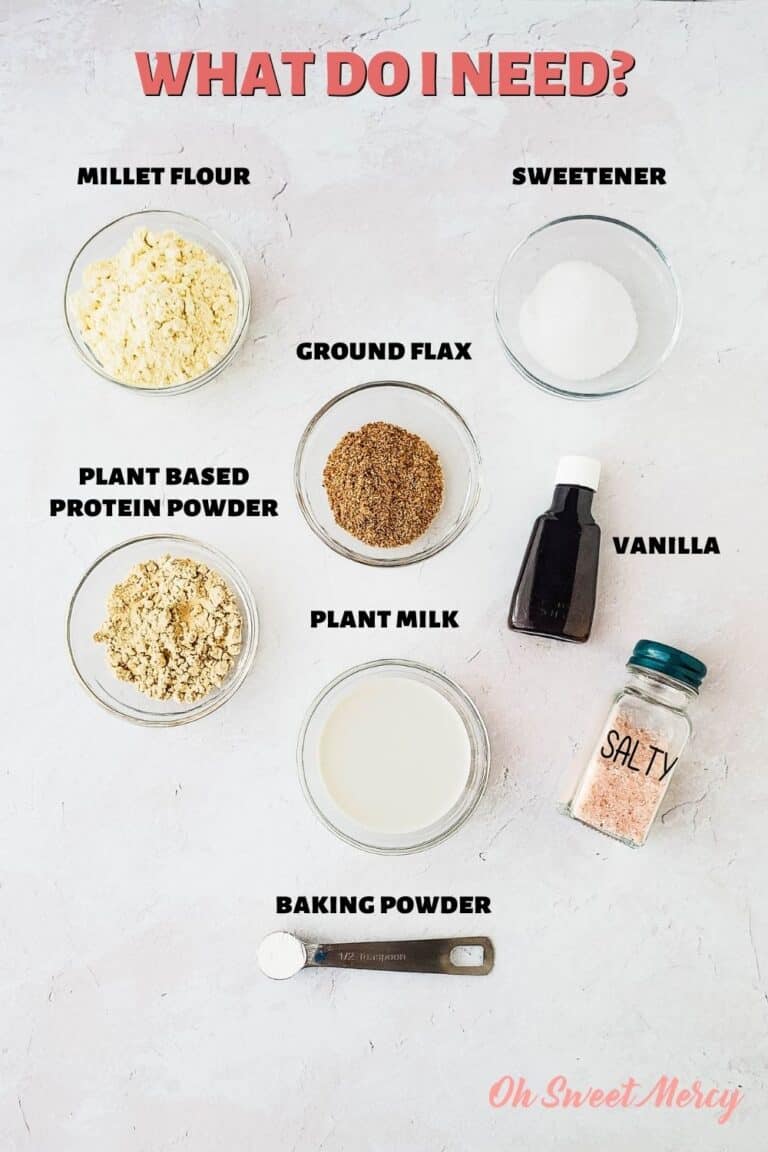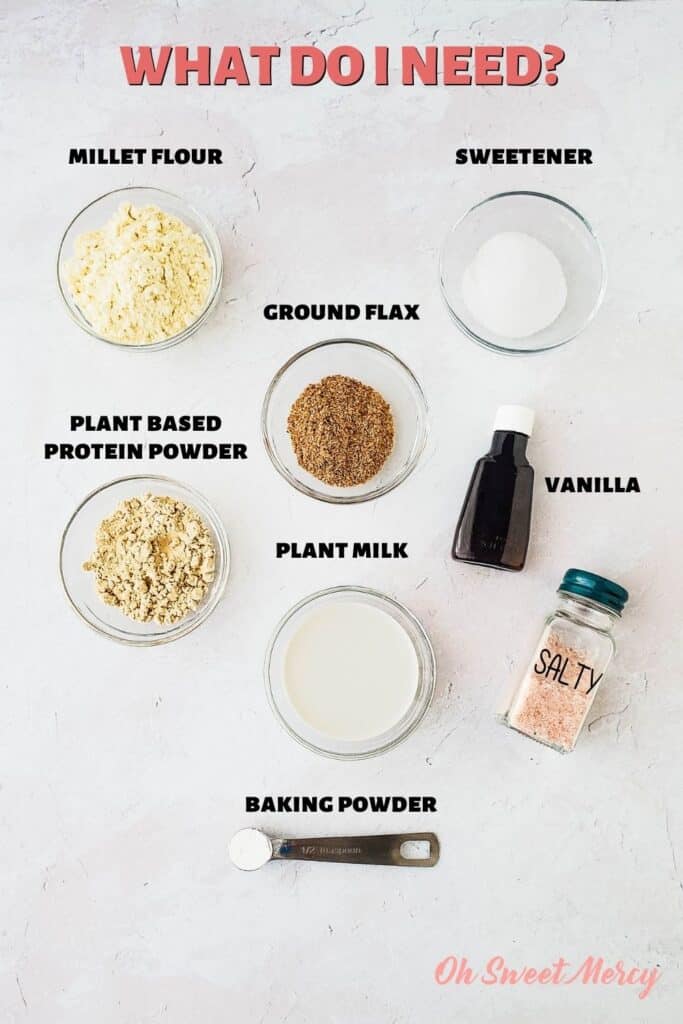 Here's what you need for making millet pancakes:
Millet flour
On-plan plant-based protein powder (I highly recommend THM Creamy Dreamy Plant Protein Powder)
Ground flax
Sweetener
Baking powder
Salt
Vanilla extract
Non-dairy milk (or use all water for lower fat)
I've tried this with Creamy Dreamy Plant Protein Powder, Vega, and a store brand and they all worked essentially the same. As far as flavor and texture go, I prefer the Creamy Dreamy over the other plant protein powders, but they were not terrible.
Is Millet A Grain?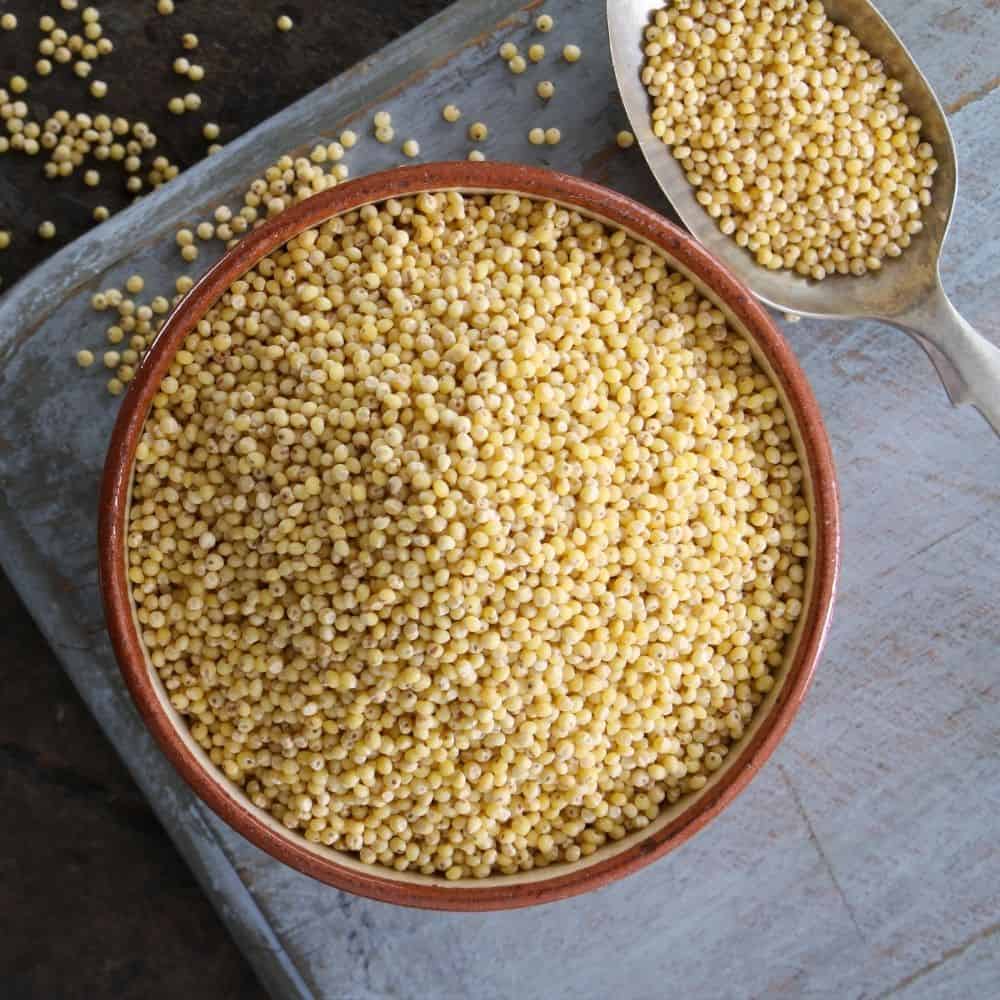 While millet is used like a whole grain, it's technically a seed. It's gluten free and a great option in grain and gluten free recipes.
Millet is wonderfully nutritious! It contains B vitamins, calcium, iron, magnesium, potassium, and zinc and a good amount of fiber.
It also has a decent Glycemic Index, generally somewhere between 54 to 68, depending on the variety of millet you eat.
This NIH publication sites a study that evaluated the effect of foxtail millet consumed for 90 days by 300 people with Type 2 diabetes. There was a reduction in fasting blood sugar level and lower A1C numbers. In addition, cholesterol and triglyceride levels were lower.
The fiber and protein that millet contains is helpful in keeping blood sugar levels better controlled. And, the vitamins and minerals it contains help nourish the body overall.
Are There People Who Should Not Eat Millet?
Just like with many things, while millet is a wonderfully healthy gluten-free alternative for most people it does have a property that is not beneficial to some.
People with hypothyroidism may want to avoid millet, or at least only consume in moderation. This is because millet contains goitrogens, substances that may interfere with thyroid function.
Speak with your health care professional about whether or not millet is a good choice for you if you have thyroid problems.
How To Make Egg Free Millet Pancakes.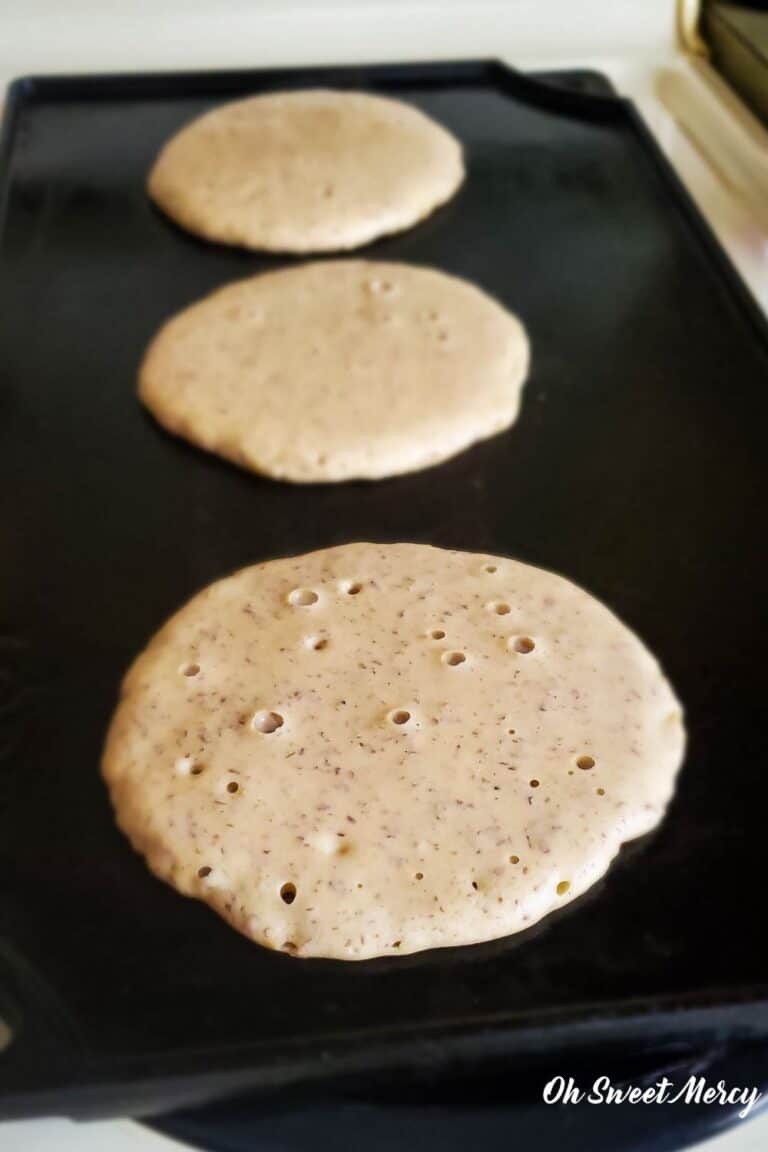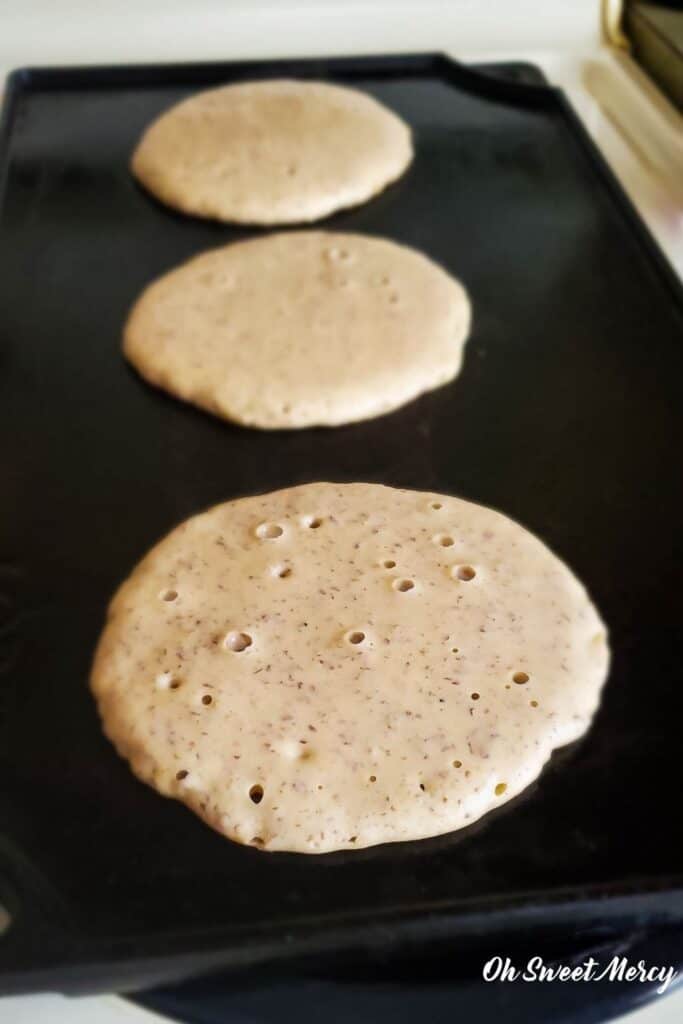 Making gluten free pancakes isn't too terribly difficult.
However, making gluten AND egg free pancakes that are also free from all the other ingredients that make making pancakes easy and delicious is a bit of a challenge. But, it's not impossible!
I use a flax egg as an egg replacer. This is simply mixing ground flax meal with water and allowing it to sit for about 5 minutes.
Mix up your flax egg first thing then get the rest of your ingredients, bowl, measuring cups and spoons, etc. out. By the time you're ready to add the flax egg it will be ready to go.
TIP: Millet can be bitter so using it as part of the flours in a recipe, instead of all millet, helps reduce any bitterness.
I made several batches of these pancakes. Like, I have pancakes for days in my fridge, I kid you not.
How terrible, right? I have quick and easy breakfasts to grab!
In the testing of many batches here's what I discovered:
GELATIN EGGS ARE NOT A GOOD EGG REPLACER IN THIS RECIPE. Just trust me on that one. My chickens thought the gnarled globs I threw out for them were great, though…
Whisk together the dry ingredients very well.
You want a slightly thick batter, just a hair more thick than a pancake batter made with regular all purpose flour.
Let the batter sit for about 5 minutes or so, while heating up your cast iron griddle or skillet is perfect, then check consistency. If it's too thick add a bit more liquid.
Let the pancakes cook until the edges are dry and bubbles appear in the batter, just like regular pancakes.
One thing I forgot to test was cooking in a non-stick skillet. I used both a cast iron skillet and a cast iron griddle to cook mine. They're well-seasoned and I just needed a thin bit of oil on the surfaces. No sticking for me!
Want more egg free recipes? Check out my Big List of Egg Free THM Desserts!
How To Fit This Vegan Millet Pancakes Recipe Into Your THM Meal Plan This Week.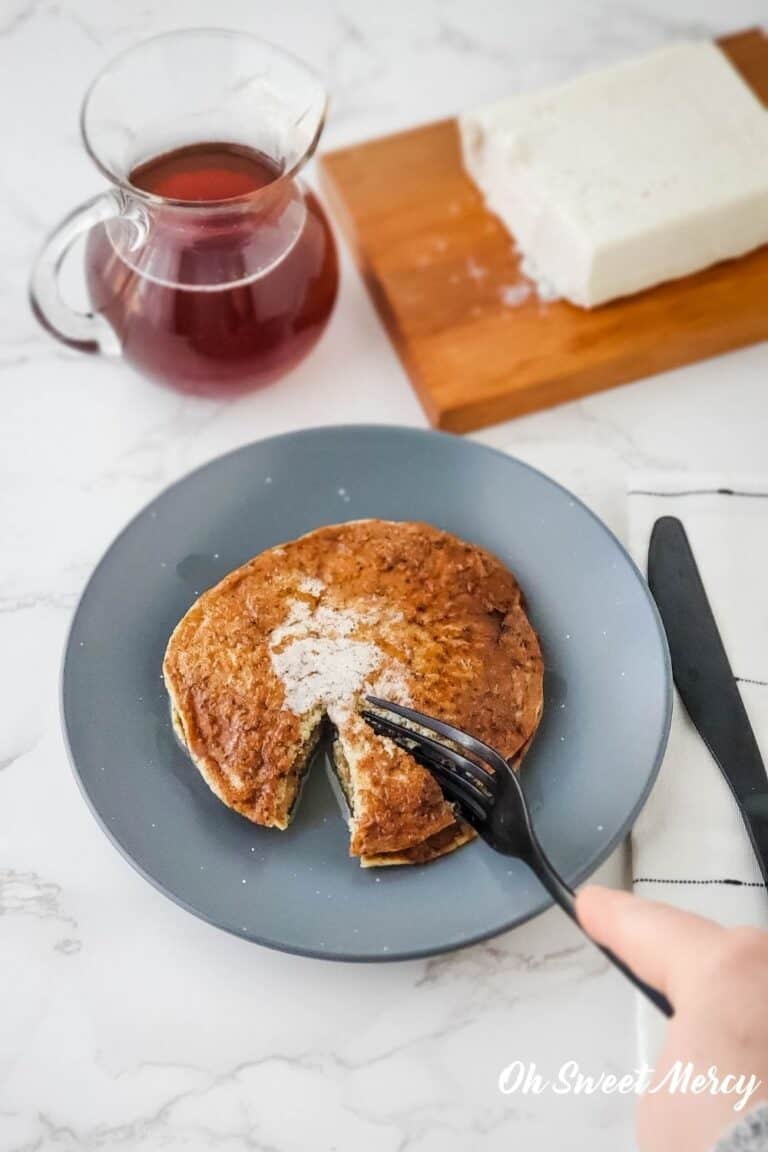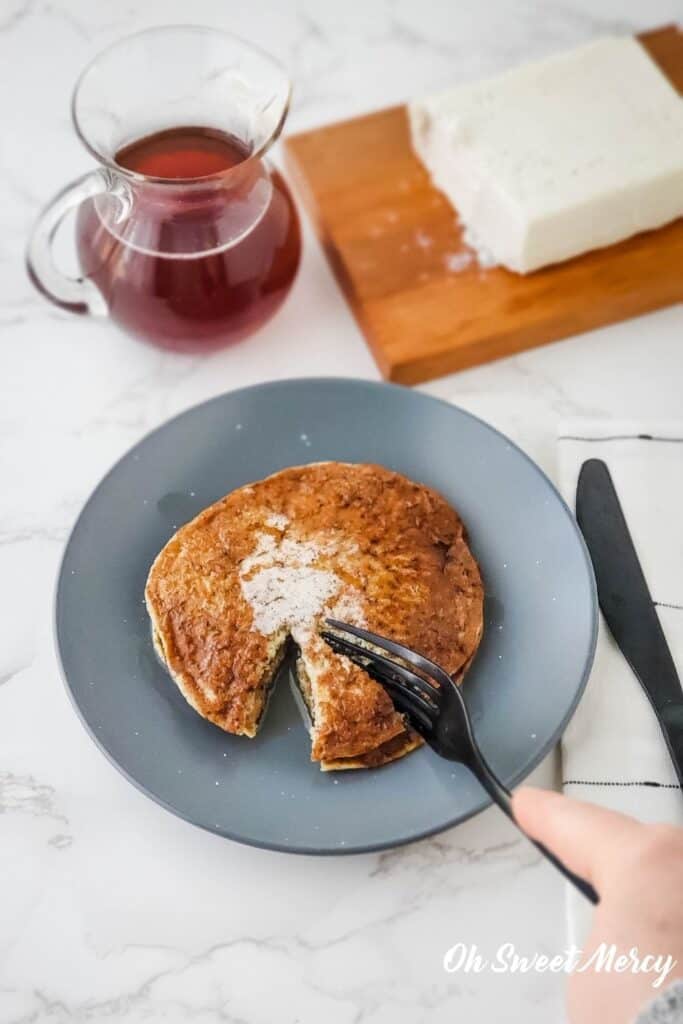 Always consult the Trim Healthy Mama Plan Book for the most accurate information on how to put your meals together.
This recipe is a THM E, meaning it is higher in healthy carbs, so we must keep our added fat grams very low. Making this pancake batter with all water instead of using on-plan plant milk such as almond milk makes these pancakes lower in fat.
The added fats here primarily come from the ground flax.
Millet does have a bit of fat in it naturally, and that is reflected in the nutrition information below. Keep in mind that on the THM plan, we count the ADDED fat in our THM E meals.
Can I Put Butter On These Pancakes? There's Butter In The Photos!
Well, it's complicated! And I apologize if the photos are misleading. You see, in my excitement over making pancakes I could eat…finally after all these months…my brain did not calculate things correctly.
Thankfully there are things on the internet that accurately calculate nutrition info! Turns out, as written below, we're basically at our added fat grams limit for a THM E meal.
Because there's flax in these pancakes, that uses most of the allowed 5 grams of added fats. 2 grams of fat comes from the millet itself, leaving 4.4 grams.
Unfortunately, that's the drawback to making these egg free! If you can have eggs, try using 2 egg whites and that frees up fat grams for a bit of butter.
BUT!
Remember, though, that Crossovers are on plan! And sometimes, a good old Crossover is just what your metabolism needs to shake it up and get it moving again.
And, sometimes you just want to have pancakes and that amazing vegan butter you love and you have all these foods you can't eat and it's nearly impossible to make pancakes and you just enjoy the Crossover.
#askmehowiknow 😉
Finally, you can always use an on-plan jam or fruit spread (try the Apricot Wow Spread on page 366 in Trim Healthy Future) instead of butter and sugar free syrup.
What About Protein?
As written below, 4 pancakes have just over 20 grams of healthy, plant-based protein! No need to add more to this meal unless you need more protein with THM E meals.
Just be sure it's a lean protein of some type since we don't have much wiggle room with the added fats. Collagen tea is a great option if you're not eating vegan, of course.
If you're enjoying an occasional Crossover, have a Fuel Pull smoothie or shake. My Chocolate Chip Shake is dairy free and delicious (and not super high in fats, either).
Or, turkey bacon or sausage are natural pals with pancakes. If you can have eggs, I have a Sugar Free Breakfast Sausage recipe that is perfect for pancake morning (it uses egg whites).
Can I Have These In A THM FP or S Meal?
I checked with the lovely official Admin, Jessica Myers, about this because numbers-wise, ONE pancake fits into Fuel Pull territory. Here's what she said:
Even sprouted breads that are under 10 grams of carbs are suggested to be thought of as E (or S Helper depending on the serving size).
So, even though the NUMBERS work, remember this phrase: INGREDIENTS TRUMP NUMBERS. This means that the ingredients take precedent over the numbers and it's an E recipe even if you can "make the numbers fit" for an S or FP.
I'll keep working on this recipe and hopefully will come up with a lower fat egg replacement option. But for now, I'm just going to enjoy eating pancakes again. I hope you enjoy them too!
PIN IT!
Pin this easy millet pancakes recipe to your favorite Pinterest boards using the image below.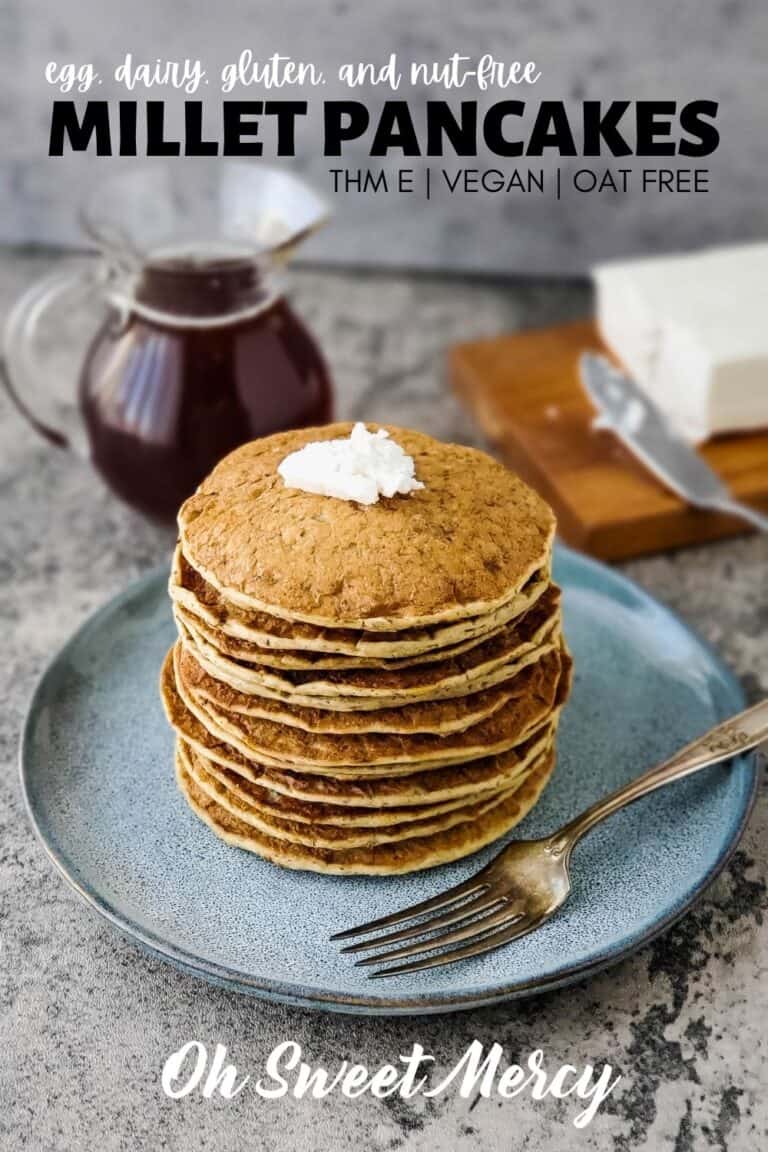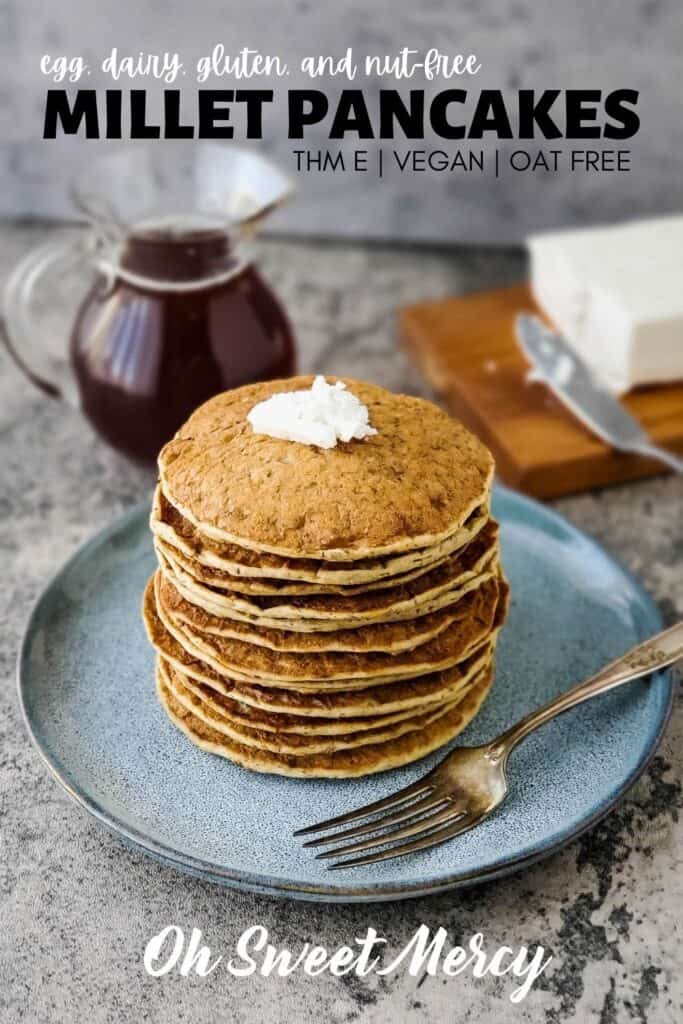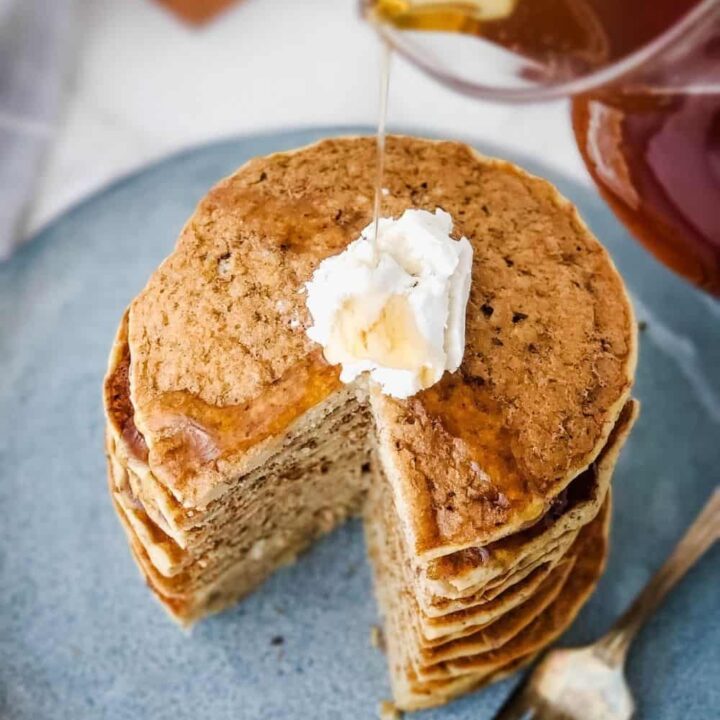 Egg Free Millet Pancakes | THM E
Yield: 8 to 10 pancakes
Prep Time: 10 minutes
Cook Time: 30 minutes
Total Time: 40 minutes
Easy vegan millet pancakes are free from nuts, eggs, dairy, gluten, and grains. Low in fat and perfect for Trim Healthy Mama plan meals!
Ingredients
2 tablespoon ground flax
6 tablespoons water
1/2 cup millet flour
6 tablespoons THM Creamy Dreamy Plant Protein Powder
1 teaspoon baking powder
1/4 teaspoon pink Himalayan salt
2 teaspoon vanilla
1/4 cup non-dairy milk
3/4 cup water (or use all water)
Additional liquid as necessary for consistency
Instructions
Make flax egg by mixing ground flax and water in a small bowl. Let sit for 5 minutes.
If using a cast iron skillet or griddle, preheat over medium high heat.
In a mixing bowl, combine millet flour, plant-based protein powder, sweetener, baking powder, and salt and whisk well.
Add water, flax egg, and vanilla and whisk well to combine.
Let batter sit for about 5 minutes, add more liquid if it's too thick. You do want a slightly thick batter, though.
Lightly oil/grease your skillet or griddle.
Pour 2 generous tablespoons of batter onto hot skillet or griddle for each pancake, spreading it out to about a 6" diameter.
Cook for about 2 minutes, or until the edges have become noticeably dry and bubbles appear in the batter, then flip and cook an additional 1 to 2 minutes or until cooked through and golden brown on the bottom.
Repeat for remaining batter.
Notes
You can use a plant-based milk, however it will increase your added fats and likely make this a Crossover.
If using a plant-based protein powder other than THM Creamy Dreamy Plant Protein Powder, it may add a bit of fat to your nutrition info.
Nutrition information below calculated with using Creamy Dreamy Plant Protein Powder and water.
Recommended Products
As an Amazon Associate and member of other affiliate programs, I earn from qualifying purchases.
Nutrition Information:
Yield: 8
Serving Size: 4 pancakes
Amount Per Serving:
Calories: 296
Total Fat: 6.9g
Saturated Fat: 0g
Trans Fat: 0g
Unsaturated Fat: 3.8g
Cholesterol: 0mg
Sodium: 298.5mg
Carbohydrates: 38.6g
Net Carbohydrates: 33.7g
Fiber: 4.9g
Sugar: 1.4g
Protein: 20.9g
Nutrition information is approximate and based on the best knowledge available at the time of recipe publication. Your results may vary due to differences in ingredients. You can make your own calculations if this recipe does not include nutrition info by using an online calculator such as https://recipes.sparkpeople.com/recipe-calculator.asp