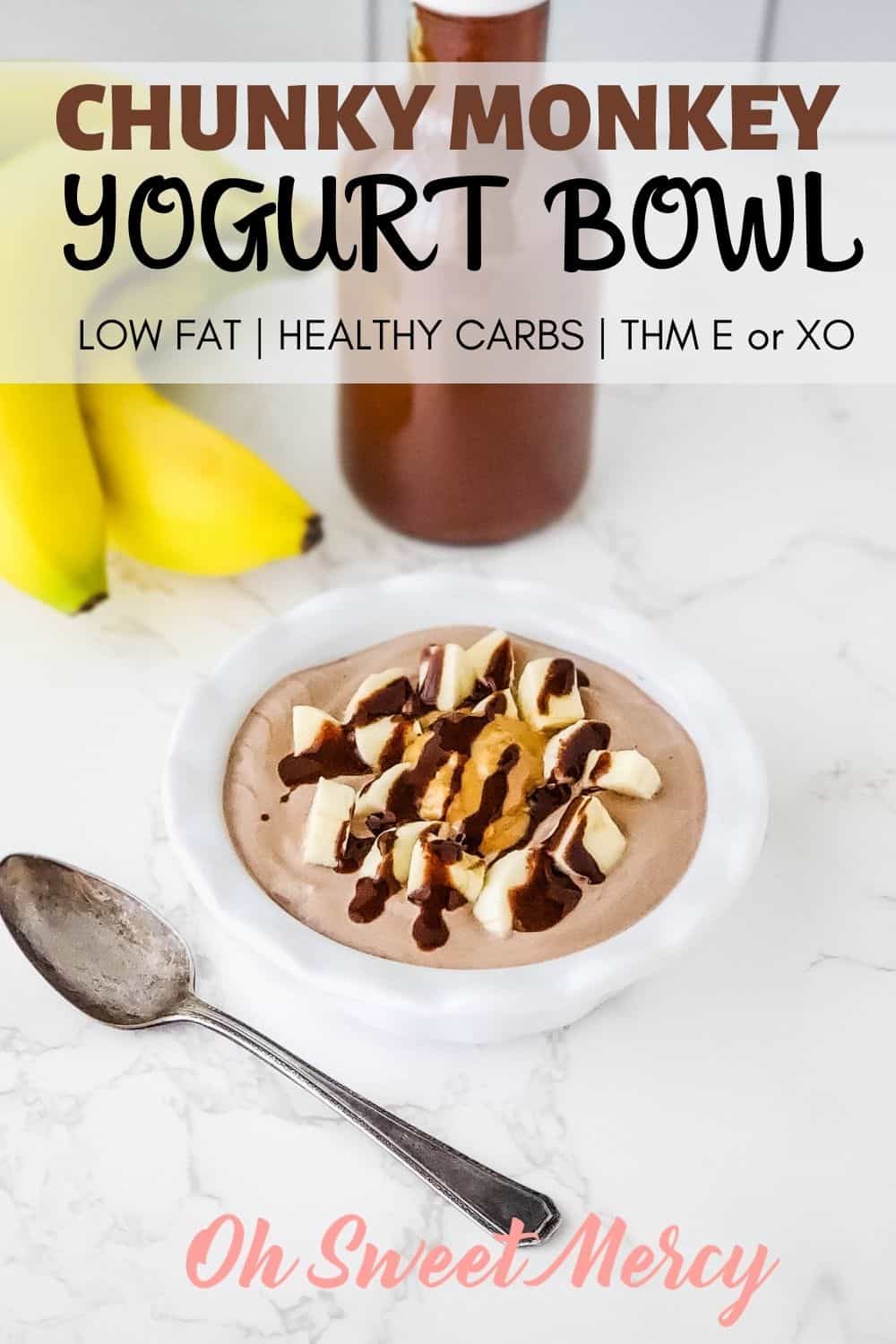 Jumping to the recipe? Please come back and read when you have the time, I include helpful info in my posts like how to fit my recipes into your THM meal plan! Get notified of new posts by signing up for my newsletter at the end of the page. Thanks for stopping by!
---
Creamy, chocolate Greek yogurt, crunchy peanut butter, ripe bananas, and a drizzle of chocolate syrup makes this low fat Chunky Monkey Yogurt Bowl a decadent (but healthy) treat! Great for the Trim Healthy Mama looking for a satisfying THM E meal or snack. And so good the whole family enjoys it!
---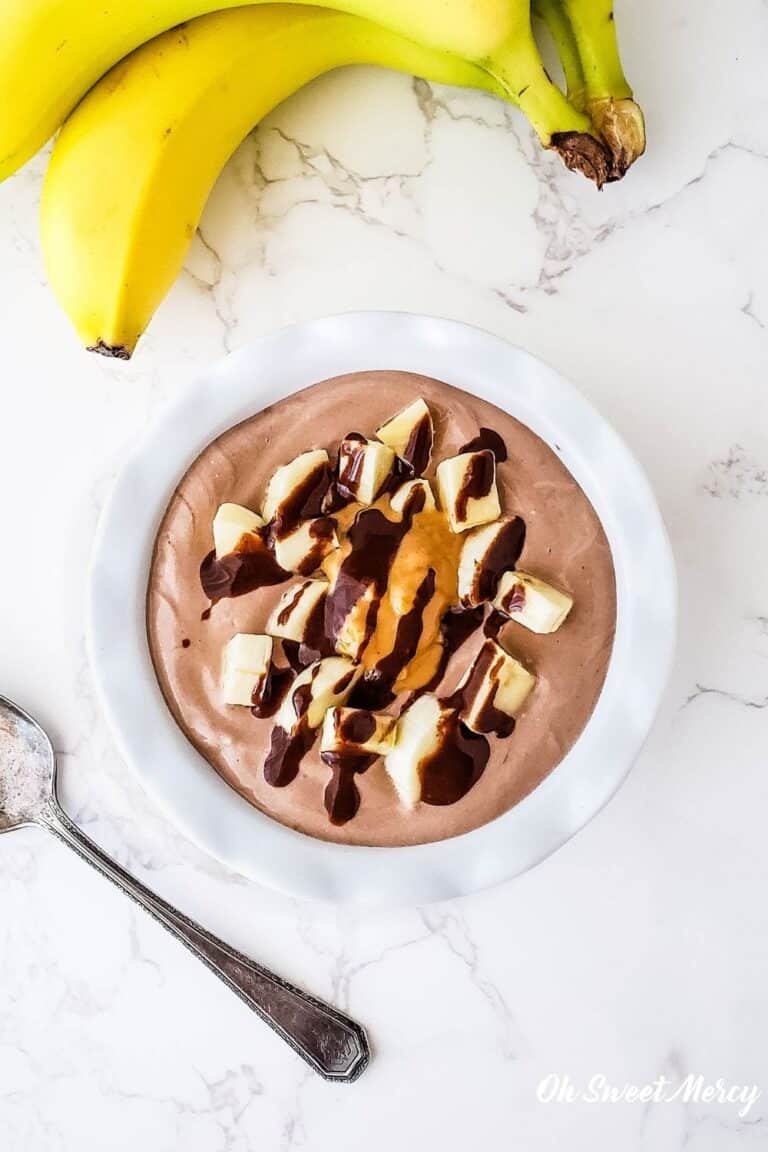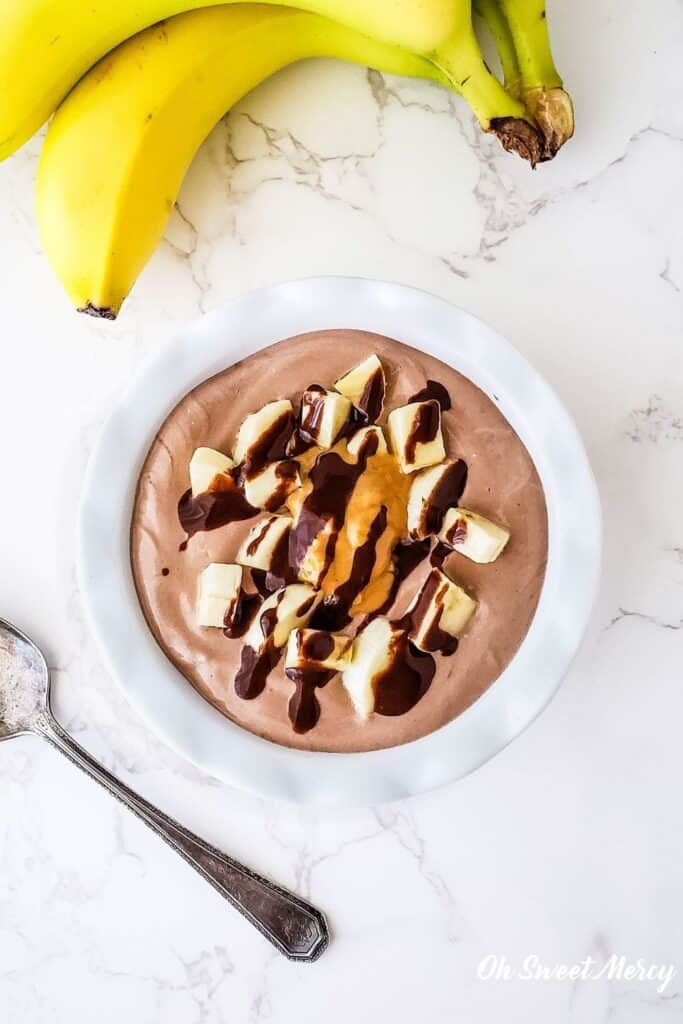 While eating bananas isn't my go-to carb source for THM E meals and snacks, I put this yummy dish together one day and fell in love.
It's packed with protein, sweet and creamy, nut buttery and chocolatey, and just the right amount of banana goodness. Bananas are higher in starches and sugars so we don't overdo them on the Trim Healthy Mama plan.
But they're definitely a healthy carb source for our low fat, Energizing meals and snacks. There's no added sugars, of course, so you'll want to keep this with the rest of your healthy recipes.
If you need Crossovers, that's simple too – just add more peanut butter or stir some MCT oil into the yogurt.
I've been craving this tasty Greek yogurt bowl since I whipped it together one day. Maybe I need the potassium or the vitamin B6 right now? Whatever the reason, I'm so thrilled to have a tasty THM E recipe that tastes like such a treat.
What Do I Need For This Recipe?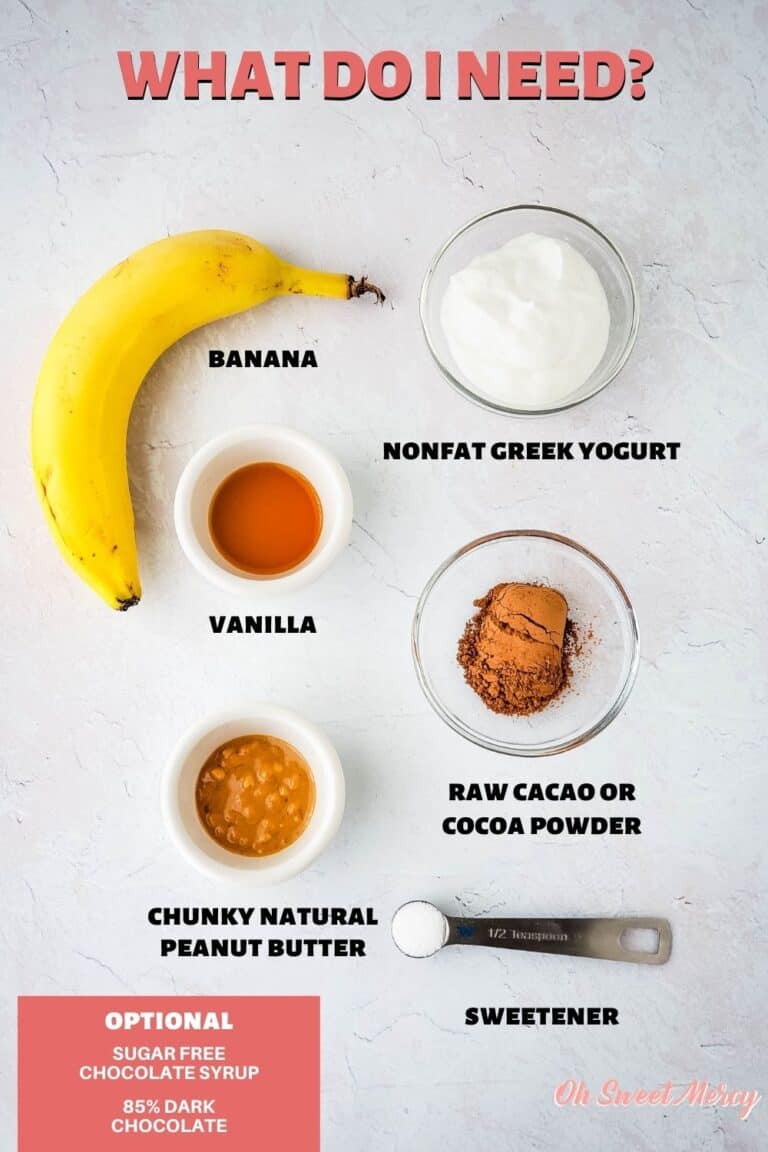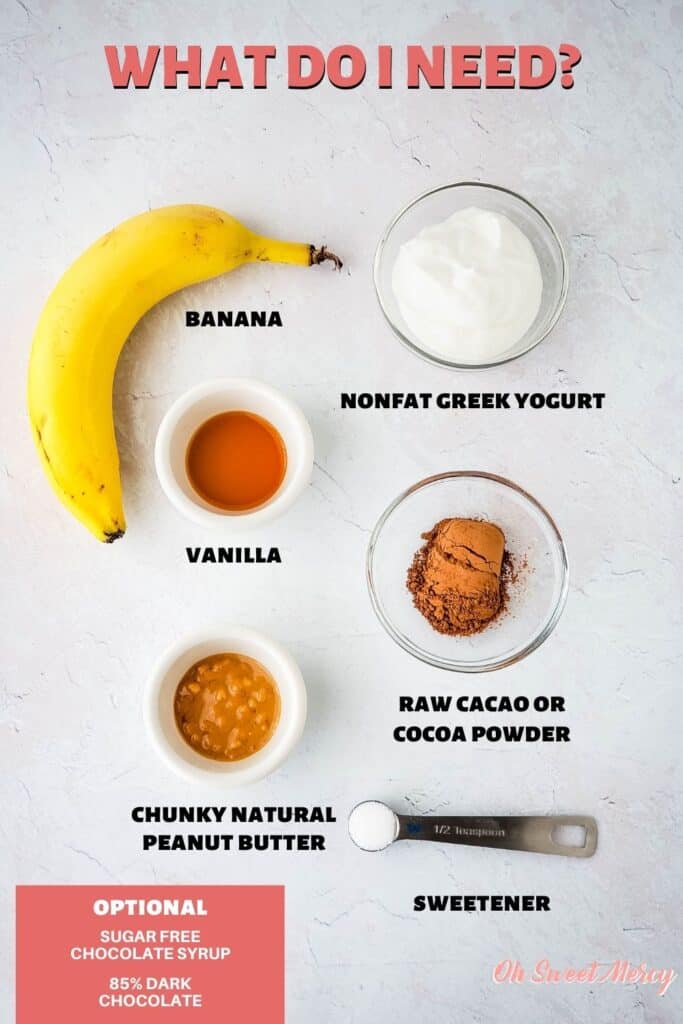 Nothing fancy needed for this easy yogurt bowl!
0% Greek yogurt (or plain, non-fat regular yogurt – just be sure to get some more protein if you choose this option for a meal)
Raw cacao powder (or regular cocoa powder)
Sweetener (I usually use THM Pure Stevia Extract but any on-plan sweetener works fine)
Small to medium banana
Chunky peanut butter (or other nut butter if you can't have peanuts)
On-plan chocolate syrup (see below for recommendations)
OR 85% dark chocolate shavings
If you're wanting a Crossover or making for others not following the THM plan, no problem!
Just add some more fats to your yogurt bowl. Stir in some MCT oil, or add other yogurt toppings such as chia seeds, more nuts, extra nut butter, raw cacao nibs or other favorite toppings.
Using Regular Yogurt? Add Some Protein To Your Meal!
One of the important keys to success with the THM plan is centering our meals around healthy protein. Since this is a low fat, THM E meal with healthy carbs it's important to have enough lean protein.
Non-fat Greek yogurt contains around 22 grams of protein per cup. In contrast, non-fat plain regular yogurt contains 12 grams.
Easy ways to add more protein to this quick meal are:
Delicious Sugar Free Chocolate Syrups And Sauces To Top Your Chunky Monkey Yogurt Bowl.
I've made this without chocolate syrup and it's still delicious. For a little extra chocolatey goodness, sprinkle some raw cacao powder or regular cocoa powder on your yogurt bowl.
Or, sprinkle a few 85% dark chocolate shavings on top.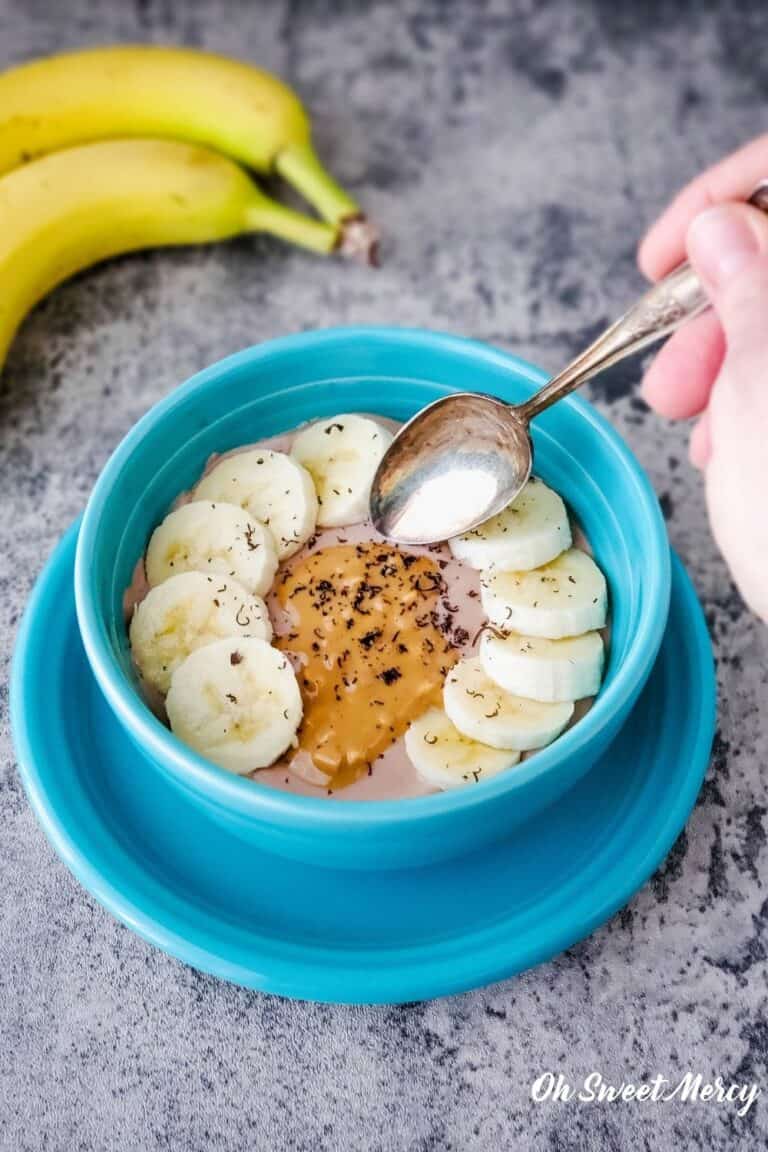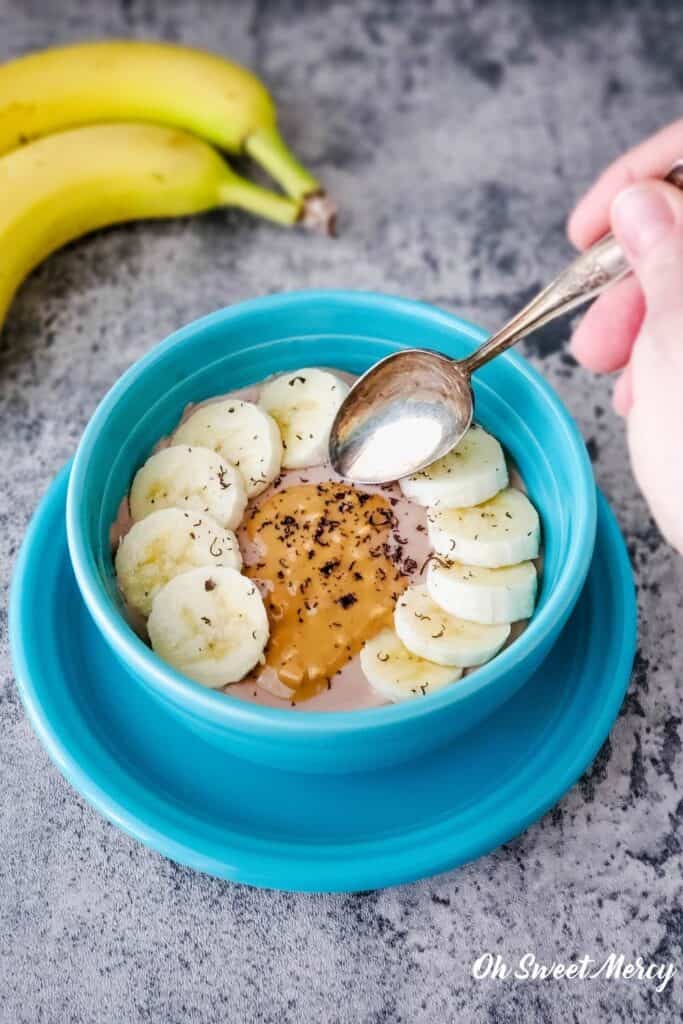 But, if you have a plan-friendly chocolate syrup on hand (or can make some) I highly recommend it! It makes this healthy, low-fat Greek yogurt bowl taste decadently delicious without adding fats or carbs.
Number one on my list is the easy Handy Chocolate Syrup on page 479 in the first THM cookbook. BUT, if you can (and you're a member of the main THM Facebook group) check out this easy trick to make it thicker. It's fabulous!
Our fabulous community of THM bloggers (and other low carb bloggers) have some terrific recipes for you, too:
Sugarless Chocolate Syrup from Wonderfully Made and Dearly Loved
Easy Sugar Free Chocolate Gravy from Nana's Little Kitchen
Easy Sugar Free Chocolate Syrup Recipe from Low Carb Yum
3 Minute Sugar Free Chocolate Syrup from Wholesome Yum
More banana recipes!
Secret Blueberry Smoothie (THM E)
What About Store-Bought Sugar Free Chocolate Syrup?
I did some investigating and did not find any store-bought brand of sugar free chocolate syrup that are officially designated on plan. Some would be considered "personal choice." Just be aware that some of these shortcut foods may stall progress if overused for some people.
If you can make your own, that's great! It really doesn't take long to make these recipes (though they can disappear rather quickly lol).
How To Fit This Recipe Into Your THM Meal Planning.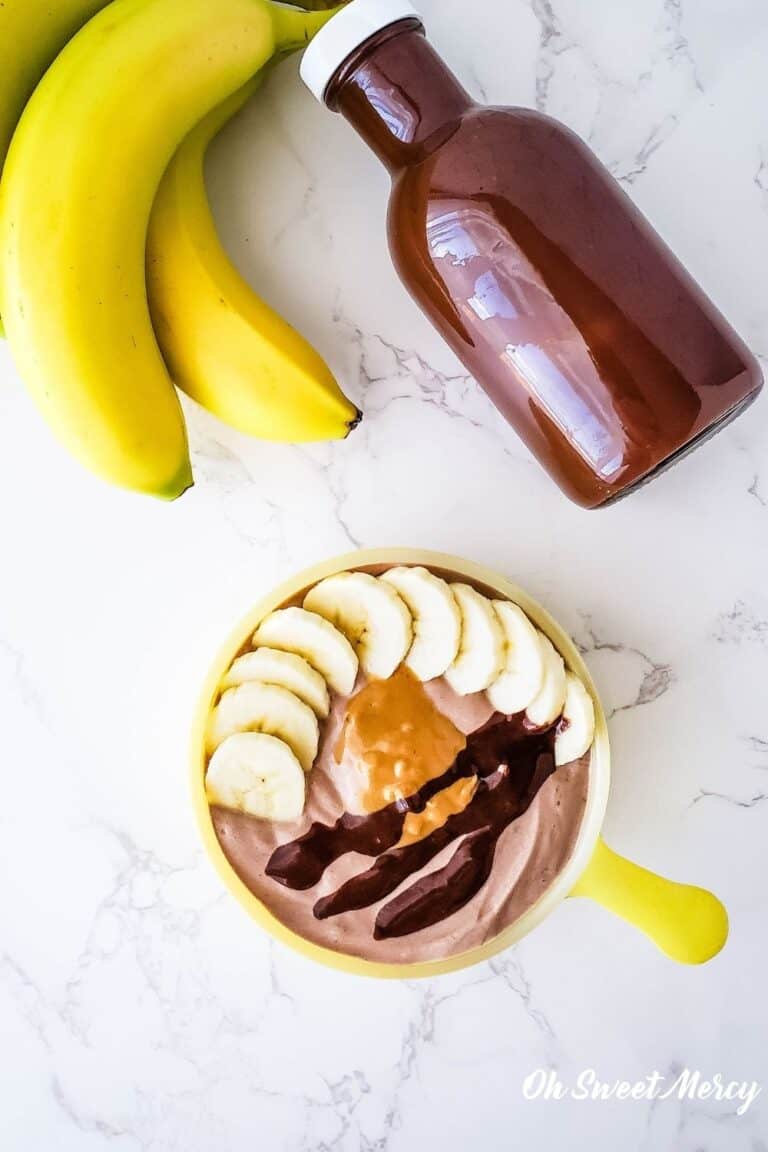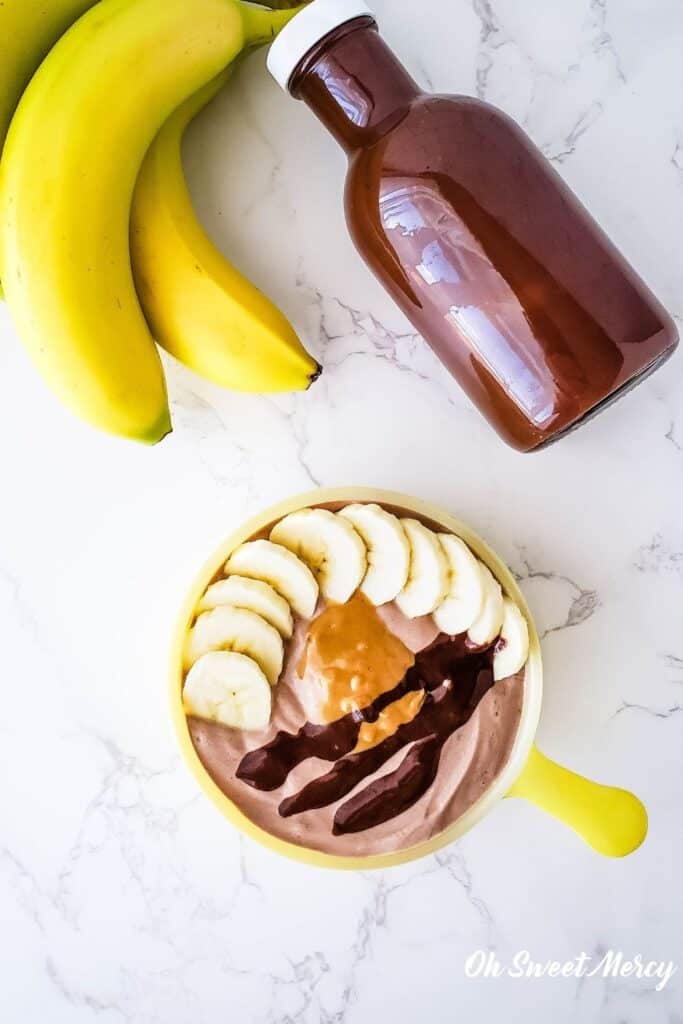 As written, this is a delicious, low fat, healthy carb, THM E meal. In this meal type we keep our added fats very low. In this case, the added fat is in the teaspoon of chunky natural peanut butter.
If using non-fat Greek yogurt, it's got plenty of protein for a full meal. Using regular non-fat yogurt? It might be fine for a snack but if you're wanting it for your main meal be sure and include additional lean protein somewhere in your meal.
I personally find this plenty for me unless I'm just ravenously hungry. An all-day sipper helps fill the cracks, or check the list above for additional protein options.
This recipe has been tested several times by me and my children. Sister and Mister both love it! I hope it helps satisfy that craving for something and keeps you on plan!
PIN IT!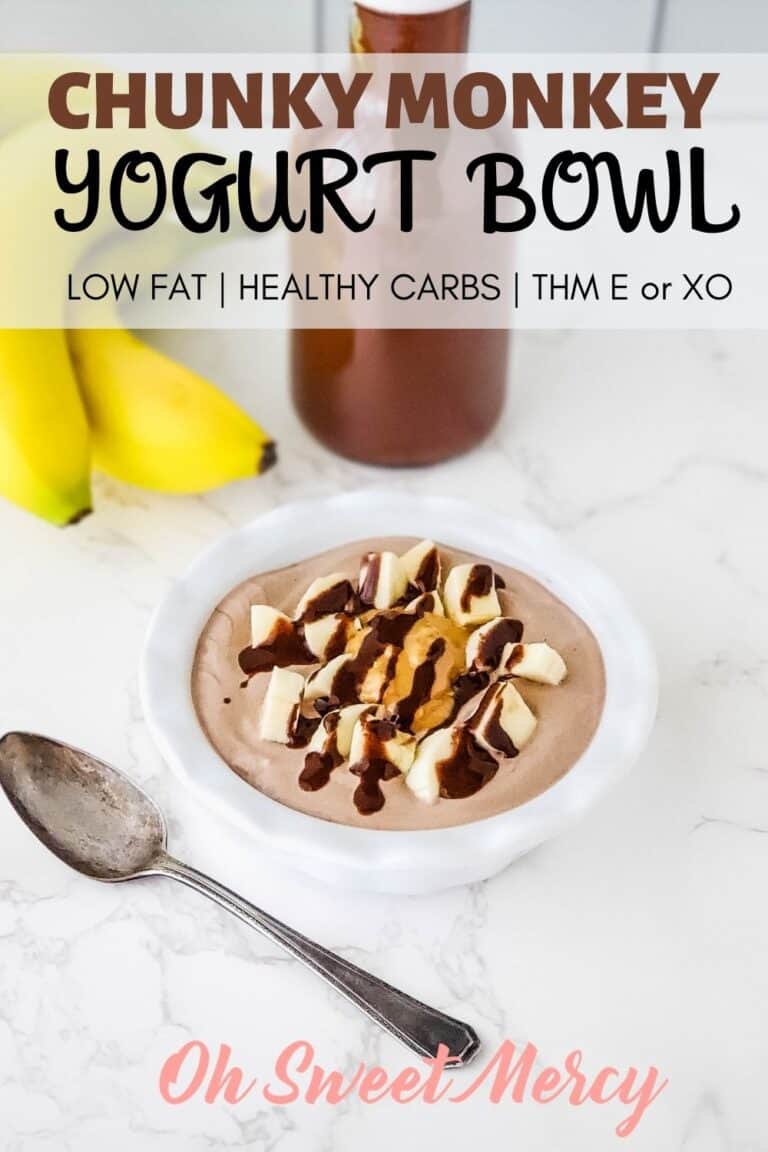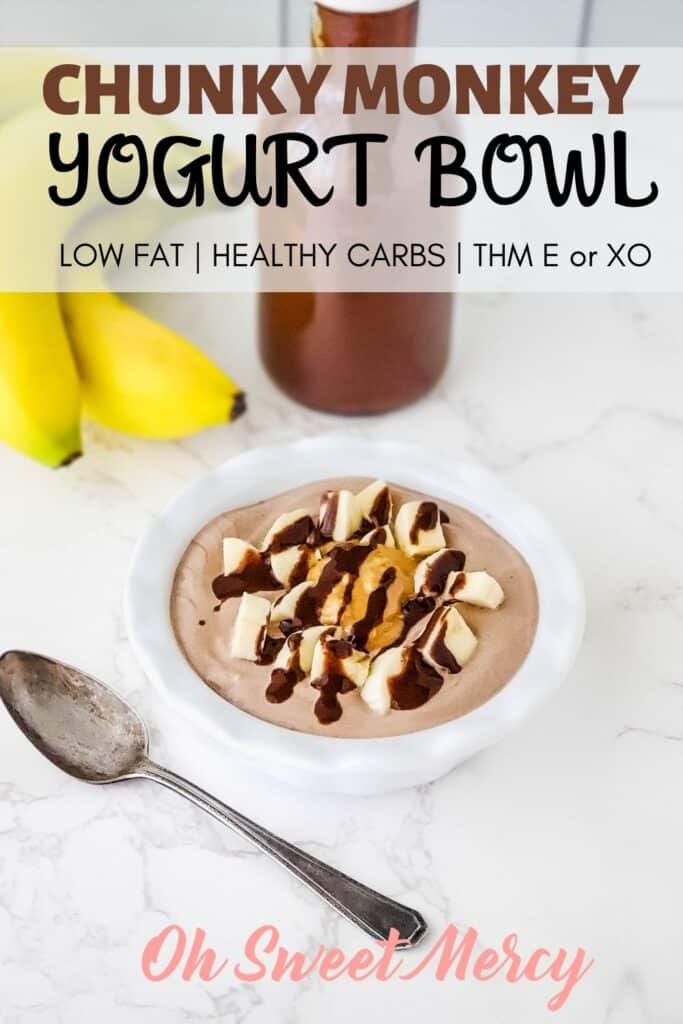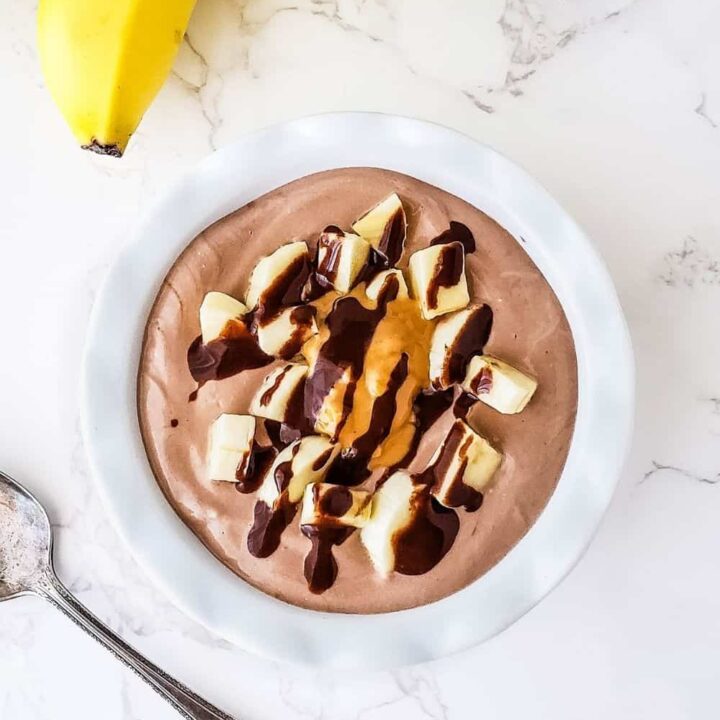 Chunky Monkey Yogurt Bowl | Low Fat, THM E
Yield: 1 serving
Prep Time: 5 minutes
Total Time: 5 minutes
This 5 minute sweet treat satisfies that craving for bananas, chocolate, and peanut butter - in a low fat, healthy carb THM E style! Creamy chocolate yogurt topped with fresh bananas, chunky natural peanut butter, and drizzled with chocolate syrup, it tastes like something you shouldn't be eating. Easy to make a THM XO, too.
Ingredients
1 cup plain nonfat Greek yogurt (or plain nonfat regular yogurt)
1/2 to 1 small banana (see notes)
1 teaspoon chunky natural peanut butter (no sugar added)
OPTIONAL: on-plan sugar free chocolate syrup or a small amount of 85% dark chocolate shavings
Instructions
In a bowl mix together the yogurt, cacao or cocoa powder, vanilla, and sweetener until smooth and completely combined.
Slice or dice banana and place on top of chocolate yogurt.
Top with peanut butter and your choice of chocolate options: sugar free chocolate syrup, 85% dark chocolate shavings, or more cacao/cocoa powder.
Or, top as desired for a Crossover. See notes.
Enjoy right away. If wanting to eat later, stir the bananas into the yogurt before topping to prevent browning.
Notes
Use half to 1 whole small banana (or 1/4 to 1/2 large) - since bananas are something we shouldn't overdo, opt for the smaller amount most of the time (especially for a snack).
TO MAKE A THM CROSSOVER (XO)
add more peanut butter
stir some MCT oil into the yogurt
top with chia seeds, raw cacao nibs, liberal amounts of 85% dark chocolate shavings
Nutrition Notes
Nutrition information calculated for Greek yogurt.
Recommended Products
As an Amazon Associate and member of other affiliate programs, I earn from qualifying purchases.
Nutrition Information:
Yield: 1 serving
Serving Size: 1
Amount Per Serving:
Calories: 290
Total Fat: 3.1g
Saturated Fat: 1g
Trans Fat: 0g
Unsaturated Fat: 2g
Cholesterol: 11mg
Sodium: 103mg
Carbohydrates: 36g
Net Carbohydrates: 32g
Fiber: 4g
Sugar: 21g
Protein: 27g
Nutrition information is approximate and based on the best knowledge available at the time of recipe publication. Your results may vary due to differences in ingredients. You can make your own calculations if this recipe does not include nutrition info by using an online calculator such as https://recipes.sparkpeople.com/recipe-calculator.asp