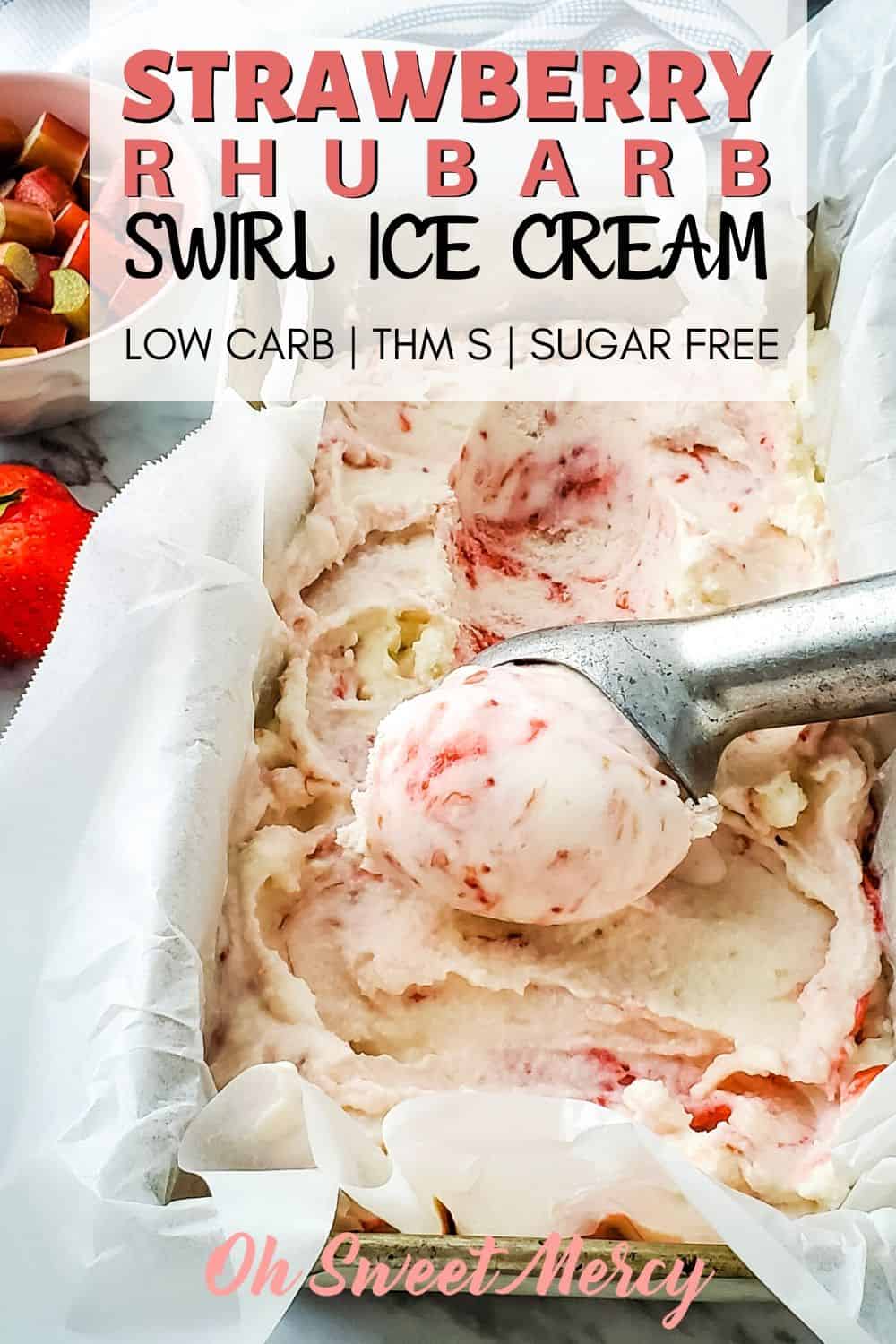 ---
What do you get when you swirl sweet, tangy strawberry rhubarb sauce into rich, creamy, sugar free vanilla ice cream? A taste of heaven. My low carb Strawberry Rhubarb Swirl Ice Cream is a rhubarb-lover's dream. And, if that rhubarb lover is a Trim Healthy Mama she knows it's a perfect, on-plan summer treat.
---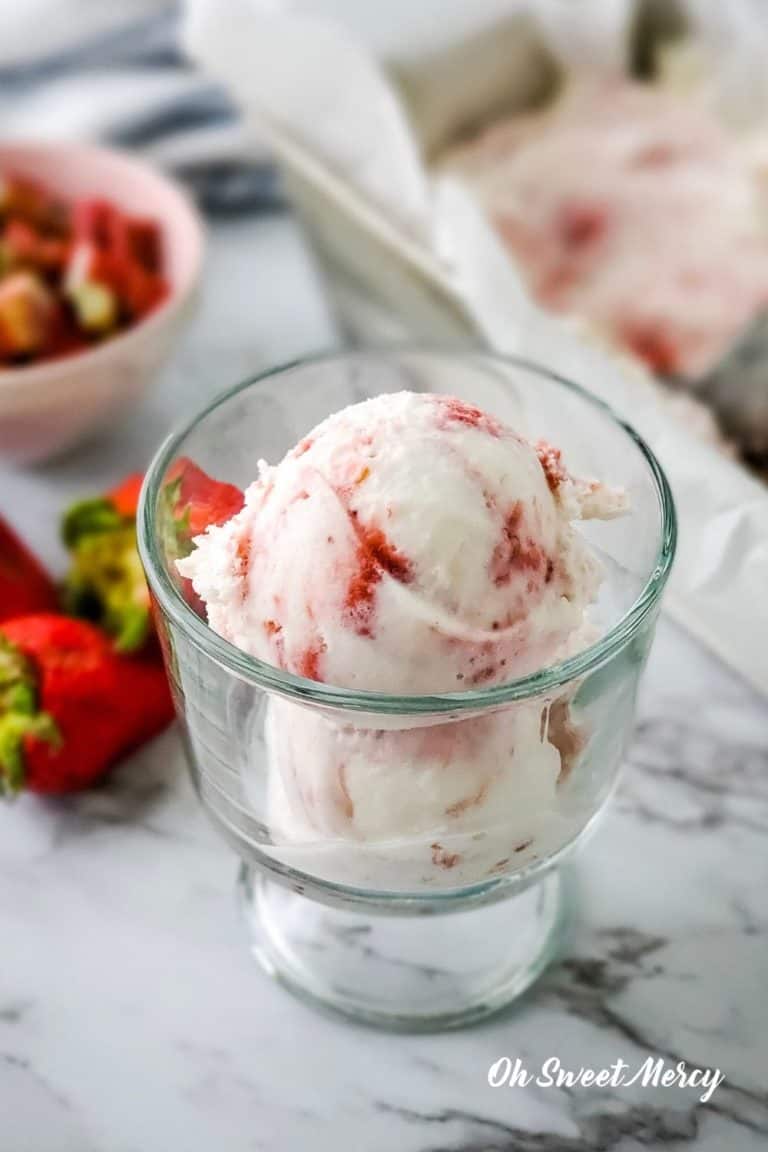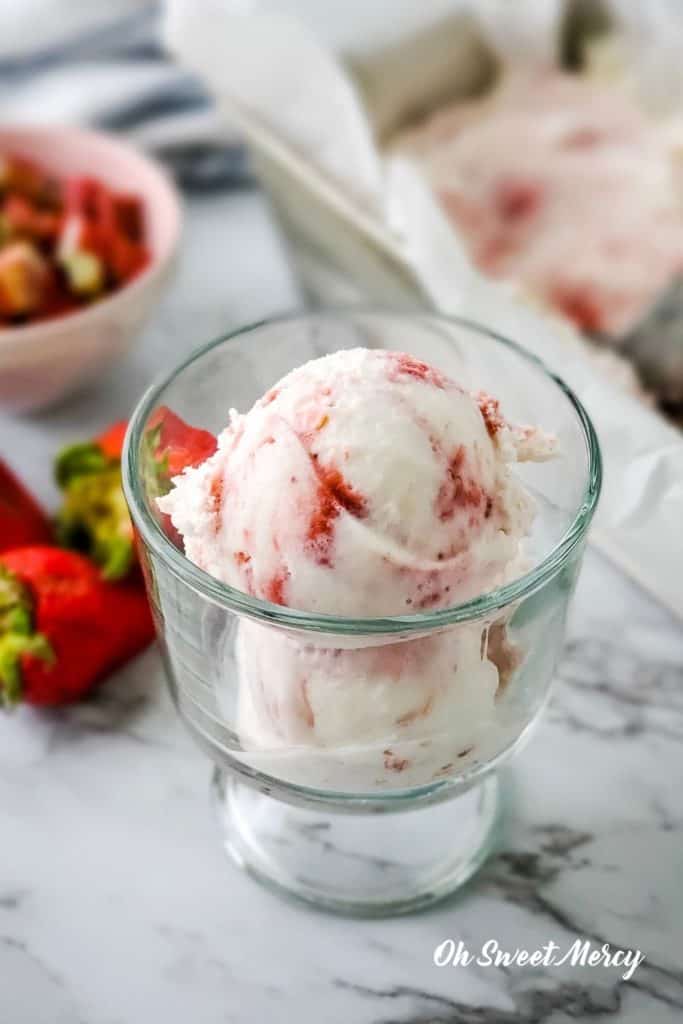 Rhubarb is one of the best things about summer in my opinion. You see, I'm a rhubarb lover. Its tart, tangy taste pairs perfectly with sweet, juicy, summer strawberries.
Rich, creamy, vanilla ice cream brings perfect balance to that sweet-tart combination. Mix them together and you have the best ever fruity swirled ice cream.
Even better – this easy Strawberry Rhubarb Swirl Ice Cream is low carb and sugar free. Perfect for the rhubarb-loving Trim Healthy Mama! Or, anyone keeping their sugar intake low, really.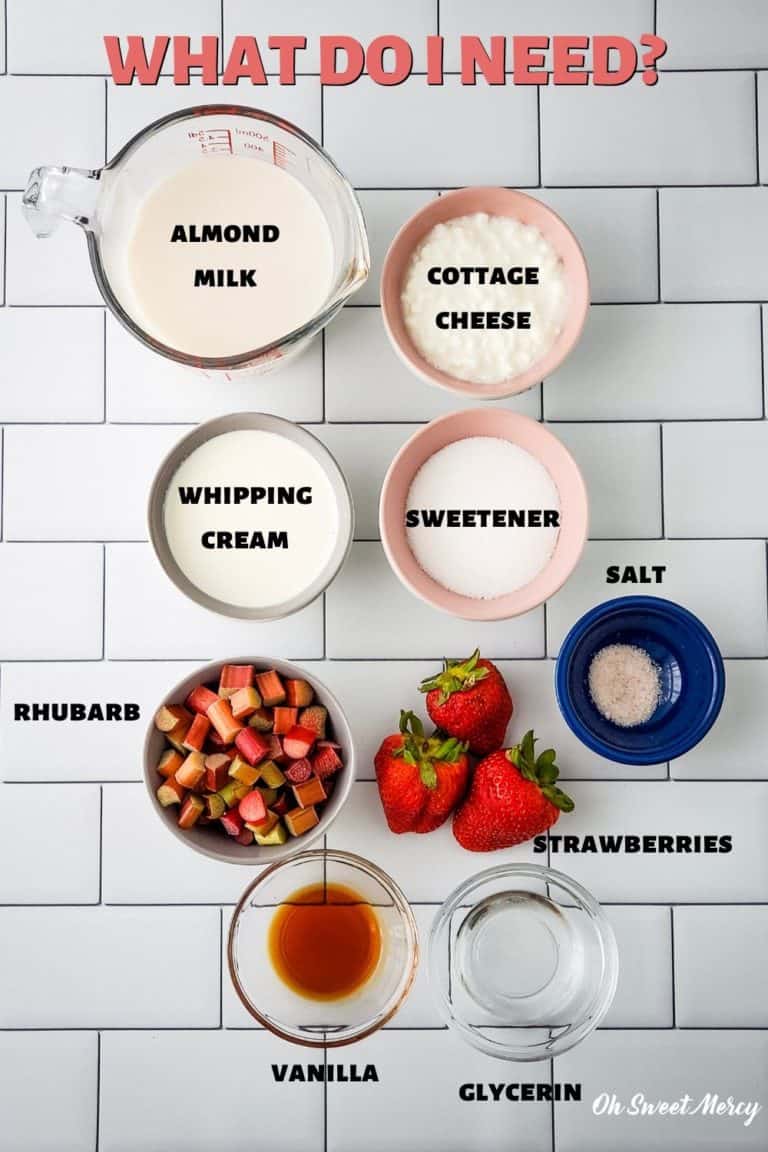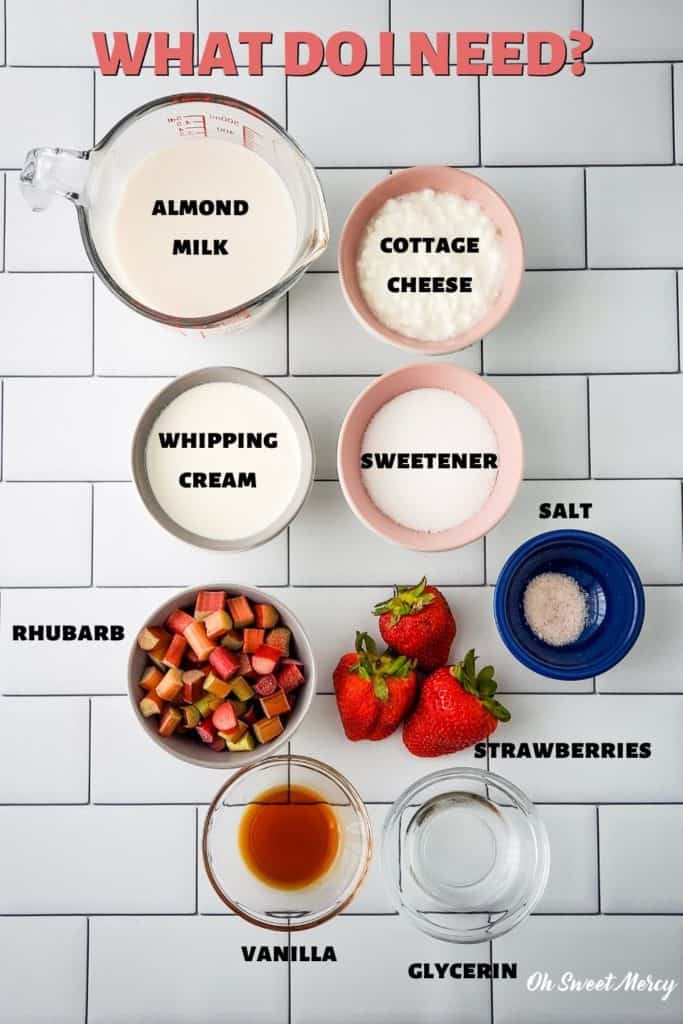 Do I Need An Ice Cream Maker To Make This Strawberry Rhubarb Swirl Ice Cream?
Yes, this is a churned recipe. I've not yet ventured into the world of no-churn ice creams.
I use a Cuisinart ICE-21R. It was a Facebook Marketplace score and came with an extra freezer bowl. This machine typically makes ice cream in 20 minutes. Sometimes, even less!
You definitely want an extra freezer bowl. Even though it says "large capacity," 1.5 quarts of ice cream really isn't that much.
If you have a large family or are making ice cream for company, 1.5 quarts isn't going to cut it.
Also, having an extra freezer bowl means you can make 2 different flavors, if you like.
If you have dairy-free people you're treating, give my Dairy Free Chocolate Ice Cream + Peanut Butter Swirl a try. Or, if you're like me and believe pumpkin has no season, you'll love my Pumpkin Pie Ice Cream.
How To Get The Perfect Swirl.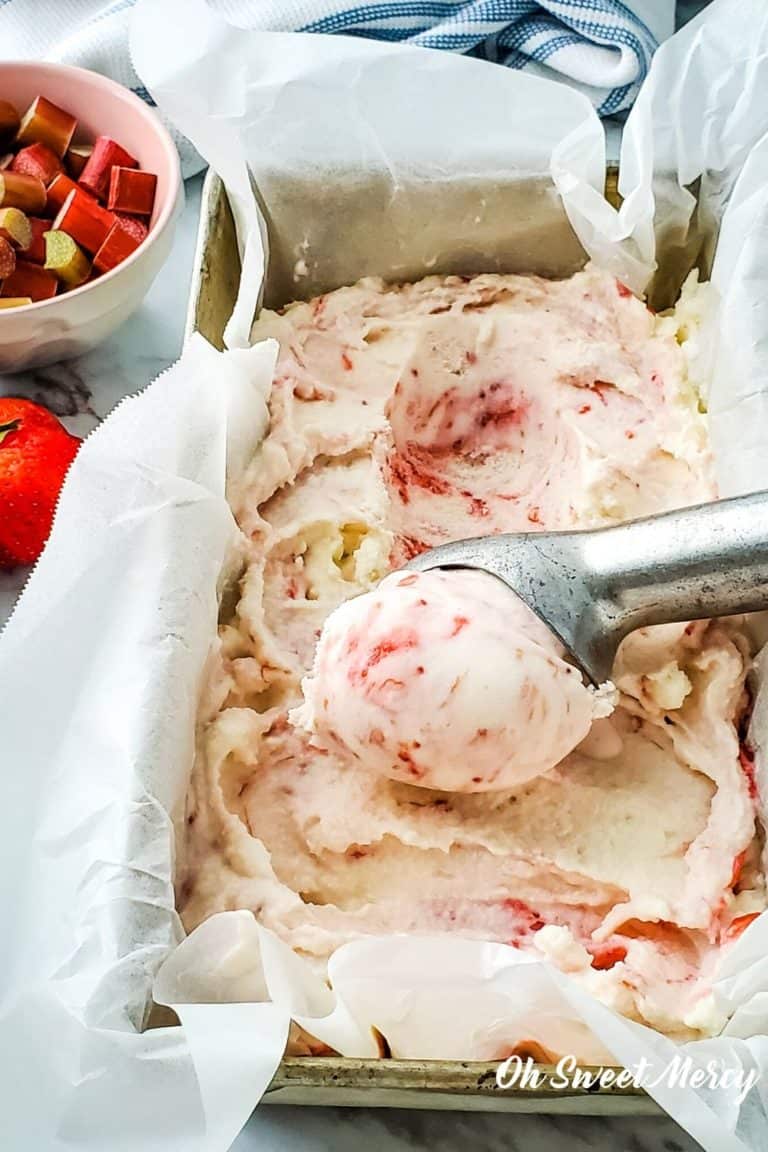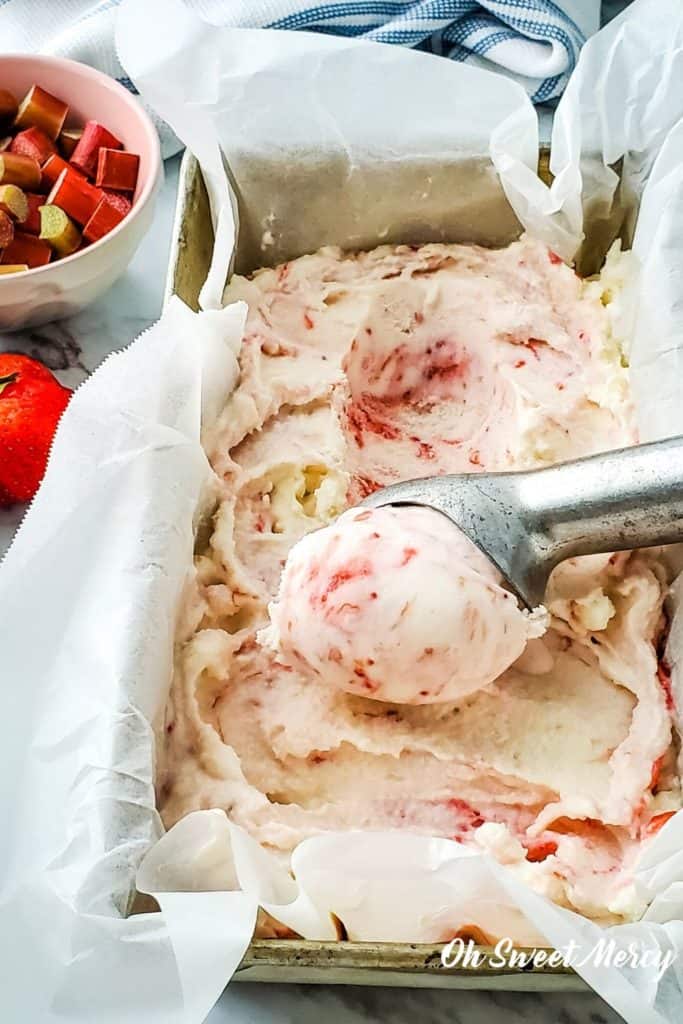 The first time I made this, I pretty much ended up with just strawberry rhubarb ice cream. The swirl did not turn out like I wanted.
Subsequent testings improved my technique. Here's how I got the perfect swirl in my Strawberry Rhubarb Swirl Ice Cream:
First, line a loaf pan or other container with parchment paper. This makes clean up later super easy so I highly recommend using it.
Next, layer half of the vanilla ice cream in the bottom of the pan.
Spoon your strawberry rhubarb sauce over the ice cream, then top evenly with the remaining ice cream.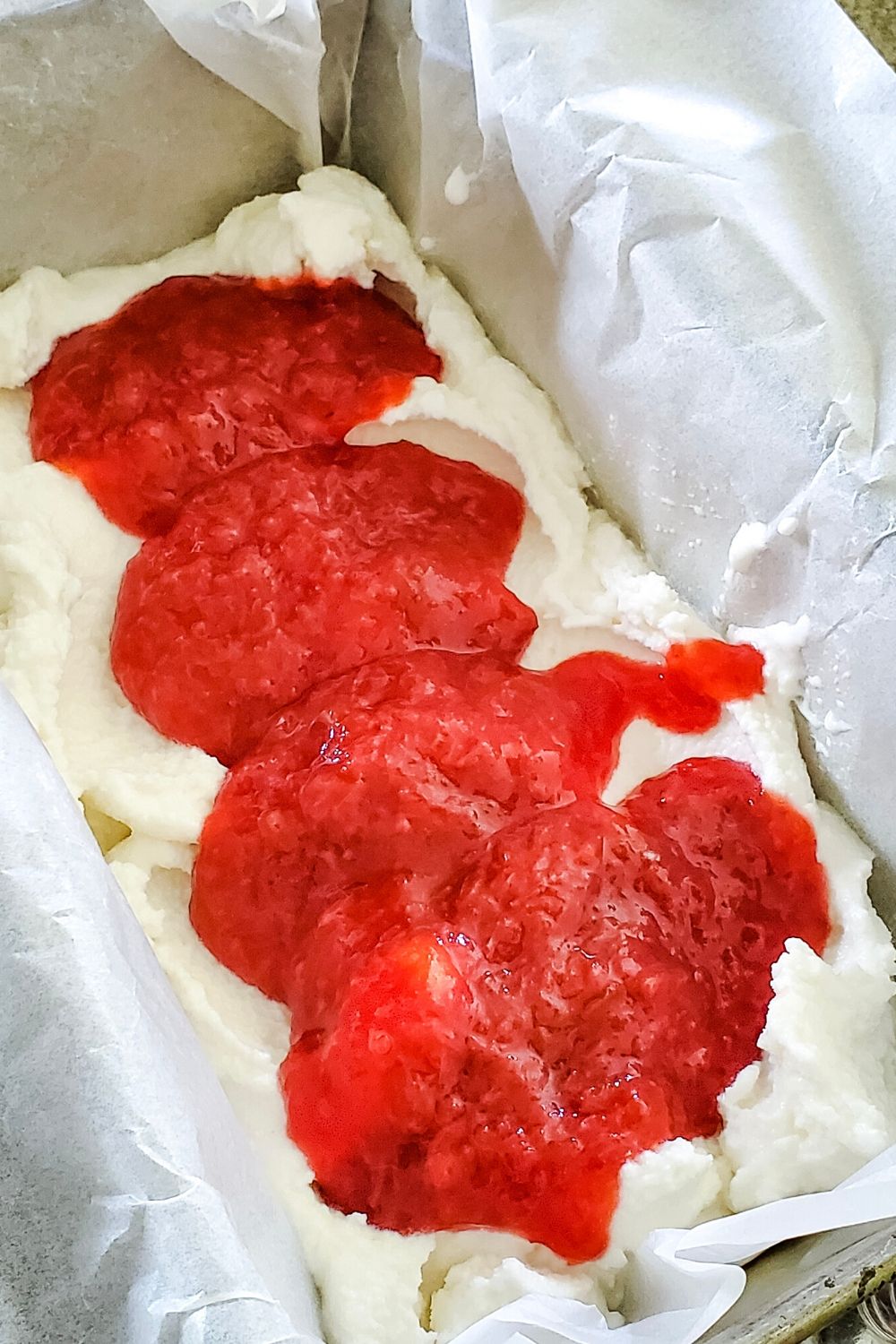 Take a spatula and swirl it around through the ice cream. In some areas, scoop up from the bottom. Don't mix it, just move your spatula through it, kind of turning it over.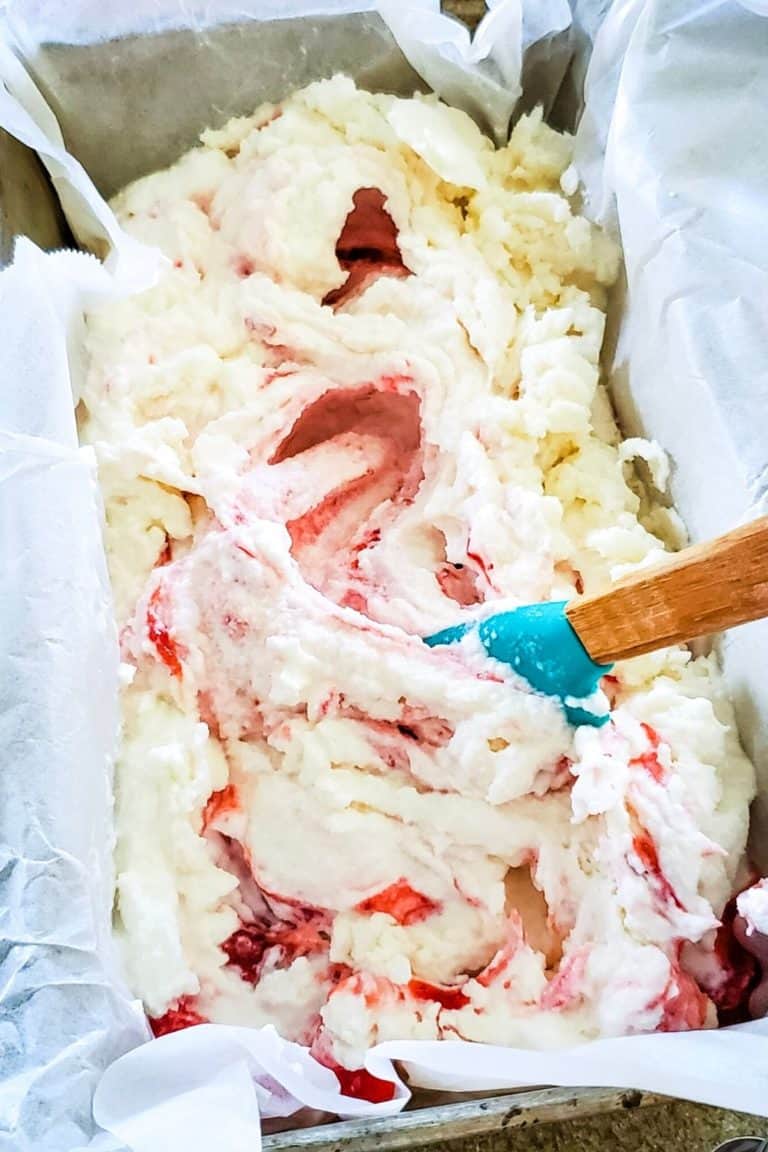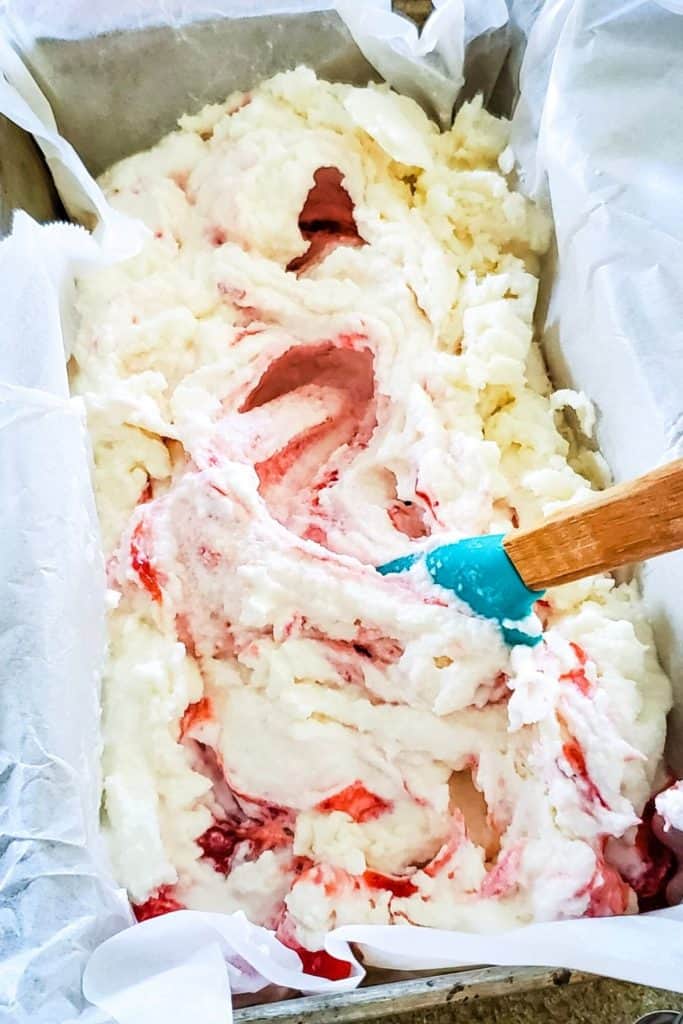 Of course, if you end up mixing it too much that's not a problem! It's still delicious and not ruined at all.
How To Include This Low Carb Strawberry Swirl Ice Cream In Your THM Meal Plan.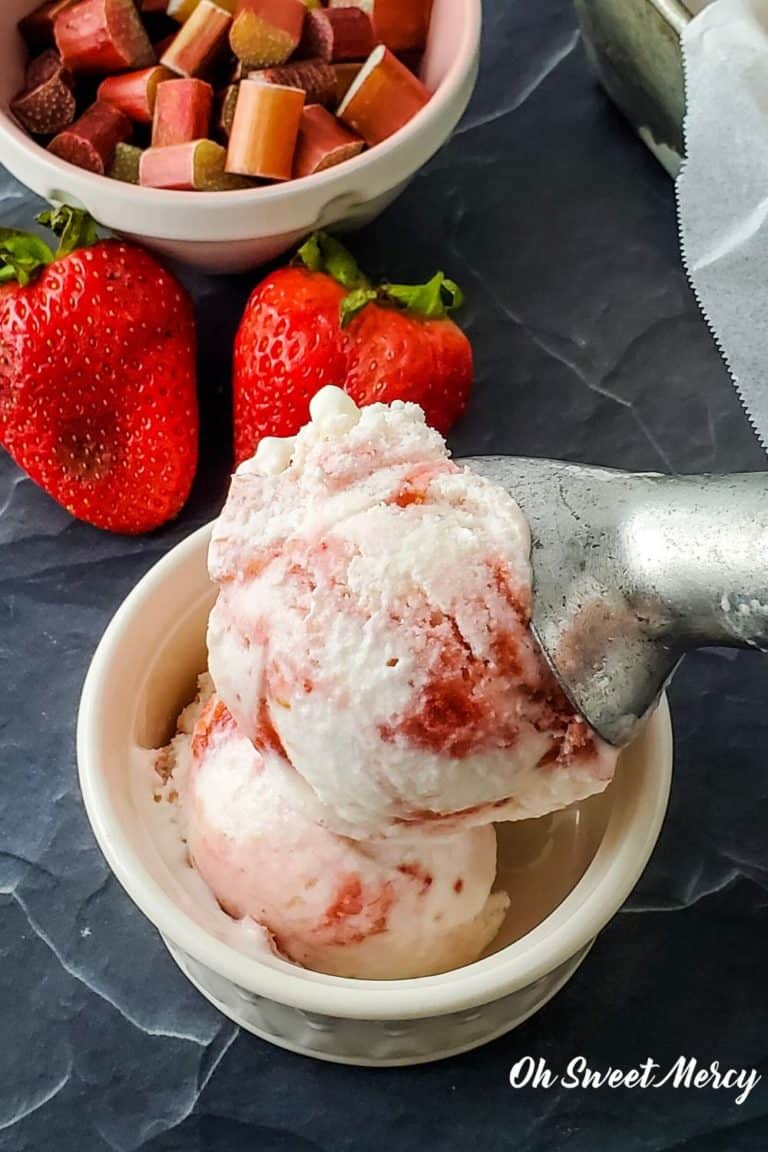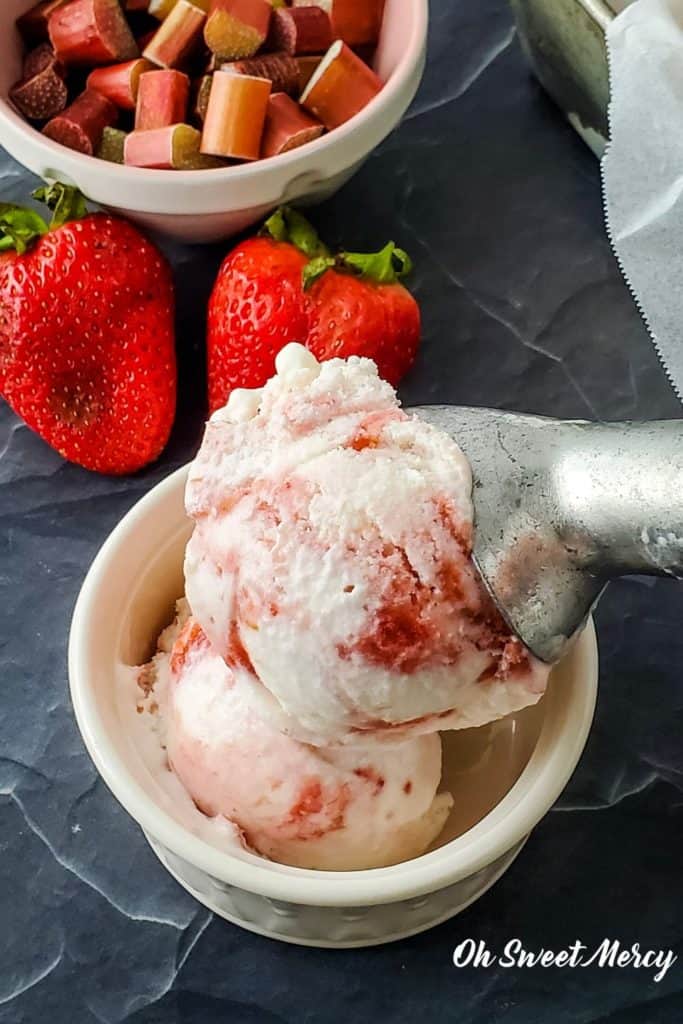 This is a THM S recipe because it contains a good amount of heavy cream.
But, I've lightened it up a bit by using cottage cheese and almond milk in addition to the heavy cream. It's still rich and delicious but not quite as heavy on the fats.
Enjoy as a snack on a hot summer day.
End a THM S meal with this for dessert. Though I do recommend keeping the fats in your meal on the lighter side more often.
If you know you'd like a big serving of this for dessert, opt for a THM FP (Fuel Pull) for your meal.
Finally, if you'd like a Crossover, have this for dessert after a THM E meal.
Have you been waiting for a low carb Strawberry Rhubarb Swirl Ice Cream? I hope you enjoy it as much as we do!
Check out my other rhubarb recipes: Low Carb Rhubarb Dream Bars and Creamy Coconut Custard with Tangy Rhubarb Sauce (dairy free, too).
Pin It!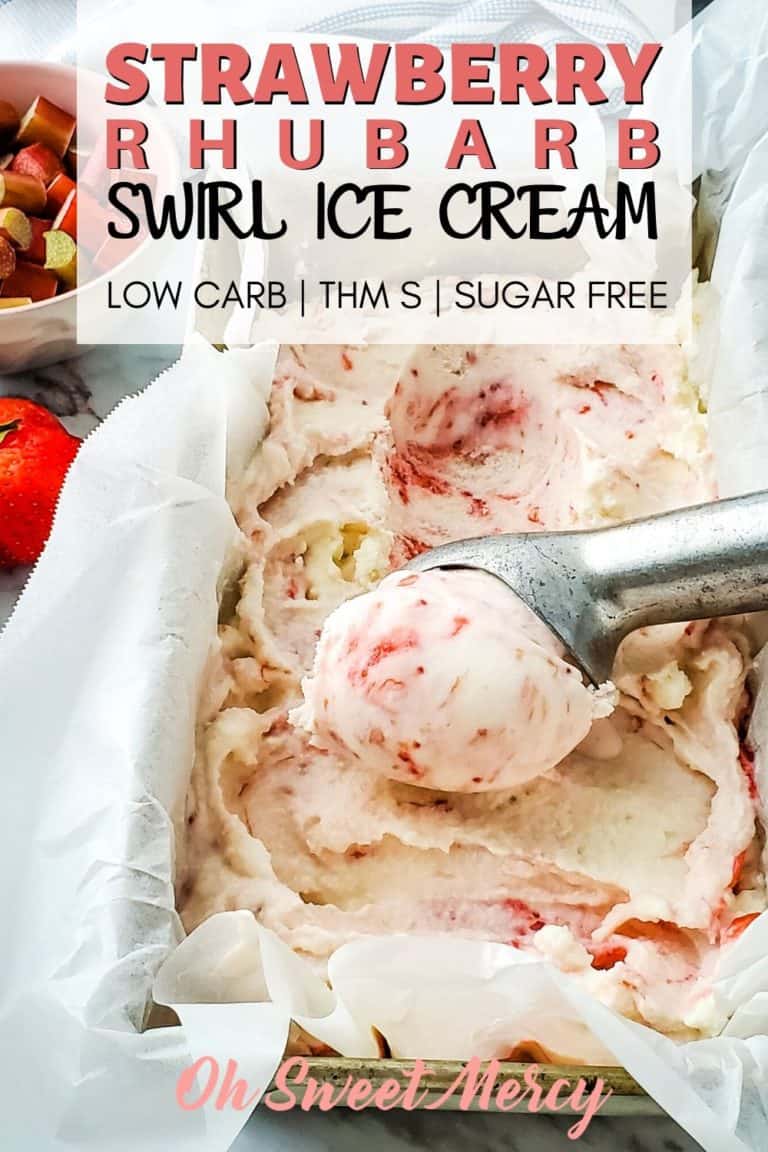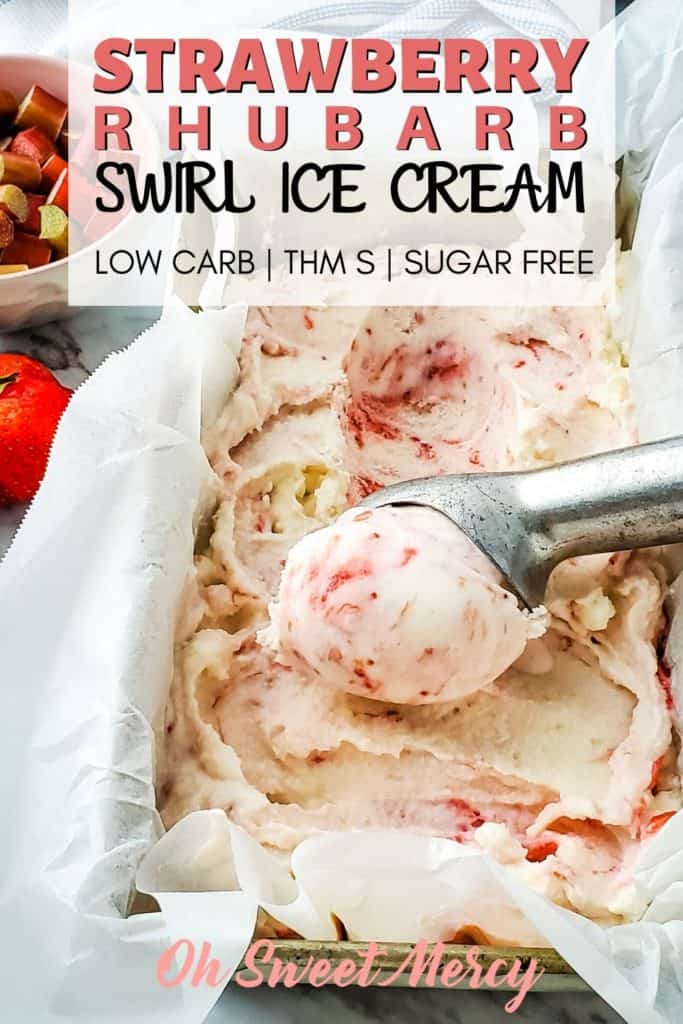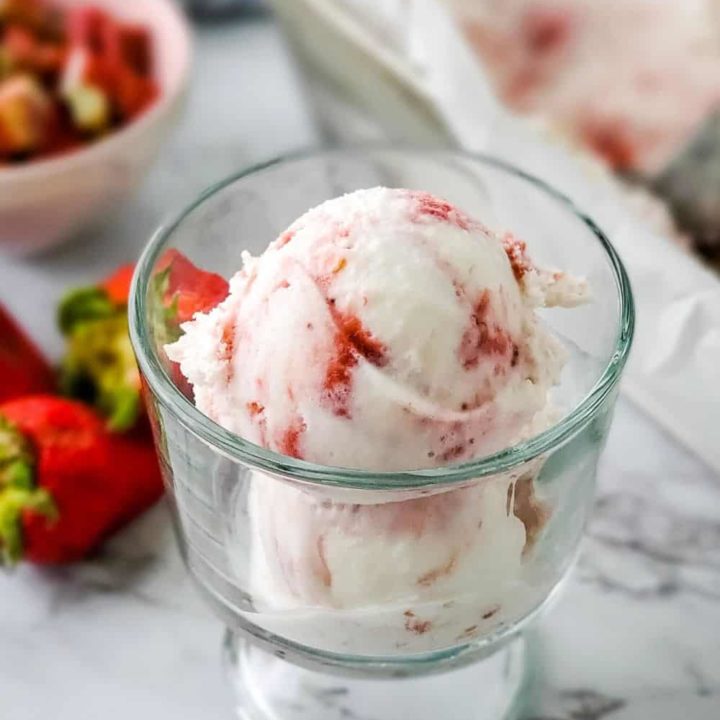 Strawberry Rhubarb Swirl Ice Cream | THM S, Low Carb, Sugar Free
Yield: 8 servings
Prep Time: 20 minutes
Cook Time: 30 minutes
Churn Time : 20 minutes
Total Time: 1 hour 10 minutes
Sweet, tart, and tangy strawberry rhubarb sauce swirled through rich, creamy vanilla ice cream! Low carb, sugar free, and totally THM friendly, this is the perfect frozen summer treat for the carb-conscious rhubarb lover.
Ingredients
Strawberry Rhubarb Swirl
2 cups sliced strawberries
1 heaping cup diced rhubarb
1/4 cup water
1/8 teaspoon salt (optional)
No-Cook Vanilla Ice Cream
1 1/2 cups unsweetened almond milk
1/2 cup low fat cottage cheese
1/2 cup heavy whipping cream
2 teaspoons pure vanilla extract
1 tablespoon vegetable glycerin (optional)
1 1/2 tablespoons Mercy Sweet, or preferred sweetener to taste
1/8 teaspoon high mineral salt
Instructions
MAKE THE STRAWBERRY RHUBARB SWIRL
Ideally, make this the day before or at least an hour or so to allow for cooling. You can quick-cool by placing cooked swirl into the freezer.
In a sauce pan, add the strawberries, rhubarb, and water and bring to a boil.
Reduce heat and cook, stirring frequently, until strawberries and rhubarb are very soft.
Use a potato masher to mash the mixture into a puree.
Remove from heat and put into a shallow heat safe bowl, then refrigerate until cold.
This will make extra, you can pour extra over your ice cream if you like or save for yogurt or other dishes later.
MAKE THE ICE CREAM
In a blender, add the almond milk, cottage cheese, vanilla, glycerin, sweetener, and salt and blend until smooth.
Add the heavy cream, then pulse a few times to blend together. Do not over blend!
Pour mixture into your ice cream maker, following the manufacturer's instructions.
Meanwhile, line a loaf pan or other container with parchment paper.
When ice cream is ready, layer half in the loaf pan.
Spoon 4 to 5 tablespoons of the strawberry rhubarb swirl mixture (or as desired) on top of the ice cream.
Evenly layer the remaining ice cream over the swirl mixture.
Using a spatula or knife, gently swirl the ice cream and swirl mixture together.
Freeze for about 1 hour before serving, unless you like fairly soft ice cream.
As with most homemade ice creams, this is best consumed soon after making.
Notes
This makes about 8 or so 1/3 cup servings. Nutrition information is for 8 servings with 5 tablespoons of swirl mixture mixed in.
Recommended Products
As an Amazon Associate and member of other affiliate programs, I earn from qualifying purchases.
Nutrition Information:
Yield: 8
Serving Size: 1/3 cup
Amount Per Serving:
Calories: 70.6
Total Fat: 6.4g
Saturated Fat: 3.6g
Trans Fat: 0g
Unsaturated Fat: 2.3g
Cholesterol: 21.6mg
Sodium: 89.8mg
Carbohydrates: 1.9g
Fiber: 0.4g
Sugar: 1.4g
Protein: 2.3g
Nutrition information is approximate and based on the best knowledge available at the time of recipe publication. Your results may vary due to differences in ingredients. You can make your own calculations if this recipe does not include nutrition info by using an online calculator such as https://recipes.sparkpeople.com/recipe-calculator.asp