---
Got leftover turkey? Make my easy low carb, no mayo turkey salad with it! It's fresh take on standard turkey salad. A fresh lemon and thyme vinaigrette replaces the mayo for a light, refreshing twist. With just a couple tweaks this low carb turkey salad recipe is also suitable for THM Deep S. Which you just might need after the holidays.
---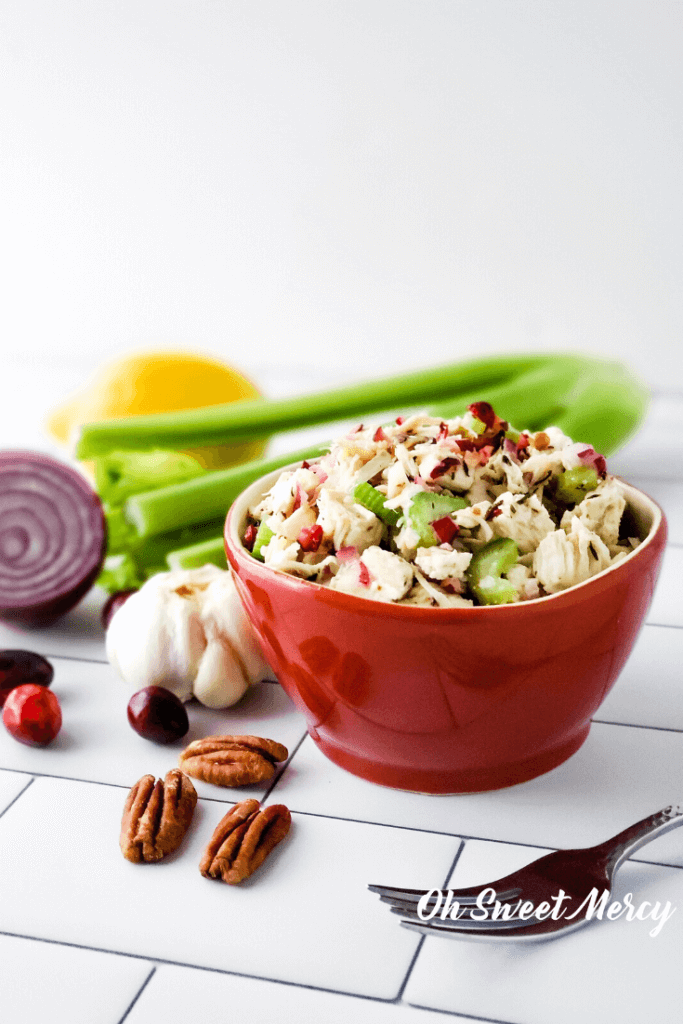 After the turkey, stuffing, green bean casserole, cranberry salad, mashed potatoes, gravy, and pumpkin pie have been thoroughly enjoyed, it's time to get back on track with our THM plan. pssst…those links are to THM-friendly recipes!
If you were one who stuck to the THM style of eating, good for you! This recipe as written is a lovely, low carb S. Add it into your menu plan to use up that leftover turkey this coming week.
However, for those who have indulged in a little too much traditional holiday fare this simple turkey salad recipe is easily tweaked for a Deep S meal.
Deep S meals, consisting of pure protein, healthy fats, and ultra low carb veggies (think greens), help get us back on track. These meals flush out the stored glucose in our cells from our holiday…indiscretions.
How To Make Turkey Salad Without Mayo.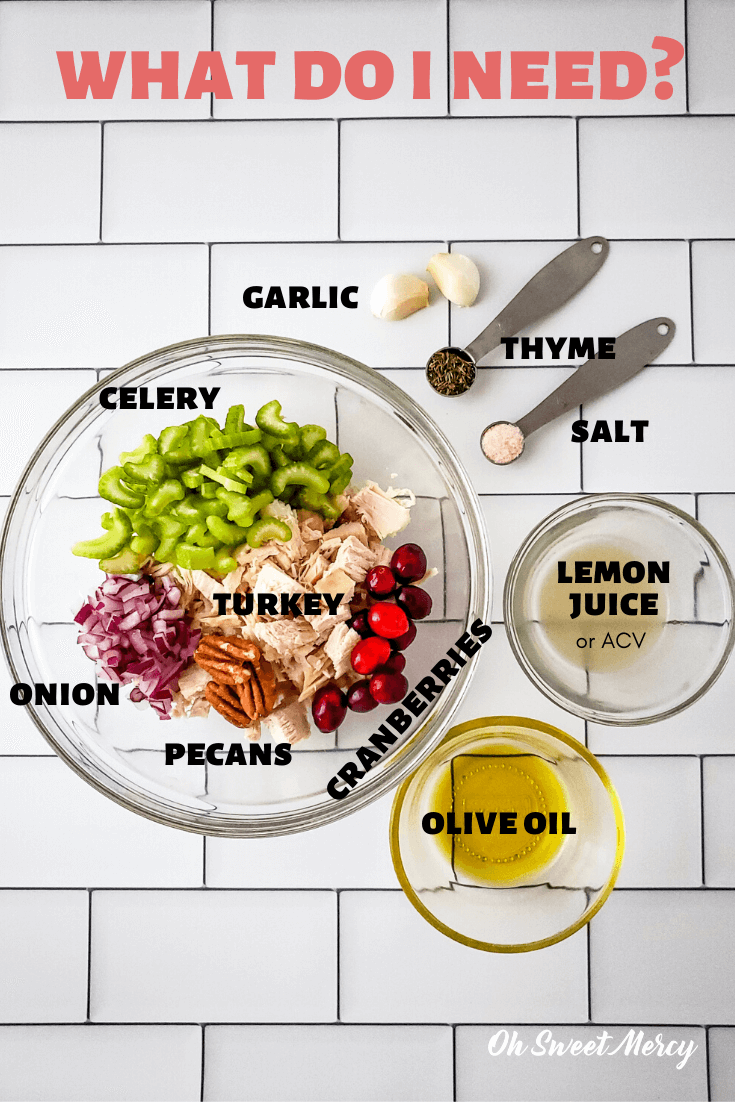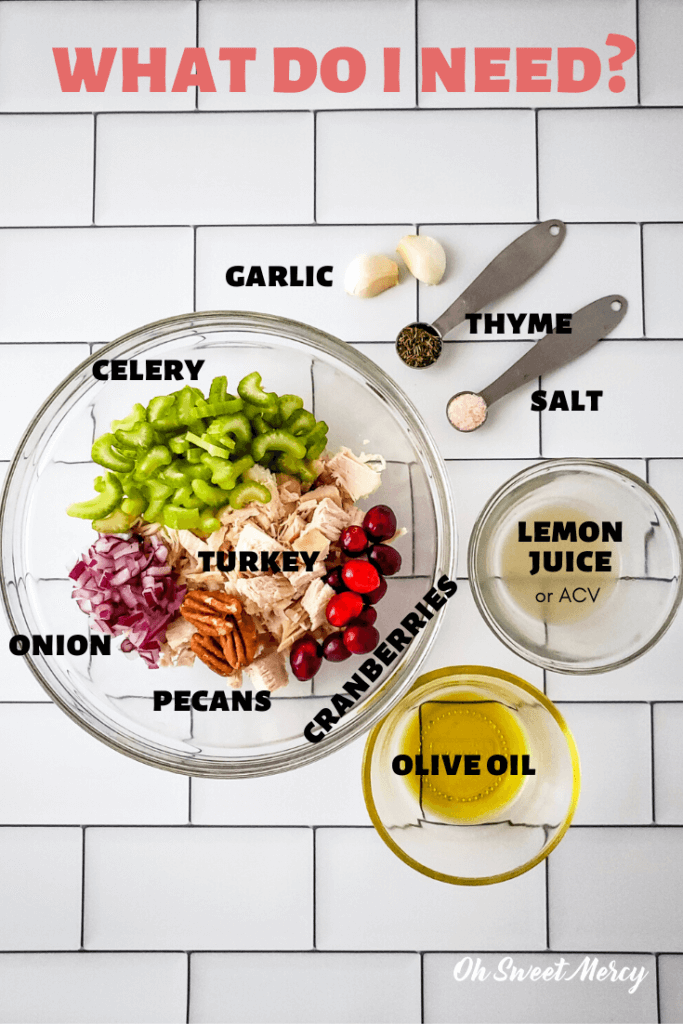 Just a few simple, fresh ingredients are all you need to make this easy turkey salad recipe.
For The Vinaigrette…
Be sure to use a high quality olive oil for best flavor. Lower quality oils often don't taste as good and may even be fake. Can you believe that?
Olive oil is super healthy for you, too. Another reason to make sure you're getting real, pure olive oil and not a fake made of who knows what. Learn more about that and how to tell if yours is fake here.
For the tart/acid component of the vinaigrette use lemon juice or ACV (apple cider vinegar). Or choose another salad vinegar if you like.
Garlic powder can also be substituted for fresh garlic. However, fresh garlic is so good for you! If you've got the time and fresh garlic on hand go ahead and use it.
While dried herbs are inexpensive and handy, use fresh if you have them. Fresh herbs always bring another level of flavor. Remember you'll need 3 times as much fresh thyme as dried. Chop or mince it finely.
Since the green thumb gene skipped right over me, most of the time I go for dried herbs.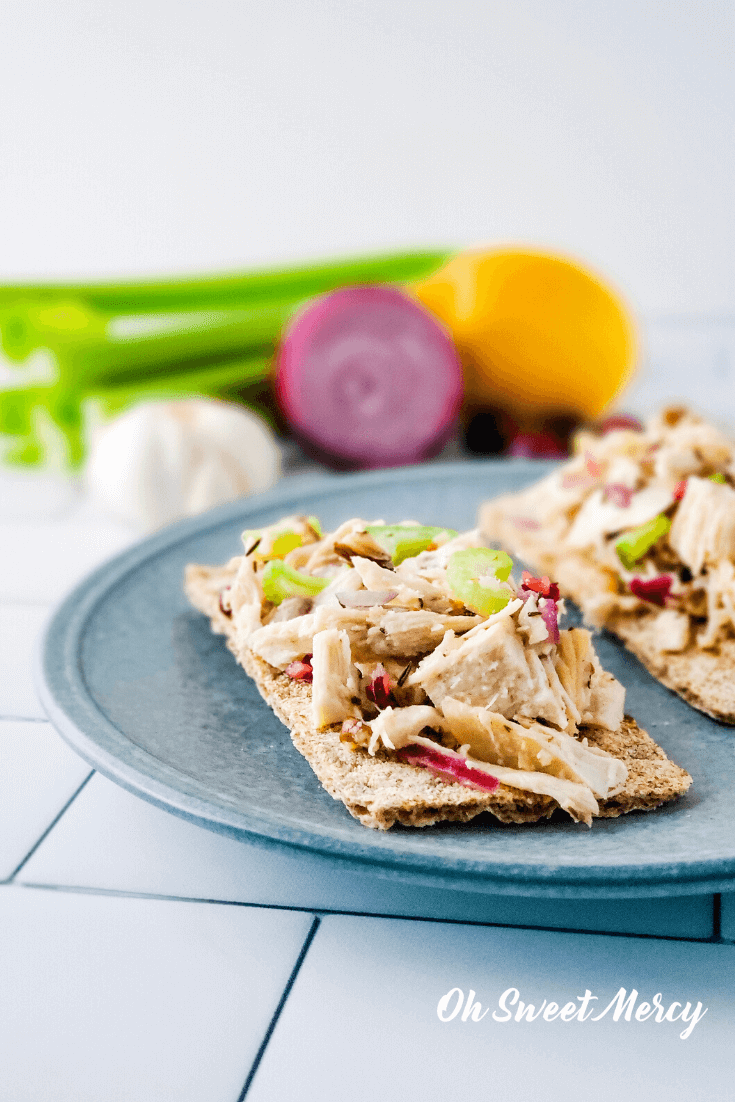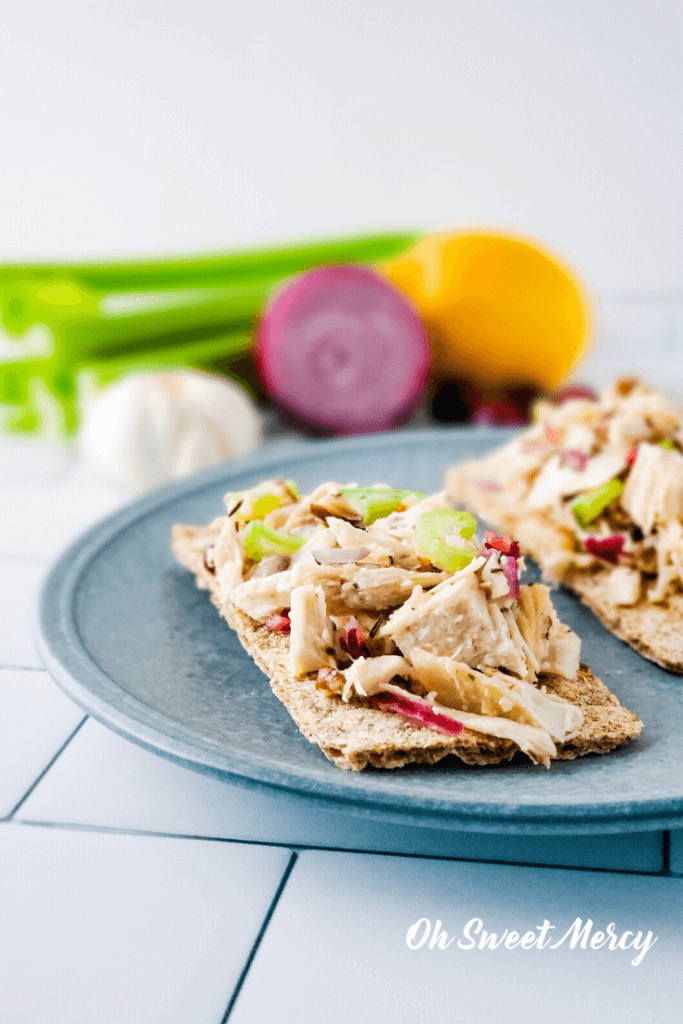 The Chunky Salad Ingredients.
Turkey…of course! Any kind of turkey meat works. Just chop it roughly.
Let's add some veggies (and fruit). Celery and onion, sliced thinly or chopped roughly per your preference, give crispy crunch and flavor. Fresh cranberries offer a tart punch so a little goes a long way.
Feel free to omit the cranberries if you don't have them or don't care for them. This easy turkey salad recipe is still delish without them.
Finally, a bit of nutty crunch tops off the texture profile. I love pecans and can't eat walnuts, so if you prefer walnuts go ahead and use those instead. My favorite pecans are the raw, soaked, and low-temp dehydrated ones at Wildly Organic. They're addictive!
How To Make This No Mayo Turkey Salad THM Deep S Friendly.
While as written this simple salad is a healthy THM S recipe, there are times we want to have a Deep S.
Such as after indulging on off-plan foods over the holidays. You know the ones, the carby, sugary type. Usually of the nostalgic, traditional nature that are so hard to pass up. I mean, Aunt Helen's pumpkin pie is legendary right?
Thankfully Deep S meals help flush out the excess glucose stored in our cells after imbibing on legendary pie. In addition, this turkey salad recipe is easy to tweak to suit Deep S guidelines.
Simply omit the nuts, onion, and cranberries. We just focus on protein, pure fats, and super non-starchy veggies like greens (and celery, which is like negative carbs 😉 ).
Finally, eating this turkey salad over a big bed of fresh greens, first tossed with some olive oil, lemon juice, and pink salt, is a fabulous Deep S way to enjoy it.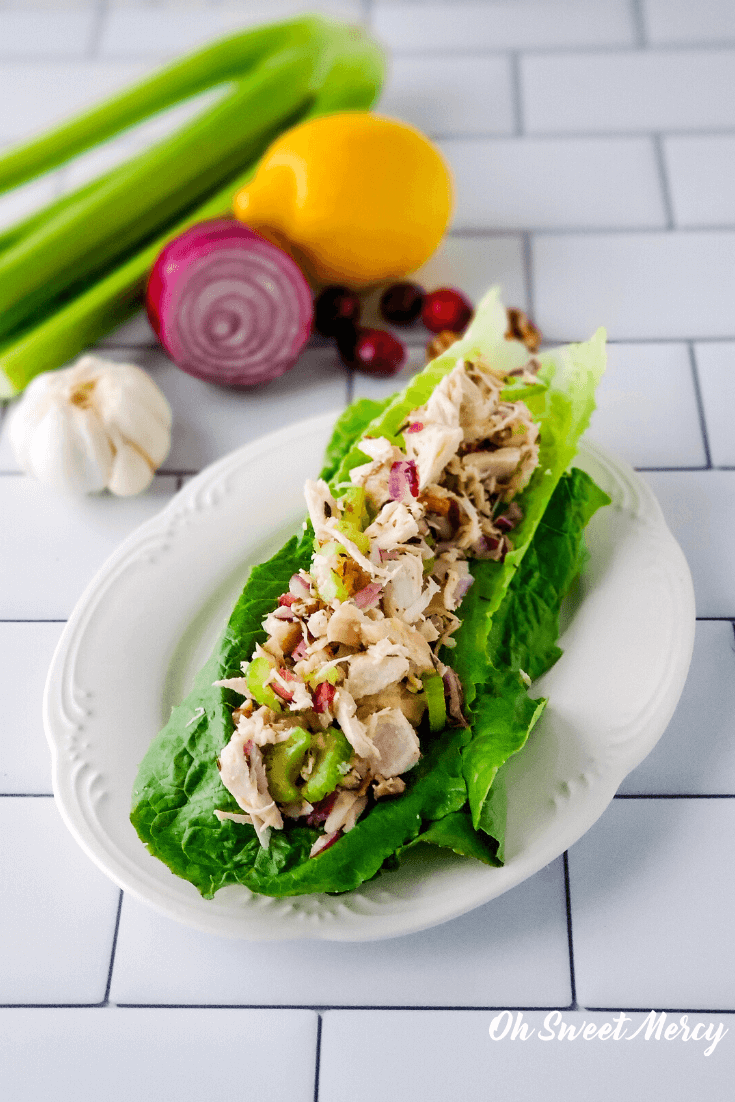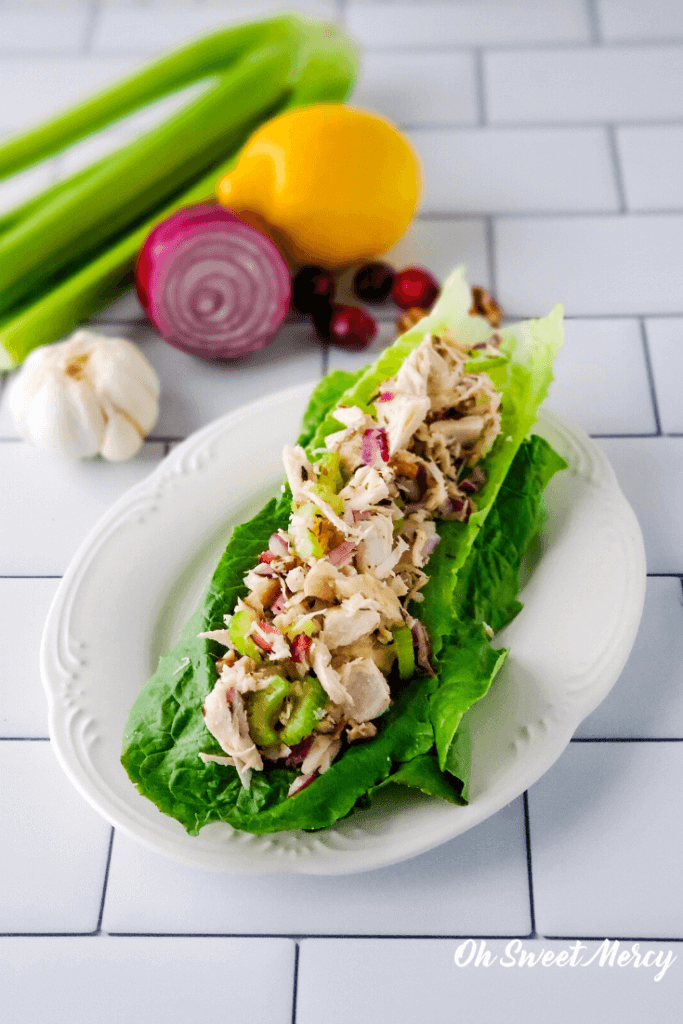 How To Fit No Mayo Turkey Salad Into Your THM Meal Plan.
Since it's low carb and made with a good amount of healthy fats choose other low carb options to eat with it:
Want a sandwich? Try a low carb bread, such as my Coconut Flour Flat Bread, the WWBB on page 242 in Trim Healthy Table, Basic Low Carb Yeast Bread, or these dairy and grain free low carb dinner rolls.
Eat this salad as part of a cold plate with other non-starchy veggies and fresh berries (remember no berries for Deep S).
Low carb wrap filling! Ready-made low carb wraps, such as Joseph's lavash bread, are considered "frankenfoods" and really shouldn't be eaten more than once a week. Have you tried the Wonder Wraps on page 204 in the Trim Healthy Mama Cookbook? They're a great low carb wrap option you can eat as many times a week as you like!
Use lettuce leaves as a wrap or stuff a fresh bell pepper or hollowed out tomato.
Low carb, on-plan crackers (or one Rye Wasa cracker)
So many tasty ways to enjoy this low carb, no mayo turkey salad! If you have leftover thanksgiving turkey be sure to give this recipe a try. Need more leftover turkey recipes? Read on!
More Leftover Thanksgiving Turkey Recipes…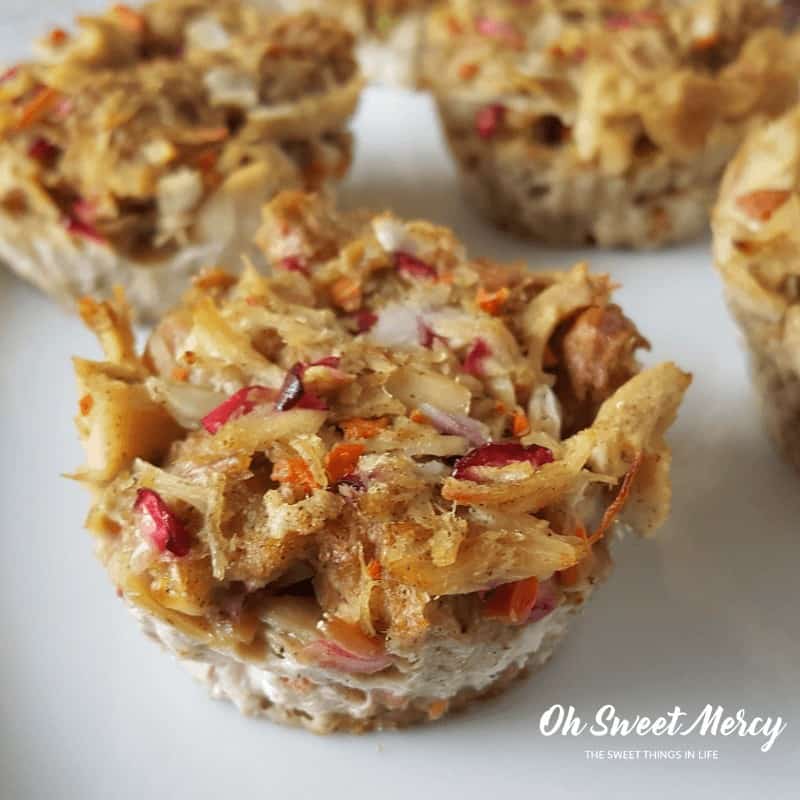 Lastly, I've got a few recipes here on the blog that are perfect for leftover turkey, should you need them this week!
With so many on-plan options to use up leftover holiday turkey, you'll be wishing you'd made two turkeys this year!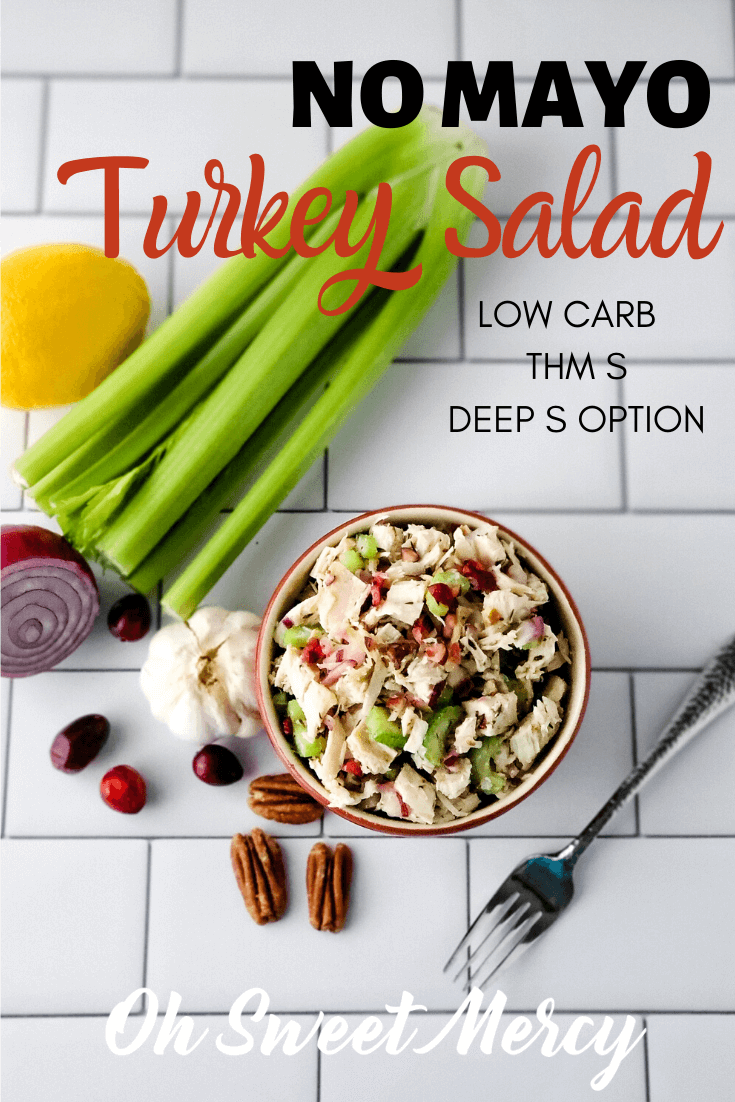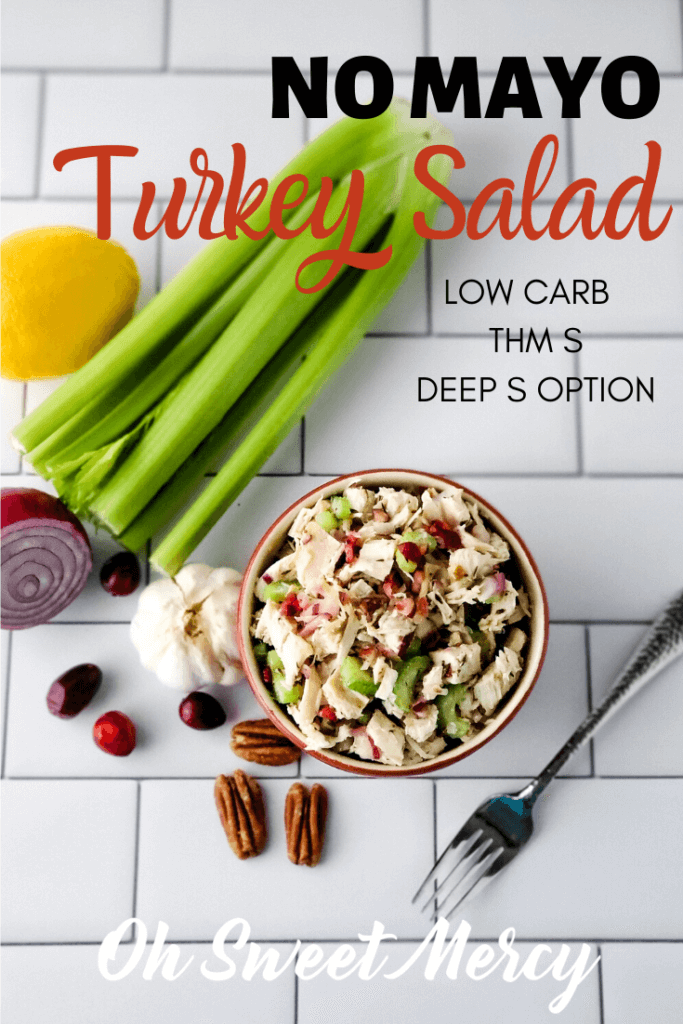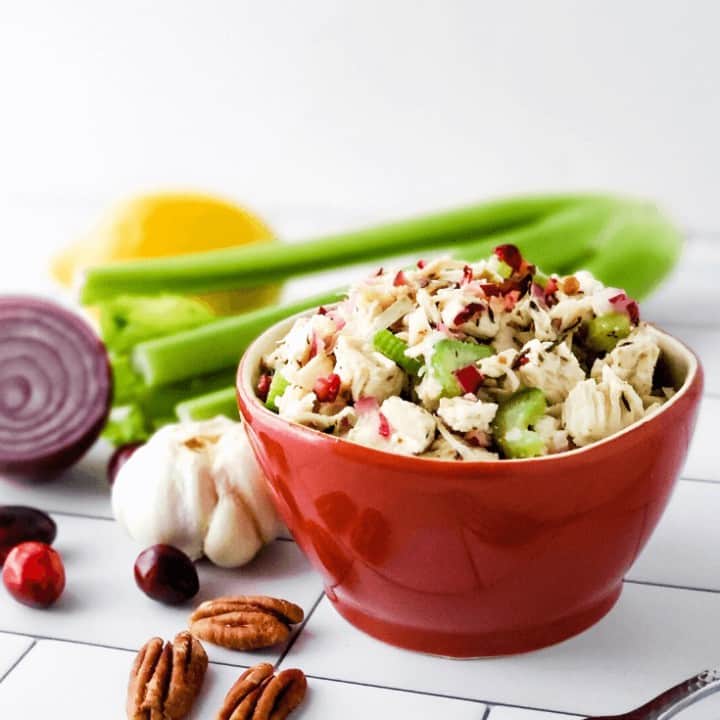 No Mayo Turkey Salad | Low Carb, THM S with Deep S Option
Yield: 2 cups
Prep Time: 10 minutes
Total Time: 10 minutes
A lemon and thyme vinaigrette instead of mayo puts a fresh twist on classic turkey salad! Perfect for leftover holiday turkey and just as delicious any time of year. Low carb, THM S with Deep S option.
Ingredients
1 1/2 cups cooked turkey breast, chopped
1/2 cup celery, sliced or chopped
2 tablespoons onion, chopped or sliced
2 tablespoons chopped pecans
1 tablespoon fresh cranberries, finely chopped
For The Lemon Thyme Vinaigrette
2 tablespoons olive oil
Juice of half a lemon
1 to 2 cloves of fresh garlic OR 1/4 teaspoon garlic powder
1/2 teaspoon dried thyme OR 1 1/2 teaspoons fresh thyme, minced
1/4 teaspoon high mineral salt
Pinch or two of granulated stevia, optional
Instructions
In a mixing bowl, combine the turkey, celery, onion, cranberries, and pecans and mix well to combine.
In a small bowl, whisk together the vinaigrette ingredients.
Pour the dressing over the turkey mixture and mix well until everything is well coated.
Enjoy immediately or refrigerate until ready to eat.
Notes
Trim Healthy Mamas

As written this is an S recipe. Enjoy with low carb bread, wraps, crackers, or other non starchy veggie choices.
For Deep S, omit onion, cranberries, and nuts.
Recommended Products
As an Amazon Associate and member of other affiliate programs, I earn from qualifying purchases.