---
Sometimes you raid the fridge and throw together something that turns out deliciously! My Crazy Chicken Cabbage Salad is one of those throw-together dishes. It's perfect for a quick and easy low carb THM S lunch. This recipe is simply crunchy cabbage, with some chicken and pepperoni thrown in for protein (that's the crazy part), plus cheese, onions, peppers, and cilantro – all bathed in a simple creamy, tangy, mayo-based dressing.
---
I'm super busy these days, how about you? I need to learn how to say no more often.
But, I've got plates spinning in the air that need to keep spinning for now. That means I need quick, easy meals.
Last month in my 12 Months of Trim & Healthy Habits Printable we focused on planning ahead. I put that habit to practice! When I got home from grocery shopping last Friday, I immediately put the chicken breasts I bought into my Instant Pot.
Bam! Cooked THM Fuel Pull protein ready for recipes.
Any time I buy cabbage anymore I shred the whole thing. I use this Cuisinart food processor and it's done in just a few minutes!
Boom! Non starchies ready for salads, soups, or quick skillet meals.
As a result, I'm well-prepared for throwing together a quick meal.
So, when I needed a quick and easy lunch this weekend, I grabbed those two things and rummaged around in the fridge for some other things to throw together with them.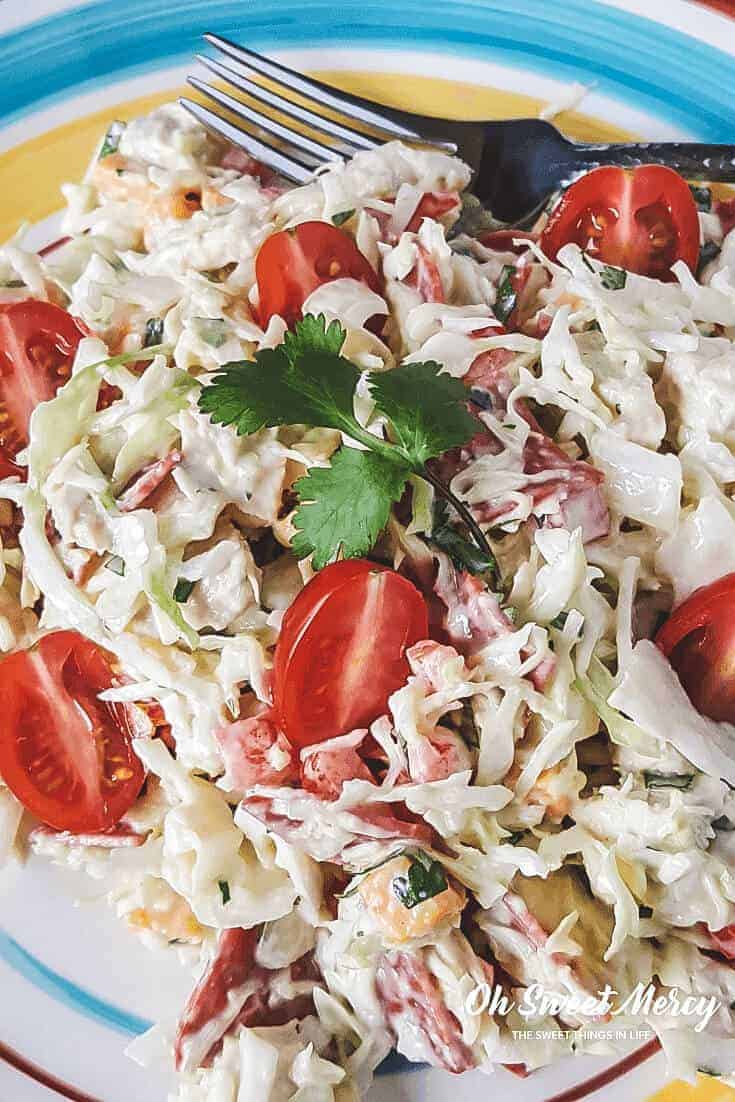 What Makes My Crazy Chicken Cabbage Salad…Crazy.
Since I knew cabbage was going to be the base of this salad I just needed to add some protein to make a well rounded lunch. Yay for prepped-ahead chicken breast!
Next, I just started grabbing this and that — cheese, onions, red bell peppers, and turkey pepperoni. That last one is what makes this crazy.
If you don't think turkey pepperoni sounds appetizing here feel free to leave it out.
Actually, you could really throw anything in this low carb cabbage salad that sounds good. Maybe you have some of these hanging out in the fridge that you need to use:
hard cooked eggs
olives
capers
cooked turkey or turkey ham
cooked turkey bacon
pickles
banana peppers
hot peppers
celery
Additionally, this is a terrific way to use up those odds and ends in the veggie drawer. Pack it full of those non starchy veggies! If you add more volume than what I've listed in the recipe below you may need to make more dressing.
Makes A Great Meal Or Snack!
My Crazy Chicken Cabbage Salad is great on its own for a snack or a light lunch. Or try it as a tasty side dish for a nourishing soup, like my new Tomato Florentine Soup. Take it along to potlucks and family get togethers to ensure you have an on-plan option.
While a yummy mayo-based dressing is totally fine in a THM S meal, you may want to lighten up at times. Try my Low Fat Mayo Hack instead. If you want a fat free but flavorful ranch dressing with a kick, try my Fuel Pull (FP) Creamy Cajun Ranch Dressing (or Dip).
Or maybe a vinaigrette is more your style? Try my Easy 2 Minute Balsamic Mustard Vinaigrette or my Raspberry Basil Vinagrette.
Need some more quick and easy lunch ideas? Give these a try:
While you may not be as adventurous as me, you can still use the basic form of my Crazy Chicken Cabbage Salad to throw together a quick meal or snack! Simply let your imagination run free. It's only limited by what's in the fridge 😉
Don't forget that the humble cabbage is a superfood! Check out the Trim Healthy Mama Fan Page's post on cabbage! Cabbage is full of fiber and nutrients to help keep us healthy. It's also inexpensive and super versatile!
Will You Try My Crazy Chicken Cabbage Salad?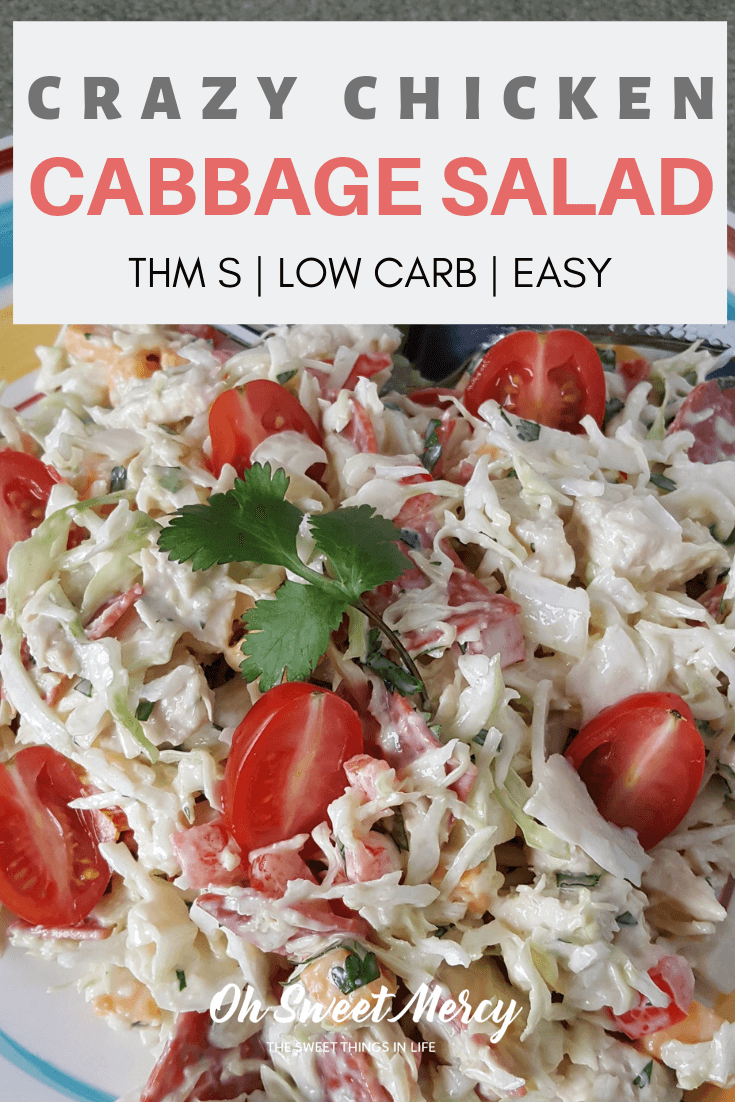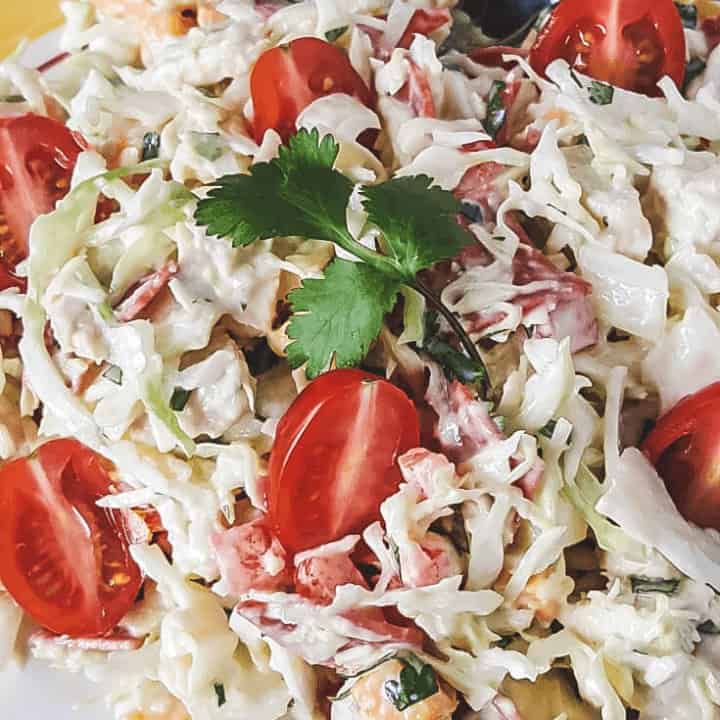 Crazy Chicken Cabbage Salad | THM S, Low Carb, Keto
Yield: 3 cups
Prep Time: 10 minutes
Total Time: 10 minutes
Crunchy cabbage and veggies mixed with chicken, turkey pepperoni, cheese, and a creamy mayo-based dressing makes a quick and easy low carb lunch. Perfect for THM!
Ingredients
Salad
1/4 cup diced sweet onion
1/4 cup diced red bell pepper
1/4 cup diced extra sharp cheddar cheese (about 1 oz)
1/4 cup chopped turkey pepperoni (16 slices)
3 cups finely shredded cabbage
1 cup chicken breast, cooked and chopped
2 to 3 tablespoons chopped fresh cilantro (optional)
Dressing
3 tablespoons mayonnaise
1 teaspoon yellow mustard
1 teaspoon raw ACV
1/4 teaspoon garlic powder
1/4 teaspoon onion powder
Garnish
Fresh cilantro (optional)
1 cup cherry tomato halves
Instructions
Add the salad ingredients to a mixing bowl
In a smaller bowl, combine the mayo, mustard, ACV, and seasonings and mix well.
Pour the dressing over the salad ingredients and mix well.
Garnish with fresh cilantro and cherry tomato halves
Notes
Prep time assumes you already have cabbage shredded and chicken breast cooked.
TRIM HEALTHY MAMAS
Remember that we don't count the carbs in our non starchy veggies! The carb content and sugar listed in the nutrition info is what's naturally occurring in these veggies.
Recommended Products
Thank you for using my affiliate links! I may earn a small commission on qualifying purchases. Your support is greatly appreciated.
Nutrition Information:
Yield: 3
Serving Size: 1 cup
Amount Per Serving:
Calories: 224.3
Total Fat: 15.6g
Saturated Fat: 4.3g
Trans Fat: 0g
Unsaturated Fat: 9g
Cholesterol: 46.7mg
Sodium: 335.6mg
Carbohydrates: 6.9g
Fiber: 2.6g
Sugar: 2.7g
Protein: 15.6g
Nutrition information is approximate and based on the best knowledge available at the time of recipe publication, calculated automatically. Your results may vary due to differences in ingredients. If certain nutrients are of concern to you please calculate independently based on your nutrition labels.