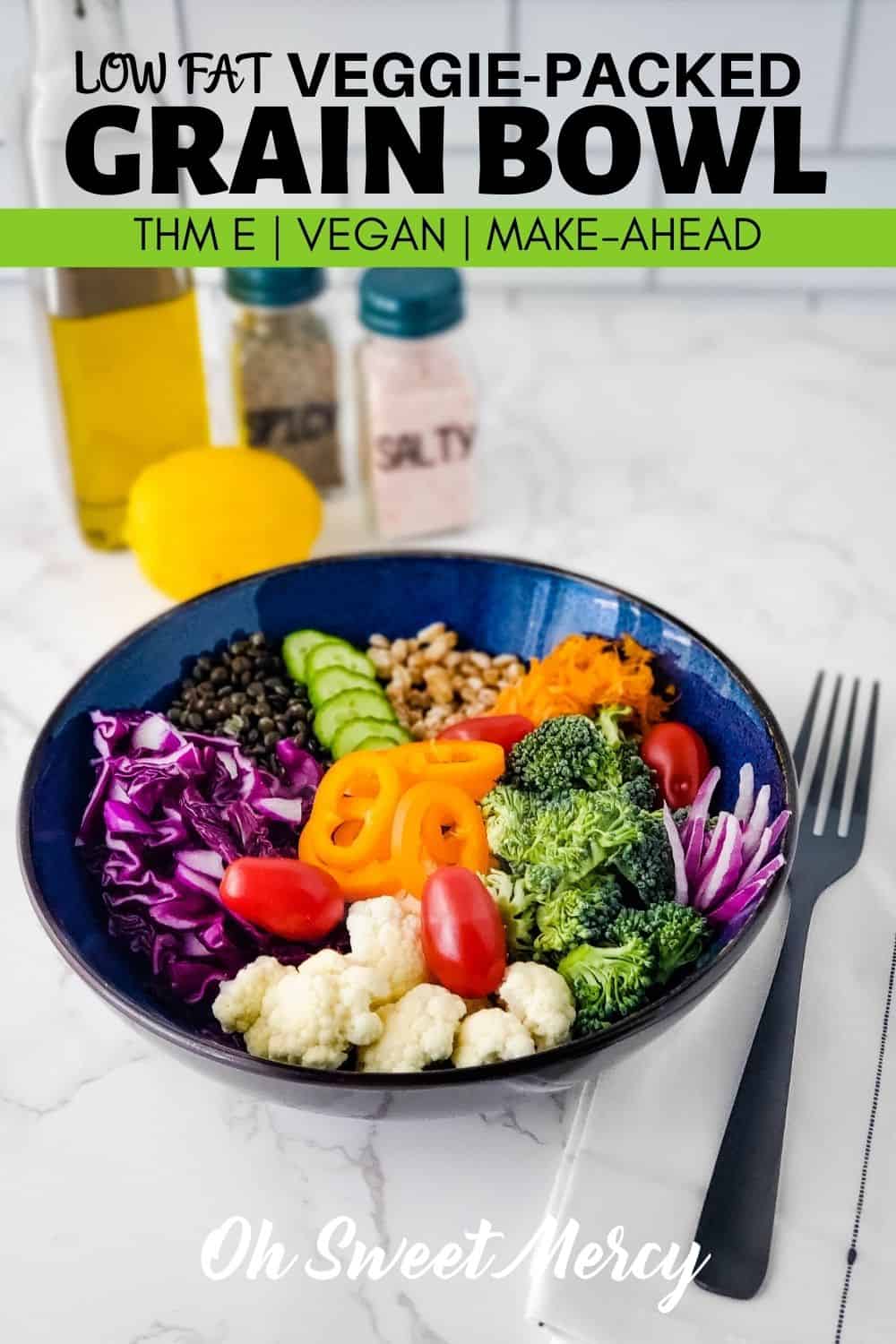 ---
My new favorite lunch! A veggie-packed grain bowl filled with healthy goodness (but not fat). This easy recipe starts with chewy, nutty farro and lentils, then pack in those colorful veggies. Drizzle on a flavorful, low fat dressing and dig in to the healthy goodness. Trim Healthy Mamas, this is a tasty and satisfying THM E recipe that packs well for on the go meals.
---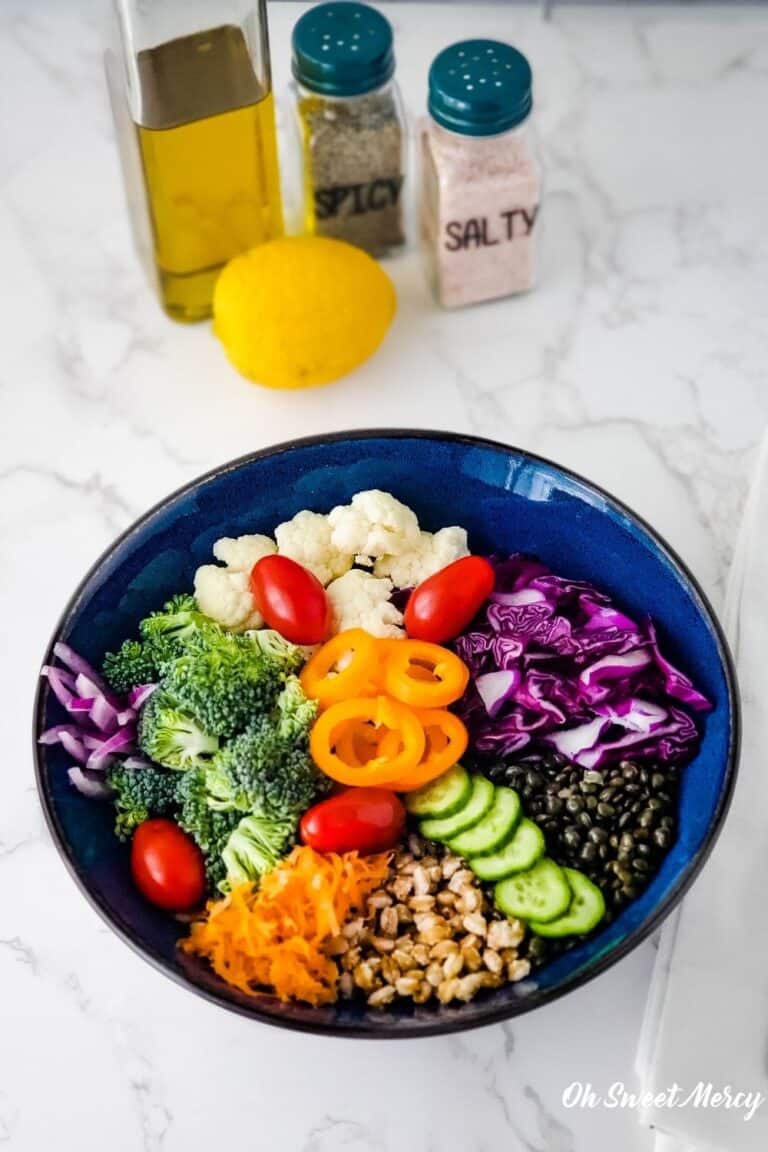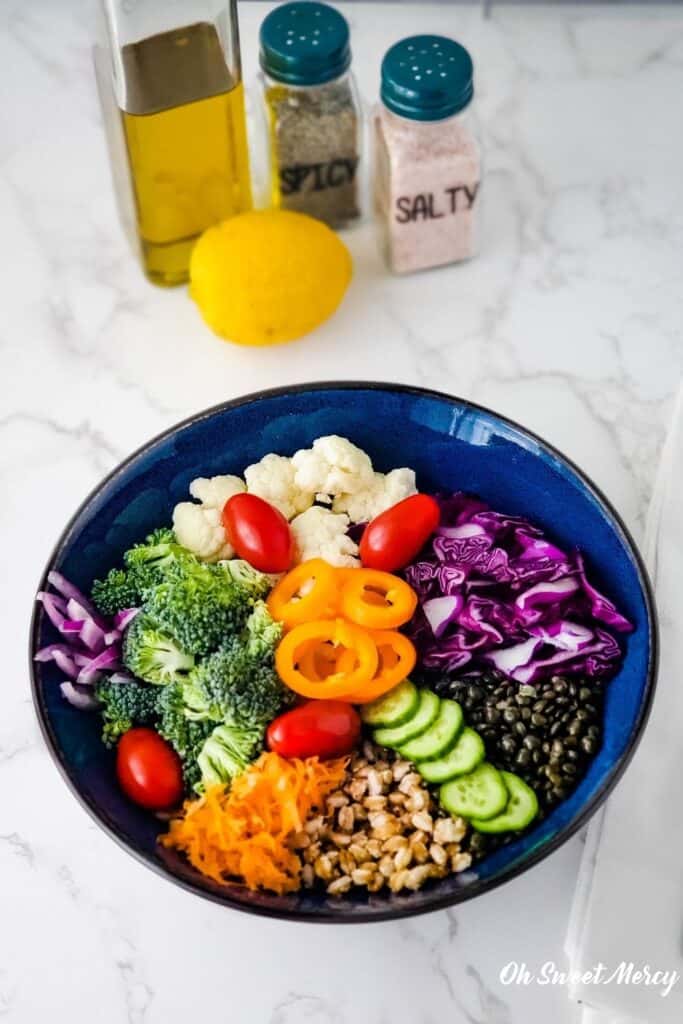 As part of my goal to eat more plant-based foods this year, I threw together a delicious cold grain bowl and can't quite get enough of them!
Grain bowls are also called by other names, depending on what you put in them. But they are all very similar – veggies, grains, protein (lentils are great for a vegetarian bowl), toppings, and some kind of sauce or dressing.
Whether you call it a nourish bowl, hippie bowl, macro bowl, or Buddha bowl you're going to love it!
There are many grain bowl recipes out there, for sure. This one is for sure THM friendly!
What Do I Need For This Recipe?
I'm sharing what I usually put in my quick and easy, low fat grain bowl. However, feel free to make this your own! Mix and match your favorite nutrient dense ingredients. Most of the time it just depends on what I have on hand, but this is pretty typical:
Soaked, cooked farro (quinoa works great if you're gluten free). This is your THM E fuel source + protein.
Lentils (or other cooked, dry beans – my Chili Lime Black Beans are great). This is also a THM E fuel source + protein.
Non-starchy veggies such as cucumbers, tomatoes, broccoli, cauliflower, bell peppers, and cabbage
Sprinkle of sunflower seeds – just a garnish amount! I don't always do this but it's a nice addition now and then.
A low fat dressing featuring healthy fats (I often do a teaspoon of olive oil, liberal fresh lemon juice (or balsamic vinegar), and pinch of salt, OR the delicious Plant Strong Dressing from Pearl's Hot Tomato Salad recipe – and now with Serene's yummy tweaks she mentioned in Episode 222 of the Trim Healthy Podcast – What If Rice Could Slim You?)
Generous sprinkle of gochugaru (Korean chili pepper) – OPTIONAL
Sometimes I add a lean meat, like chicken breast. Lean, healthy fish is also a great choice. But, I'm just blown away that even just having this as a vegan grain bowl satisfies me – and keeps me satisfied – until my next snack or meal.
Farro is about twice as high in protein as quinoa, another thing that blew my mind! I've found that these days, I feel better when I eat less meat (especially red meat) and no dairy. This grain and veggie-based meal is just what my body needs to feel best, and thankfully it tastes delicious!
Another bonus, for me, is that my blood sugar handles farro just fine.
What Is Farro And Why Is Farro Healthy?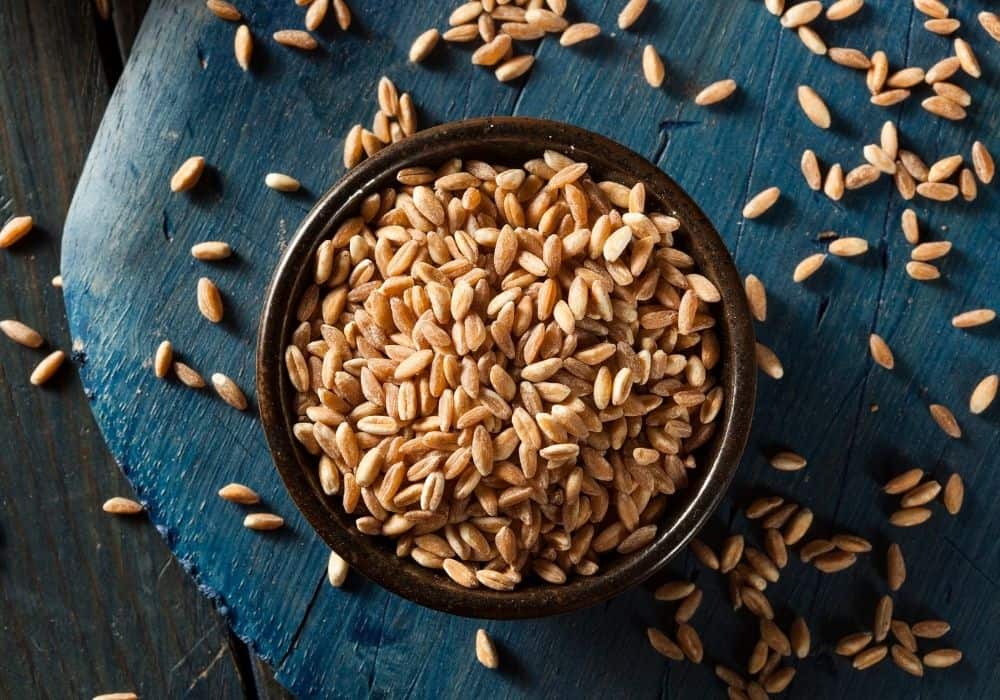 Farro actually often refers to 1 of 3 ancient grains: emmer, spelt, or einkorn wheat. It is NOT gluten free, however. If you need a gluten free option, quinoa, brown or wild rice are fabulous substitutes.
This ancient grain is packed with nutrition! A half cup of uncooked farro (1 1/2 cup cooked) contains 8 grams each of protein and fiber. This helps keep the impact of the carbohydrates on blood sugar (34 grams, or 26 grams net) lower.
It also boasts an impressive amount of niacin (an important B vitamin) and magnesium – both at 15% of the RDA.
As with all grains, nutritionally it's best to soak them overnight to reduce phytic acid. This also increases digestibility and nutrient absorption.
Simply combine 1 cup uncooked farro, 1 1/2 cup water, and 1 1/2 tablespoons of something acidic (lemon juice, apple cider vinegar, water kefir, whey, yogurt, etc.) and let it sit on the counter for at least 8 hours.
Cooking Farro.
When you're ready to cook your soaked farro, drain the soaking water into a bowl. Then, measure how much is left. Add enough fresh water to your cooking post to equal the amount you strained.
For example, I typically find that 1 cup of dry farro tends to absorb 1/2 cup of water. So, when I strain the soaking water there is usually 1 cup of the 1 1/2 cups that I started with. I'll cook the soaked farro in 1 cup of water.
Rinsing the farro a bit helps reduce any sour taste from adding something acidic to the soaking water.
Add water and the soaked and drained farro to a pot and bring to a boil. Reduce the heat to a simmer and cover. It should only take around 15 minutes or less to cook. When all the water is absorbed, it's done.
Don't want to soak your farro? Just follow the cooking instructions on the package.
How To Make A Healthy, Low Fat, Veggie Packed Grain Bowl.
It's so easy, especially if you already have cooked farro (or whatever grain you prefer) on hand. I try and make sure that I soak my grains ahead of time since they're easier to digest that way. But, sometimes I forget.
No worries, using unsoaked, cooked grains will not kill you! But, if you can soak and cook a big batch, portion it out into freezer bags and freeze them. Farro freezes very well! Other grains may not hold up as well when frozen, though.
You can be artistic and lay out your ingredients in a beautiful way. Or, just throw it all in a bowl and mix it up. Either way, it's delicious!
This salad stays fresh for at least a couple of days, especially if you use whole cherry or grape tomatoes. If using cut tomatoes, it should keep well for a day or two.
I absolutely love the Plant Strong Dressing from Pearl's Hot Tomato Salad on this grain bowl! But sometimes I'm in a big hurry or just feel like something light and fresh. In that case, I just add a teaspoon of olive oil (or up to 2 teaspoons of MCT oil) and squeeze the juice of a whole, fresh lemon all over.
Balsamic vinegar also works very well for this grain bowl.
Then, a sprinkle of pink Himalayan salt and some gochugaru (Korean chili pepper), if I'm feeling spicy, and that's it! It's bright and refreshing and lets the flavors of the ingredients shine.
I've been eating this several times a week lately, it's one of my favorite easy lunches. Also, since it packs well, it's been a go-to for when I must take my lunch to go for the day.
Other Low or No Fat Dressings To Try:
One of the best things about a veggie packed grain bowl is they're so customizable! Change it up by using one of my delicious low/no fat dressings below:
Asian Sweet and Tangy Salad Dressing
Or give these dressings a try:
Pear Apple Salad Dressing from The Healthy Milestone
THM Probiotic Cucumber Ranch Dressing from Traditional Cooking School
Spicy Peanut Sauce from Blissfully Prepared
Creamy Chili Pepper Salad Dressing from Wonderfully Made and Dearly Loved
How To Fit This Veggie-Packed Grain Bowl Into Your THM Meal Plan This Week.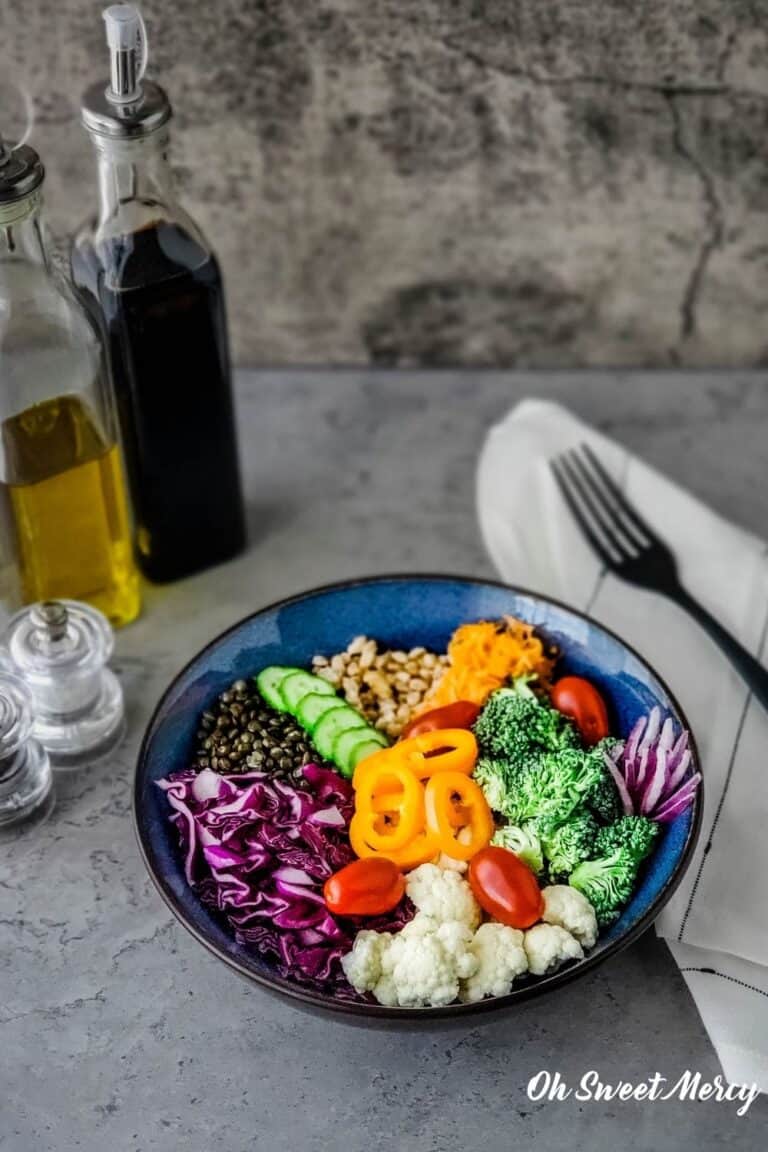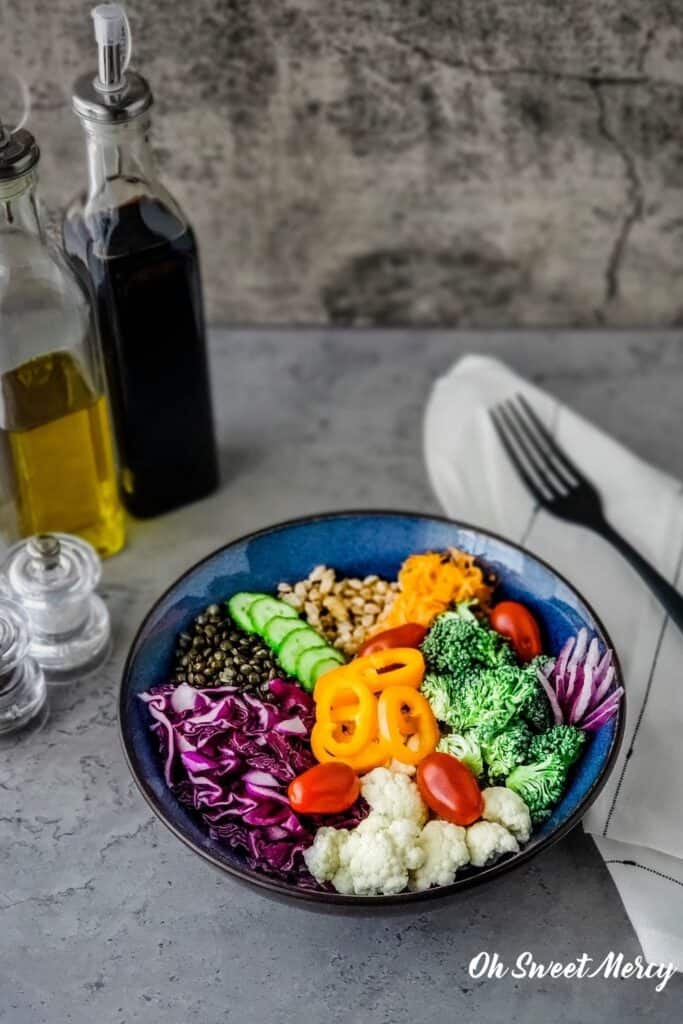 Since this is a grain bowl containing a starchy carbohydrate fuel, this recipe is a THM E as written.
Keep your added fat within the THM E guidelines (5 grams). Adding lentils, or other legumes, makes a complete protein so be sure to add those if you can. This is especially important if you're having this tasty grain bowl as a meatless meal option.
NUTRITION INFO NOTES: The recipe card below shows the total fat for this recipe, which is 1 serving, as 6.9 grams. There is only 5 grams of ADDED fat, the rest of the fat shown is naturally occuring in the ingredients and isn't counted as part of the added fat allowed in a THM E meal.

As written, this grain bowl has 44.1 grams of net carbs (thanks to 16 grams of fiber!), of which 34.7 come from your THM E fuel source. The rest is the minimal carbs in non-starchy veggies.

Depending on what ingredients you use, the nutrition values may change so use it as a guideline.
If you'd like to add meat, choose ultra lean meats such as chicken or turkey breast. Lean fish also works well.
Need a THM XO (Crossover)? Simply use more oil or a THM S dressing, such as my Creamy Citrus Salad Dressing or Raspberry Basil Vinaigrette.
Want to make this ahead? Leave off the dressing for longer storage. But, if you're going to eat it within a day or two, go ahead and toss the dressing in.
This gorgeous, veggie-packed grain bowl makes a delicious, meatless meal option for anyone. For the Trim Healthy Mama, it's a very satisfying low fat, healthy carb meal. I hope you enjoy!
Pin It!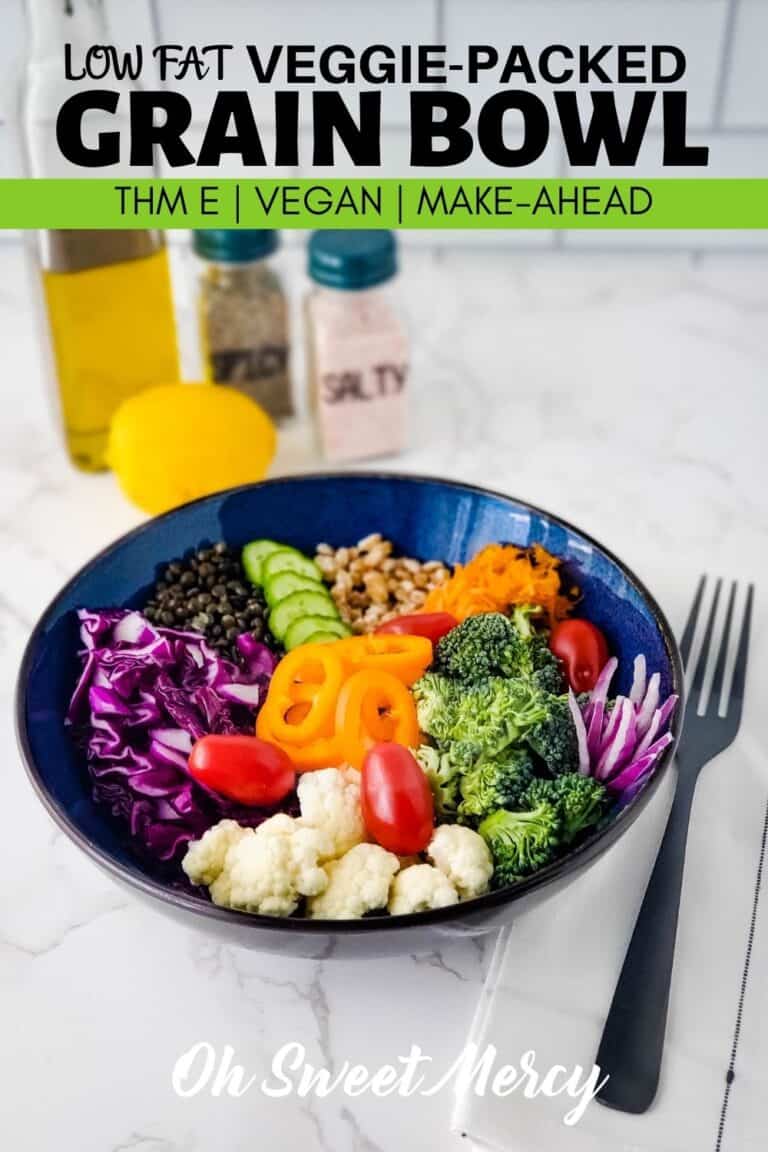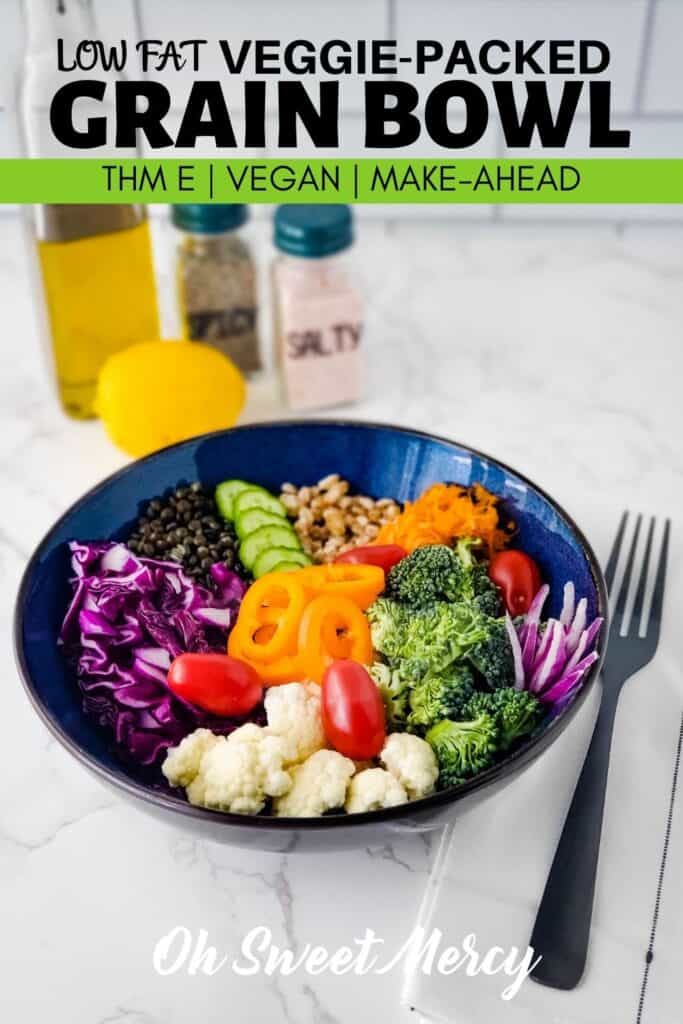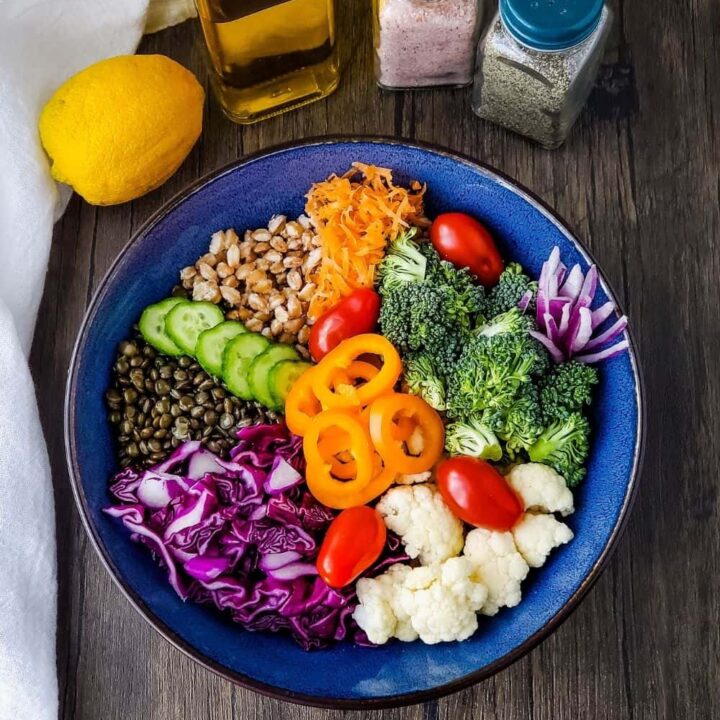 Veggie Packed Grain Bowl | Low Fat, THM E
Yield: 1 serving
Prep Time: 10 minutes
Total Time: 10 minutes
Packed with veggies, this low fat grain bowl is a satisfying THM E meatless meal option. Though you can add lean meats if you like. Mix and match your favorite grains, legumes, and veggies. Use your favorite low fat dressing, a simple oil and vinegar or lemon juice dressing, or the delicious Plant Strong Dressing from Pearl's Hot Tomato Salad to make this grain bowl your own.
Ingredients
1/2 cup farro, cooked and cooled
1/2 cup lentils, cooked and cooled
1/2 cup broccoli florets
1/2 cup cauliflower florets
1 mini cucumber, sliced or chopped
6 cherry tomatoes
1/4 cup shredded purple cabbage
2 tablespoons red onion, chopped
2 tablespoons grated carrot
1 mini sweet pepper, sliced into rings or chopped
1 large lemon, juiced
Sprinkle of toasted sunflower seeds, optional
Instructions
Layer or combine farro, lentils, and veggies in a bowl.
Top with dressing and toss to combine.
Sprinkle with gochugaru or other hot chili pepper, if desired, and sunflower seeds if using.
Notes
Use any low or non-fat, on-plan dressing for a THM E. Use an S dressing or more olive oil for a THM XO.
You can also use up to 2 teaspoons MCT oil instead of olive oil.
If making ahead, it will keep well for a couple of days with dressing, longer if you store with the dressing separate.
Nutritional information Notes:
As written, this recipe only has 1 gram of ADDED fats. The rest of the fats are naturally occuring in the ingredients and do not count against the allowable added fats for a THM E meal.
Recommended Products
As an Amazon Associate and member of other affiliate programs, I earn from qualifying purchases.
Nutrition Information:
Yield: 1
Serving Size: 1
Amount Per Serving:
Calories: 326.8
Total Fat: 6.9g
Saturated Fat: .8g
Trans Fat: 0g
Unsaturated Fat: 4.7g
Cholesterol: 0mg
Sodium: 41.7mg
Carbohydrates: 60.5g
Net Carbohydrates: 44.1g
Fiber: 16.4g
Sugar: 6.2g
Protein: 16.7g
Nutrition information is approximate and based on the best knowledge available at the time of recipe publication. Your results may vary due to differences in ingredients. You can make your own calculations if this recipe does not include nutrition info by using an online calculator such as https://recipes.sparkpeople.com/recipe-calculator.asp