---
Blueberry pancakes drenched in butter and maple syrup – delicious but so hard on your blood sugar, right? I've mixed up this Sugar Free Blueberry Pancake Shake with the flavors of your favorite breakfast pancakes but left out the sugar and excess carbs. Trim Healthy Mamas, if you're in a hurry you can make this for breakfast in any THM fuel style! If you're tired of your boring blueberry protein shake, give this a try 😉
---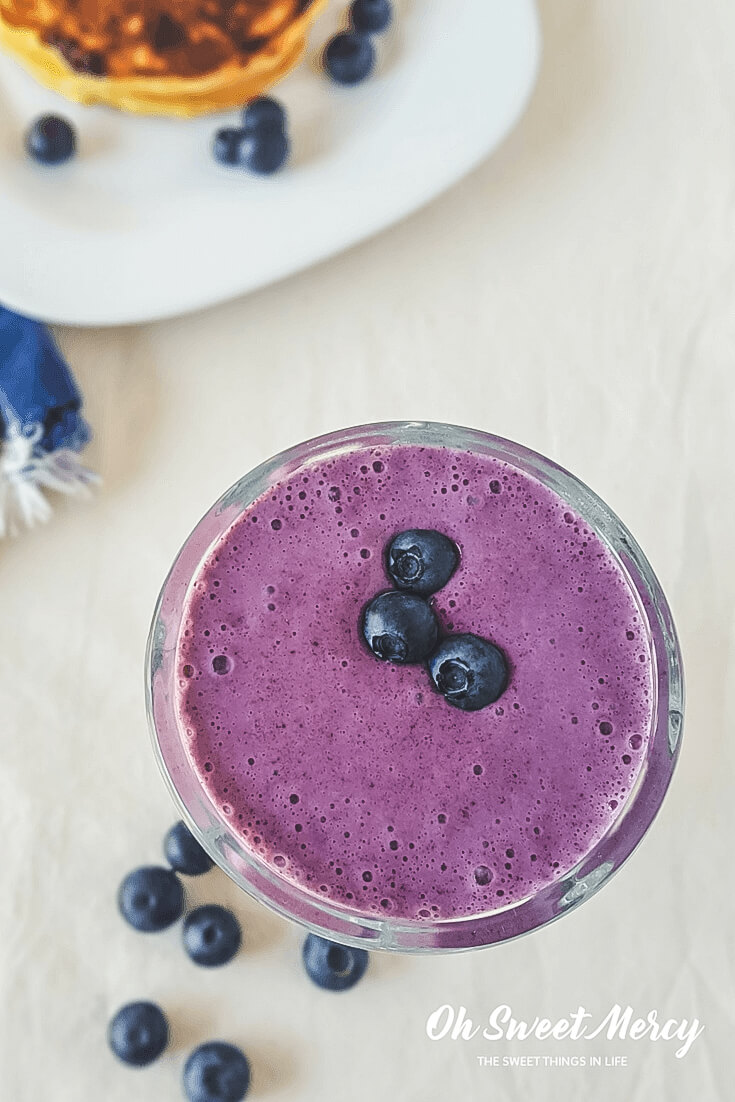 When you don't have time for blueberry pancakes do the next best thing – make my Blueberry Pancake Shake! It's a delicious low-carb alternative to regular pancakes. It's also quicker than making actual pancakes – on or off plan 😉
When I was a kid, I hated blueberries. I'm pretty sure it's because my babysitter would load up all of us kids and make us pick them at the U-pick blueberry place.
Somewhere along the line, I changed my mind about blueberries. I suspect that cheesecake was involved. Whatever the reason, now these beautiful blue packed-with-healthy-goodness gems find their way into many of my meals…
In salads
Topping yogurt or cottage cheese
Or just a snack with some almonds
Where's the Protein in this Sugar Free Blueberry Pancake Shake?
You've got several easy protein options in this easy recipe. I initially made it with no added protein, and honestly I like it best like that. As a snack with a piece of cheese or a boiled egg is perfect. For breakfast, try with your favorite eggs. For lunch or dinner it makes a great dessert after a protein-centered meal.
If you are in a hurry and need to drink your breakfast (or whatever meal) then try adding:
a scoop of collagen – this has the least impact on flavor
a scoop of whey protein powder – it will change the flavor slightly
cottage cheese – an economical source of protein (doesn't change the flavor much, either)
A Note on Ingredients.
For "brown sugar" I recommend Low Carb Brown Sugar from Wonderfully Made and Dearly Loved. I've also used the Gwen's Nest recipe and it's great too.
I initially made this with Lakanto Maple Flavored Sugar-Free Syrup, which is considered a "personal choice" item. It's fairly pricey so I only use it occasionally for a special treat. It only has 1 gram net carb per 2 tablespoons, too.
Most of the time I use the Pancake Syrup recipe in the THM Cookbook and that would work fine here. I'd also highly recommend Rich Buttery Sugar Free Maple Syrup from Nana's Little Kitchen.
If you don't have either the Lakanto syrup or some homemade, on-plan pancake syrup, you could try maple flavoring and a bit of on-plan sweetener. And if you'd like to make this for your kiddos or others who are not following a low-glycemic way of eating go ahead and use that lovely real, pure maple syrup!
Trim Healthy Mamas: How to Include This Sugar Free Blueberry Pancake Shake In Your Meal Plan.
You can make this shake to suit any THM fuel type (except for Deep S). Making it "basic" without protein added it's a Fuel Pull.
To stay Fuel Pull, add a scoop of collagen or whey
For an S, add some MCT oil or heavy whipping cream
For an E, be sure to add one of the protein choices (cottage cheese will add more carbs) and include another carb source.
Remember that you can make the "basic" Blueberry Pancake Shake and include it as a dessert after your meals.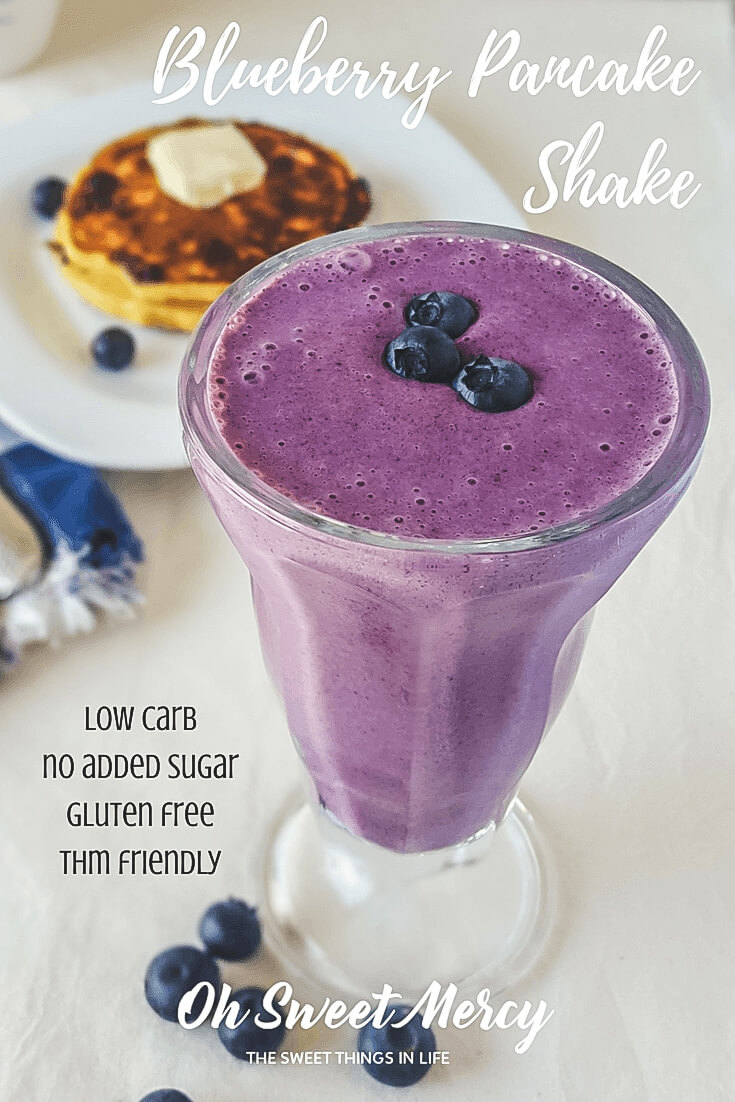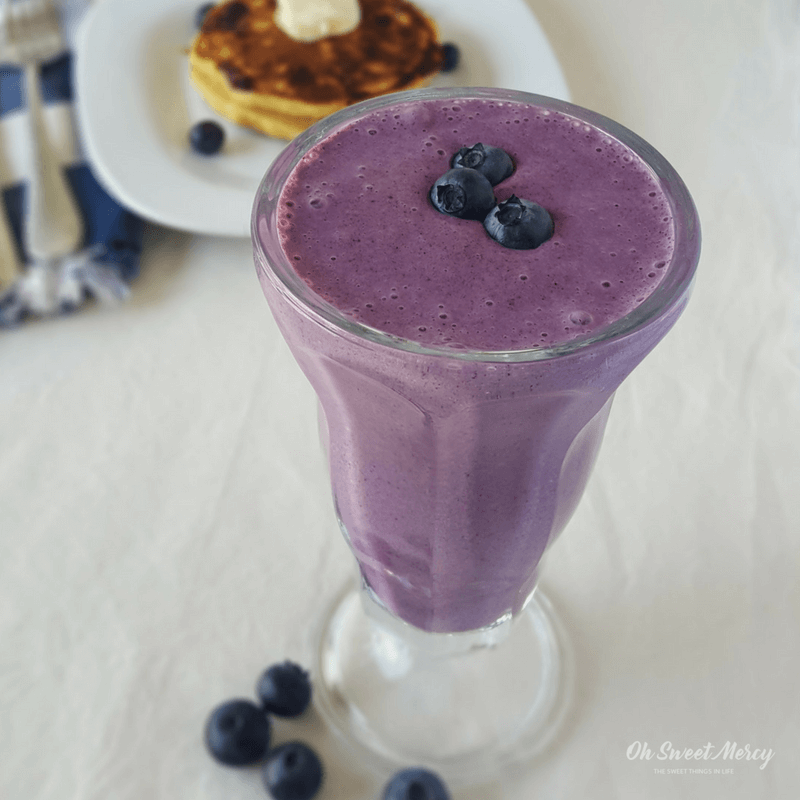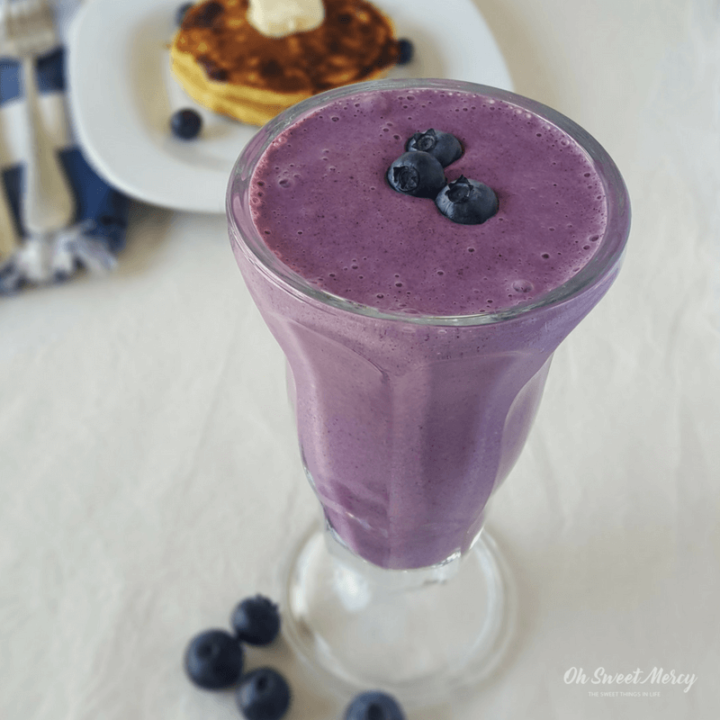 Sugar Free Blueberry Pancake Shake
I've mixed up this Blueberry Pancake Shake with the flavors of your favorite breakfast pancakes but left out the sugar and excess carbs. Trim Healthy Mamas, if you're in a hurry you can make this for breakfast in any THM fuel style (except for Deep S)!
Ingredients
1/2 cup almond milk
1/3 to 1/2 cup frozen blueberries
1 teaspoon THM Baking Blend 
2 tablespoons sugar free maple flavored syrup (see notes)
2 pinches high mineral salt
1/4 teaspoon THM Glucomannan Powder
1 teaspoon low-carb brown sugar
1/8 teaspoon cinnamon (or more if desired)
added protein of choice (see notes)
6 ice cubes
Instructions
Put all ingredients into a blender.
Blend until smooth, using a tamper if you have one. If not, stop the blender and scrape the contents down if needed and continue blending.
Notes
Maple Flavored Syrup Options
Lakanto Sugar Free Maple Flavored syrup has only 1 gram net carbs per 2 tablespoons. It's considered a "personal choice" item. If you'd rather not use it, try the Pancake Syrup recipe in the THM Cookbook or another homemade, sugar-free maple syrup recipe.
You can also just add maple flavoring and stevia to taste instead
Protein Options
1 scoop collagen
1 scoop on-plan whey protein powder
1/2 c low fat cottage cheese
Nutrition Information
The information provided is for a basic shake with no protein added, as different protein options will yield different nutrition information.
Nutrition Information:
Yield: 1
Serving Size: 2 cups
Amount Per Serving:
Calories: 50
Total Fat: 1.8g
Carbohydrates: 9.2g
Fiber: 2.9g
Sugar: 4.8g
Protein: 0.7g