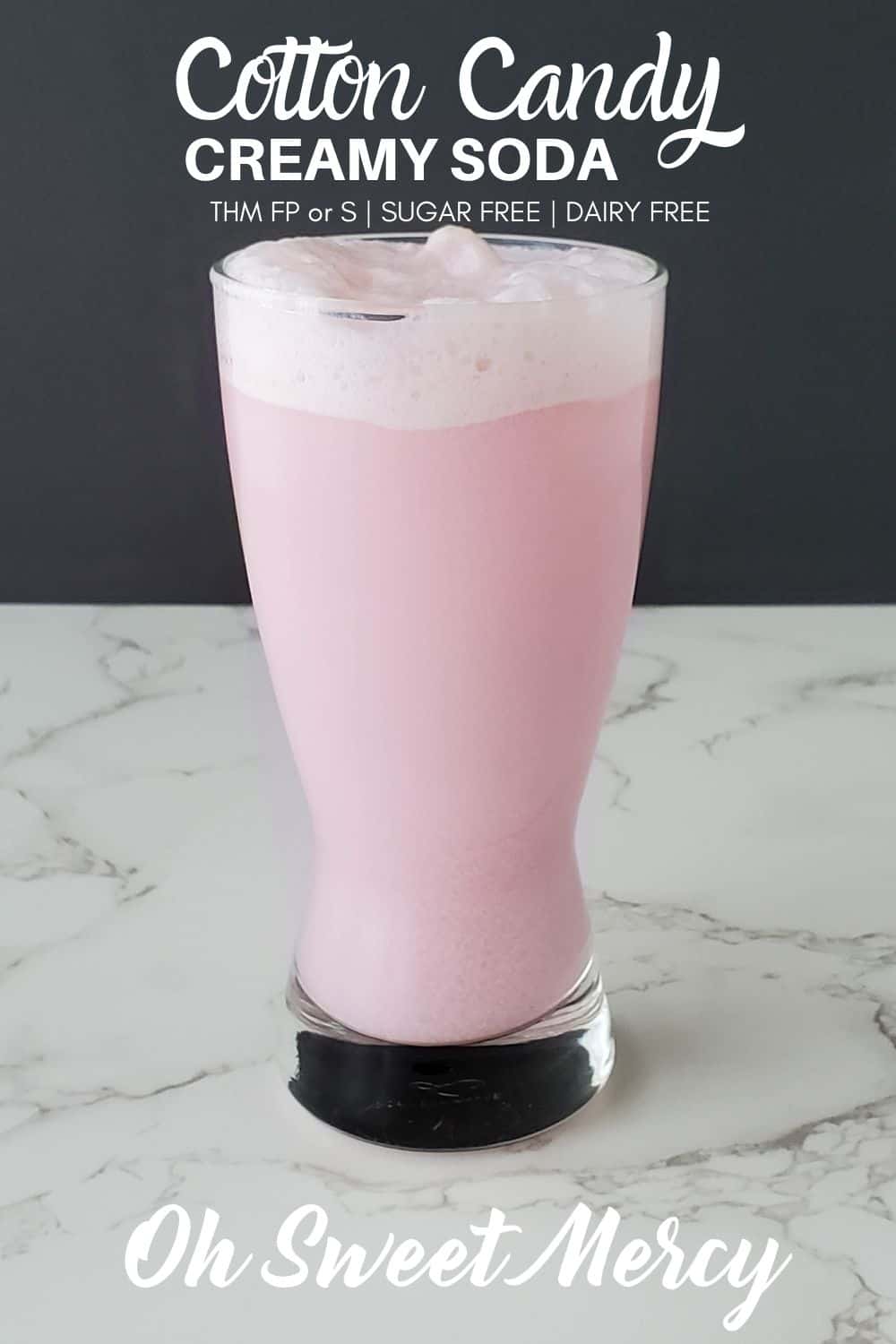 ---
Creamy, sweet, and totally dairy free, this cotton candy soda is a fun treat! Don't wait to make it though, the main ingredient is only available for a limited time. Use this technique to make other flavors of low carb creamy sodas, too!
---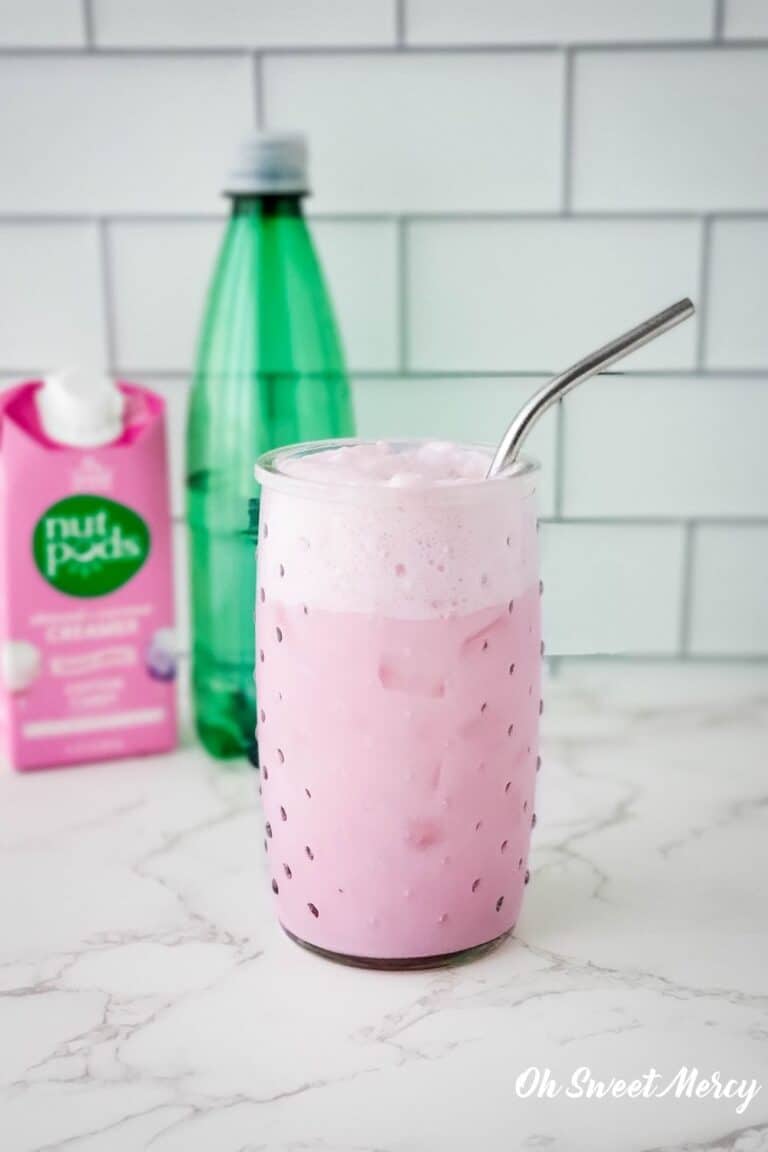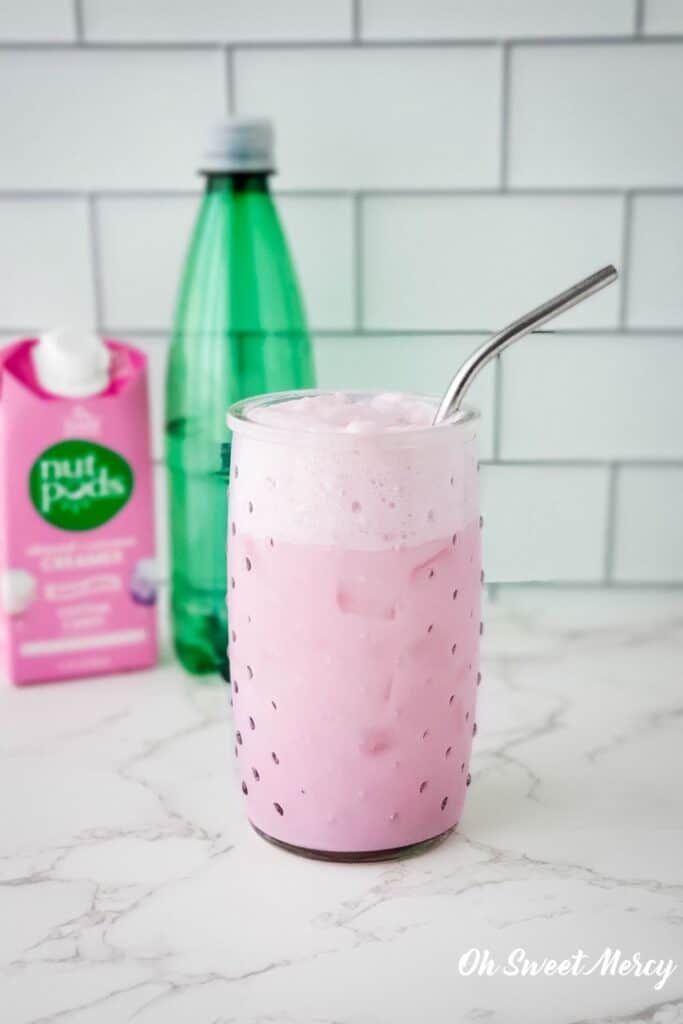 This is NOT a sponsored post! I recently saw the new cotton candy flavored Nut Pods and had to try it. Of course, that means tinkering around with it for blog recipes.
Even if you can't get a hold of some cotton candy Nut Pods, you can still use this simple recipe with any flavor of creamer.
If you're a Trim Healthy Mama follower, just make sure it's on plan!
What Do I Need For This Recipe?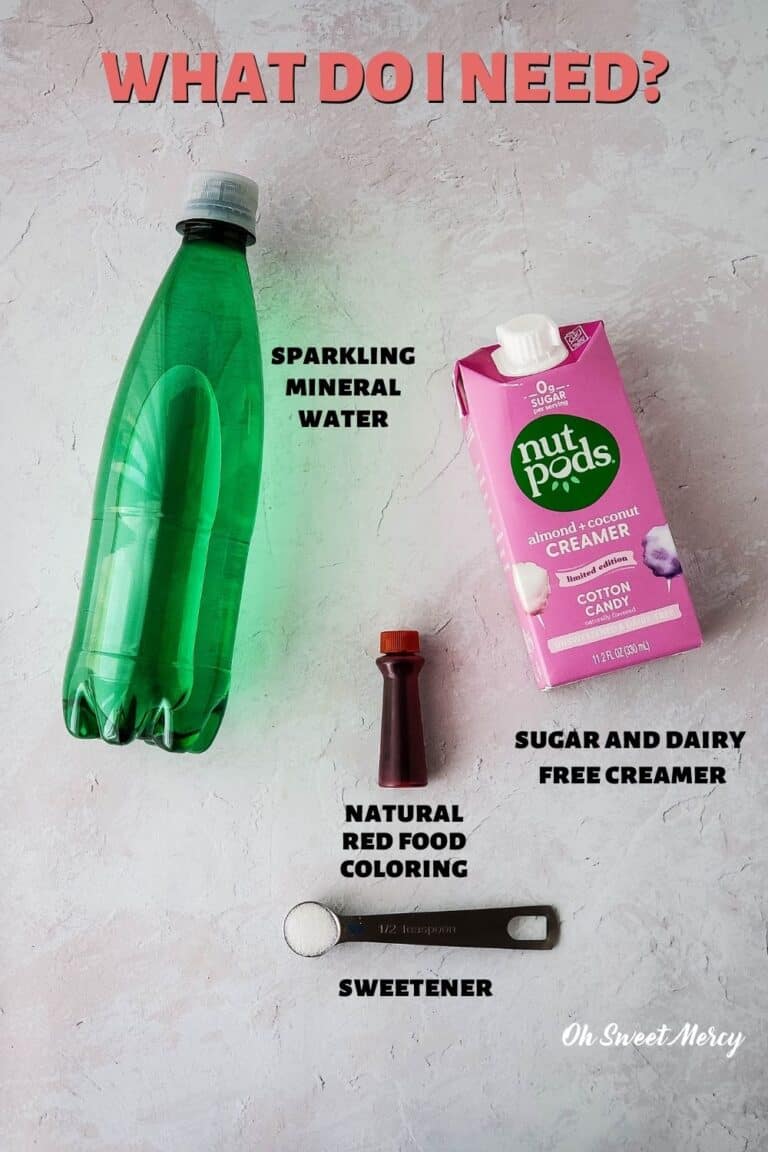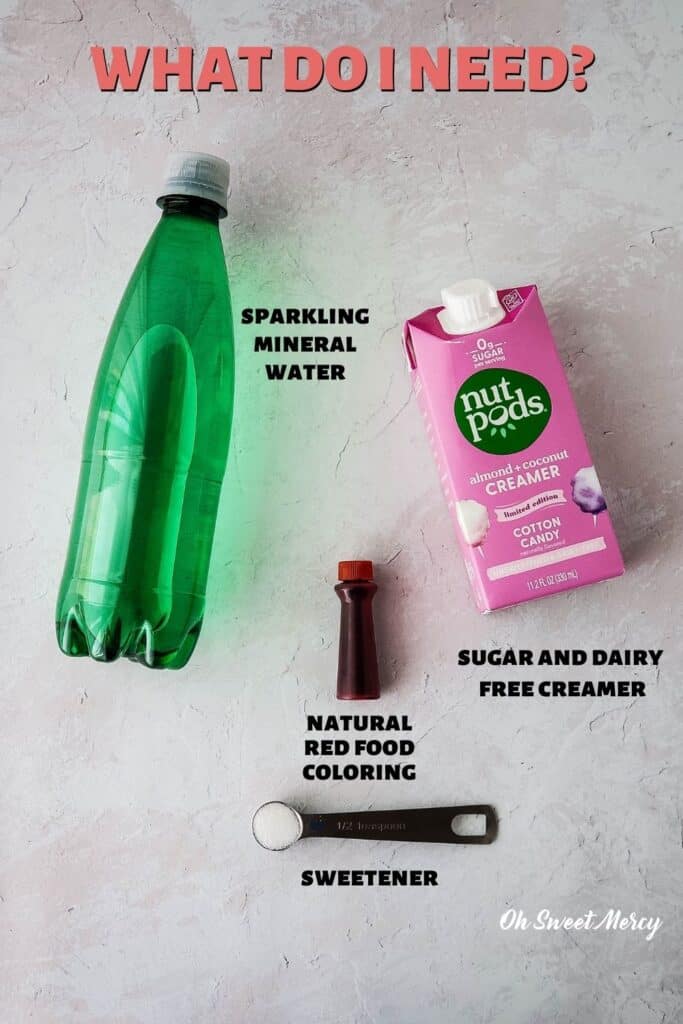 You'll just need a few ingredients:
You could also try a sprinkle of beet powder instead of food coloring.
How To Make Creamy Cotton Candy Soda.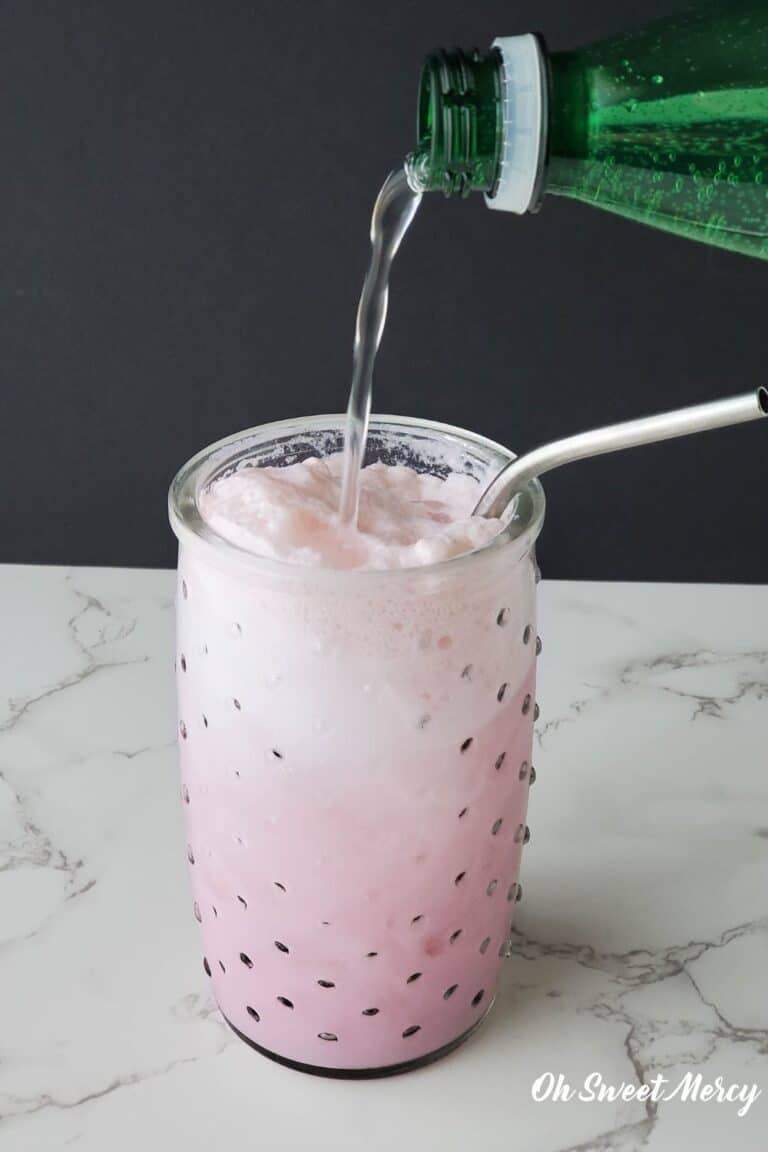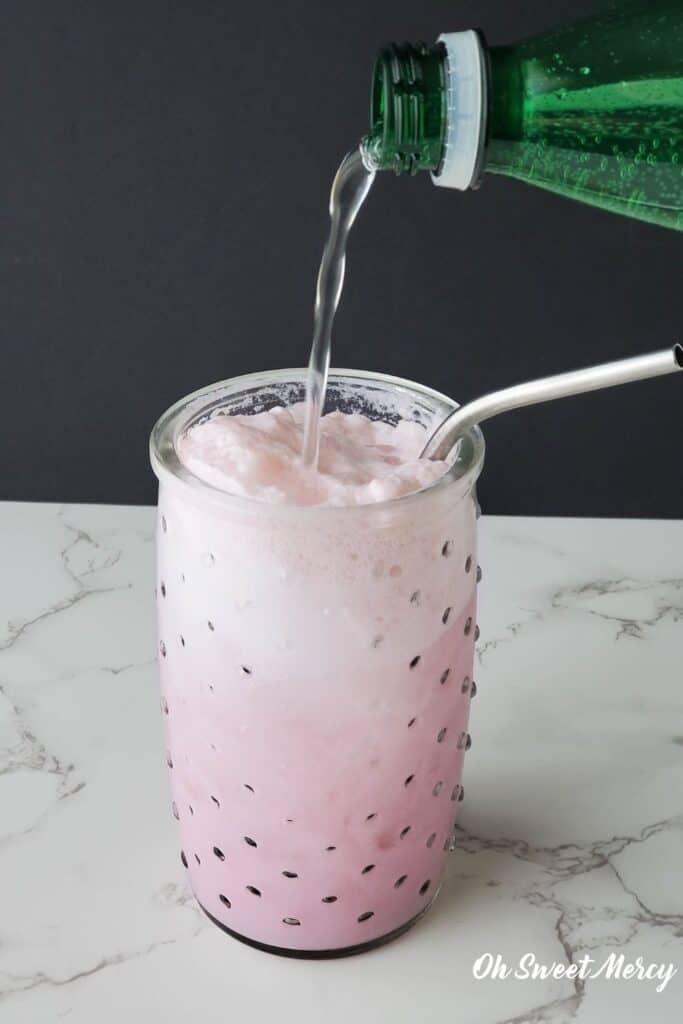 Since stirring fizzy water can make your soda flat faster, mix your nut pods, sweetener, and natural food coloring together in a glass first.
Then, pour the sparkling water into your glass. Stir gently and add ice.
Sip and enjoy!
Other Ways To Make Low Carb Creamy Sodas.
It's really easy to make other flavors of this creamy soda! Simply replace the cotton candy Nut Pods with another flavor.
Or, use a plain variety of Nut Pods or other on plan creamer and add extracts of choice. Silk makes a fabulous half and half (and heavy whipping cream). If you don't need something dairy free, use regular heavy whipping cream or half and half.
The flavor combinations are almost endless!
But, if you can get some cotton candy Nut Pods, I highly recommend it. Sister and I find this product absolutely scrumptious!
And, since I'm in the middle of eating dairy free for a while to see if it makes any difference for me, this yummy flavor of Nut Pods couldn't come at a better time.
How To Fit This Creamy Cotton Candy Soda Into Your THM Meal Planning.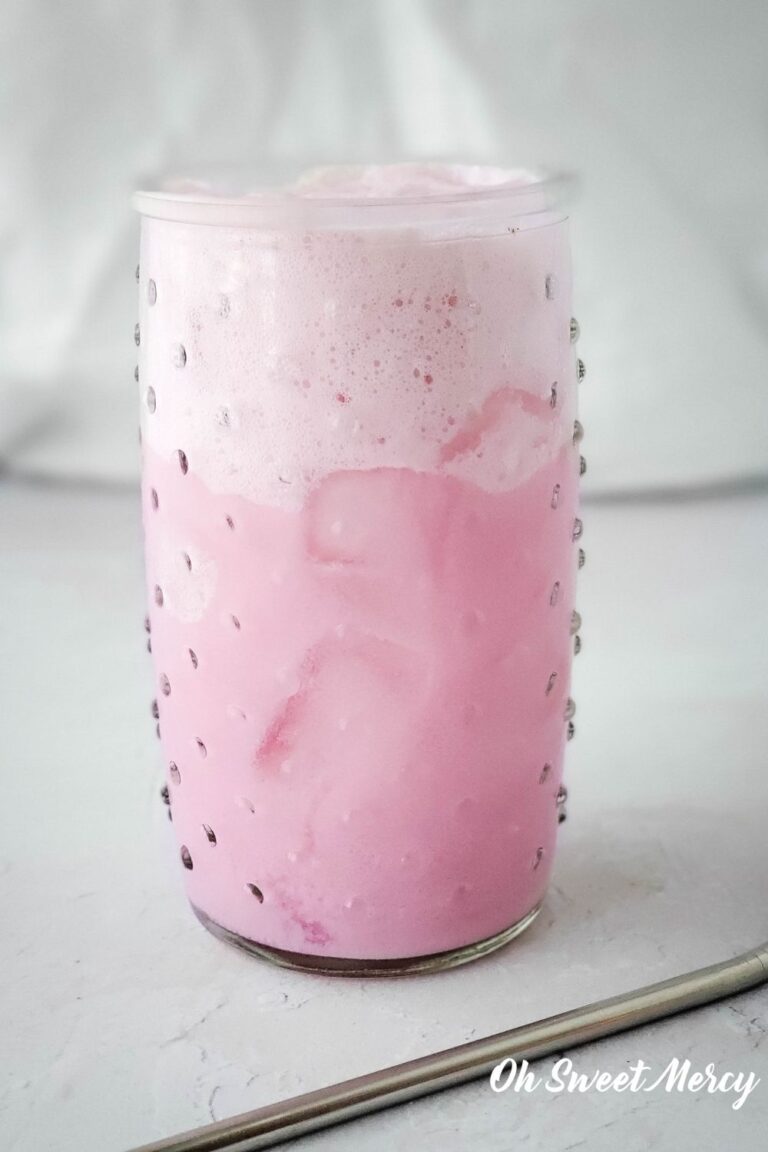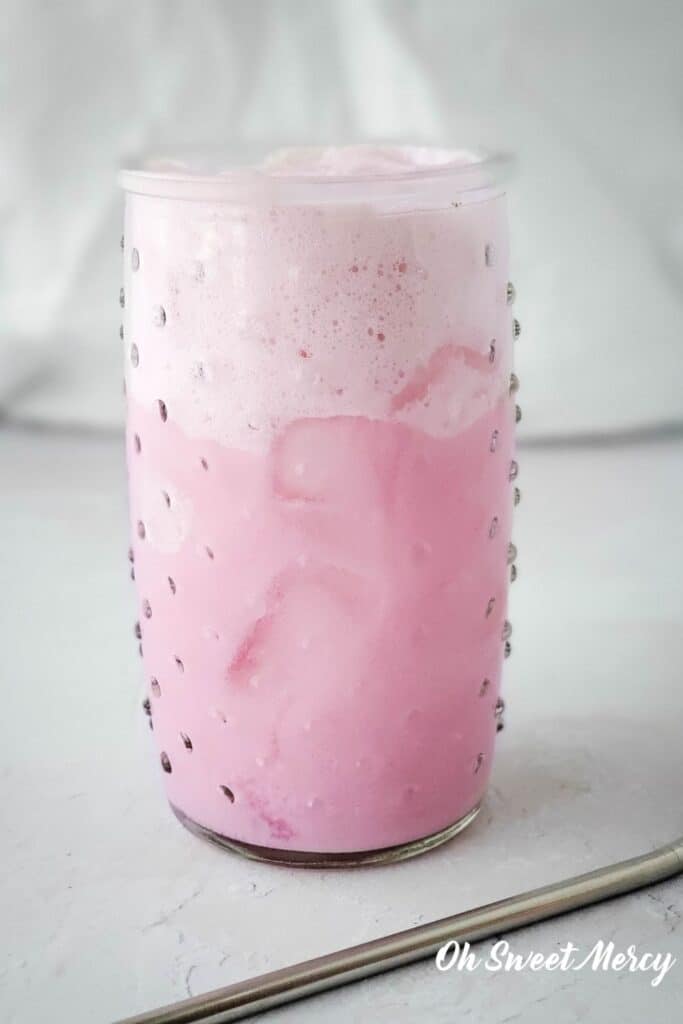 Each tablespoon of cotton candy Nut Pods has 1 gram of fat. So, depending on how much you use this sugar free cream soda can be either S or FP for the THM plan.
Obviously, a small glass needs less of the Nut Pods and will be a FP. A much bigger glass could get you into the S territory.
Keep in mind the amount of fat in your homemade cream soda when pairing with a meal or snack. If you're having an S, no worries! However, when having an E or FP you need to stay within the 5 grams of added fat (for the whole meal) guideline.
This is also not considered an "all day sipper" due to significant amounts of fat in the drink.
Whether you make the cotton candy sparkling water cream soda or use your own flavor combinations, this is a delicious, satisfying treat. It's also a refreshing way to quench your thirst!
Want more beverage ideas?
Give these delicious, THM friendly drinks a try:
Sugar Free Cranberry Mocktail – THM FP
Ginger Blueberry Good Girl Moonshine – THM Sipper
Pomegranate Lemonade Good Girl Moonshine – THM Sipper
Cold Brew Hibiscus Tea – THM Sipper
Frozen Hibiscus Lemonade – THM Sipper
4-Ingredient Baobab Water – THM FP
PIN IT!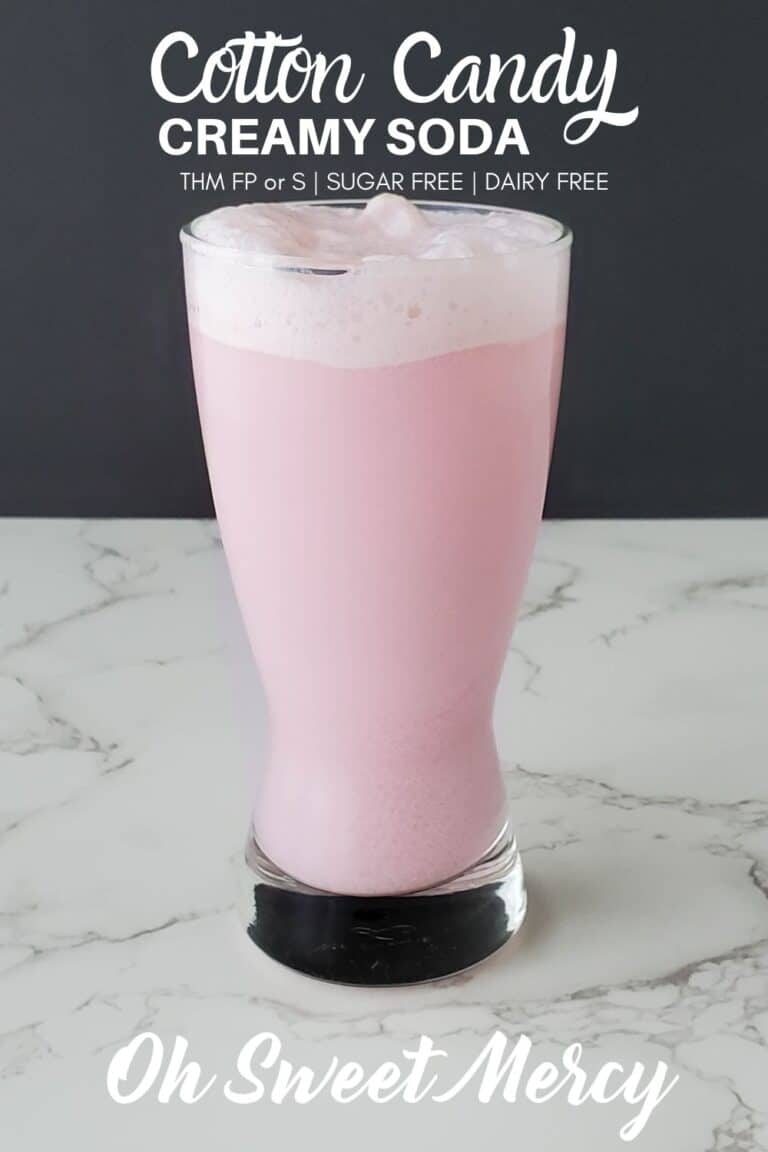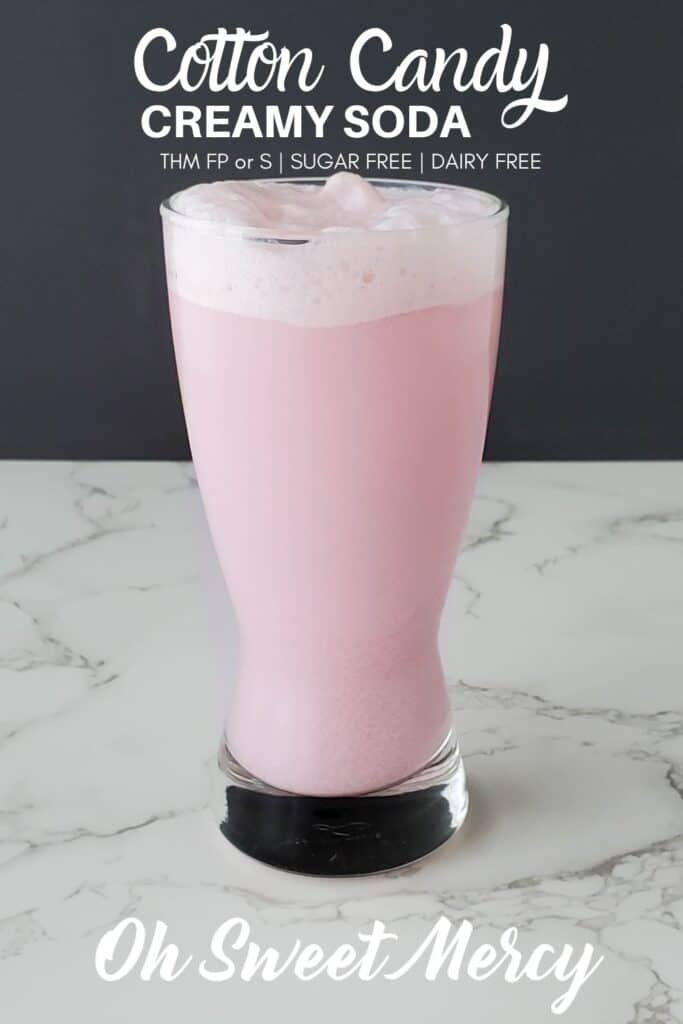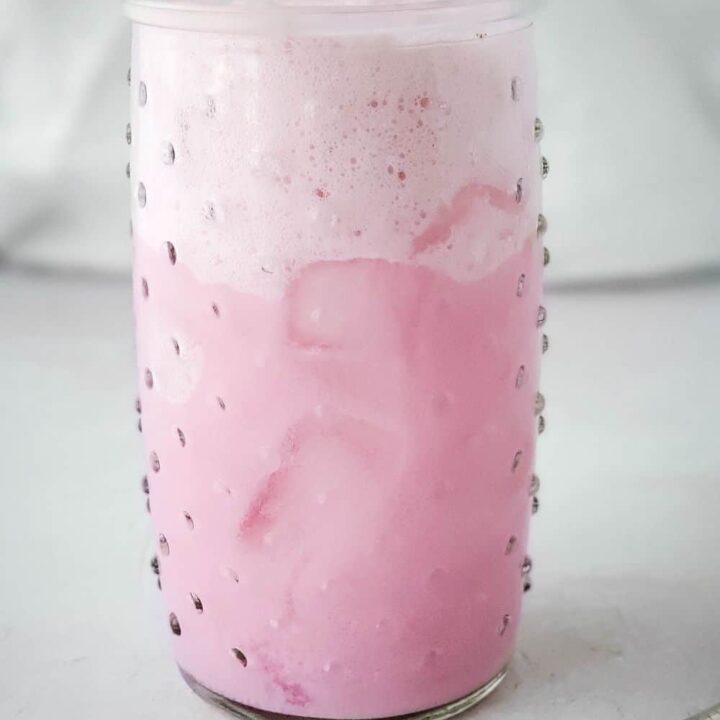 Cotton Candy Creamy Soda | THM FP or S, Sugar & Dairy Free
Yield: 1 serving
Prep Time: 5 minutes
Total Time: 5 minutes
Sweet and creamy without sugar or dairy, this fun-flavored sparkling water creamy soda is a delicious THM-friendly drink.
Ingredients
Cotton Candy Nut Pods (see notes for flavor alternatives)
Sparkling mineral water
Sweetener of choice
Instructions
In a drinking glass, add desired amount of Cotton Candy Nut Pods (I use 3 to 5 depending on the size of the glass).
Add sweetener and natural food coloring, if using, and stir or whisk until sweetener is dissolved.
Slowly pour sparkling water into the glass, leaving room for ice.
Stir gently and add ice.
Sip and enjoy!
Notes
Use any flavor of Nut Pods, or other THM-friendly dairy free creamer for other flavor variations.
Or, use a dairy free half and half or heavy whipping cream (Silk brand is fantastic) and add flavor extracts.
For a dairy version, just use real half and half or heavy cream and flavor extracts of choice.
NUTRITION NOTES:
Nutrition information below is for 4 tablespoons of Nut Pods.
Nutrition Information:
Yield: 1
Serving Size: 1
Amount Per Serving:
Calories: 40
Total Fat: 4g
Sodium: 10mg