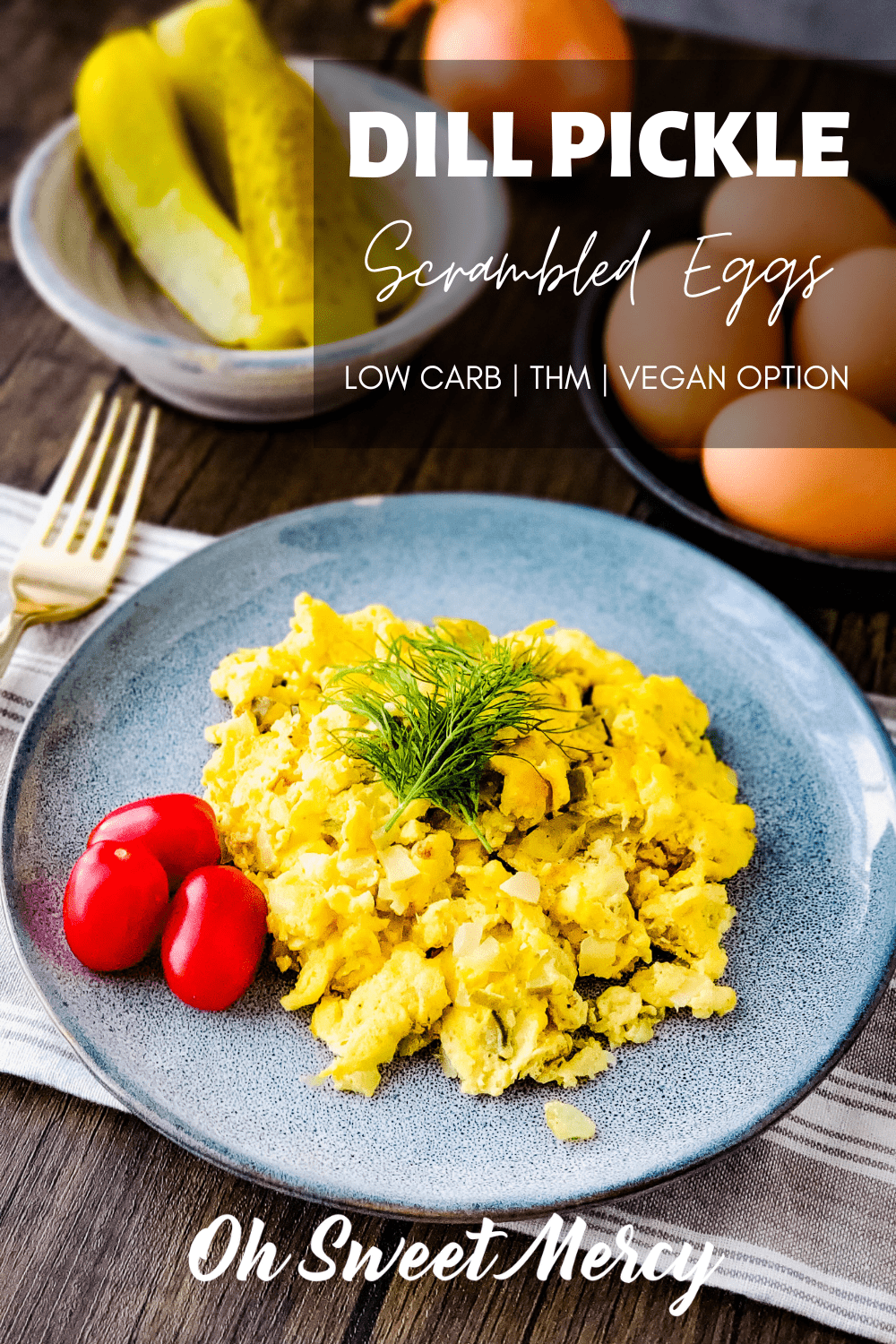 ---
I took a road trip to visit my bestie in Georgia and she made me these weirdly wonderful Dill Pickle Scrambled Eggs. Trust me, it works – dill is lovely with eggs! I use Just Egg vegan egg substitute since I can't have eggs and they're still wildly delicious. Quit looking at me like that and just try it….
---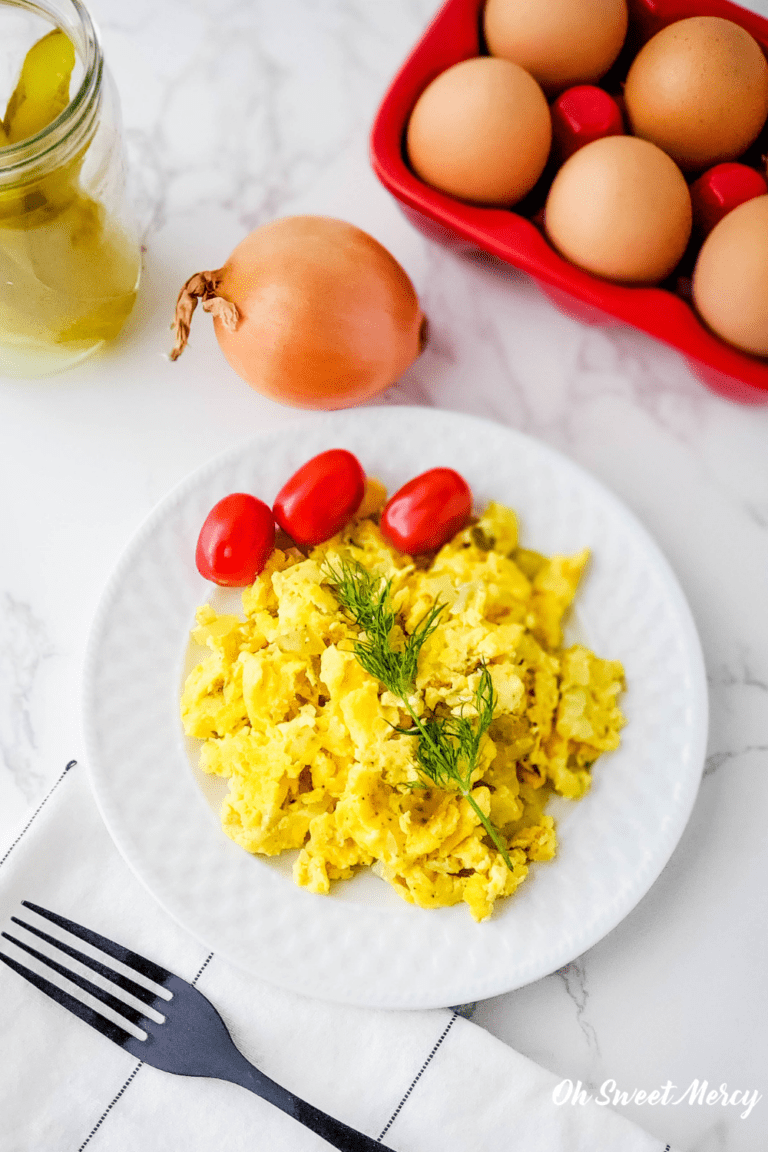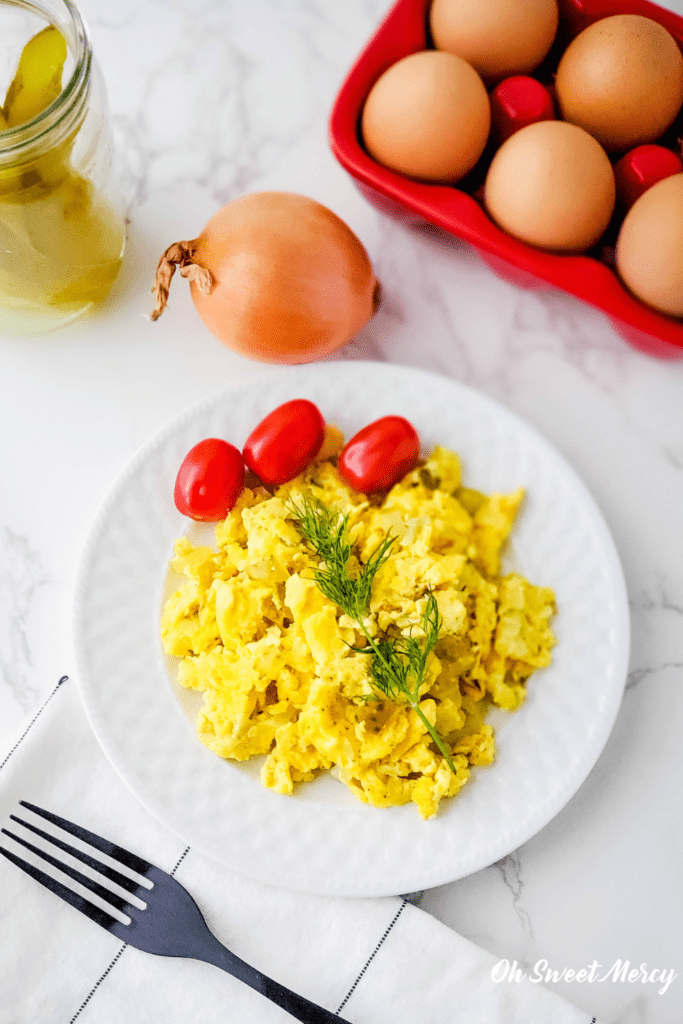 Dill pickle scrambled eggs? What in the world?
Yes, and they are DELICIOUS!
Of course, the caveat being you must like pickles. 3 out of 4 of my household loves this recipe. The one who doesn't isn't a big fan of pickles.
His loss…also, more dill pickle scrambled eggs for the rest of us!
This recipe is so simple, it's hardly a recipe really. I carefully measured, and recorded said measurements, for those who feel more comfortable with an actual recipe.
But seriously, you can go all wild and carefree with this and not even measure anything and you'll be fine.
WHAT DO I NEED FOR THIS RECIPE?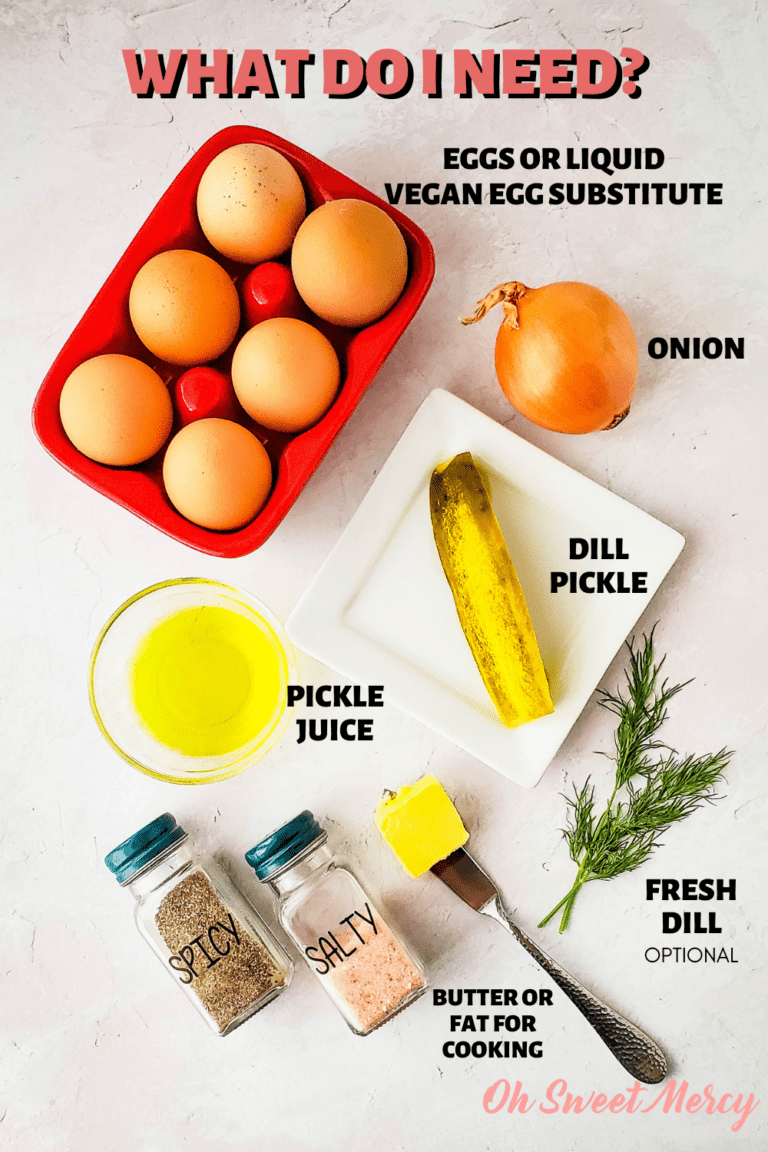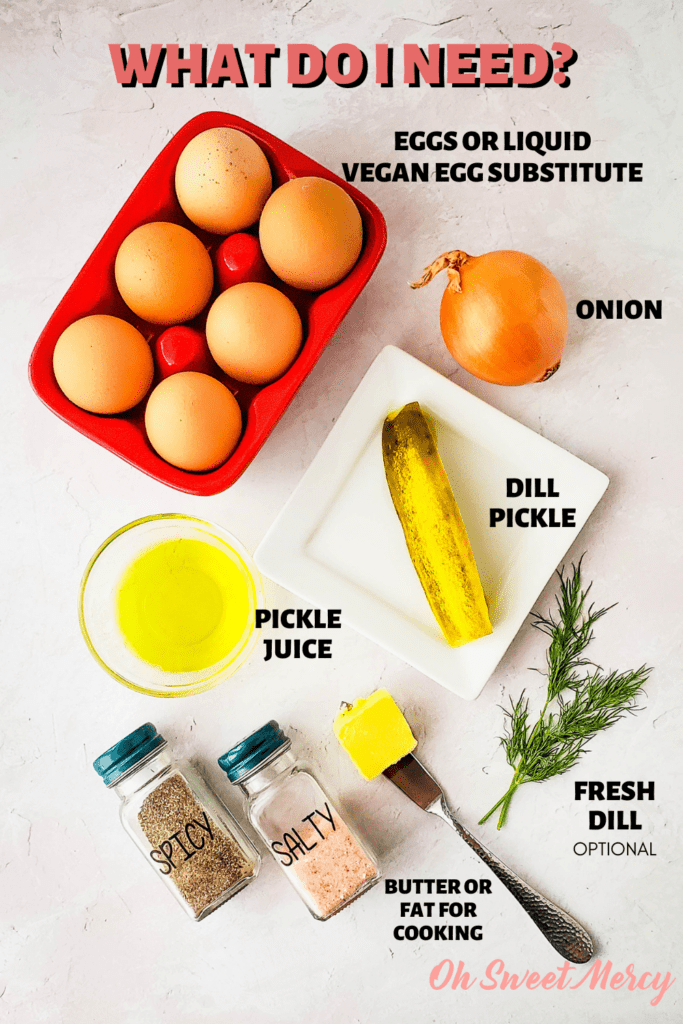 You only need a few simple ingredients to make Dill Pickle Scrambled Eggs. I use Just Egg vegan egg substitute and it turns out fantastically!
If you use a vegan egg substitute I highly recommend also adding a bit of kala namak, or black salt. It greatly improves the flavor by adding that sulfur component present in real eggs.
Eggs or liquid vegan egg substitute like Just Egg
Onion
Dill pickle
Pickle juice
Salt and pepper to taste
Butter or other fat for cooking
That's it! Of course, you can get creative and add other things like spicy seasonings (my Creole Seasoning is delicious) or add some hot sauce before serving if you like spicy foods.
Spicy dill pickles are the b.o.m.b., right?
Cheese is also a delicious addition but seriously, as simple as this recipe is it really doesn't need anything else!
SUBS FOR THOSE WITH TEXTURE ISSUES AND DON'T LIKE BITS OF THINGS IN THEIR EGGS…
While the onion and dill pickle chunks in this recipe can be cooked to your desired level of doneness, some may not like little bits of things in their eggs.
Not to worry! Simply substitute onion powder for the fresh onion. Standard recommendation is 1/8 teaspoon onion powder per tablespoon of minced onion.
Or, if you don't like fresh but like dried, minced onion use that instead. 1 teaspoon of dried, minced onions equals 1 tablespoon fresh.
For the pickles, just use the pickle juice and skip adding diced pickles.
ARE STORE BOUGHT VEGAN EGG SUBSTITUTES THM FRIENDLY?
Some foods are not as ideal to use on THM but fall into the "personal choice" category. I checked with the lovely THM Admin, Esther Smith, and she said Just Egg is OK for Personal Choice.
That's great news for those with egg allergies or sensitivities!
As with any Personal Choice item, keep an eye out for stalls or spikes in your blood sugar if you check that. But, if it works for you then great!
HOW TO MAKE DILL PICKLE SCRAMBLED EGGS.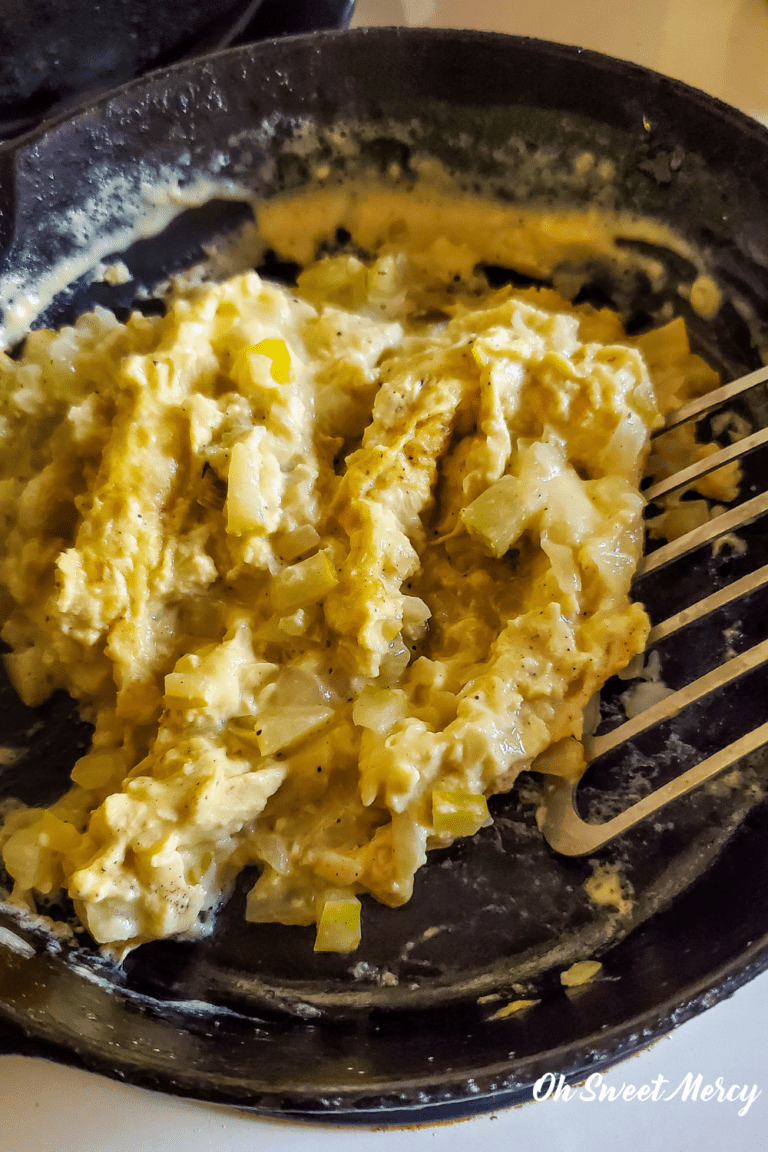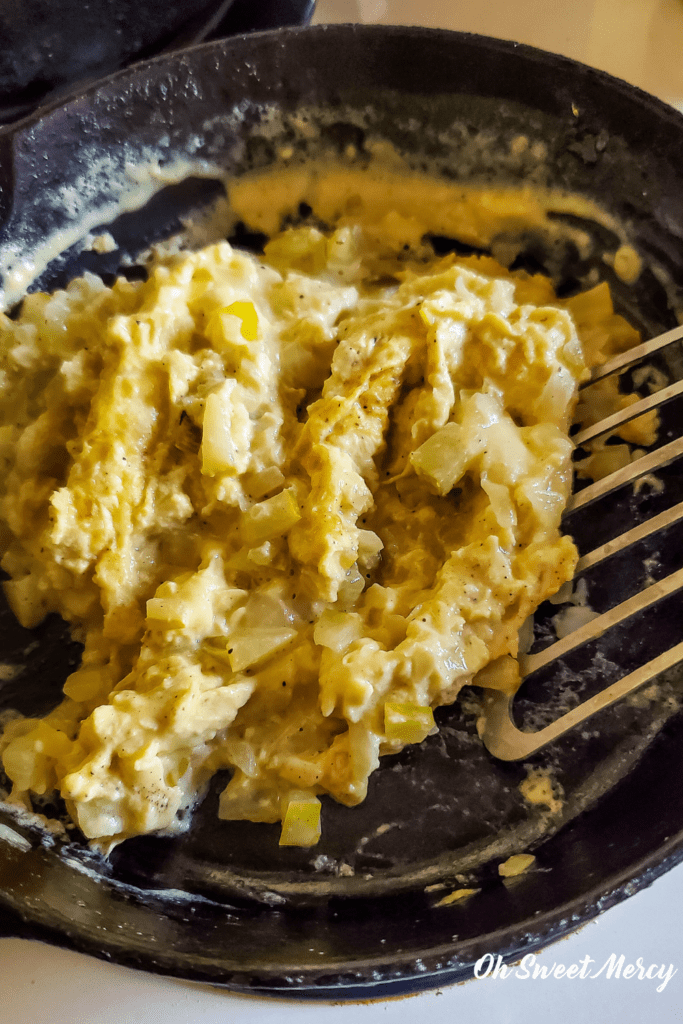 It's so easy to make dill pickle scrambled eggs! In fact you might wonder why you never thought of this before. I know I did!
Simply saute chopped onions and dill pickles in butter (I use Miyoko's Creamery Cultured Vegan Butter for dairy free) or other fat of choice.
Whisk together eggs (or vegan egg substitute), pickle juice, salt and pepper.
Pour this into the hot skillet then WAIT just a few minutes!
THE SECRET TO FLUFFY SCRAMBLED EGGS.
Making fluffy scrambled eggs is actually really easy. First, you need to whisk your eggs well until they're nice and foamy.
Then, after pouring into the hot pan – WAIT. Don't start stirring those eggs just yet!
When the eggs start setting up around the edge of the pan, take your spatula and start pushing the cooked egg into the center of the pan, allowing the uncooked egg to flow around it and settle around the pan.
Repeat until all the egg is cooked.
Garnish with dill, douse with hot sauce, or just eat them as is. So delicious!
ARE DILL PICKLE SCRAMBLED EGGS A SOUTHERN THING?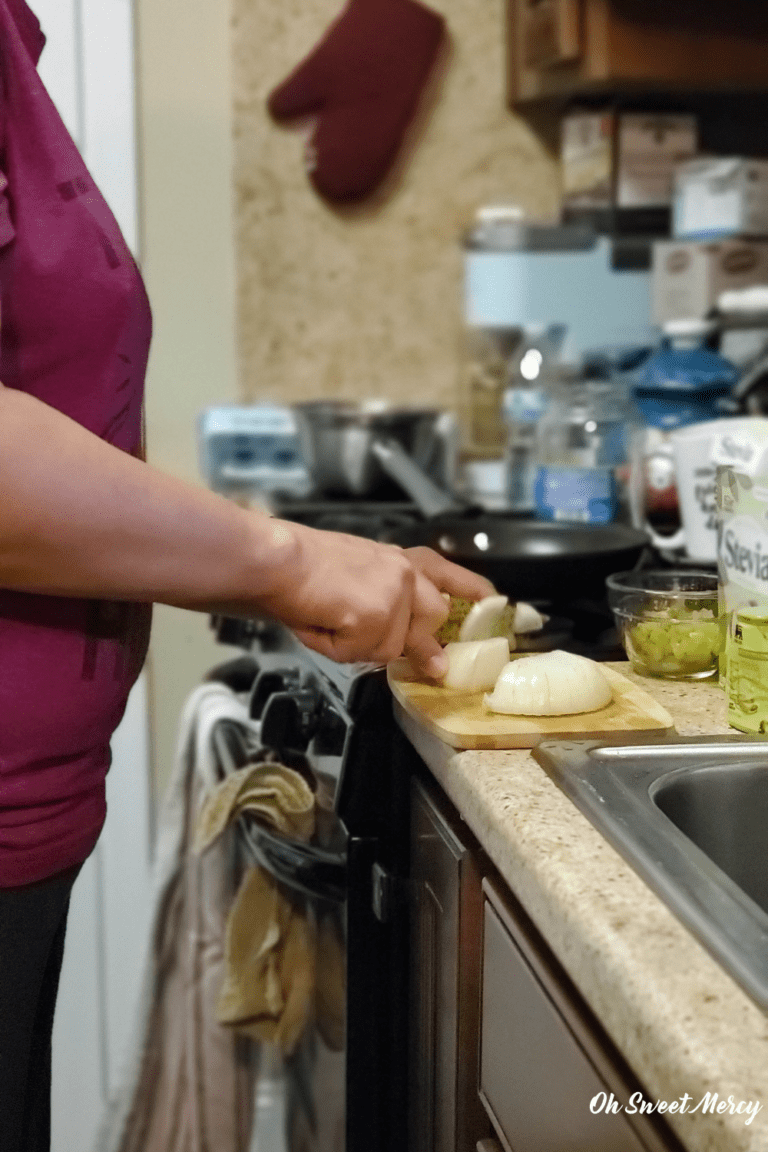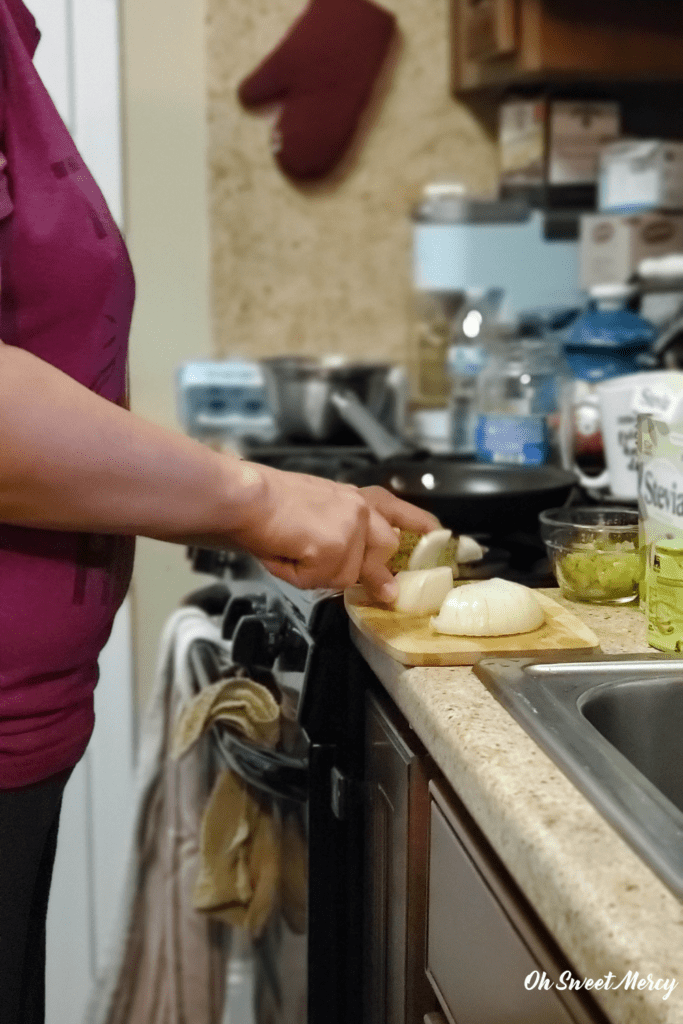 No, they are not as far as I know. My bestie is a Yankee who moved down there a few years ago. She's a free spirit in the kitchen! I love how she adventurously experiments with food.
One day she had this idea and gave it a try. She said:
"…I honestly thought to myself this is either going to be the best thing or the worst thing. But I was feeling adventurous and craving pickles."

Sheri, Adventurous, Free-Spirited Whipper Together of Oddly Delicious Delicacies
She made them for me, using the vegan egg substitute I brought along, and I fell in love at the first bite.
Yeah, why does this work?
It sounds so weird. It shouldn't work!
Except dill and eggs actually work very well together. I've made dill deviled eggs, had dill in potato salad with eggs, and have sprinkled dried dill on regular scrambled eggs before. It's all delicious.
I just never even thought of actually making dill pickle scrambled eggs! Brilliant!
HOW TO FIT DILL PICKLE SCRAMBLED EGGS INTO YOUR THM MENU PLAN THIS WEEK.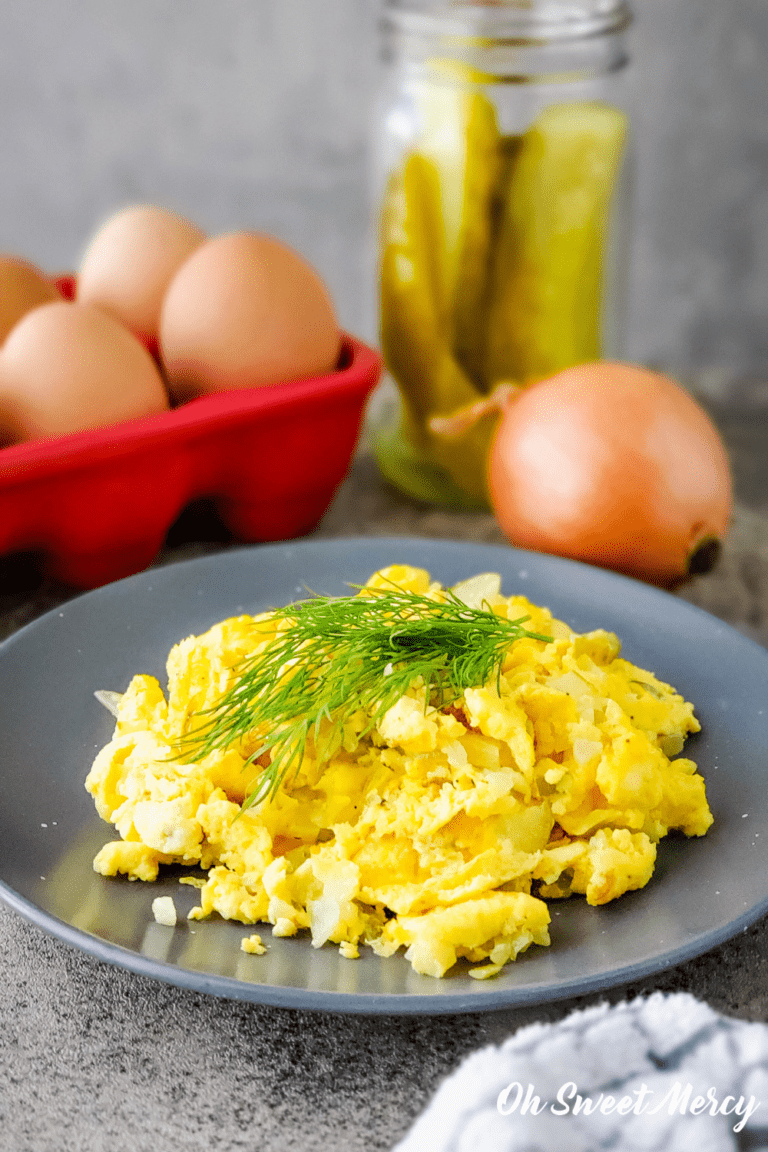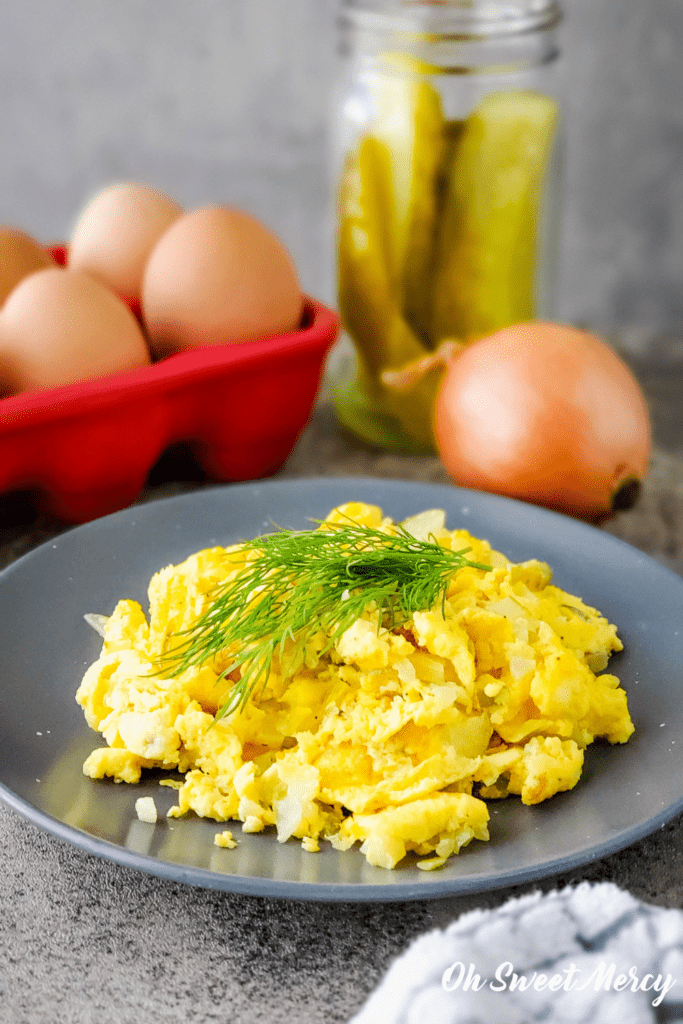 This easy recipe is also easy to change up to work with any THM Fuel Type!
Since there's no dairy, it's great for Deep S meals.
Use egg whites (and my egg white trick) for a low fat THM FP (keep cooking fat very low if you're having something else with fat in your meal). This also works for THM E breakfasts.
Here's some ideas:
S Breakfast
FP Breakfast
Dill Pickle Scrambled Eggs made with egg whites and cooked in a non-stick skillet or with very little fat
Tomato slices
Fresh berries
E Breakfast
Dill Pickle Scrambled Eggs (FP Style)
Banana, orange or other E fruit
OR an E muffin, toast, or other E bread
These are great for lunch, a snack, dinner…whatever! If we're breaking rules let's go big or go home. Eat Dill Pickle Scrambled Eggs any time you want to.
Because #donttellmehowtolivemylife 😉
PIN THIS RECIPE!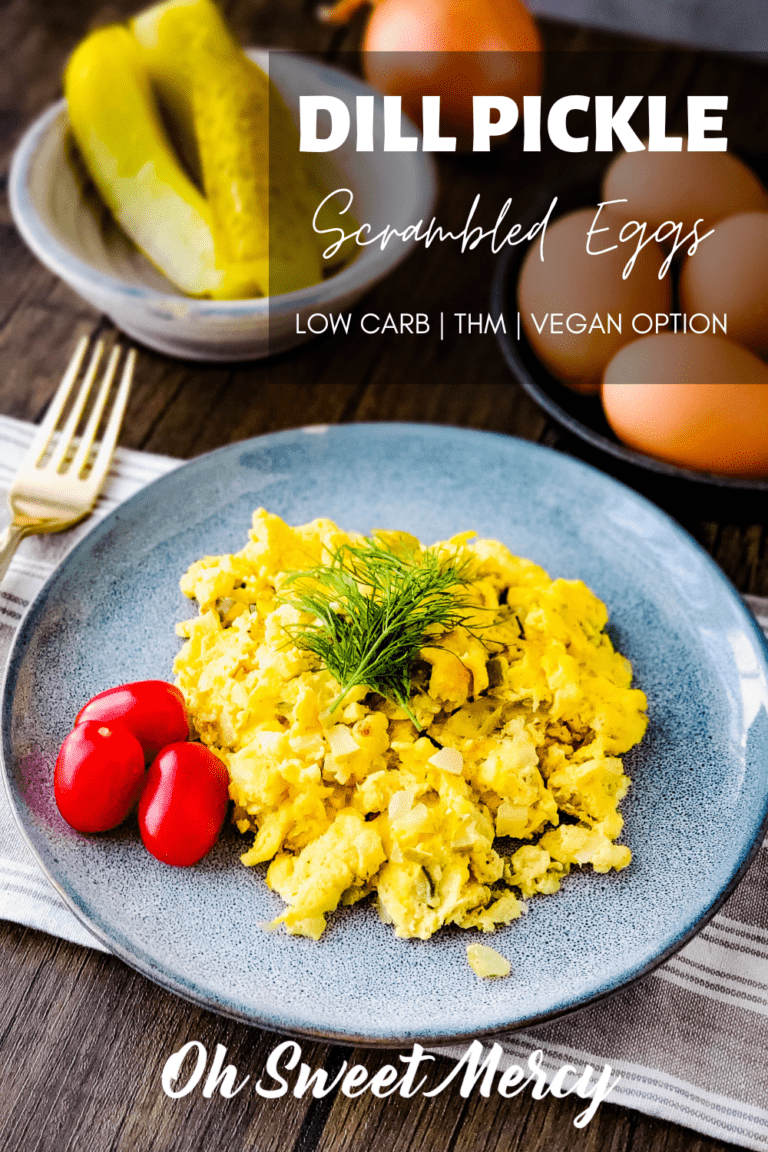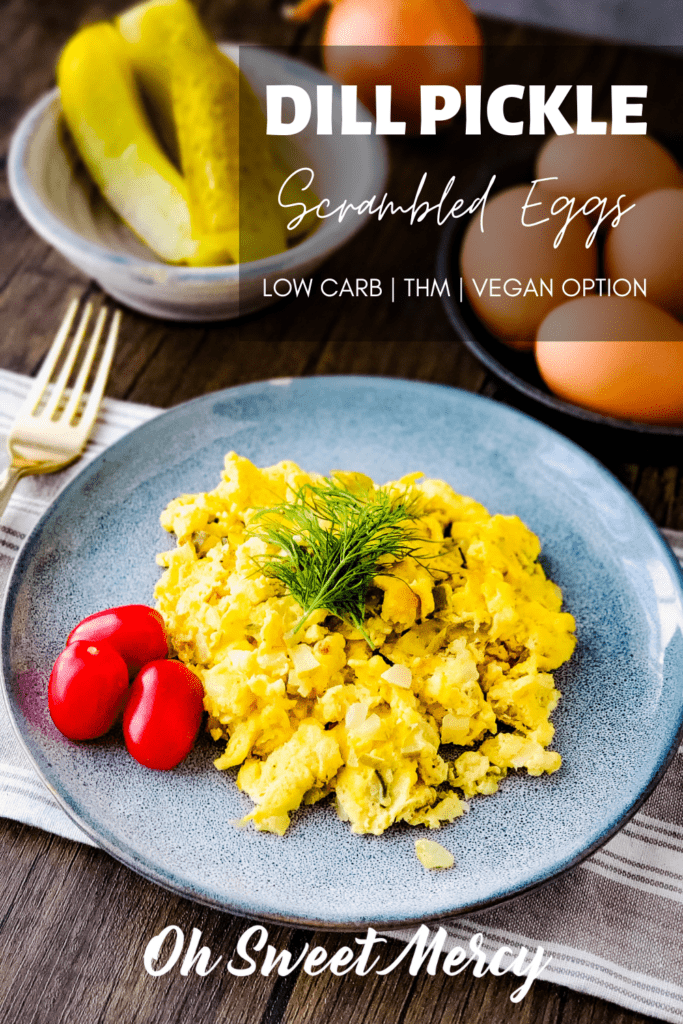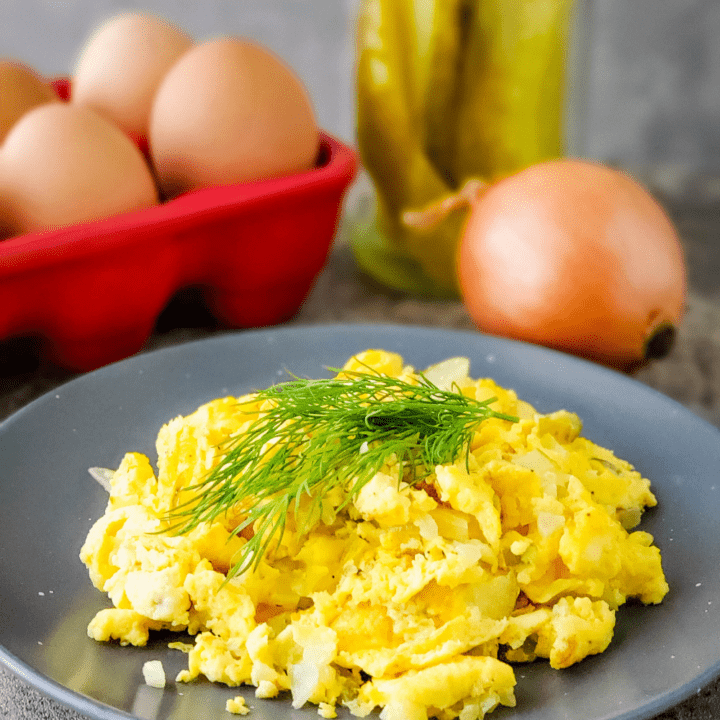 Dill Pickle Scrambled Eggs | Low Carb, THM, Dairy Free, Vegan Option
Yield: 1 serving
Prep Time: 5 minutes
Cook Time: 5 minutes
Total Time: 5 minutes
Love dill pickles? Then you'll love these super simple Dill Pickle Scrambled Eggs! Just a few ingredients and 10 minutes and you have flavor-packed eggs that make your mouth water. Vegan option included!
Ingredients
2 teaspoons butter or other fat, for cooking
2 Tablespoons chopped onion
1 dill pickle spear, chopped
2 eggs OR 6 Tablespoons Just Egg egg substitute for vegan option
2 Tablespoons dill pickle juice
Salt (optional) to taste
Pepper, to taste
Hot pepper, seasonings, or sauce, optional
Instructions
Melt butter, or heat other fat, in a skillet over medium high heat.
Meanwhile, chop onion and dill pickle.
Add to skillet and cook, stirring occasionally, while preparing the egg mixture.
Whisk together the eggs (or liquid egg substitute), pickle juice, and desired seasonings.
Pour into pan and let cook until it starts to set up around the edge of the pan.
Using a spatula or wooden spoon push the cooked egg into the center of the pan, allowing the uncooked egg to pool around it.
Continue cooking like this until eggs are cooked to your satisfaction.
Like things spicy? Douse with hot sauce (highly recommended) and enjoy!
Notes
I've not tried this with other vegan liquid egg substitutes.
Salt is optional, pickles and pickle juice are pretty salty so only a pinch or so is really needed, if at all.
If using vegan egg substitute and Kala Namak, omit the other salt.
Recommended Products
As an Amazon Associate and member of other affiliate programs, I earn from qualifying purchases.
Nutrition Information:
Yield: 1
Serving Size: 1 recipe
Amount Per Serving:
Calories: 228
Total Fat: 17.3g
Saturated Fat: 7.9g
Trans Fat: 0g
Unsaturated Fat: 8.1g
Cholesterol: 392.4mg
Sodium: 657mg
Carbohydrates: 4.4g
Net Carbohydrates: 3.7g
Fiber: 0.7g
Sugar: 1.6g
Protein: 13g
Nutrition information is approximate and based on the best knowledge available at the time of recipe publication. Your results may vary due to differences in ingredients. You can make your own calculations if this recipe does not include nutrition info by using an online calculator such as https://recipes.sparkpeople.com/recipe-calculator.asp
NUTRITION FACTS USING REAL EGGS:
NUTRITION FACTS USING "JUST EGG" EGG SUBSTITUTE