---
A big bowl of this hearty, homestyle vegetable soup is the perfect thing on a cold day. It's packed with veggies, low in fat (or make it fat free), and contains healthy carbs for a delicious Trim Healthy Mama E soup. Easily tweaked to suit S and FP styles, too!
---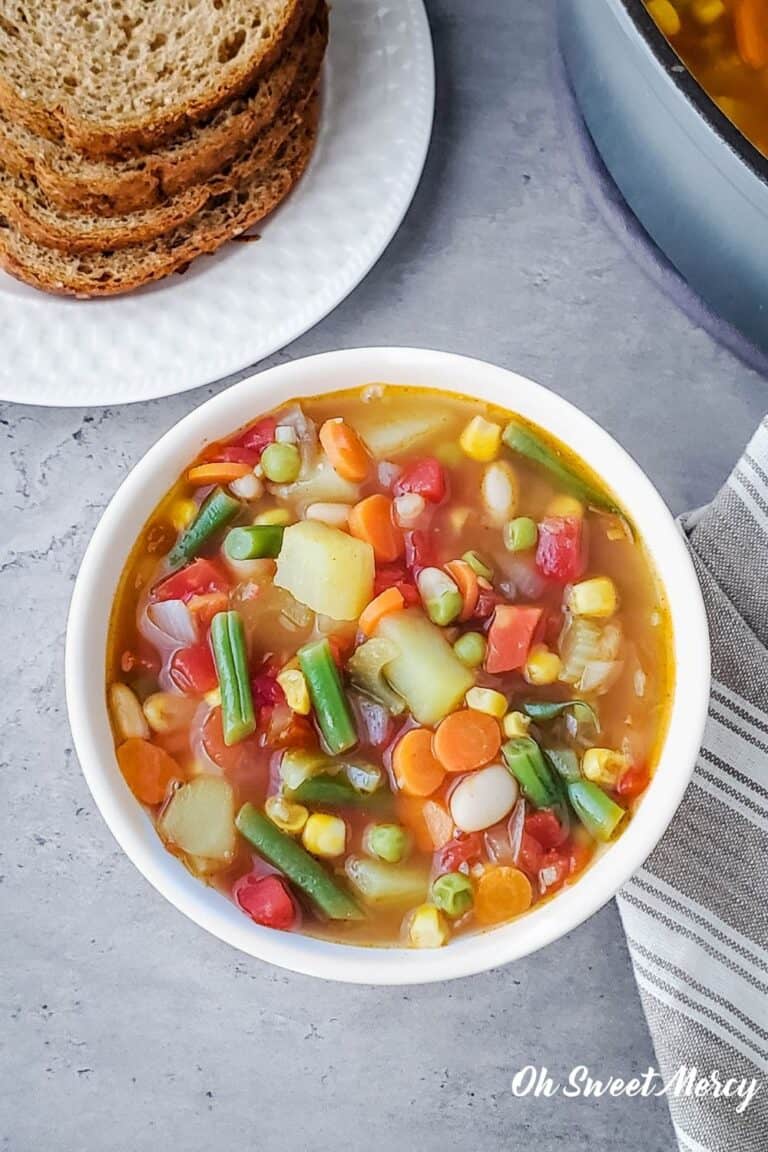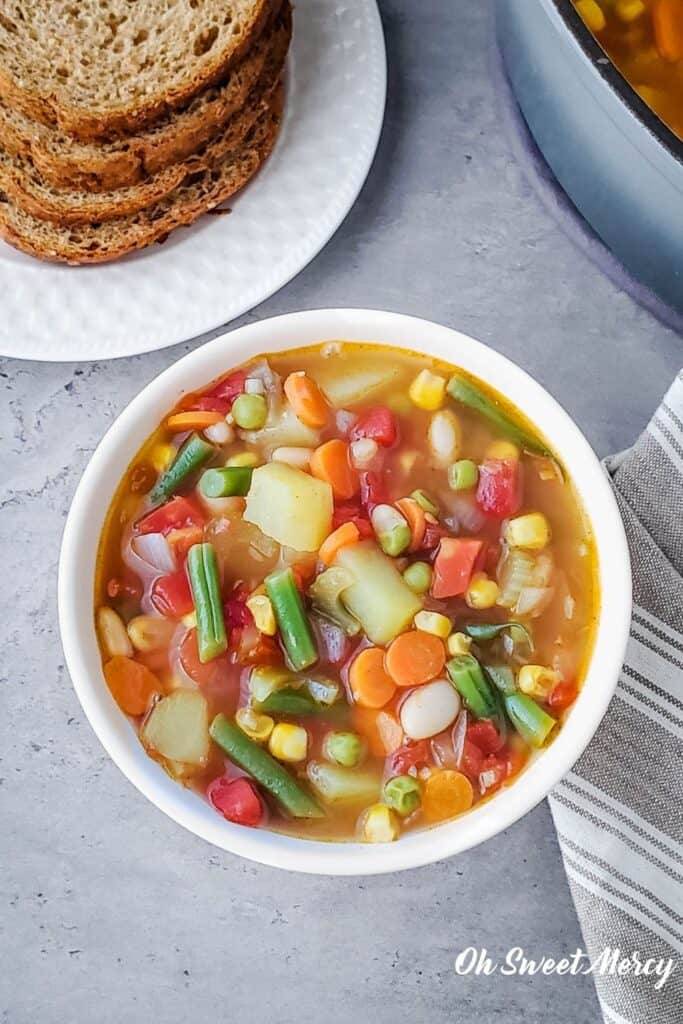 It's been a little cold and snowy lately in our area. That means soups to warm and fill our bellies are what we crave.
Vegetable soup is so easy! It's a great way to use up little bits and pieces of veggies, too.
Below I have a simple, classic, homestyle vegetable soup for you. However, feel free to change up the veggies with what you have on hand (or prefer).
One of my goals this year is more plant-based meals every week. I've made this a completely vegan recipe, but it's easy to tweak if you prefer chicken broth or lean meats added to your veggie soup.
What Do I Need For This Recipe?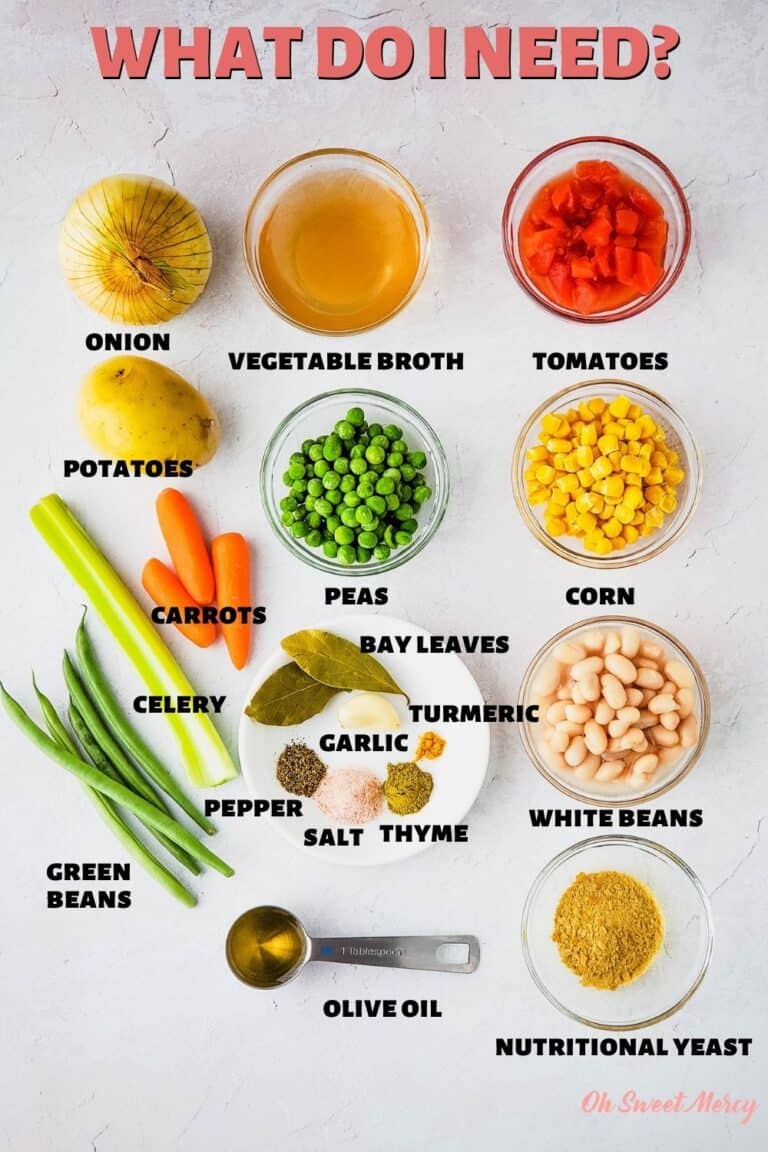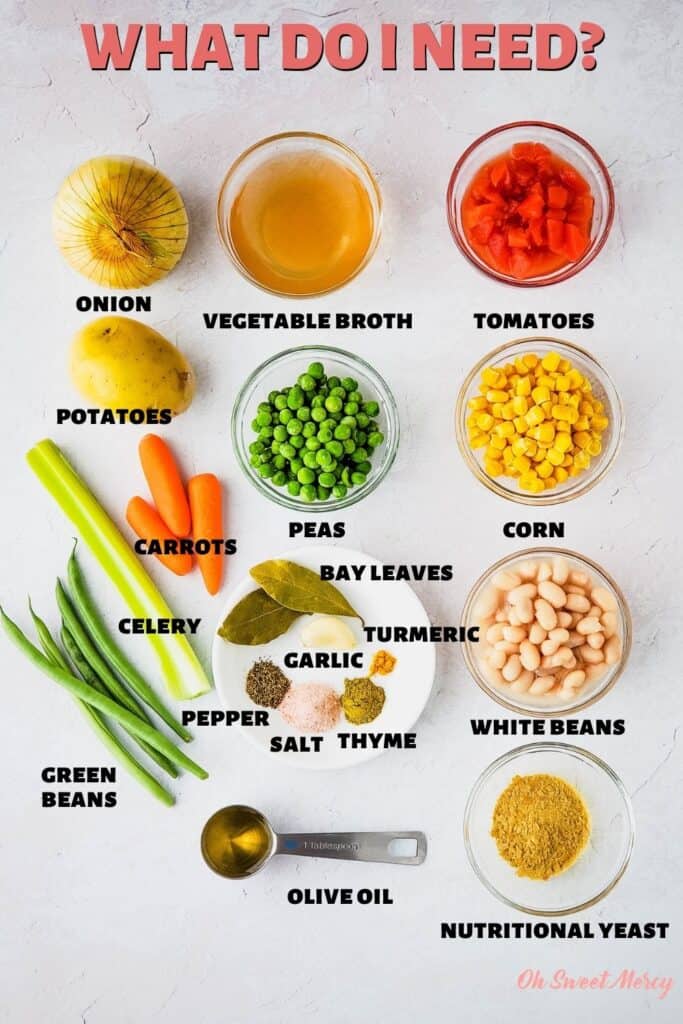 Basically, you need broth, veggies, and seasonings. I've included my favorite combination for a classic vegetable soup:
Vegetable broth
Diced tomatoes
Carrots
Celery
Onion
Garlic
Peas
Green beans
Corn
White beans
Yellow potatoes
Olive oil (optional, leave out for fat free soup)
Bay leaves
Thyme
Nutritional yeast (optional)
Turmeric
Salt
Pepper
It looks like a ton of ingredients, but this vegetable soup is easily comes together! I use frozen peas and corn and frozen green beans also work well. I just happened to have fresh French green beans on hand and used those.
This soup almost tastes like canned vegetable soup — but way better! And, it has far less sodium than canned soups.
It makes a big pot of soup, too. Great for bigger families or meal prep. Make some over the weekend to easily reheat later for quick meals.
This soup even freezes well, just cook the veggies until they're almost tender if you're planning to freeze for later.
How To Fit This Homestyle Vegetable Soup Into Your THM Meal Planning This Week.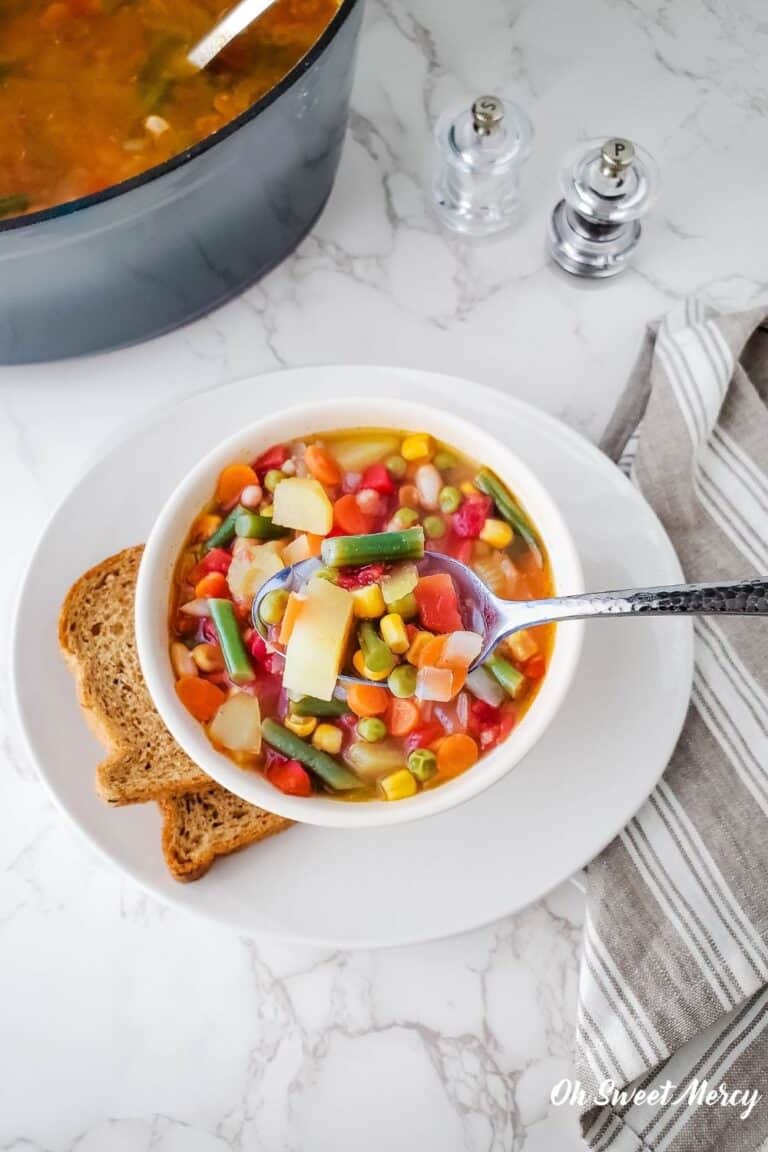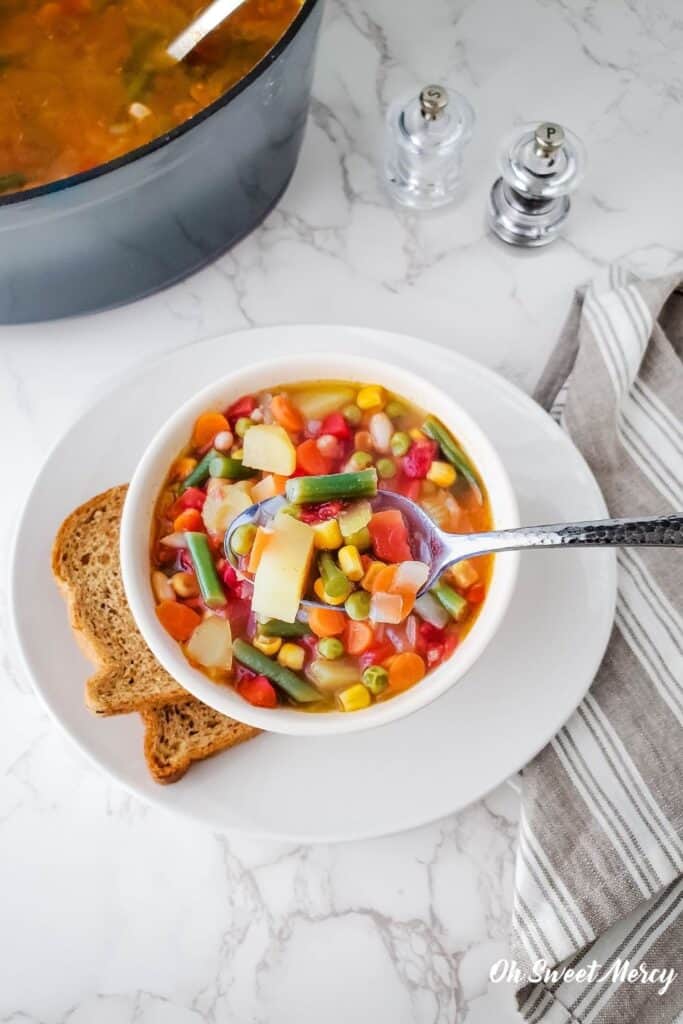 As written, this delicious, hearty recipe is a solid THM E. It's low in fat (2.7 grams) and higher in healthy carbs (36.2 grams net).
If you like, leave out the oil and cook the onions, celery, and garlic in a bit of broth instead.
If the carb count is higher than you like, cut back on the starchier veggies or eliminate one or two. Replace with more of the non-starchy veggies or completely different non-starchies if you like.
Serving with a slice of sprouted bread, or another on-plan E bread option, makes this dish a complete protein!
For more protein, choose lean protein options such as:
Chicken or turkey breast (add to soup or side salad)
Egg whites (on the side or in a salad with low fat dressing)
Half or full scoop of collagen stirred into your soup
Smoothie or shake made with on-plan protein powder
Low fat cottage cheese
Fat free Greek yogurt
Want more delicious soup recipes? Check out my Soups category!
How To Make This Soup THM S or FP Friendly.
It's very easy to change up the veggies in this soup and make it THM S or FP friendly!
Replace the potatoes with sliced or diced radishes or cauliflower rice
Omit the corn
Leave out the peas or reduce to 1/4 cup
Omit the white beans or reduce to 1/2 cup
Omit or reduce the carrots to 1/4 cup
For THM S, use more olive oil to cook the veggies or increase the fat elsewhere in your meal
Increase the green beans
Add cabbage or other non-starchy veggies like zucchini (add this in the last few minutes of cooking)
You can also increase the broth as needed, just be sure to adjust the seasoning if you do
For S meals, enjoy fats liberally. Salads are perfect companions to bowls of delicious soups so enjoy a lovely S-friendly dressing like my Creamy Citrus Salad Dressing (it's dairy free).
For FP meals, keep your fats low and don't go overboard on protein. Around 20 grams is good, for reference: a 3 ounce piece of chicken breast has almost 20 grams.
Bread options for THM S include my Mock Rye Bread or Mock Rye Cocktail Bread, my yummy Garlic Biscuits, or these Melt In Your Mouth Biscuits.
For THM FP, choose low carb and low fat bread options like the THM WWBB (Wonderful White Blender Bread), Basic Low Carb Yeast Bread, Parmesan Herb Biscuits Muffins, or In a Jiffy Corn Muffins.
THM Fuel Pull Desserts To Try.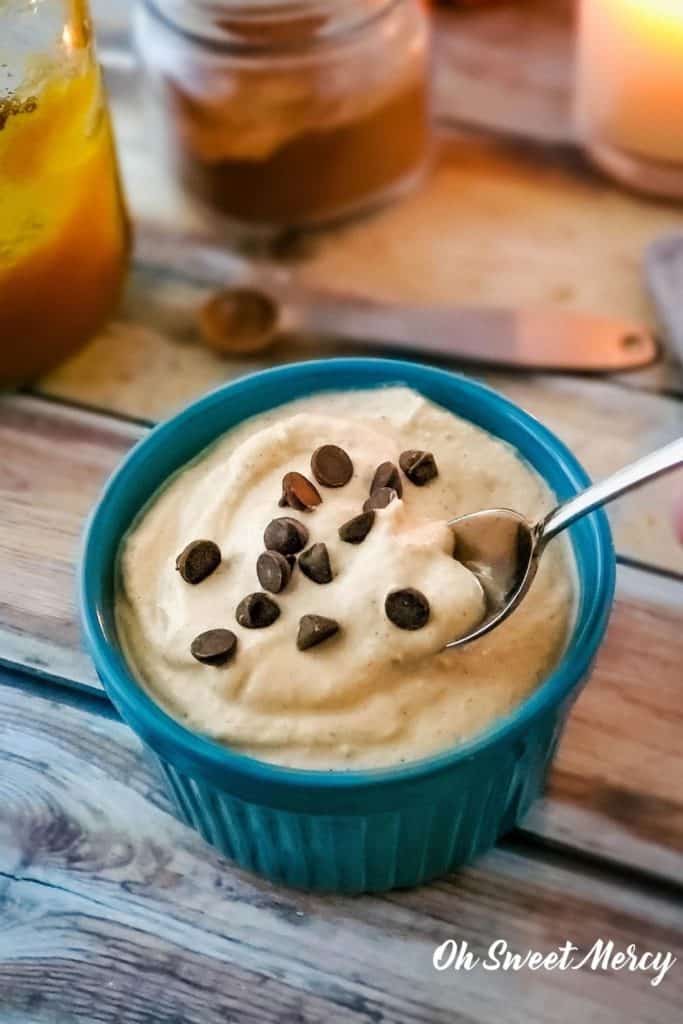 Low fat, low carb desserts or smoothies are a great way to finish off your S or FP meal, too:
While soups are delicious in the colder weather months, they're great all year round.
Ok, when it's 105 and wickedly humid outside I'm not thinking of soup. But eating soup in the summer is not necessarily unusual for me! Sometimes, it just sounds good.
Do you eat soup all year long? What's your favorite soup?
PIN IT!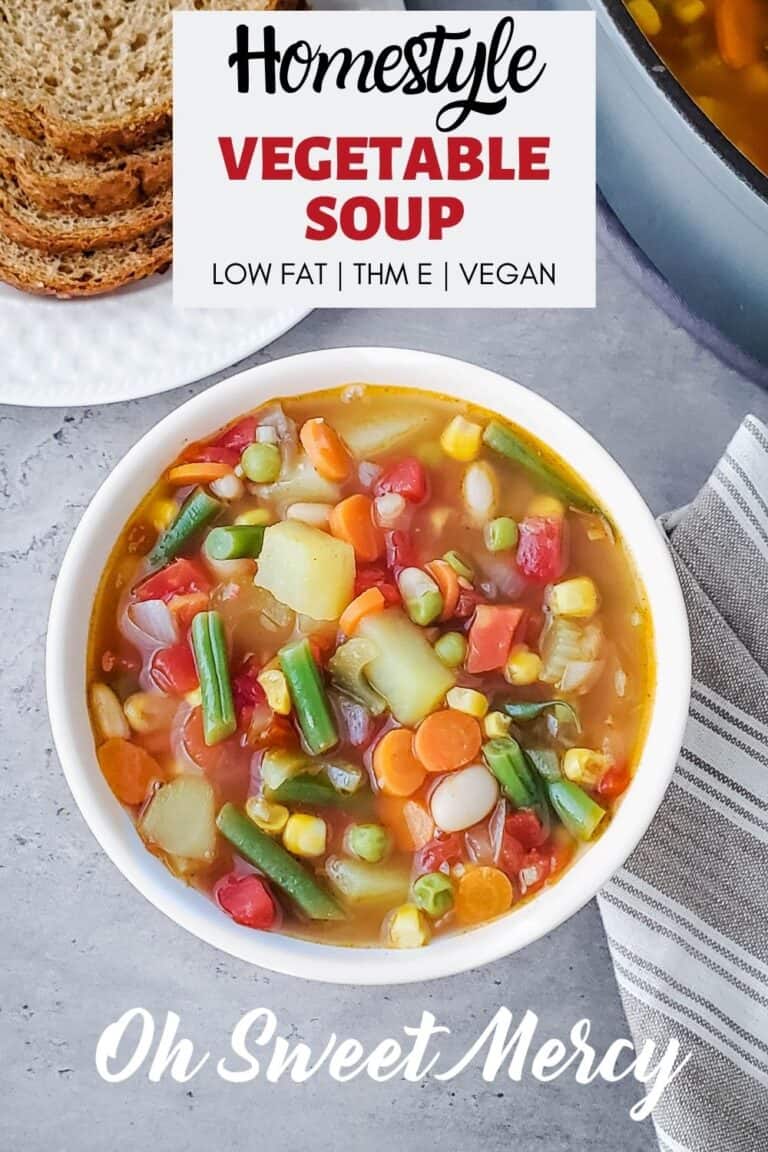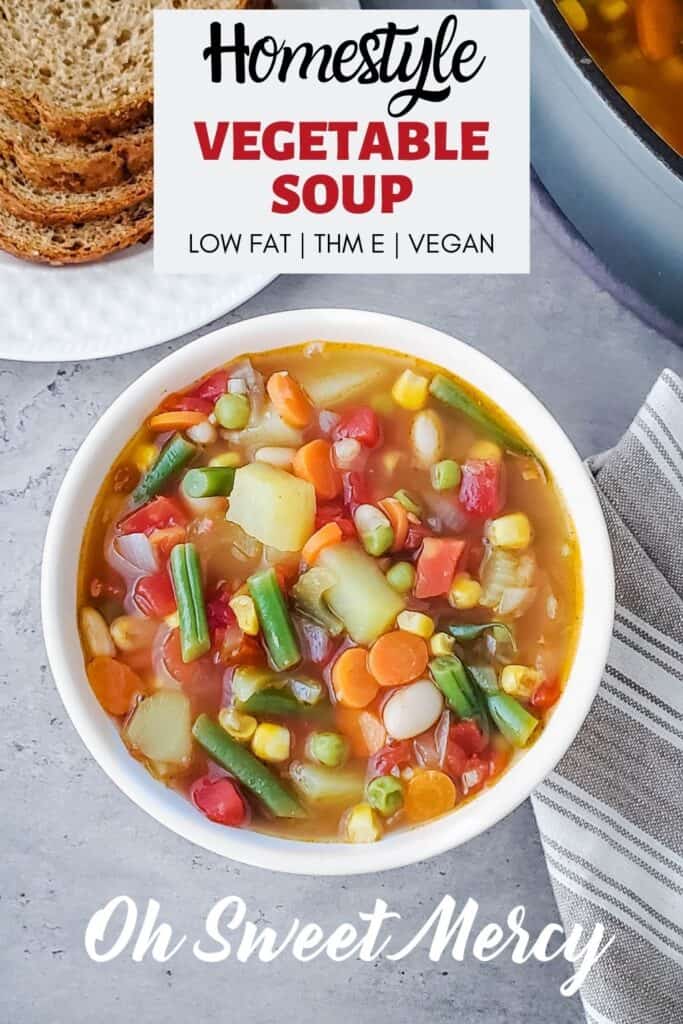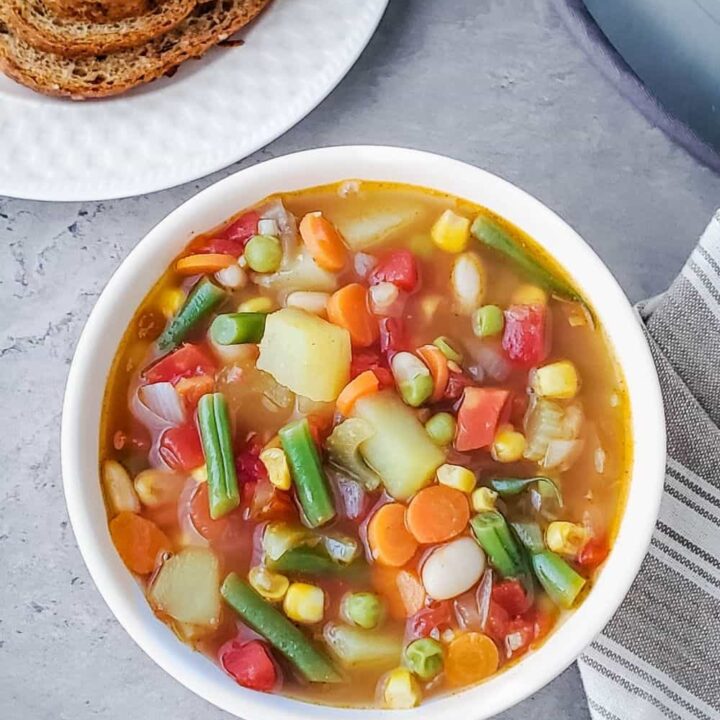 Homestyle Vegetable Soup | THM E, Low Fat, Vegan
Yield: 6 servings
Prep Time: 15 minutes
Cook Time: 35 minutes
Total Time: 50 minutes
My Homestyle Vegetable Soup is packed with veggies and flavor but not fat! A healthy and delicious THM E soup, but easily tweaked to fit S or FP styles if needed. Up your plant-based meals game this year with this hearty and tasty veggie soup.
Ingredients
4 cups vegetable broth (or broth of choice)
2 cups yellow potatoes, peeled and diced
1 cup frozen peas
1 cup frozen corn
1 cup green beans, chopped (fresh or frozen)
1 can (14.5 ounce) diced tomatoes
1 can (15.5 ounce) white beans
1 onion, diced
1/2 cup sliced celery
1/2 cup sliced carrots
2 to 3 cloves garlic, minced or pressed
1/2 teaspoon ground thyme
1/4 teaspoon black pepper
1 doonk (1/32 teaspoon) turmeric
Instructions
In a soup pot, heat oil and add onions, celery, carrots, and garlic. Cook for 5 minutes or so, stirring frequently.
Add remaining ingredients and bring to a light boil.
Cover and reduce heat to simmer, cooking for 15 minutes or until veggies reach desired level of tenderness.
Recommended Products
As an Amazon Associate and member of other affiliate programs, I earn from qualifying purchases.
Nutrition Information:
Yield: 6
Serving Size: 1.5 cups
Amount Per Serving:
Calories: 239.6
Total Fat: 2.7g
Saturated Fat: .4g
Unsaturated Fat: 2.1g
Sodium: 712.9mg
Carbohydrates: 45.6g
Net Carbohydrates: 36.2g
Fiber: 9.4g
Sugar: 8.5g
Protein: 10.5g