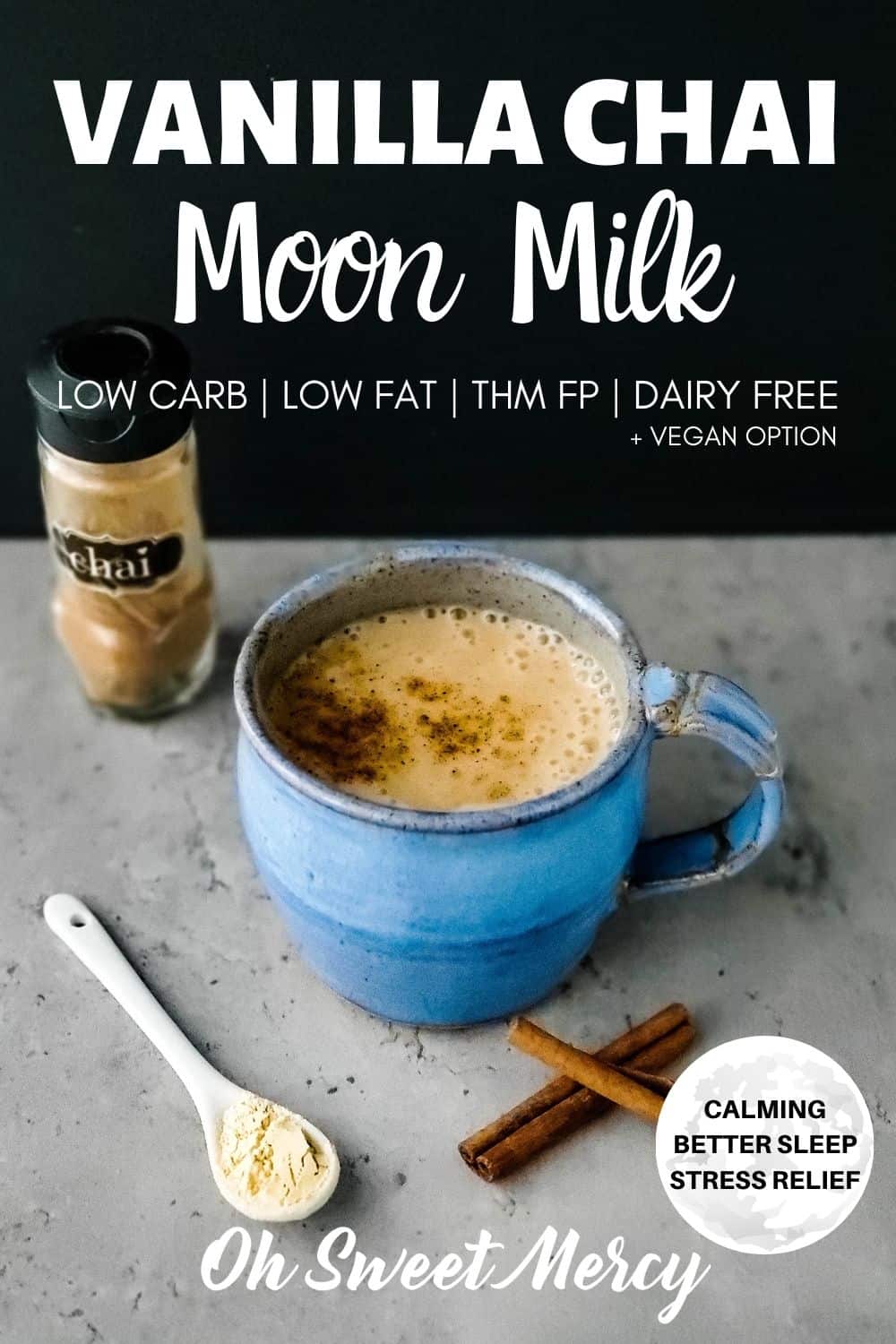 Jumping to the recipe? Please come back and read when you have the time, I include helpful info in my posts like how to fit my recipes into your THM meal plan! Get notified of new posts by signing up for my newsletter at the end of the page. Thanks for stopping by!
---
Unwind in the evening with this moon milk – an easy, nourishing, calming bedtime tonic. It features ashwagandha, an adaptogenic herb that helps the body fight stress, promotes relaxation, and helps you get ready for a good night's sleep. Trim Healthy Mamas, soothing sip is a THM FP but easily made an S if you prefer.
---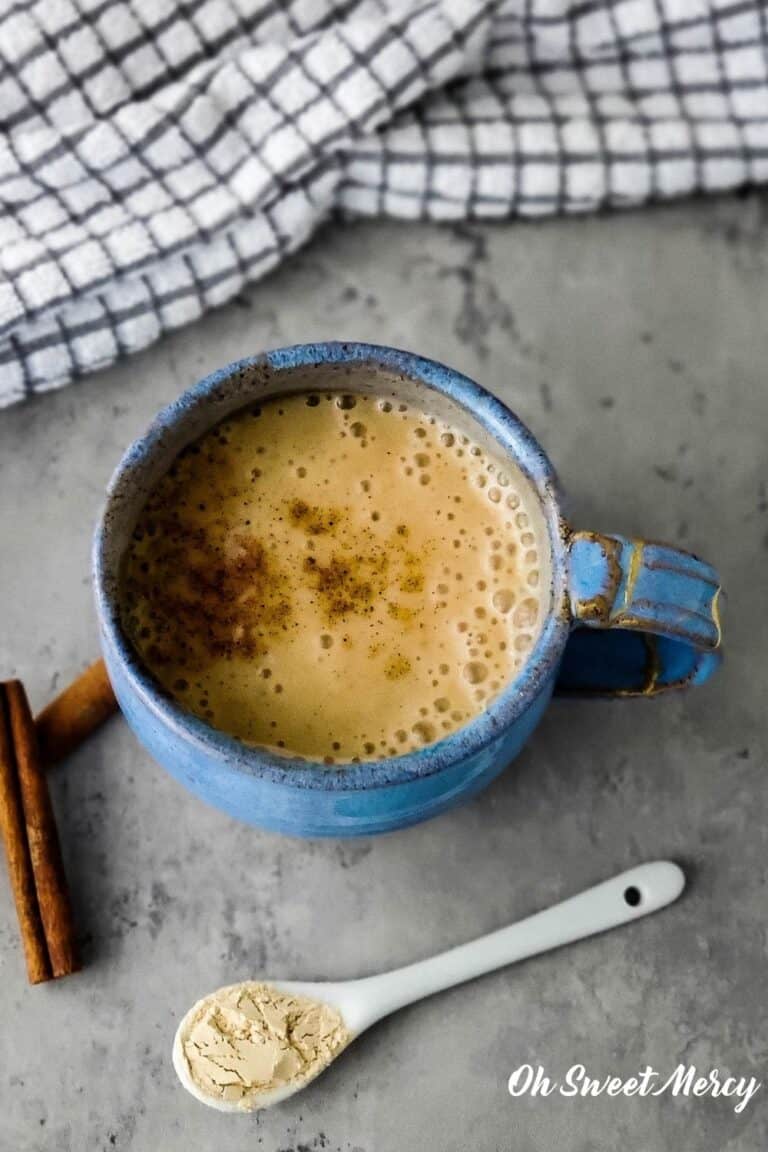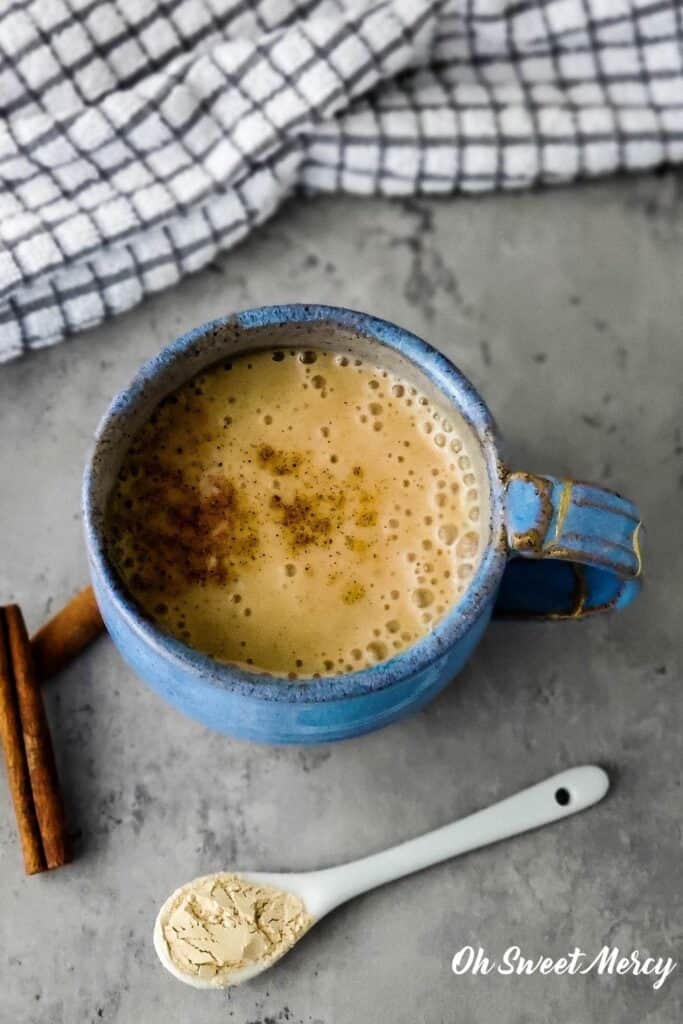 Stress is not our friend when it comes to weight loss or good health. To say the last year or so has been a little stressful might be the understatement of the year, right?
There are so many foods, herbs, and supplements that can help the body deal with the effects of stress! I'm continually amazed at YHWH's amazing creation and how it works to support good health and abundant life.
Sometimes, though, these healthy substances can taste kind of unpleasant. The key is finding ways to consume them that are pleasant.
My Vanilla Chai Moon Milk features ashwagandha, an adaptogen which helps the body manage stress. Sipping on this warm and soothing bedtime tonic helps your relax and get ready for a good night's rest.
On its own, ashwagandha is not necessarily the most pleasant tasting thing out there! But, added to this low carb, low fat, and sugar free nourishing sip you'll never even notice it.
What Do I Need For This Recipe?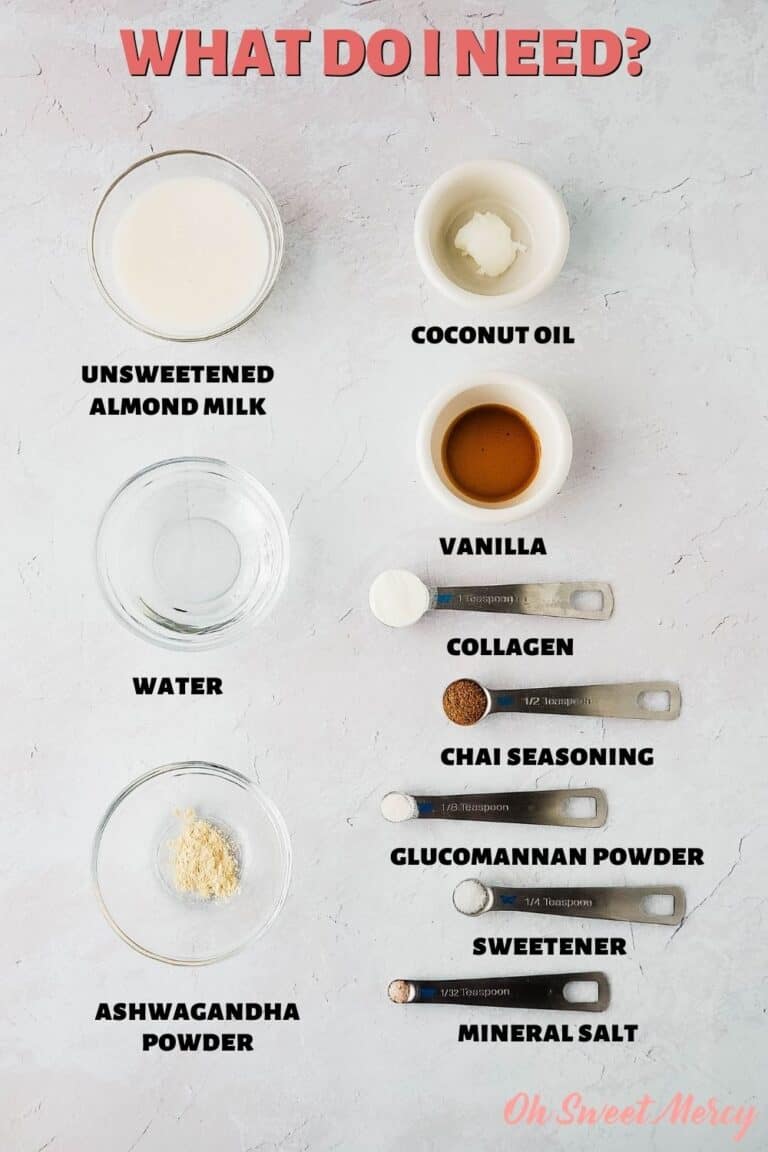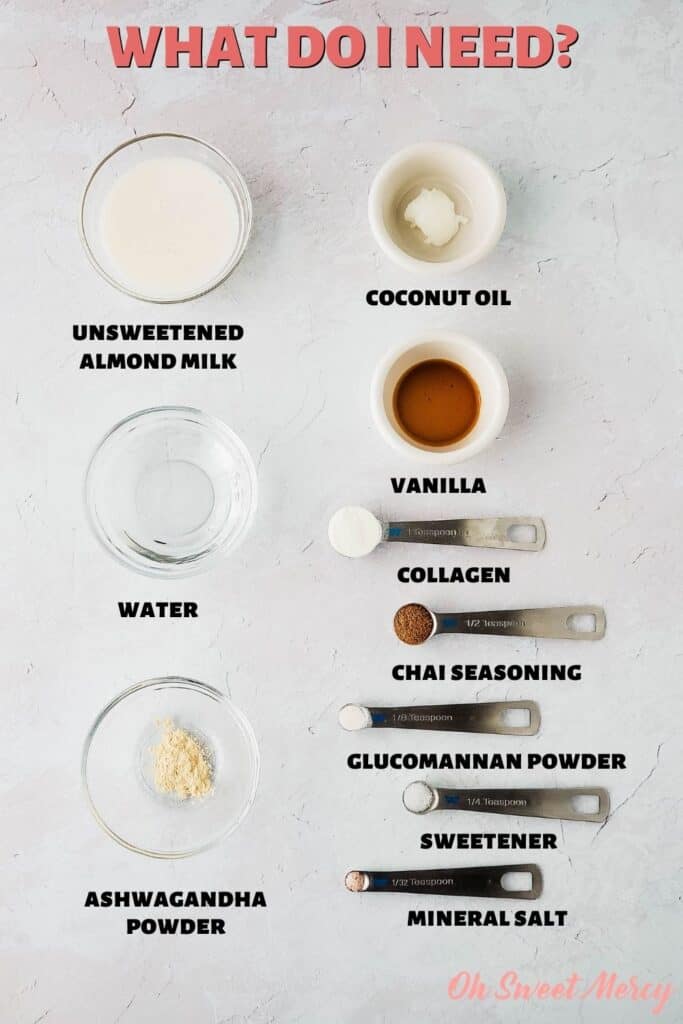 Some of the ingredients are optional, but here's how I make it:
For a vegan moon milk, omit the collagen or use an on-plan, plant-based protein powder.
I like my moon milk thickened a bit so I use "gluccie" (glucomannan powder). It's totally optional though so feel free to omit it if you like. Gluccie is good for blood sugar balance, though, and great for bedtime snacks and beverages.
If you want a lower fat bedtime sip, leave out the coconut oil (or MCT oil).
I try to keep my bedtime snacks and beverages THM FP – or low in fats and carbs. It's easy to make this an S though, just add more fat.
Benefits of Ashwagandha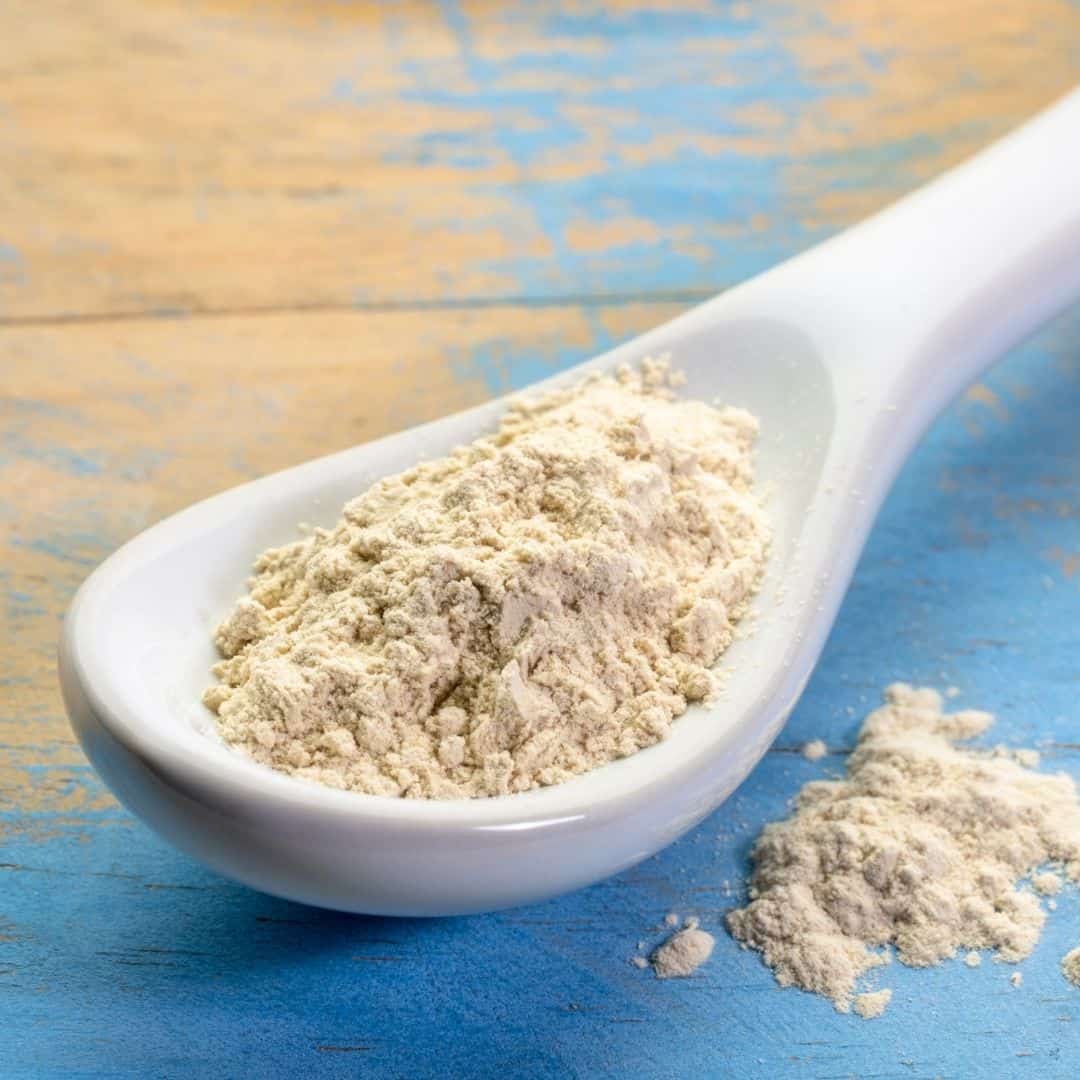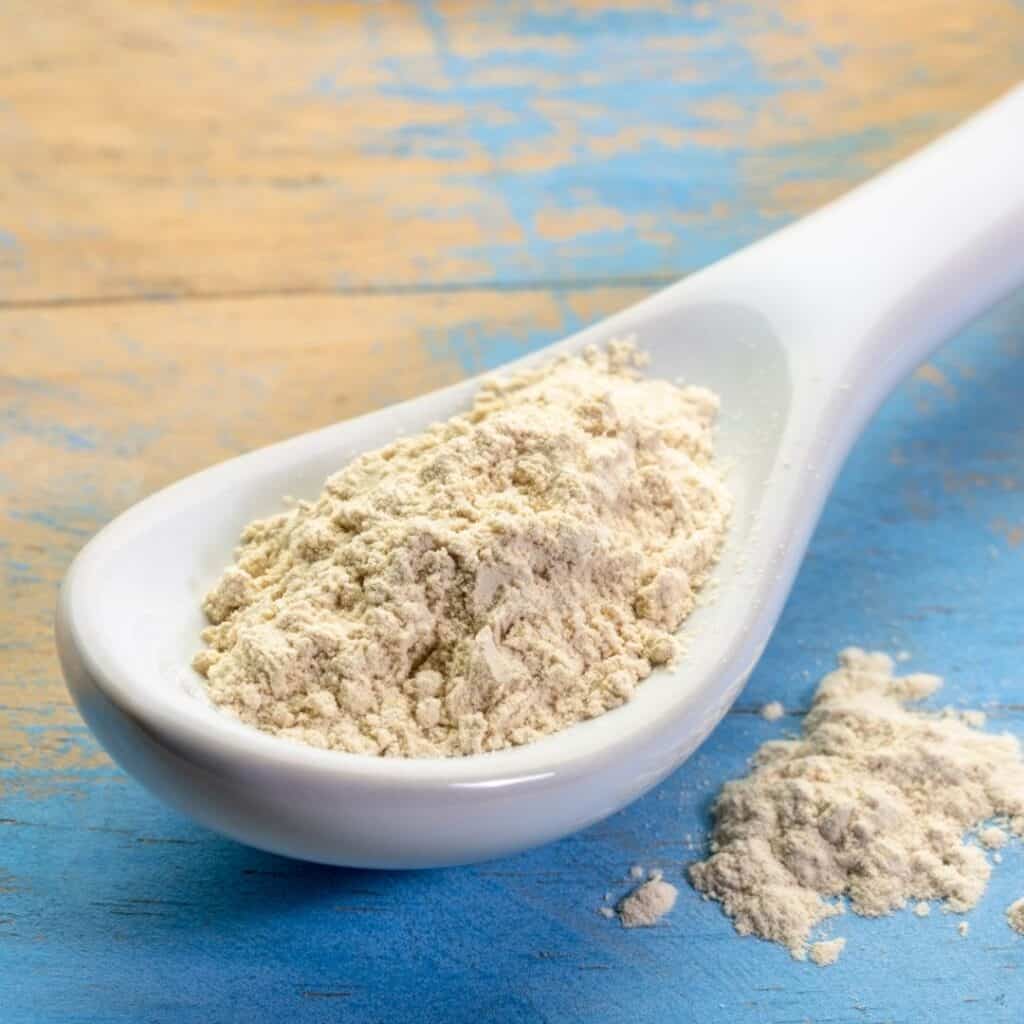 If you've never heard of it before, you might be wondering "what is ashwagandha?" It's an Ayurvedic herb also known as Indian ginseng and has been used for over 2 millennia to treat many conditions.
Ashwagandha is particularly well known for its ability to help the body manage stress, calm anxiety, and even help depression. It's also helpful for healthy thyroid function and immune strength.
Of course, I am not a doctor and am not giving medical advice! If you suffer from these conditions, or others that are commonly treated with ashwagandha, talk to your trusted health care practitioner about including ashwagandha as part of your health regimen.
One sign of stress is belly fat, thanks to high cortisol levels and, for some, high blood sugar. Studies show that ashwagandha is remarkably effective at lowering cortisol and regulating blood sugar – both of which can help you lose weight.
I've struggled with what I loathingly refer to as "the shelf" – fat that protrudes over my belly button – for years.
Even at my lowest weight after starting Trim Healthy Mama, that darn "shelf" barely budged.
Looking back over my life it's easy to see that I've probably been in a high-stress, fight-or-flight response for a good deal of it.
So, I've added ashwagandha to my nightly routine. While I've not really had issues with sleep overall (aside from being a night owl and staying up way to late to read…) I have found that I tend to feel like I've slept better since I've been taking the ashwagandha regularly for the last few weeks.
How Long Does It Take To See The Effects Of Ashwagandha?
It may take a couple weeks to notice the effects of ashwagandha so be patient, and consistent! Remember, you didn't get where you are overnight and reversing the effects of years of stress takes time.
Adding this Ayurvedic herb to help reduce stress is just part of the solution. Eating well, exercising as you're able, getting fresh air, and learning effective techniques to handle stress all give you a well-rounded plan of action.
I've been taking ashwagandha twice a day now for a couple weeks – in the morning and evening. Overall I feel more calm. And, while the scale didn't move much in February, my clothes seem noticeably looser.
That annoying "shelf" also seems a bit smaller. I should have taken measurements, it's just not something I think of doing!
Are There Any Side Effects Or Cautions Concerning Ashwagandha?
Some people do experience mild side effects such as nausea, diarrhea, headache, drowsiness, or stomach irritation.
It's often best to start with a small amount, such as half a teaspoon a day, and work up to a larger amount.
I've not personally experienced any side effects, your experience may be different, of course.
While many people safely enjoy the benefits of this herb with no side effects, those taking medications for hypertension, diabetes, or thyroid conditions should use with caution.
It may interfere with or amplify the effects of the medications you take. Talking with your trusted health care provider before taking ashwagandha is recommended.
If you're pregnant, ashwagandha is not safe to use as it may cause miscarriage.
Tasty Ways To Hide Ashwagandha In Your Beverages.
Smoothies and shakes are my preferred method of taking this stress-fighting herb in the morning. I recommend these:
Superfood Chocolate Shake THM S
Strawberry Beet Smoothie THM FP or S
Secret Blueberry Smoothie THM E
Chocolate, in particular, is great for hiding the bitter flavor of ashwagandha. I've also added it to my Trimmacinos and don't notice it.
How To Fit This Sugar Free Vanilla Chai Moon Milk Into Your THM Bedtime Routine.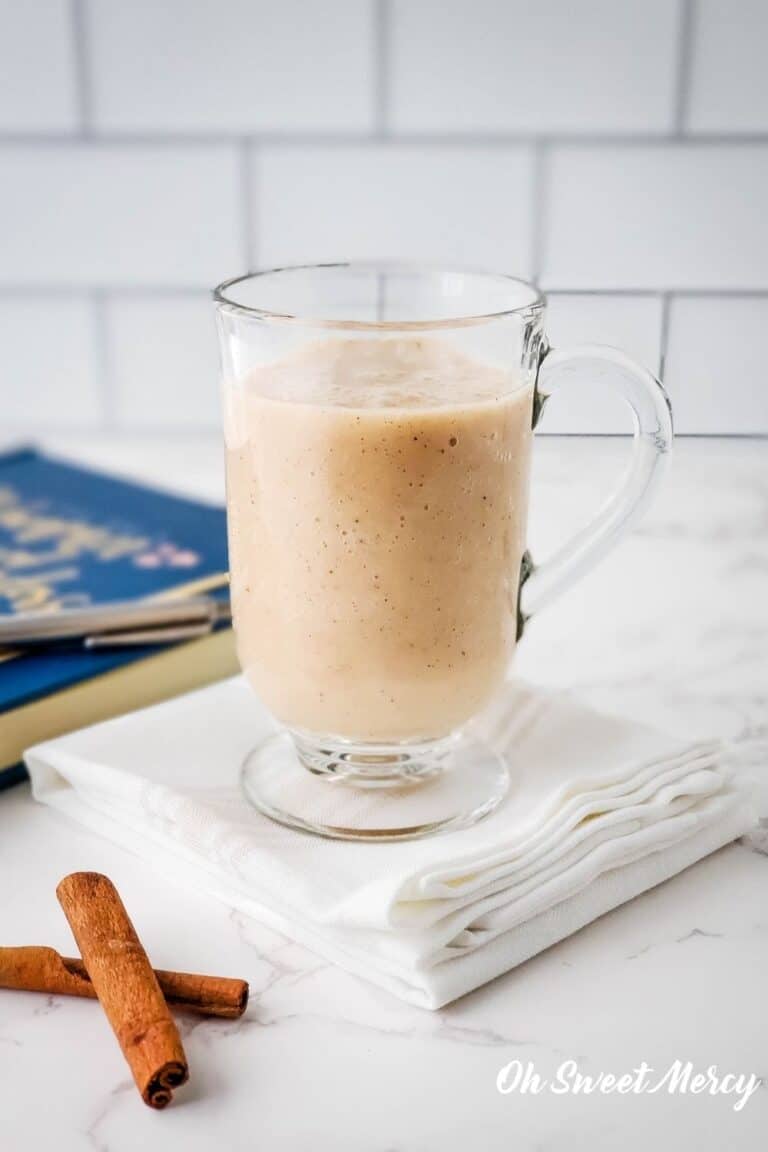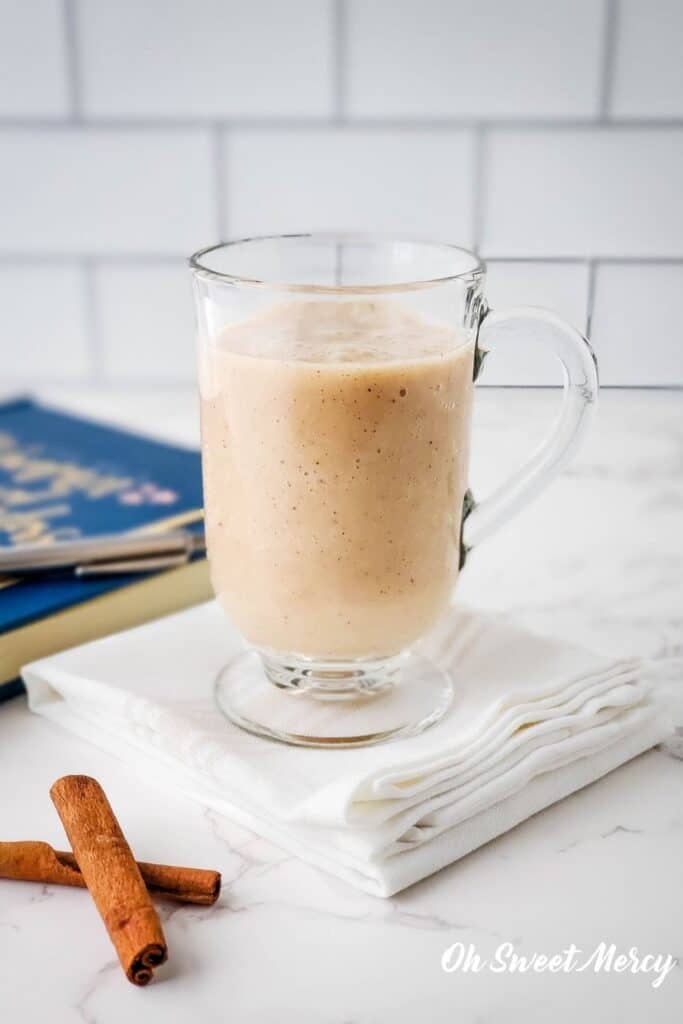 As written, this lovely soothing sip is a THM FP. It's low in both fats and carbs. It has 4.6 grams of fat, but you can also make it lower in fat by leaving out the coconut oil.
It's a delicious way to enjoy a creamy, hot beverage without dairy products, too! Plus, it only takes 10 minutes or less to make.
If you'd like something higher in fats, simply add more coconut oil, MCT oil, or use full-fat coconut milk instead of the unsweetened almond milk.
Many find that limiting eating before bed is very helpful in encouraging weight loss. This low-calorie beverage contains a bit of fat, a bit of protein, and a tiny bit of carbs, making it a superb "snack" before bed.
Snuggle up with a cozy blanket, your favorite read, and sip on this soothing, adrenal-supporting moon milk before bed and let me know how it works for you!
Pin It!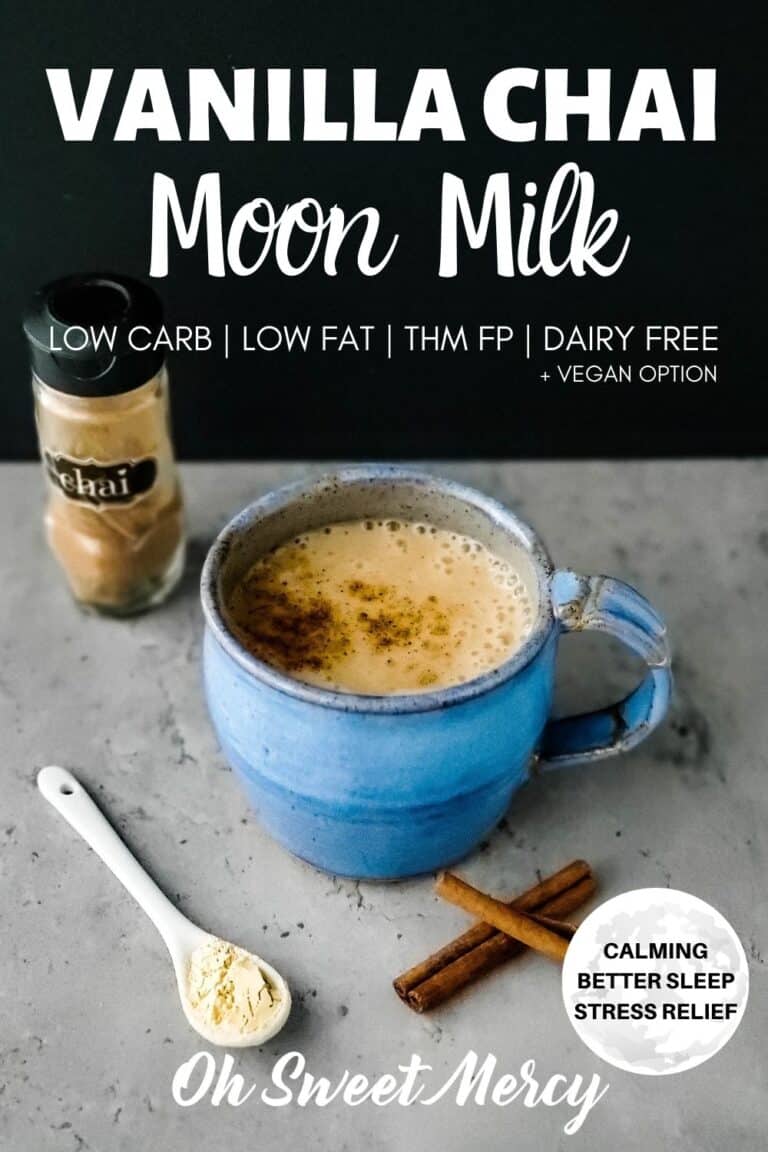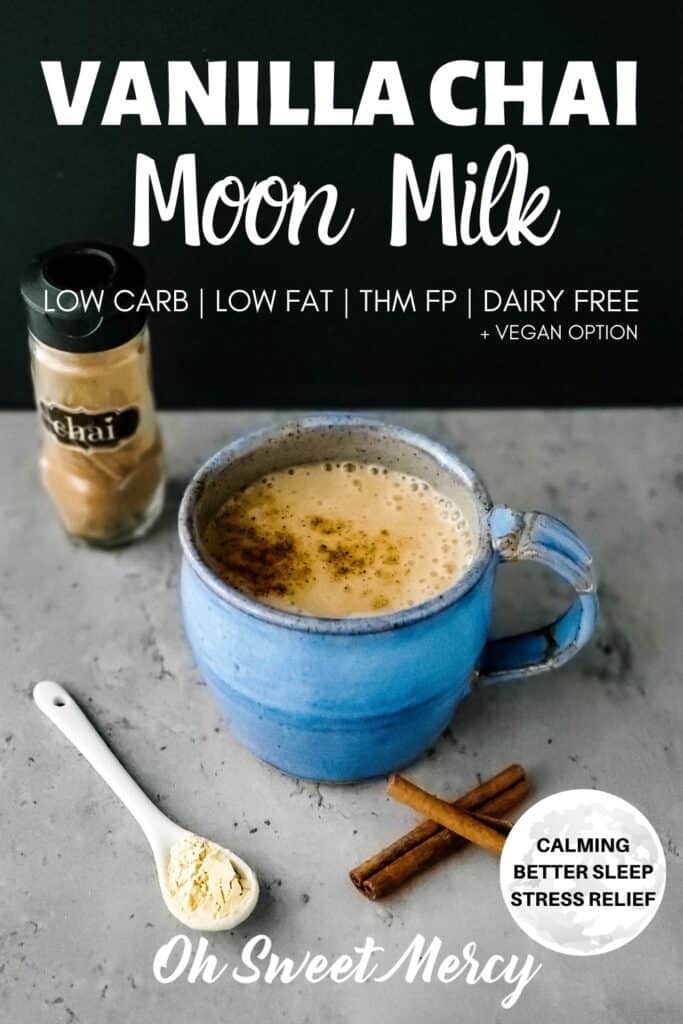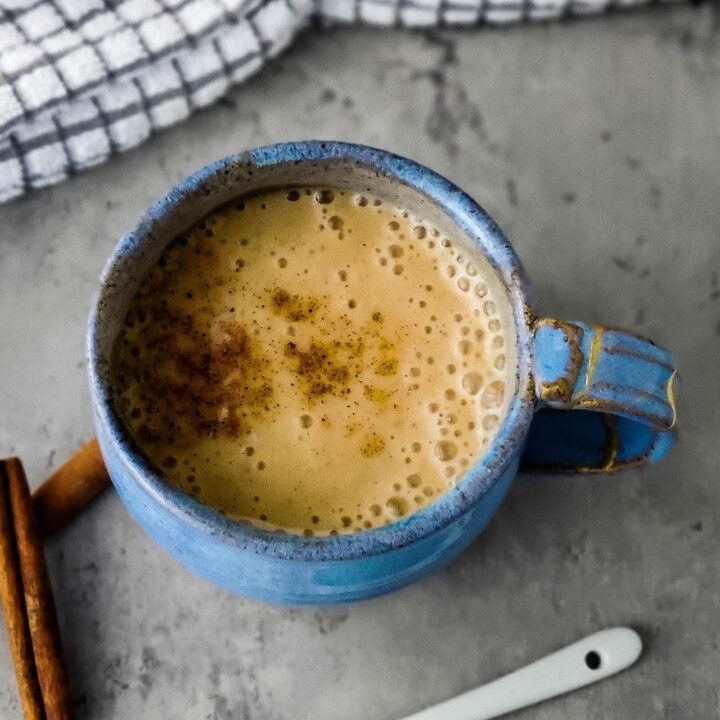 Vanilla Chai Moon Milk | THM FP, Sugar Free, Vegan Option
Yield: 1 serving
Prep Time: 3 minutes
Cook Time: 7 minutes
Total Time: 10 minutes
Sip on this warming and calming bedtime tonic for better sleep, calming, and stress relief. Low carb, low fat, and sugar free but deliciously satisfying. This THM FP is dairy free and perfect for bedtime.
Ingredients
3/4 cup unsweetened almond milk (or other on-plan, non-dairy milk - low fat for THM FP)
1/2 cup water
1 teaspoon THM Integral Collagen OR protein powder of choice, optional
1/2 teaspoon coconut oil or up to 1 teaspoon MCT oil
1/2 teaspoon vanilla extract
2 to 4 doonks gluccie (glucomannan powder), optional
Instructions
In a sauce pan pour in almond milk and water and bring to a simmer.
Add remaining ingredients, except for gluccie, and whisk well.
Sprinkle gluccie, if using, into the mixture while whisking constantly.
Cook for another minute or so.
Taste and adjust sweetener and seasonings if desired.
Pour into a mug and enjoy before bedtime or any time you'd like to take ashwagandha.
Notes
Protein is optional in this drink so feel free to leave it out if you don't want to use it or don't have any on hand.
For less fat, leave out the coconut oil or MCT oil.
Make this an S by increasing the amount of coconut oil or MCT oil.
Gluccie is also optional, I like the consistency a little thicker and it helps keep everything mixed together. However, if you sip too slowly it may thicken more than you like as it cools.
Recommended Products
As an Amazon Associate and member of other affiliate programs, I earn from qualifying purchases.
Nutrition Information:
Yield: 1
Serving Size: 12 ounces
Amount Per Serving:
Calories: 73
Total Fat: 4.6g
Saturated Fat: 2.2g
Unsaturated Fat: 1.9g
Cholesterol: 0mg
Sodium: 160.9mg
Carbohydrates: 2g
Net Carbohydrates: .7g
Fiber: 1.3g
Sugar: .8g
Protein: 8g
Nutrition information is approximate and based on the best knowledge available at the time of recipe publication. Your results may vary due to differences in ingredients. You can make your own calculations if this recipe does not include nutrition info by using an online calculator such as https://recipes.sparkpeople.com/recipe-calculator.asp