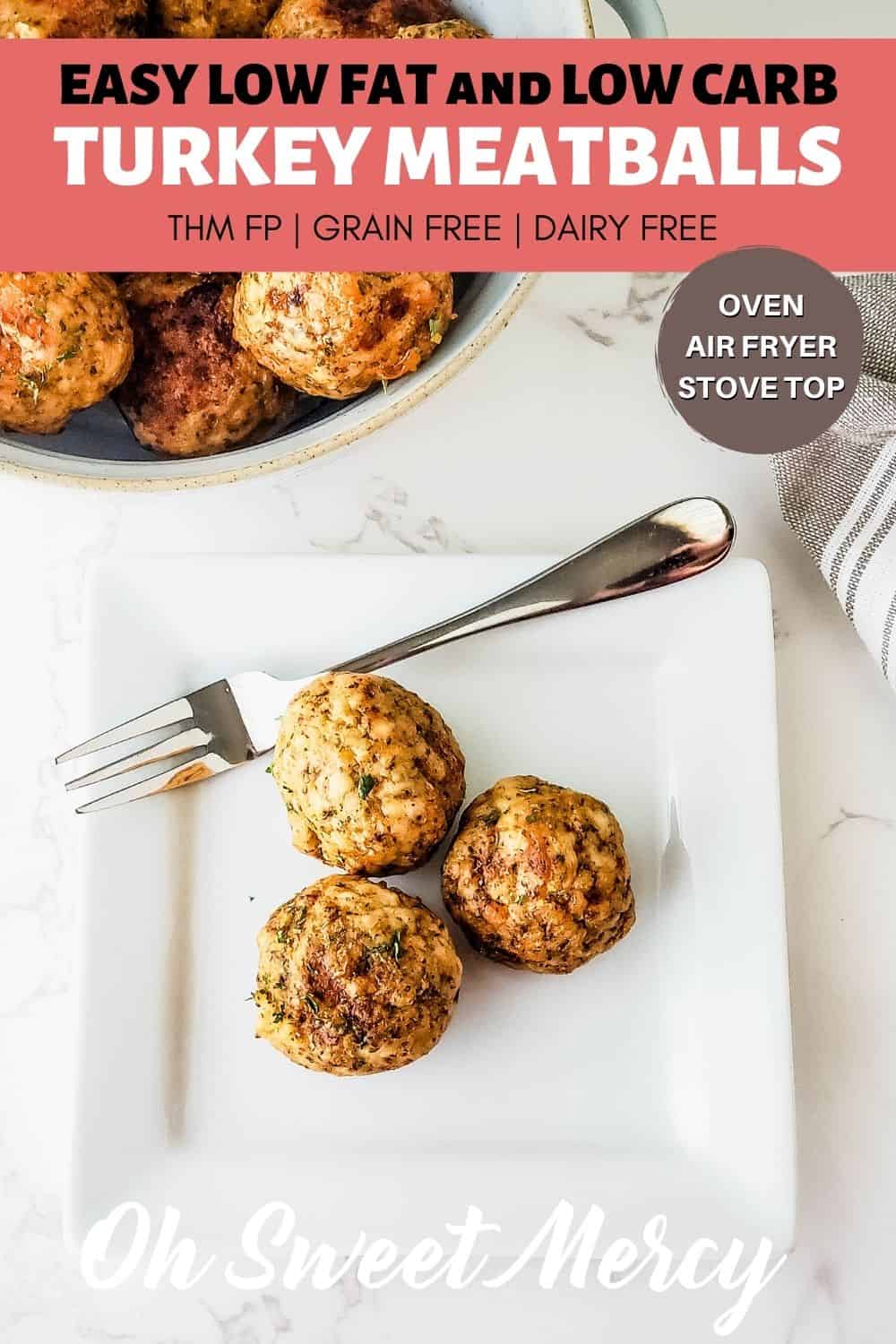 Jumping to the recipe? Please come back and read when you have the time, I include helpful info in my posts like how to fit my recipes into your THM meal plan! Get notified of new posts by signing up for my newsletter at the end of the page. Thanks for stopping by!
---
My super easy, low fat turkey meatballs may be low in fat but they're full of flavor! Oven bake, air fry, or stove top – no matter how you cook them they're a delicious lean protein source for all your THM meals. They're also grain and dairy free!
---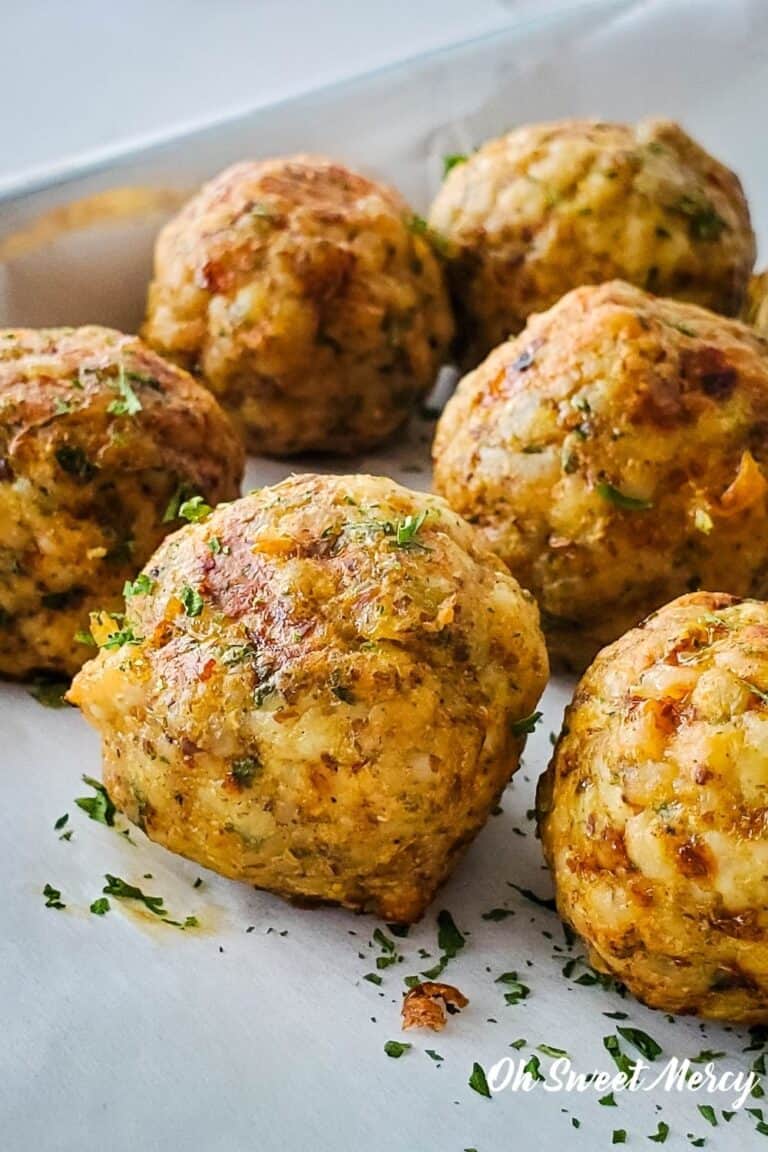 I'm on a mission this year to include more lighter fare here on OSM. I'll be going over some old recipes, too, and tweaking them so they're less heavy on the fats.
Of course, add more fat if you like. Even this recipe is easily made with regular ground turkey instead of 99% fat free.
However, having Trim Healthy Mama Fuel Pull protein sources makes meal planning super easy. Why is that? THM FP foods typically work with any fuel type.
Some don't work with Deep S, be sure to check ingredients carefully if you want to include them in a Deep S meal.
Make a big batch of this tasty meatball recipe and enjoy them throughout the week in your THM S, E, and FP meals. Or, freeze them for later.
I've got instructions for baked turkey meatballs below, or use your air fryer or just cook in a skillet on your stove top.
What Do I Need For This Recipe?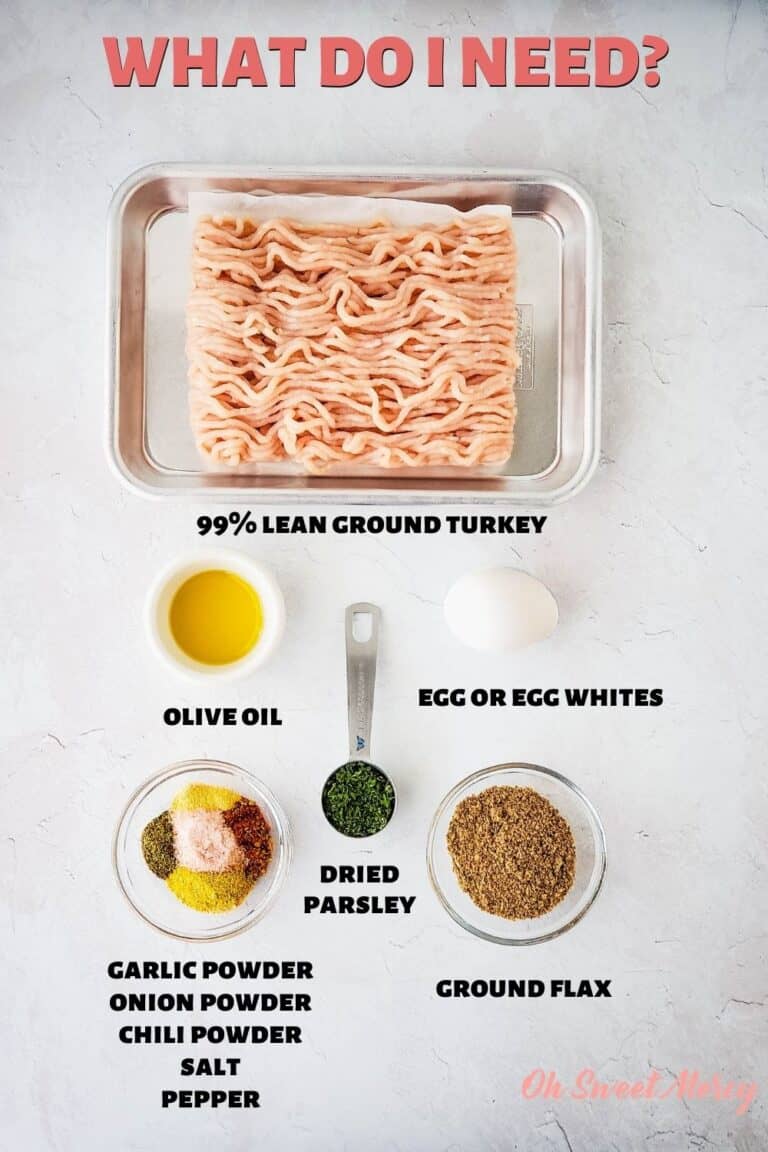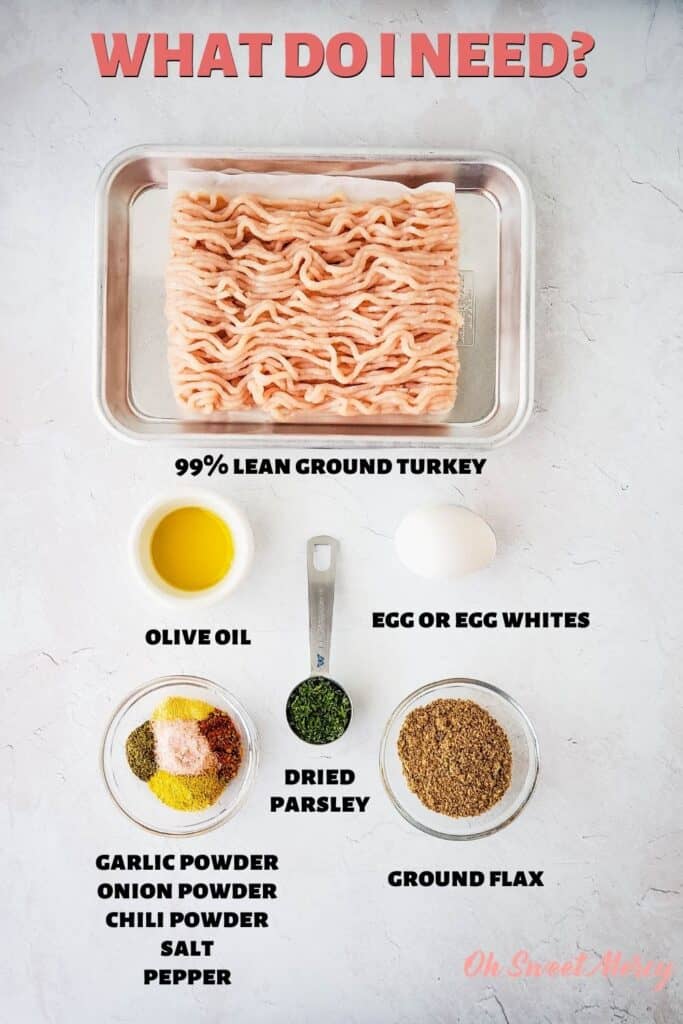 You should be able to find these ingredients easily in any grocery store. Nothing special or exotic needed!
99% fat free ground turkey breast (or chicken)
Egg or egg whites
Ground flax
Garlic powder
Onion powder
Chili powder (try my Healthy Homemade Chili Powder)
Dried parsley
Salt and pepper
Olive oil
Make these THM FP meatballs ultra low fat by using egg whites and omitting the olive oil. Made this way, each meatball has just 0.3 grams of fat.
Want a little more fat? Use a whole egg and no oil. Each meatball then has just 0.5 grams of fat.
For healthy meatballs with just under 1 gram of fat each (0.8 grams, precisely), use a whole egg and 1 teaspoon of olive oil.
My #1 Tip For Making Meatballs (Without Messy Hands).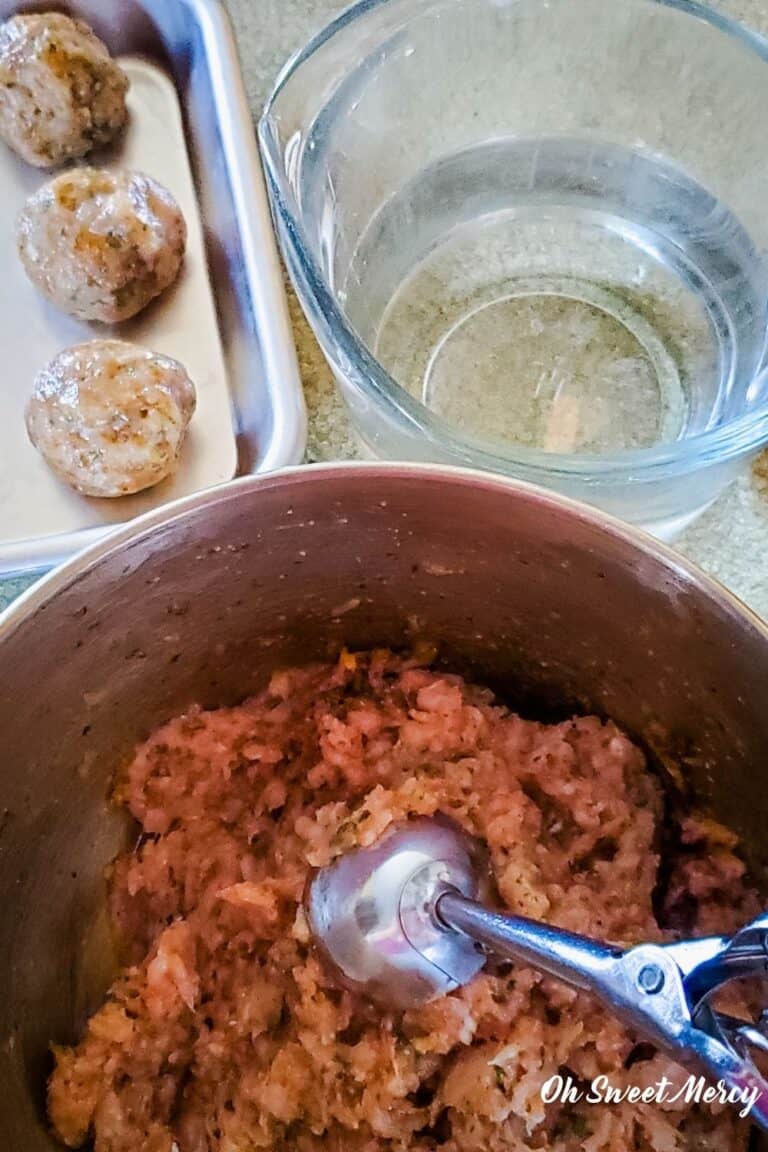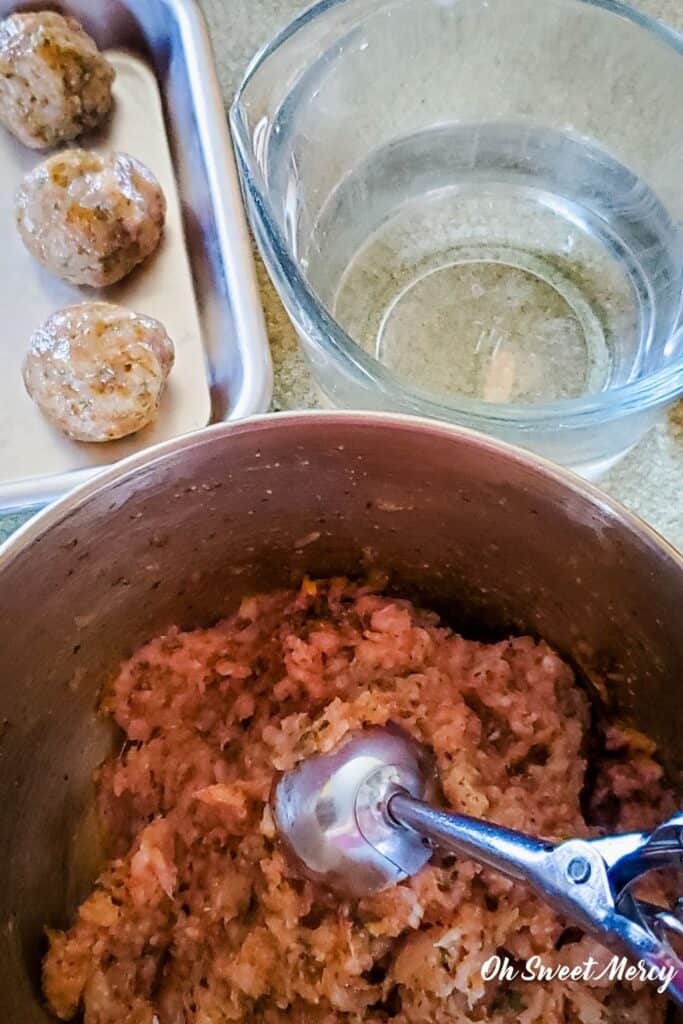 Years ago I learned one slick trick for forming meatballs without getting my hands messy. Water!
Simply get your hands wet before forming the meatballs and your hands won't get messy. You'll need to rewet them after every couple of meatballs or so, but it really works.
I use this cookie scoop, too. The scoop holds 4 teaspoons, so if you don't have one, use a slightly heaped tablespoon instead.
Make These Healthy Turkey Meatballs 3 Ways.
While I typically bake them, these easy meatballs can also easily be cooked on the stove top in a skillet or even your air fryer.
Oven Baked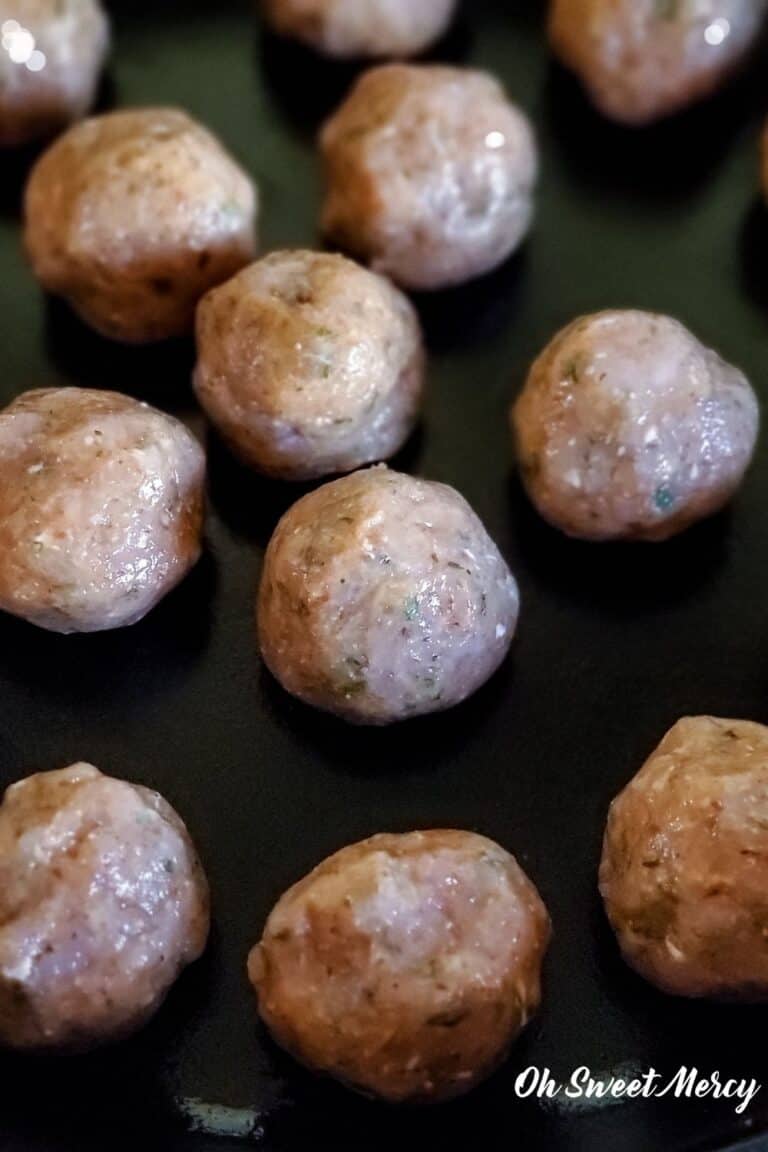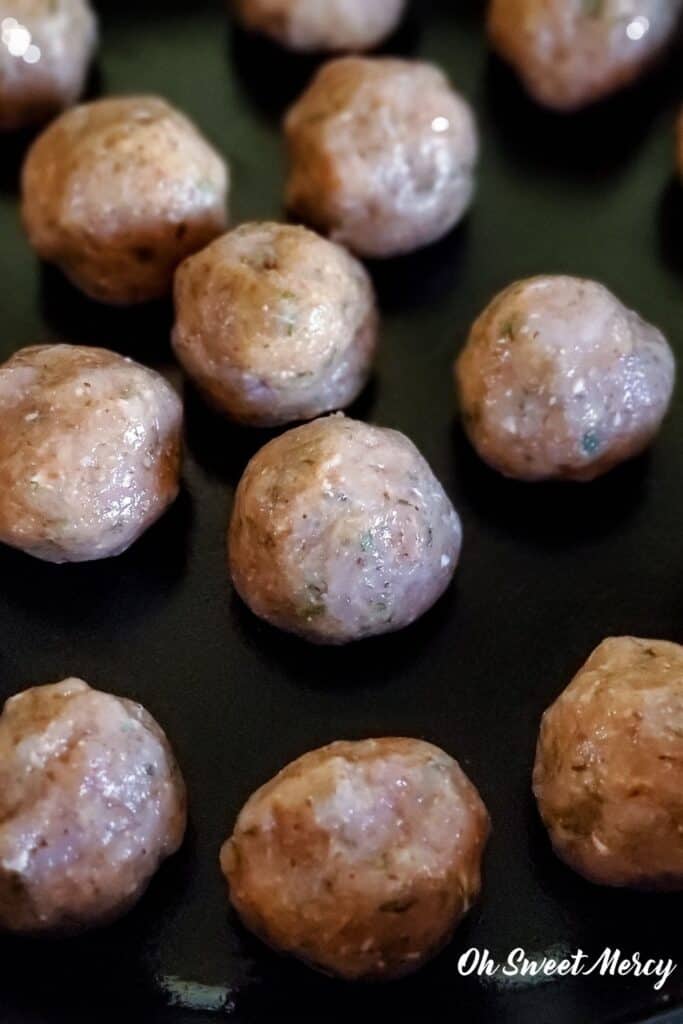 Even though this takes longer than in my air fryer, I usually make them this way. While they're baking, I'm working on the rest of the meal! Plus, no flipping needed.
For poultry, the safe, cooked, internal temperature is 165 degrees. Use a food thermometer to check the temp.
Preheat your oven to 350 degrees. If you use a stoneware baking pan, pop that in the oven to preheat as well.
Make the meatballs.
A lined baking sheet works best to prevent sticking (silicone mat or parchment paper), or use a ceramic coated baking sheet.
Bake the meatballs for 15 to 20 minutes, or until they reach the correct internal temperature.
Stove Top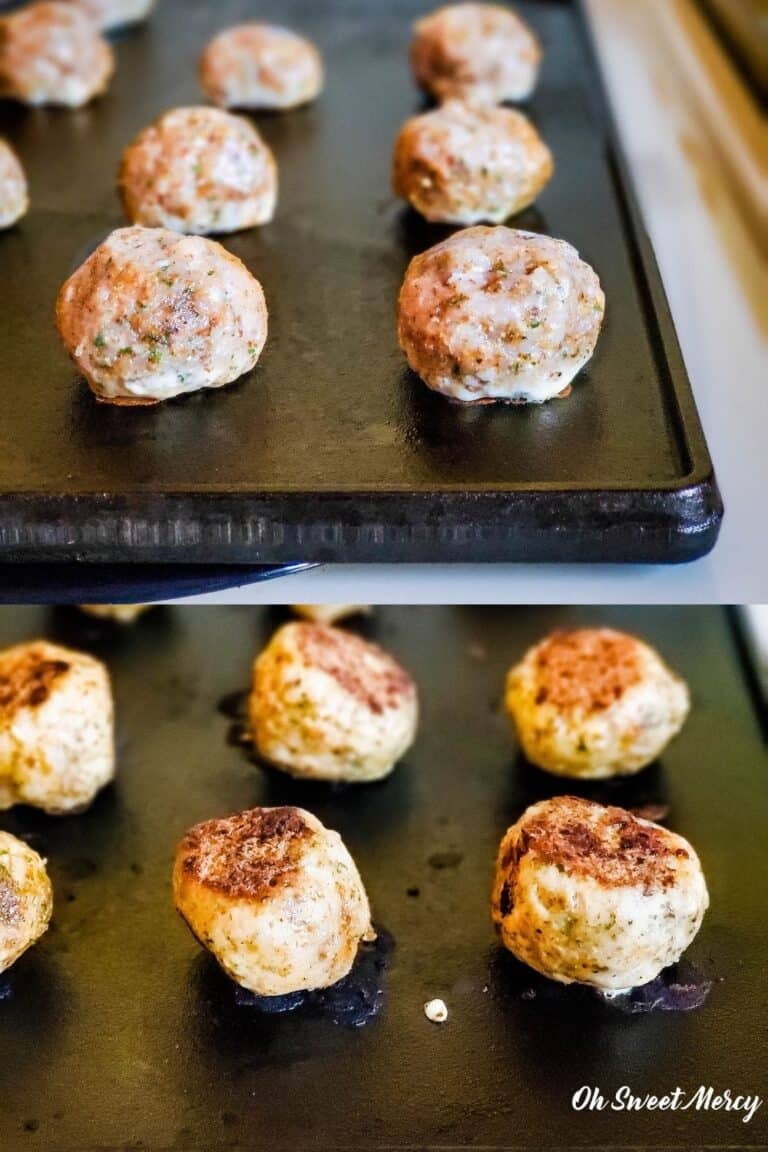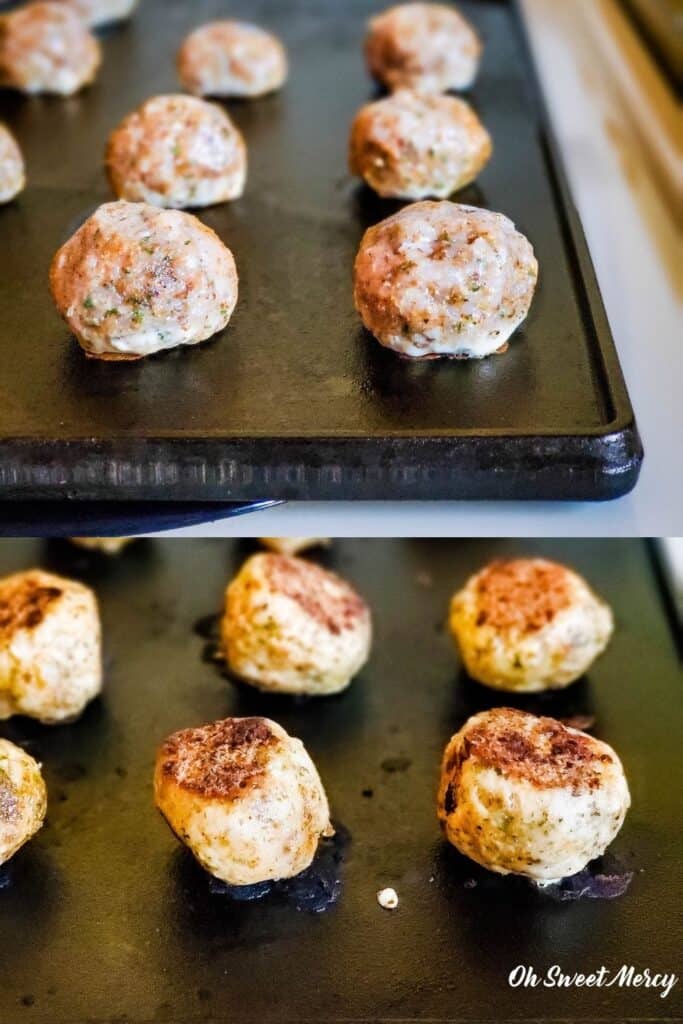 For this method, I prefer using a cast iron skillet. A well-seasoned skillet (or even griddle) really doesn't need any grease and even these practically fat free meatballs won't stick.
Ceramic coated non-stick pans are a healthier alternative to Teflon coated non-stick pans but be careful not to get the pan too hot. Medium heat only!
Preheat your skillet over medium high heat (medium for ceramic coated non-stick pans). When water skitters across the surface it's ready.
Place your formed meatballs into the pan and cook for about 15 minutes. You'll need to frequently turn them fairly frequently to make sure they cook on all sides. They also don't keep their nice, mostly round shape this way.
Air Fryer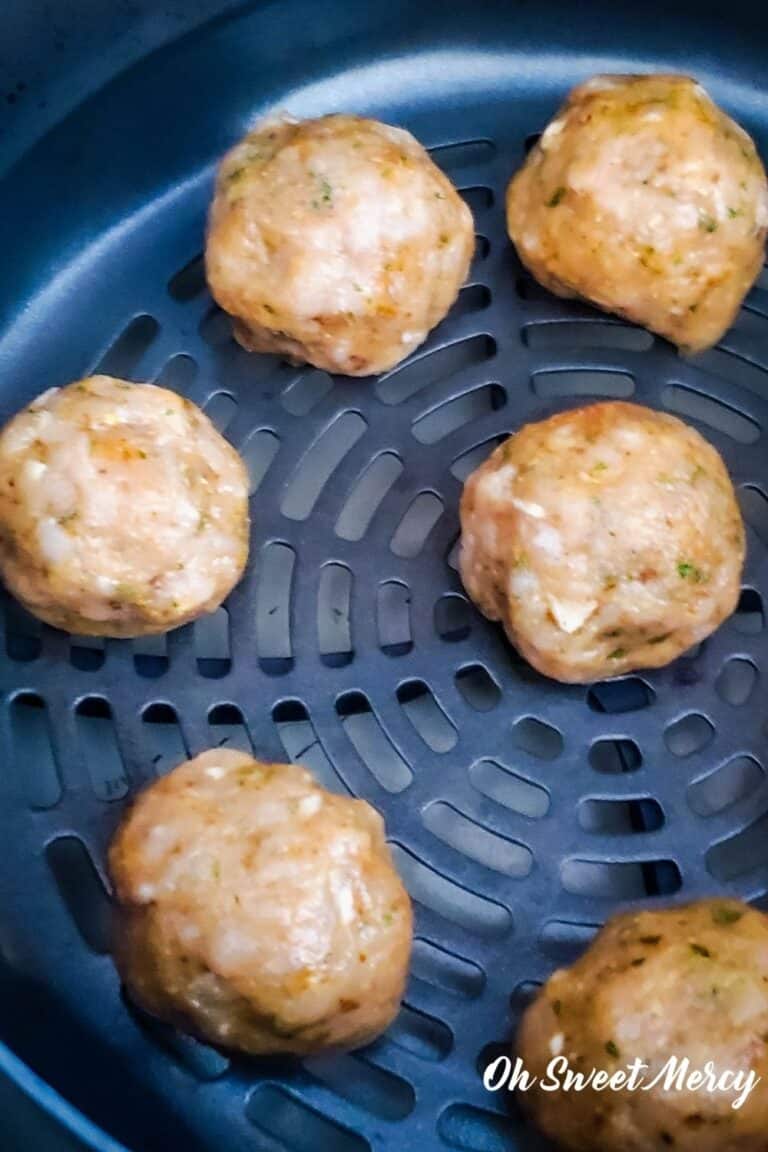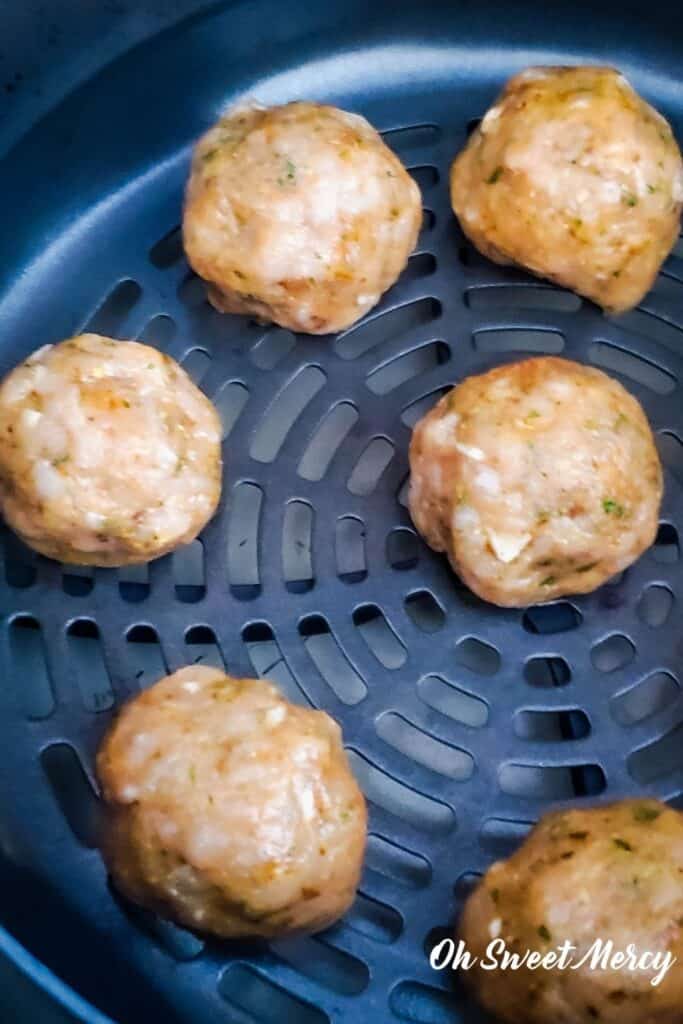 Depending on the capacity of your air fryer, you'll likely have to make this turkey meatball recipe in two or more batches. But, you only need to flip them once!
I use my Ninja Foodi for this and cook this recipe in 2 batches.
Preheat your air fryer to 390 degrees.
Place formed meatballs into the air fryer basket or tray.
Cook for 7 to 8 minutes, flipping halfway through.
Once the meatballs are cooked, remove them from the air fryer and add the next batch and repeat.
Easy peasy!
How To Fit These Easy Low Fat Turkey Meatballs Into Your THM Meal Plans This Week.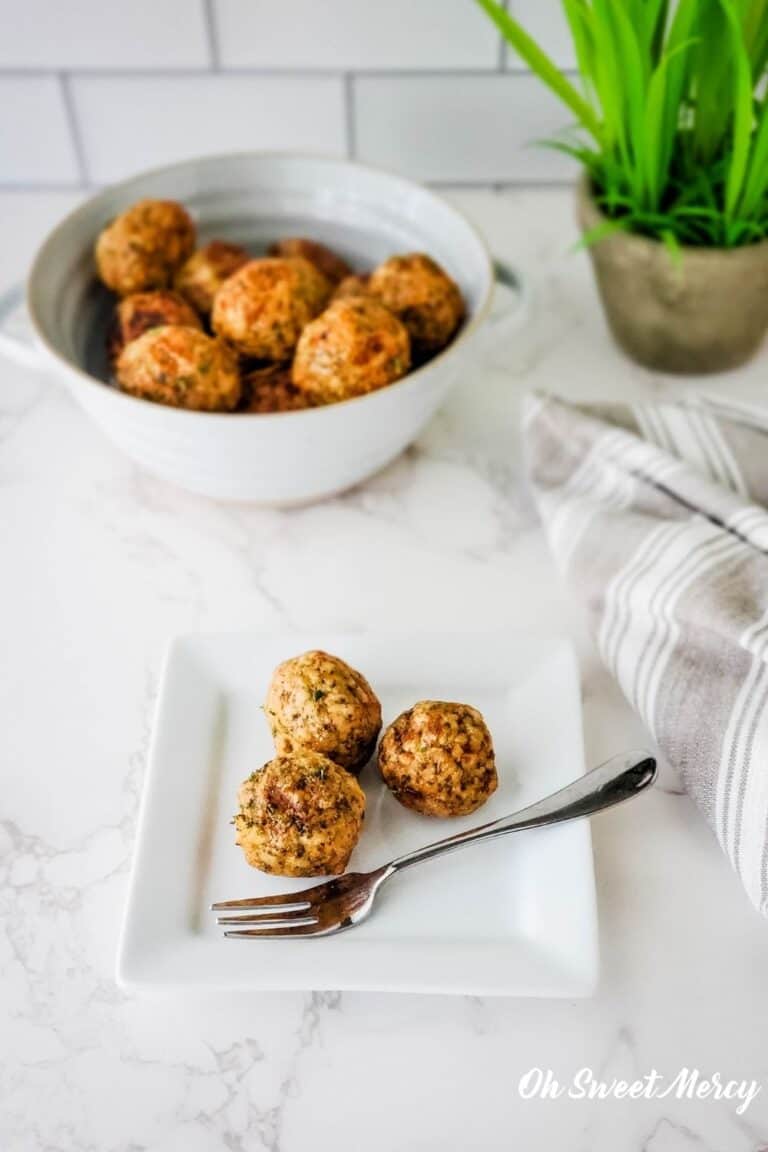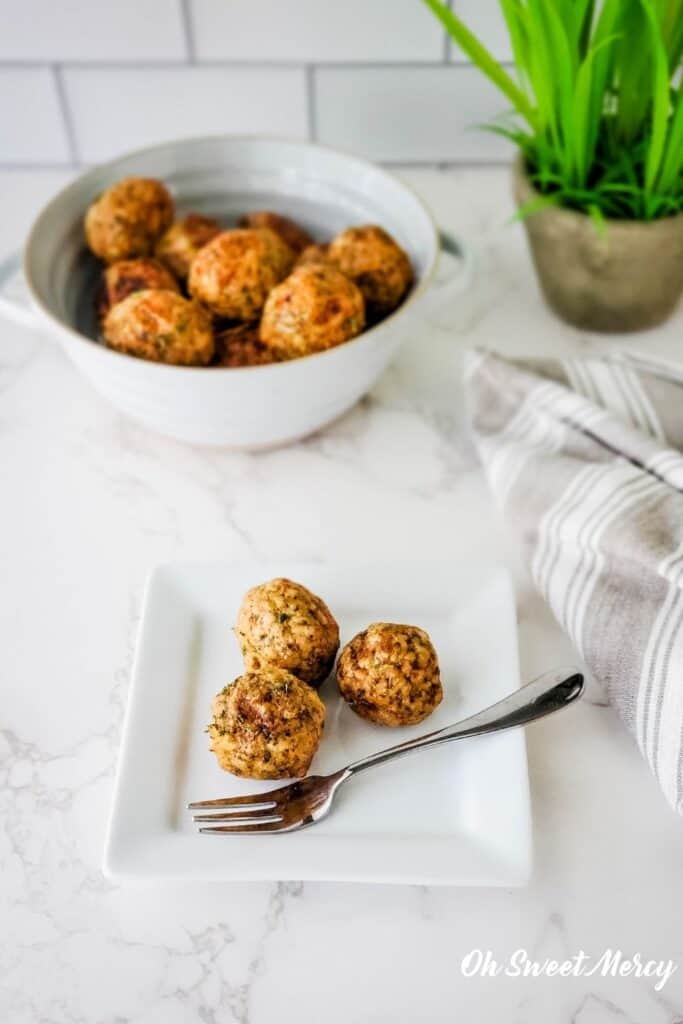 I get excited about these meatballs! My family enjoys them and they work with S, E, and FP meals. They aren't compatible with Deep S, as flax is a seed and seeds are not allowed in Deep S.
We usually eat meatballs plain, but they're wonderful with all your favorite sauces.
Marinara or spaghetti sauce
Instant Cheese Sauce from Trim Healthy Future – Dairy Free (E or FP styles)
THM FP MEAL IDEAS.
Since protein in FP meals is also kept on the lower side, you'll want to stick to 3 or 4 meatballs.
Serve over a big pile of steamed zucchini noodles, konjac or shiritaki noodles, or even cooked cauliflower rice.
Other Fuel Pull recipes to try are my No Mayo Coleslaw,
Top with a Fuel Pull sauce, like this sugar free marinara sauce from Joy Filled Eats.
Like barbecue meat meatballs? This low carb, low fat sauce from TJ's Taste or a southern style from Mrs. Criddle's Kitchen are great options. Feeling a little sassy? This spicy barbecue sauce from Briana Thomas should suit you.
Healthy sides for this meal include steamed non-starchy veggies or a salad with an ultra low fat or fat free salad dressing like my Creamy Cajun Ranch, Easy Ranch Dressing, or Asian Sweet and Tangy Dressing.
Tasty THM S Meal Ideas:
Just like with Trim Healthy Mama FP meals, keep the carbs low. But enjoy some of those healthy fats!
Try this Banging 'Bama White BBQ Sauce. The sauces listed above also work fine for S meals, just add some fat in your meal somewhere.
Or, maybe you want something cheesy? My Easy Cheese Sauce will satisfy that craving. Or, try this low carb Alfredo sauce from My Montana Kitchen.
Confession: I love to dunk them in this Copycat Chick Fil A Sauce.
For example, a big leafy green salad with my Creamy Citrus Salad Dressing, Balsamic Mustard Vinaigrette, Raspberry Basil Vinaigrette, or Pomegranate Vinegar Salad Dressing.
My Cheesy Cauliflower makes a great side dish, too! Mix up the non-starchy veggies in this recipe if you like.
THM E Meal Ideas:
Now with these meals, we keep our fats very low and include a THM E fuel source.
Again, the sauces listed in the Fuel Pull section above also work here. Then, include some non-starchies and healthy carbs on the side:
Include plenty of non-starchies on the side, like steamed veggies or a big salad. Even a simple array of fresh veggies and a low or no fat dip helps make this meal deliciously satisfying.
PIN IT!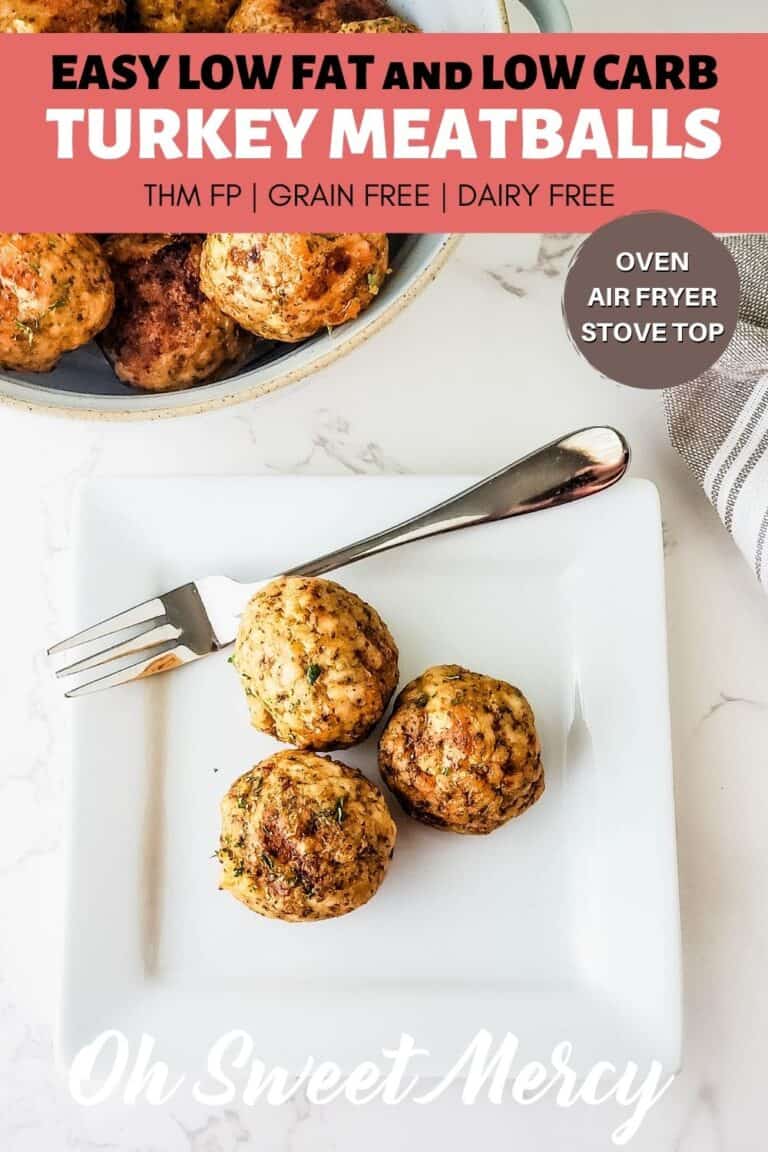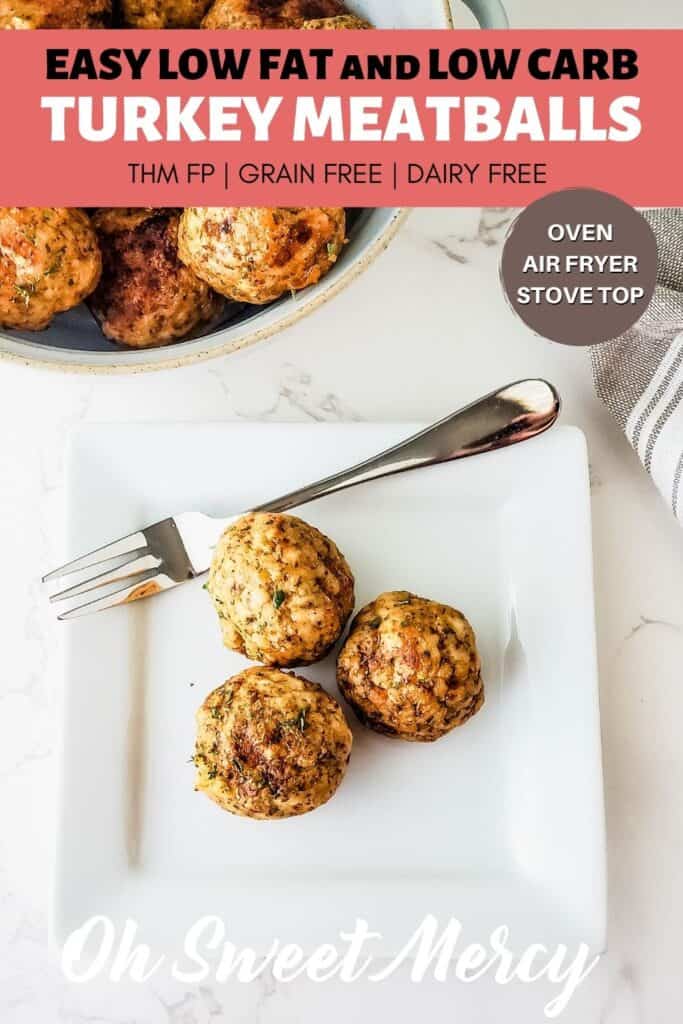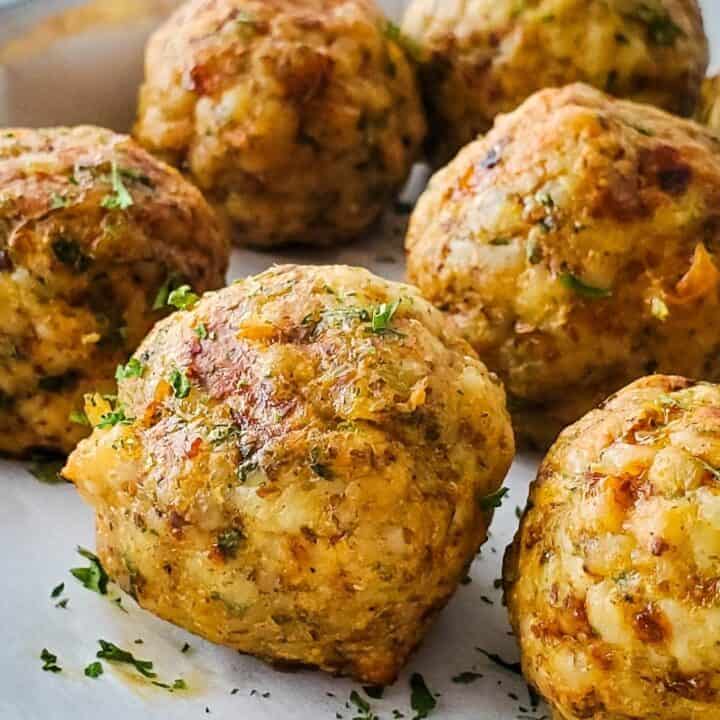 Easy Low Fat Turkey Meatballs | THM FP, Grain Free
Yield: 18 meatballs
Prep Time: 15 minutes
Cook Time: 20 minutes
Total Time: 35 minutes
These easy, flavorful low fat turkey meatballs are a THM FP (Fuel Pull) - low in fats and carbs. Grain and dairy free, they're a wonderfully neutral protein source for any THM Fuel Type.
Ingredients
1 egg (or 3 tablespoons egg whites)
2 tablespoons ground flax
1 pound 99% fat free ground turkey breast (or chicken)
1 tablespoon dried parsley
1 1/2 teaspoon onion powder
1 teaspoon garlic powder
1 teaspoon high mineral salt
[1 teaspoon chili powder
]
1 to 2 teaspoons olive oil
1/2 teaspoon ground black pepper
Instructions
Oven
Preheat oven to 350 degrees (if using a cast iron skillet to bake, pop that in to preheat).
In a mixing bowl, whisk together the egg and ground flax and let sit while you gather the other ingredients.
Add remaining ingredients and mix well.
Form into balls using a medium cookie scoop or slightly heaped tablespoon.
Arrange meatballs in your preheated cast iron skillet, or on a baking sheet (lightly spray with cooking spray or line with parchment paper).
Bake in preheated oven for 15 to 20 minutes, or until internal temperature reaches 165 degrees.
Air Fryer
Prepare meatballs as above.
Preheat air fryer at 390 degrees for 5 minutes.
Cook meatballs in batches, if necessary, for 7 to 8 minutes, flipping over halfway through the cooking time.
Stove Top
Prepare meatballs as directed above.
Preheat a cast iron skillet on medium high, or a ceramic coated non-stick skillet on medium (or to manufacturer's recommendation).
Place meatballs in skillet and cook for 15 minutes or until internal temperature reaches 165. Turn and brown each meatball on all sides as they cook.
Notes
Nutrition Notes:
As written, these meatballs are "lower fat" and contain 0.8 grams of fat each. Easily lower the fat content by making a few tweaks:
Ultra Low Fat Meatballs
Use egg whites and omit oil, each meatball has just 0.3 grams of fat.
Low Fat Meatballs
Use a whole egg and no oil. Each meatball then has just 0.5 grams of fat.
Recommended Products
As an Amazon Associate and member of other affiliate programs, I earn from qualifying purchases.
Nutrition Information:
Yield: 18
Serving Size: 1 meatball
Amount Per Serving:
Calories: 33.6
Total Fat: 0.8g
Saturated Fat: .1g
Trans Fat: 0g
Unsaturated Fat: .3g
Cholesterol: 24.8mg
Sodium: 38.5mg
Carbohydrates: .6g
Net Carbohydrates: .3g
Fiber: .3g
Sugar: 0g
Protein: 5.9g
Nutrition information is approximate and based on the best knowledge available at the time of recipe publication. Your results may vary due to differences in ingredients. You can make your own calculations if this recipe does not include nutrition info by using an online calculator such as https://recipes.sparkpeople.com/recipe-calculator.asp