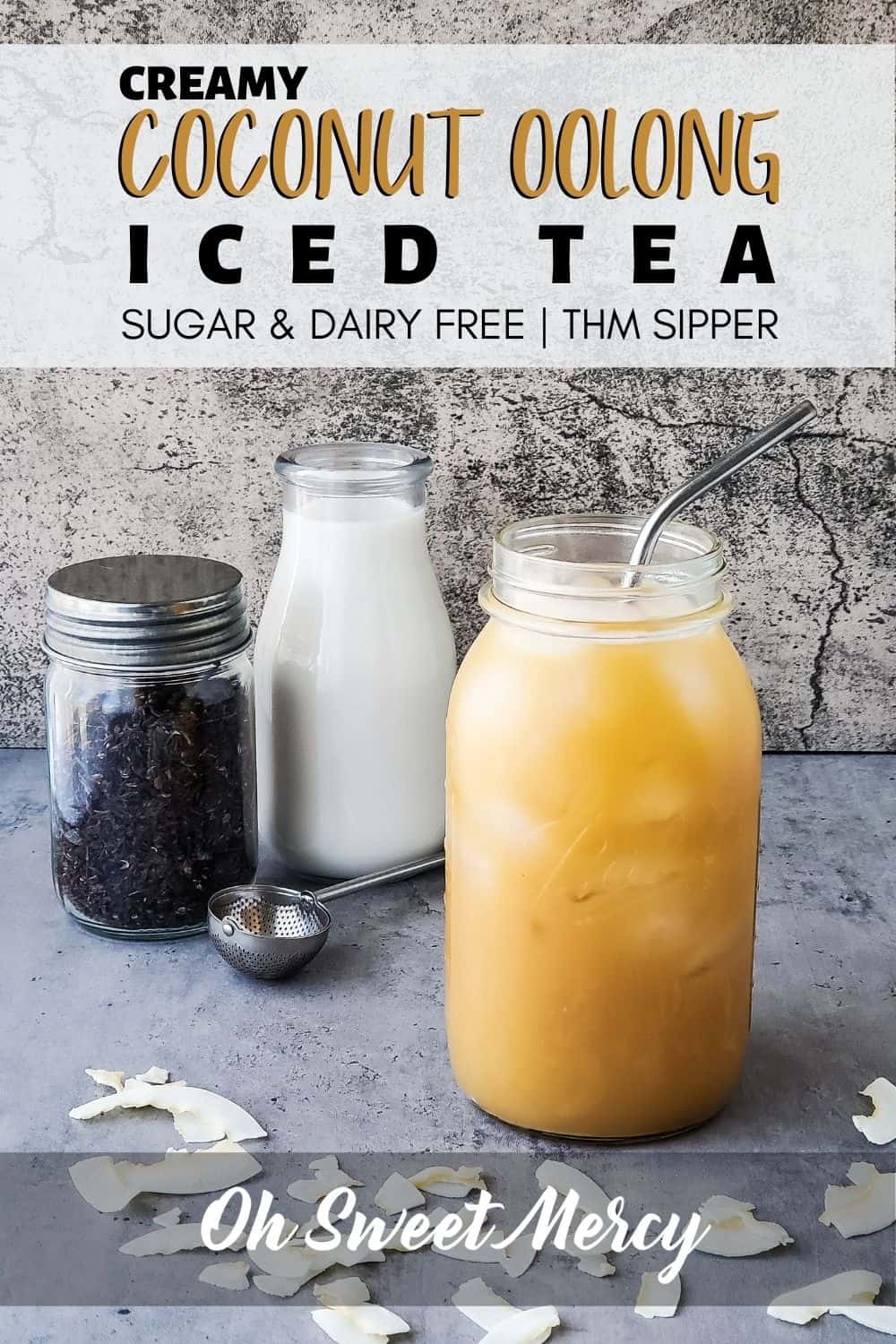 ---
Oolong tea is known for its fat-burning properties. Enjoy that benefit with this refreshing and delicious Creamy Coconut Oolong Iced Tea! Easy to make by the glass or the gallon and a perfect sipper for hot summer days.
---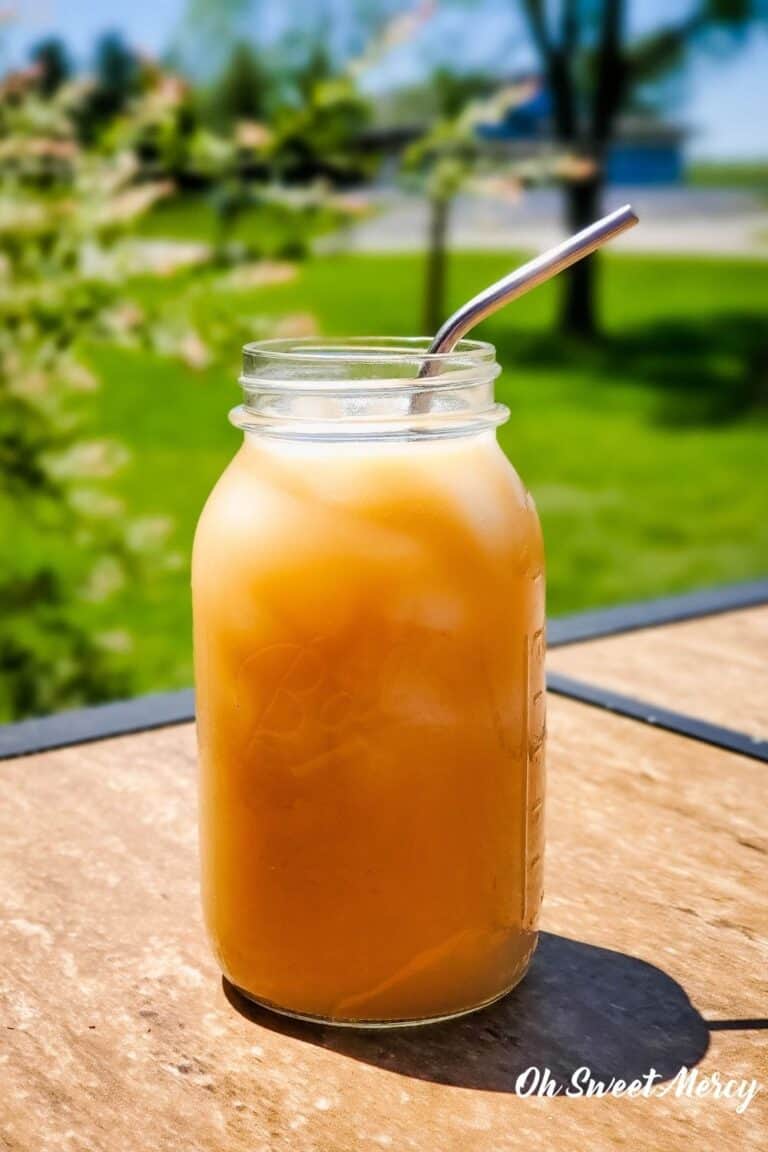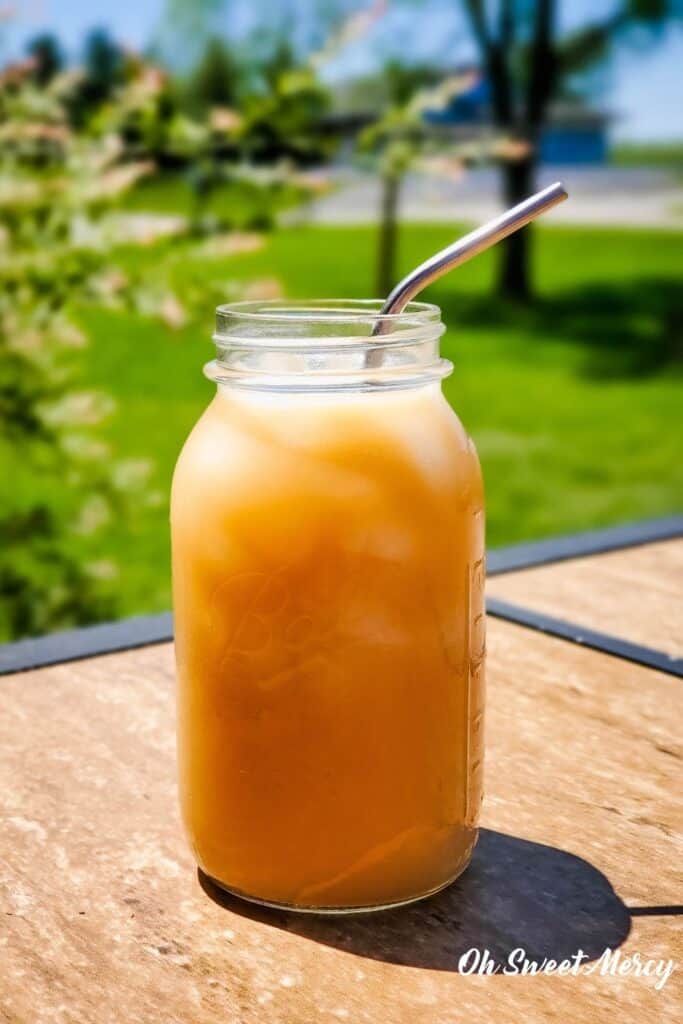 Staying hydrated is important all year long, but especially during warm weather. Having a wide variety of beverage recipes helps keep your sips from getting boring!
Plain water is always a good choice, so don't set that aside! But sometimes, we want something with some flavor, right? And, a creamy, sweet, coconutty iced tea recipe with 1 gram of fat (or less) is perfect for the Trim Healthy Mama this summer.
I often drink unsweetened teas but sometimes I want something a li'l sweet and creamy. As a kid, I loved my granny's sweet tea. It was realllly sweet though! I sure don't want that amount of sugar anymore.
What Do I Need For This Recipe?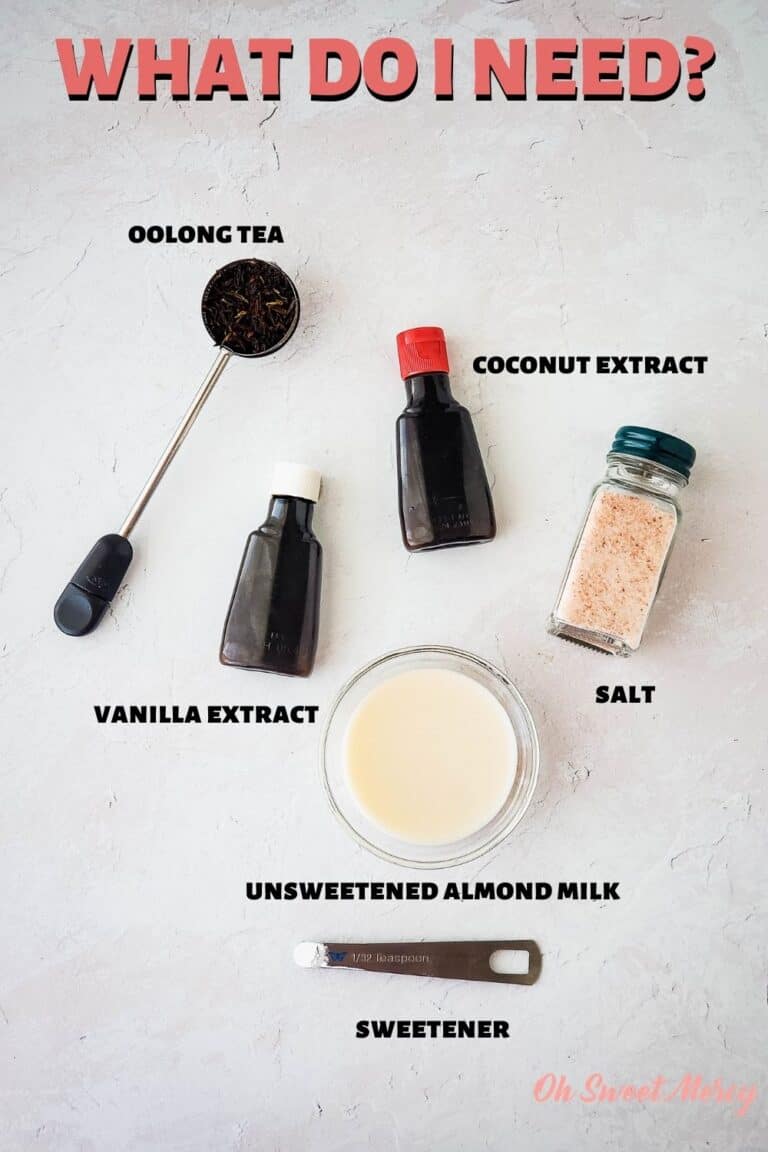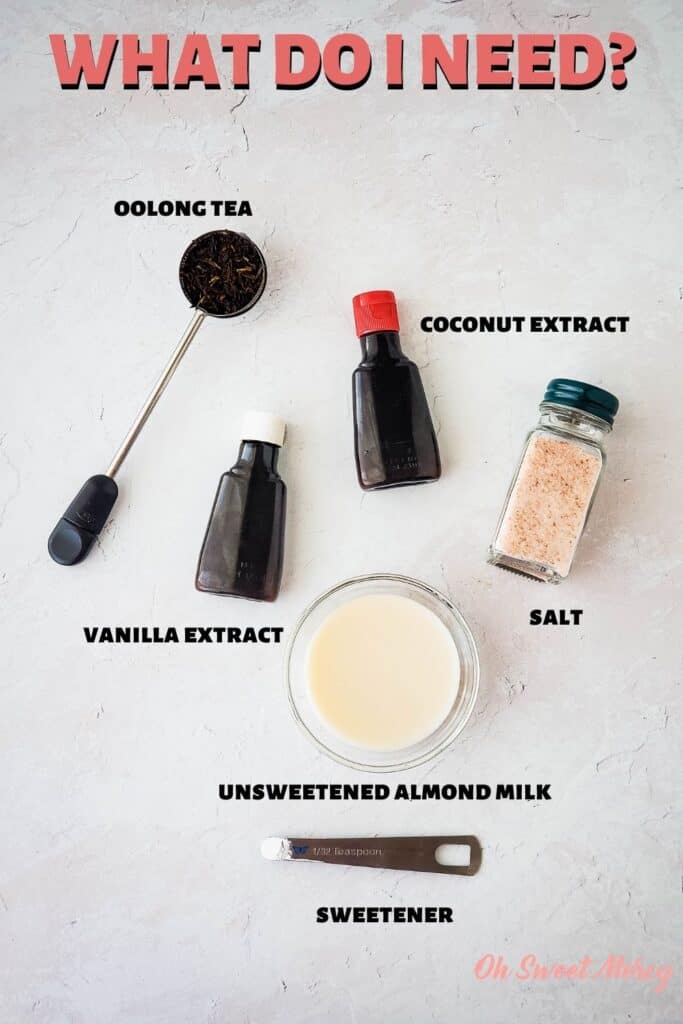 If you can find the toasted coconut almond milk from Califia farms, that's perfect for this drink! It has a subtle coconut flavor, so if you like more coconut add a splash of coconut extract. Plus, it's also available at Aldi (at least in my area).
I haven't tried canned coconut milk for this, but I suspect the fat would clump when you add ice. It also moves this drink from a THM FP (Fuel Pull) to an S.
In just a few minutes you'll sip on this delicious beverage!
Surprising Benefits of Oolong Tea.
This tea is kind of in the middle of green tea and black tea. Green teas are unfermented and black teas are fully fermented. Oolong falls somewhere in the middle of the two.
You may have heard that oolong tea can help burn fat and aid weight loss. Did you know it may also:
Lower blood pressure
Improve sleep
Keep blood sugar stable
Improve gut biome
Decrease vascular inflammation
Protect the brain
Reduce cholesterol
There are more possible benefits, too! Read more about the above list plus additional possible benefits of drinking oolong tea here.
How To Make Creamy Coconut Oolong Iced Tea.
Simply brew your oolong tea (I love my electric kettle when I need hot water), add the remaining ingredients, and pour over a mason jar or large glass full of ice. Top off with more water as needed.
Alternatively make a strong cold brew tea and use it to make this recipe.
If you have room in your fridge, make this by the gallon! Keeping healthy beverages on hand helps you stay hydrated and keeps temptation for sugary drinks at bay.
How To Include My Creamy Coconut Oolong Iced Tea In Your THM Summer (or Any Time Of Year).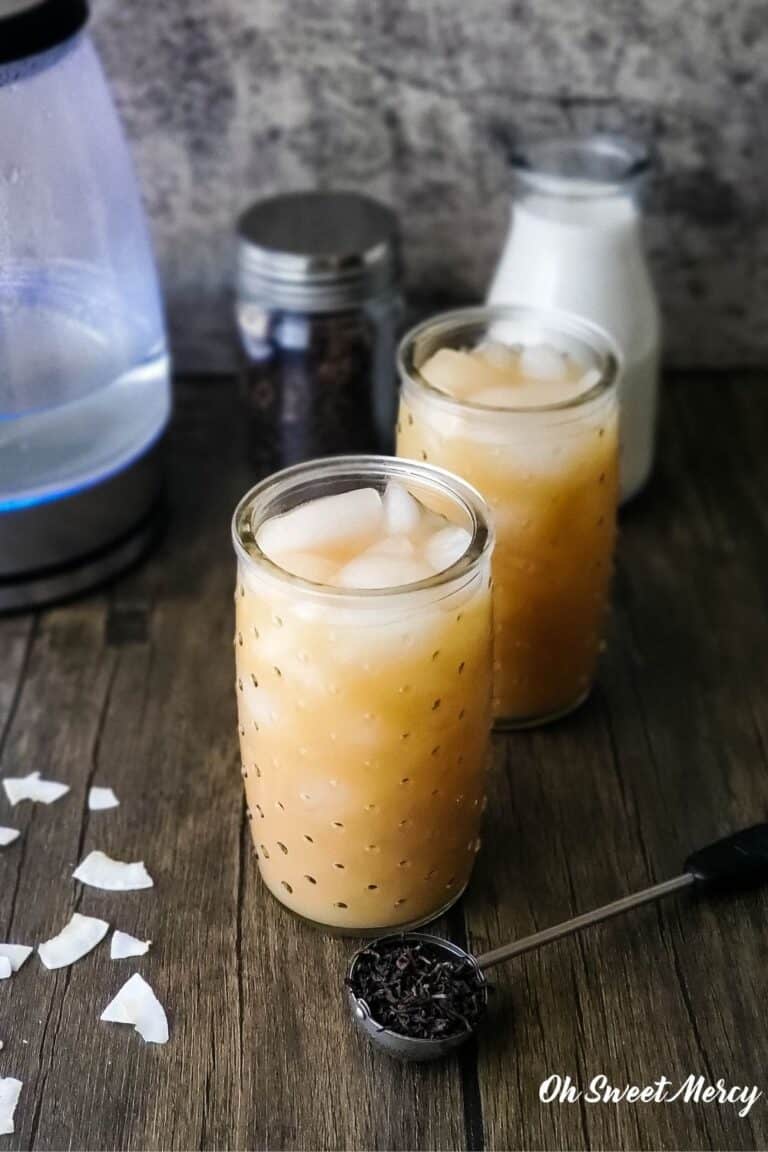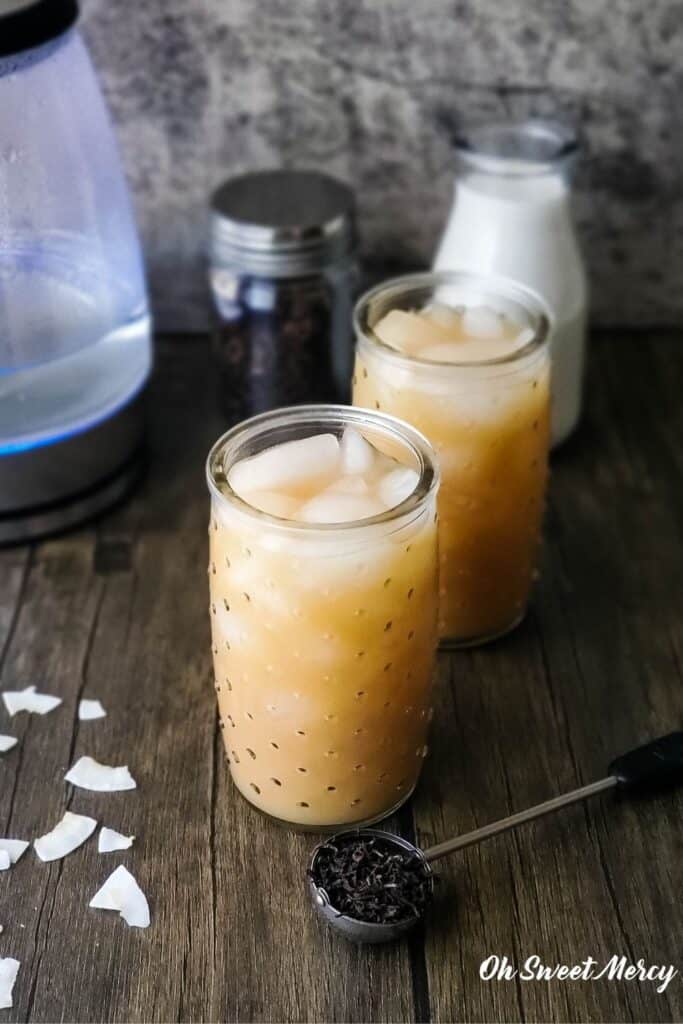 As long as you don't use more than 1/4 cup of the almond milk this is considered a sipper on the THM plan. This means you can sip on it any time throughout your day!
If you're like me though, it's hard to just sip on a drink! Some days I find myself sitting down to lunch with the same sipper I made in the morning. Not often though!
In that case, don't make yourself another one right away. Or, leave out the coconut milk and just add coconut extract instead. It's a refreshing change-up!
Sippers don't have enough of any fuel to make an impact on the meal you just ate or your next meal or snack. Additionally, sipping on one over time spreads out that little bit of fuel so you don't have to worry about fuel stacking.
What is fuel stacking? While most people don't have to worry about fuel stacking, if you're struggling to lose weight you might want to make sure you understand what it is and how to avoid it.

In a nutshell, it's inadvertently tacking on a bit too much of one fuel or another after or between meals. This can put your S meal into an S Helper, or your E meal into a Crossover. All of those meal styles are on plan, but the SH and XO meals are less conducive to weight loss. Eating them too often can cause progress to slow down or stall.

We don't count numbers obsessively on THM, and don't let this get you worked up! Just be mindful of it is all. You can read more about fuel stacking (and how to avoid them) in the THM Plan book on pages 92-94).
I have to give a shout out to the lovely THM Admin, Cindy Young, for sharing this yummy toasted coconut almond milk on the THM Journey App! I don't know that I'd ever notice it on my own. It's really, really delicious and I love that it doesn't contain carrageenan.
Android users, get the THM Journey App here. Apple users, get yours here.
Carrageenan is considered by many to be safe. It's found in all kinds of products, including those you find at your local health food store. However, some studies have shown it can cause inflammation in the body and cause digestive upset. I personally try to avoid it as much as possible, just to be safe.
I also love having a new, healthy, and delicious beverage to sip on during these hot, summer days! As I type this, things are hot and humid in my area and will be for several days. Having refreshing, on-plan drinks makes those hot, sweaty days a bit more bearable!
Still Thirsty? Give These On-Plan Drinks A Try This Summer:
I've got a summer lemonade recipe in the works for the blog, but here's some more tasty drinks to try!
Ginger Blueberry Good Girl Moonshine (Sipper)
Pomegranate Lemonade Good Girl Moonshine (Sipper)
Zingy Raspberry Good Girl Moonshine (Sipper)
Cold Brew Hibiscus Tea (Sipper)
Sugar Free Citrus Mint Cooler (Sipper)
PIN IT!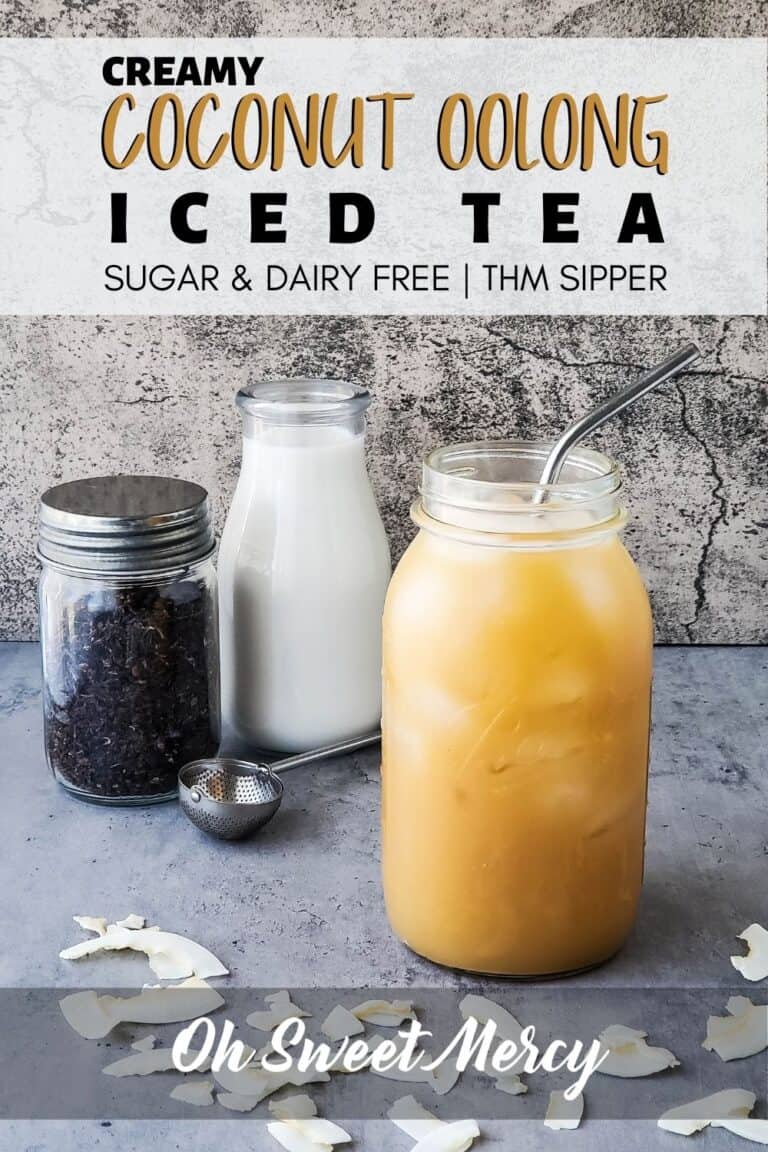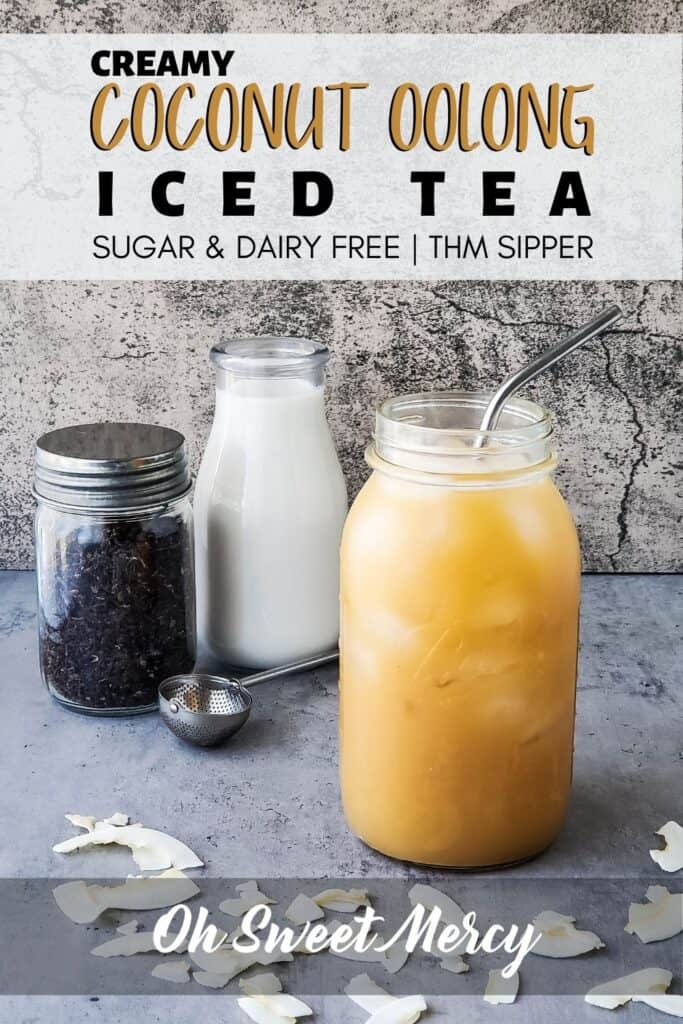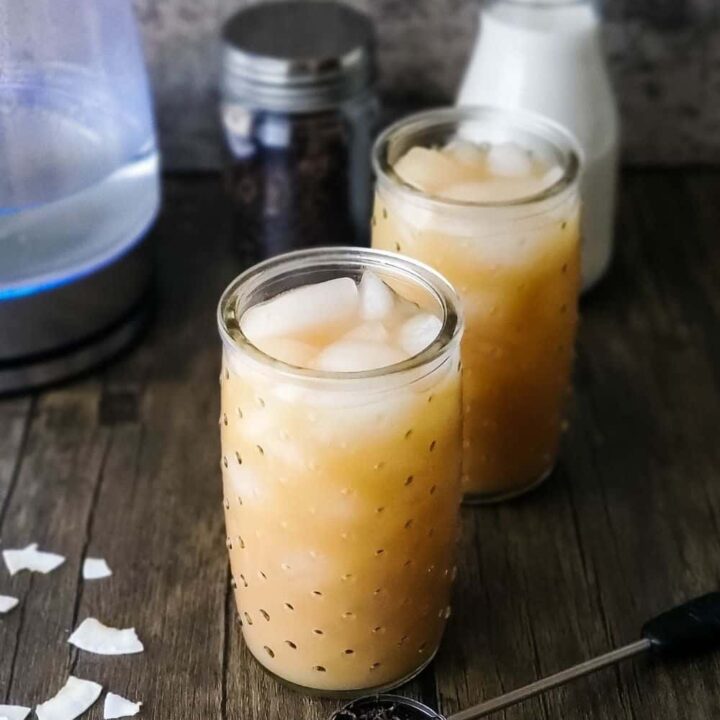 Creamy Coconut Oolong Iced Tea | THM FP, Dairy Free
Yield: 1 quart
Prep Time: 8 minutes
Total Time: 8 minutes
A delicious twist on your summer iced tea, this creamy coconut oolong version is dairy and sugar free. Perfect for a THM sipper on a hot day!
Ingredients
3/4 cup boiling water
1/4 cup unsweetened almond milk (I like Califia Farms Toasted Coconut Almond Milk for this)
Instructions
Steep tea in boiling water for 5 minutes.
Meanwhile, in a mason jar add remaining ingredients and whisk to combine well.
Add tea and whisk to combine.
Fill jar with ice and top off with water as desired.
Notes
If using Califia Farms toasted coconut almond milk, you may not need to add any coconut extract. Taste first and add if you like.
You can also use just 2 tablespoons of almond milk (or cashew milk, which is creamier) if you prefer, it will lower the fat in this sipper.
Recommended Products
As an Amazon Associate and member of other affiliate programs, I earn from qualifying purchases.
Nutrition Information:
Yield: 1
Serving Size: 1 recipe
Amount Per Serving:
Calories: 27
Total Fat: 1g
Saturated Fat: 0.3g
Trans Fat: 0g
Cholesterol: 0mg
Sodium: 60.8mg
Carbohydrates: 0.8g
Net Carbohydrates: 0.5g
Fiber: 0.3g
Sugar: .5g
Protein: 0.3g
Nutrition information is approximate and based on the best knowledge available at the time of recipe publication. Your results may vary due to differences in ingredients. You can make your own calculations if this recipe does not include nutrition info by using an online calculator such as https://recipes.sparkpeople.com/recipe-calculator.asp