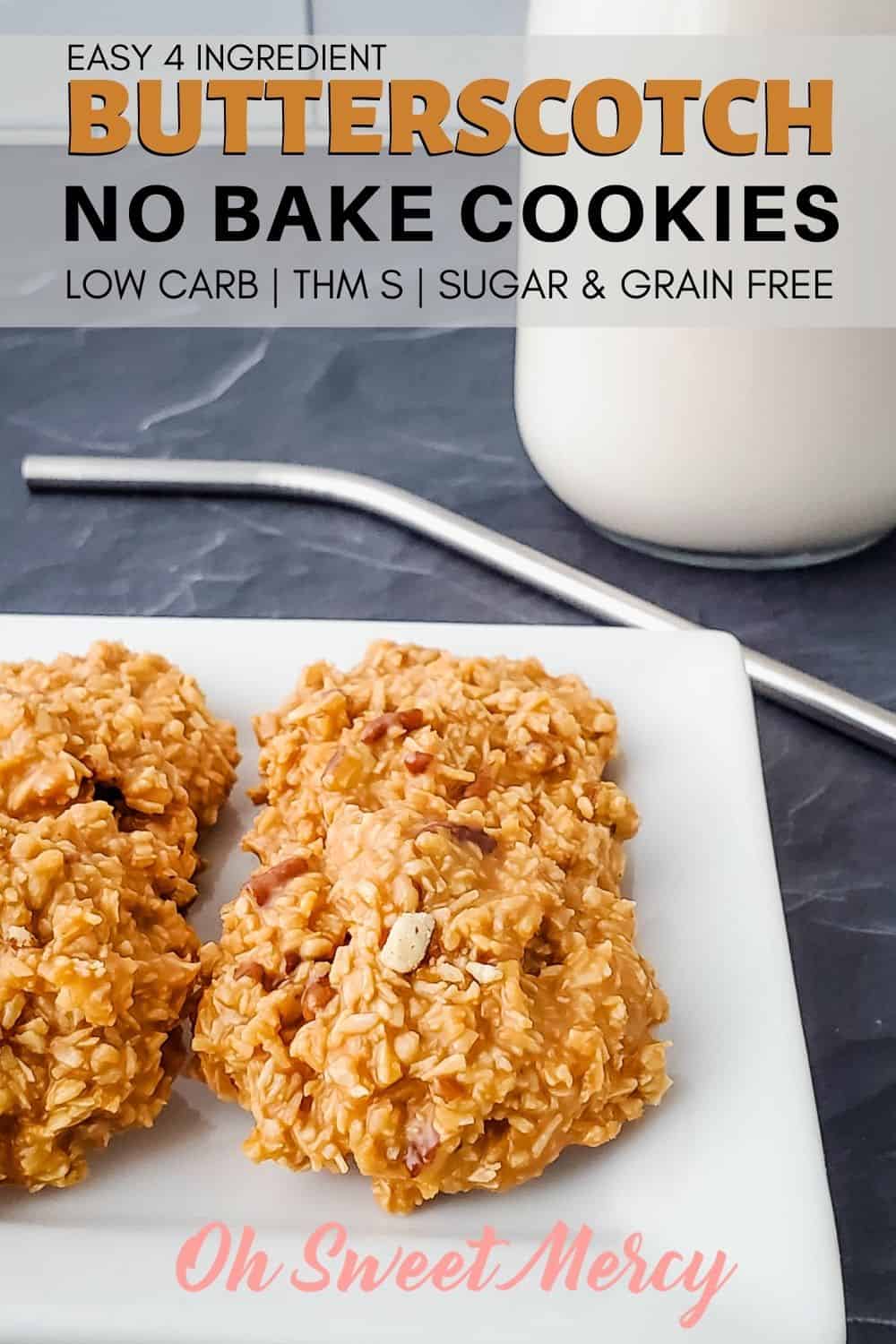 ---
A low carb twist on the classic no bake, this simple, 4 ingredient butterscotch no bake cookies recipe will be your go-to for quick and easy cookies! THMs, these are a delicious S treat and 100% grain free.
---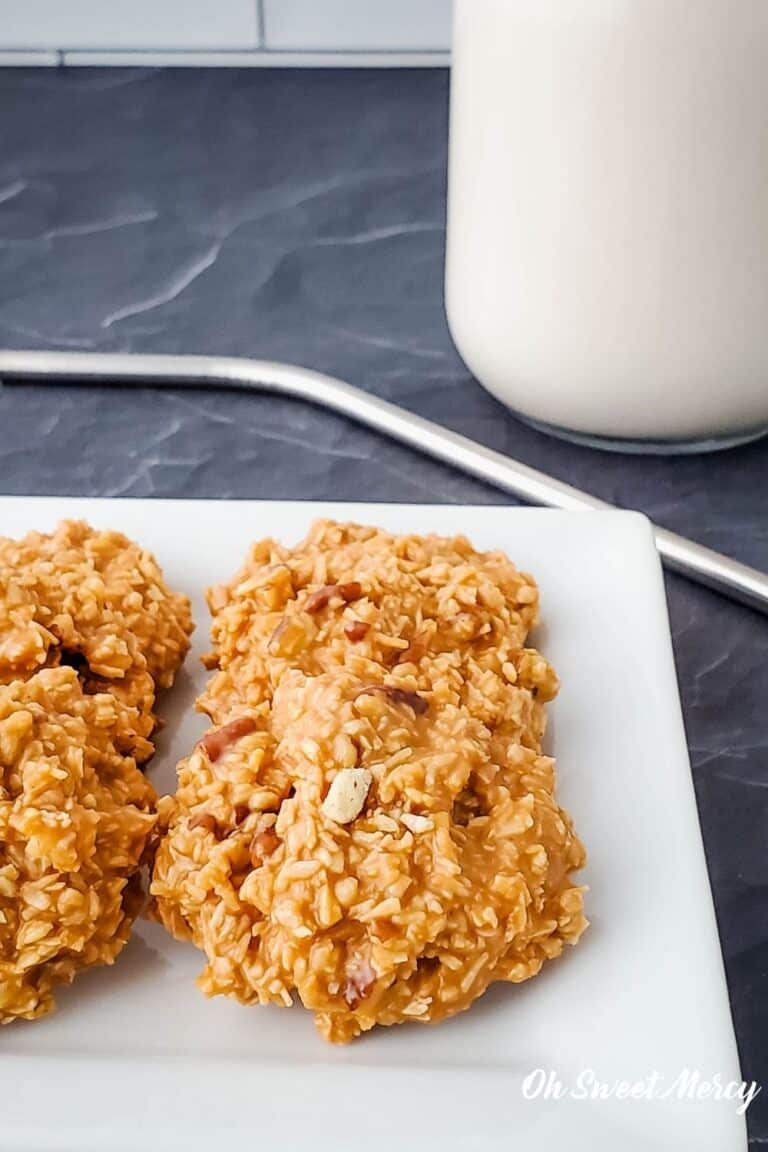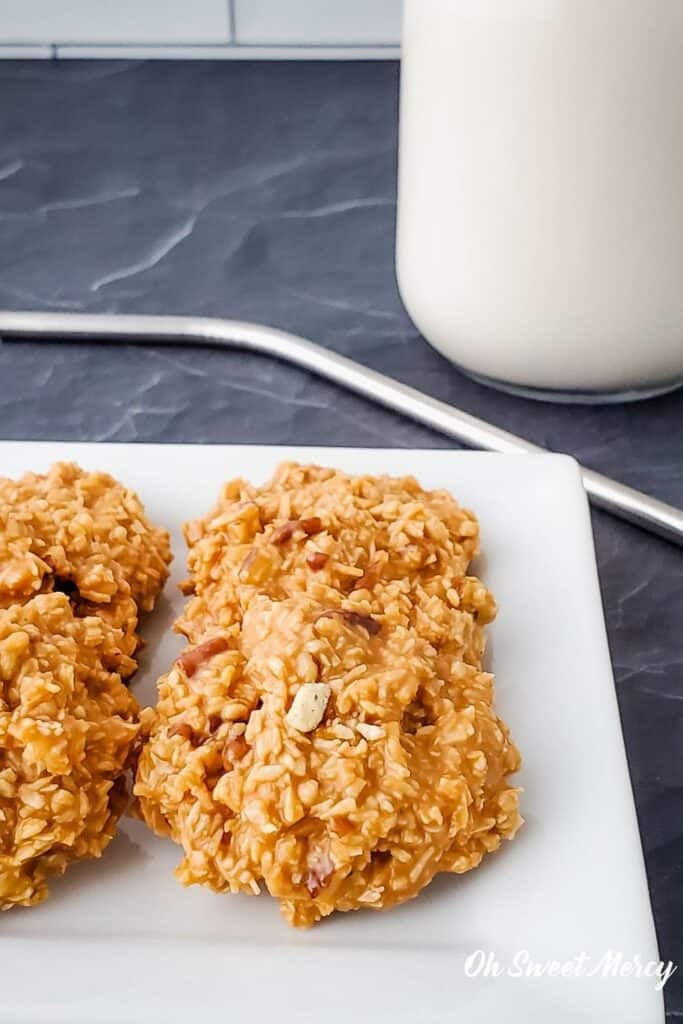 This has been a bit of a rough week. I'll not go into all the details (and I hear the hallelujas, lol) but let's just say quick and easy is the order of the day.
These super easy low carb butterscotch no bake cookies take less than half an hour to make. And if you have a "walk-out freezer" like I do right now, these puppies firm up in like 3 minutes.
Seriously! Of course, when it's hovering close to zero degrees it doesn't take long to chill things.
What Do I Need For This Recipe?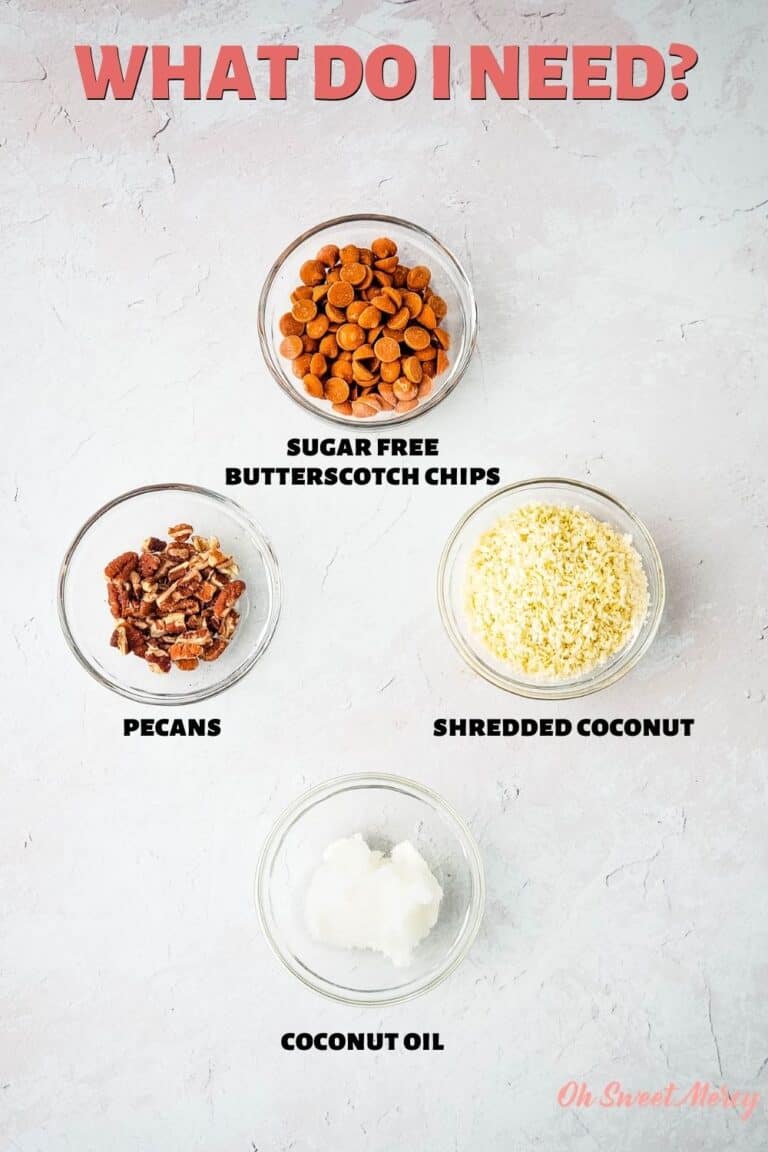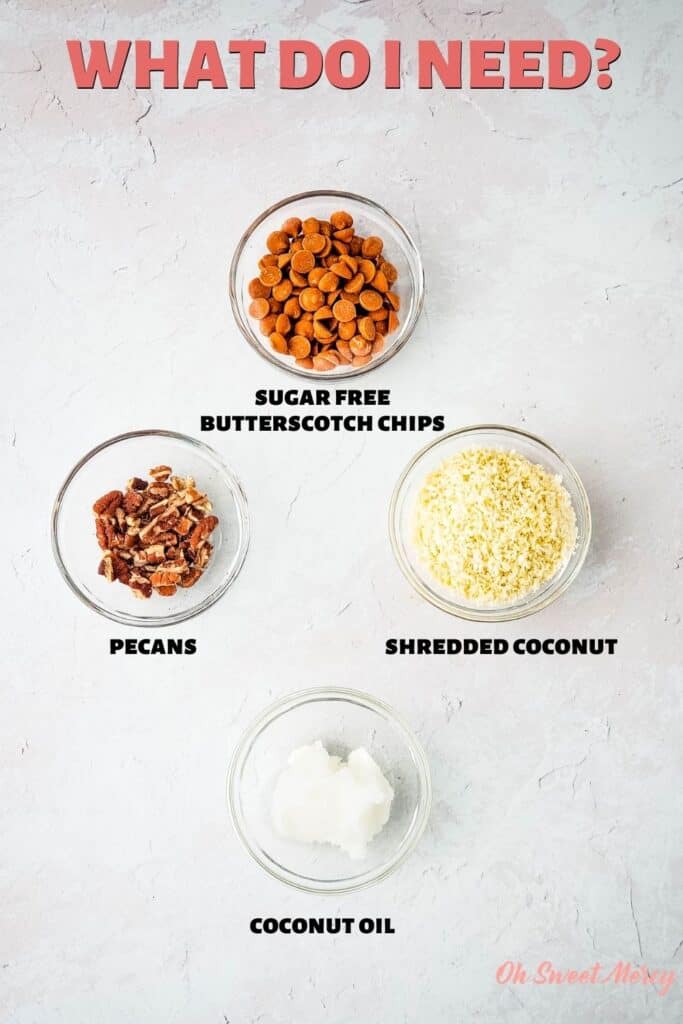 Quick and easy means very few ingredients and I've delivered on that:
Lily's butterscotch baking chips
Shredded coconut
Coconut oil
Pecans (or other favorite nut…or leave them out)
That's it!
Honestly, you could make these with any flavor of sugar free baking chips. So feel free to mix it up now and then!
How To Make Easy Butterscotch No Bake Cookies.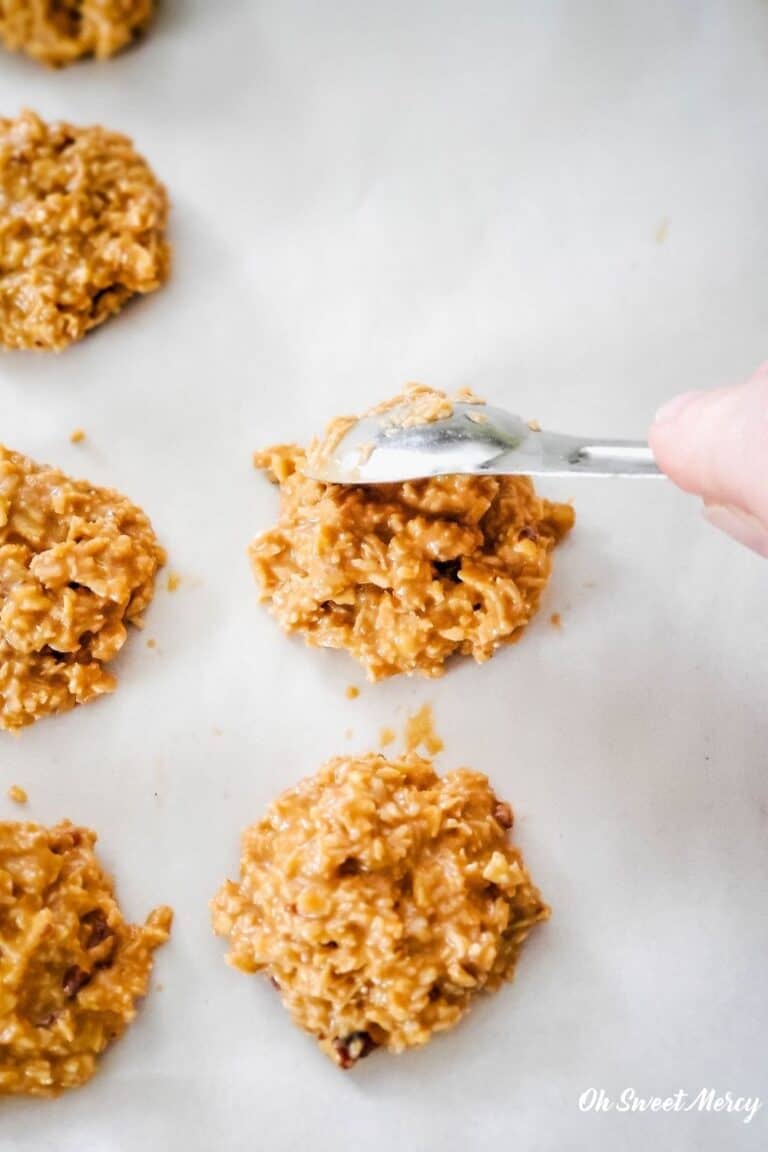 You'll need to melt your butterscotch baking chips. If you don't have a double boiler, don't panic. While they're great for melting baking chips, you can easily work around that.
If you'd like to buy one, this one is a complete set. Or, buy just the top part and use your own pan for the bottom.
I just use a heat resistant glass bowl I have, but really anything that sits above the water in the bottom pan will work fine. In the photo below I'm using a 2 quart sauce pan that once had a handle but now is more of a mixing bowl.
Microwaves are also useful, but be careful! It's easy to over do it. According to this article, cook on high for 15 seconds then remove to stir. Then continue in 5 to 10 second increments until melted.
Super Important Tip For Melting Baking Chips!
Whether chocolate or not, baking chips will "seize" if overheated. If you've ever had baking chips suddenly go from creamy and melty to grainy, that's what happened.
My best tips for avoiding this are:
Heat the water until it's steaming, but not boiling.
Stir continually while melting the baking chips and coconut oil. Remove the pan or bowl from the double boiler while there's still a few unmelted bits in it. The residual heat will help the rest melt completely.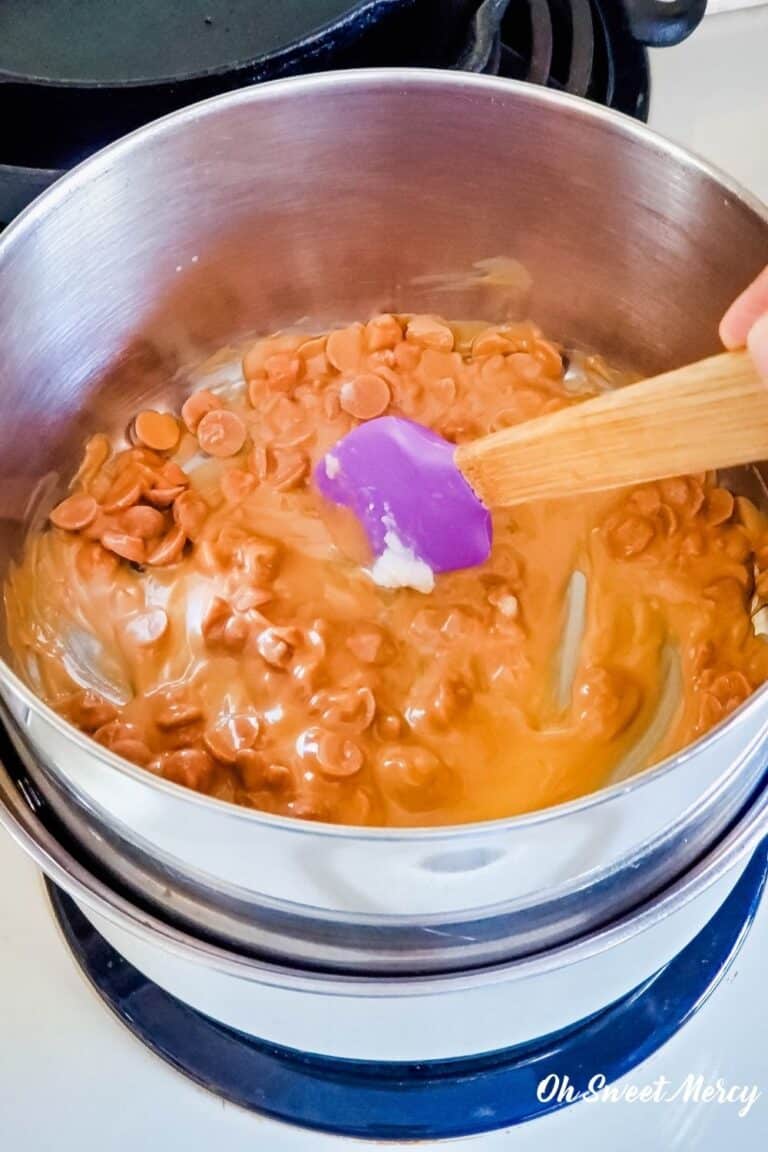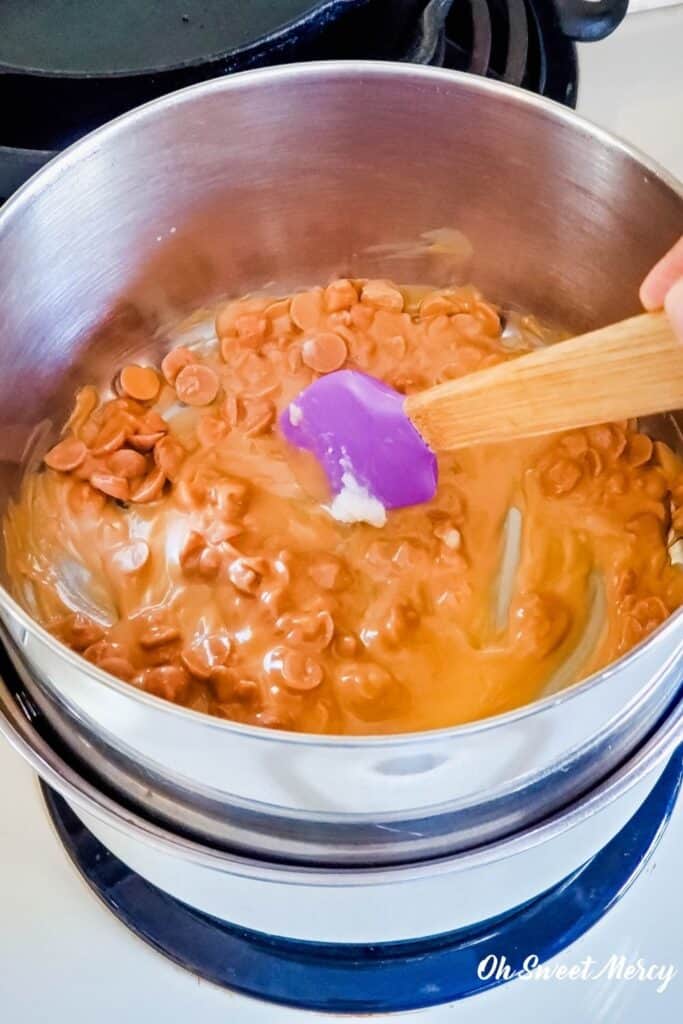 One Bowl Easy Peasy!
After your butterscotch chips are melted, just dump in the shredded coconut and nuts, if using. Stir well.
Then, using a teaspoon, put a heaping spoonful of the mixture onto a parchment-lined baking sheet and flatten a bit.
Once you've gotten all the cookies formed on the baking sheet, pop it in your freezer for 5 minutes or so. Or, put it in the fridge for 10 to 15 minutes or until they're firm.
If it's winter and you have a safe place to put them, leave them outside for a few minutes.
Pro tip…if you put your baking sheet on a deck chair covered in snow, be sure that the snow is not angled or the baking sheet will slide right off. #askmehowiknow 😉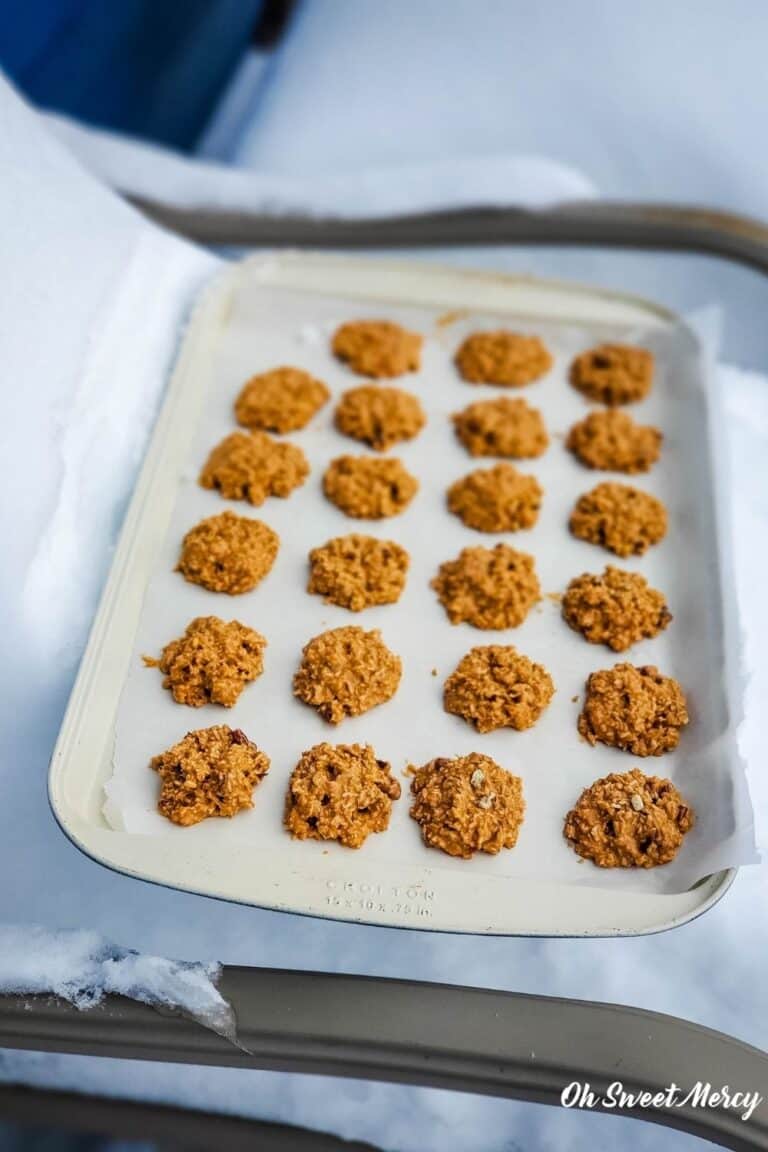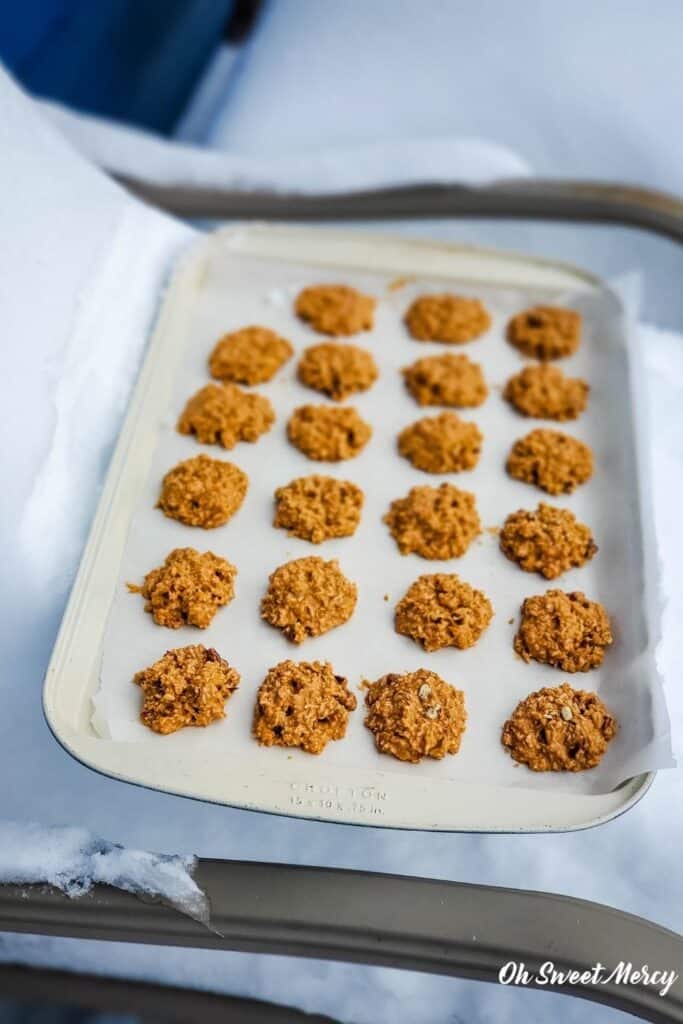 How To Store Low Carb No Bake Cookies.
Storing these easy THM treats in the fridge is fine, though they'll be pretty firm. As long as your kitchen isn't super warm they stay together fine at room temp and should keep for several days.
You can also freeze them!
However you choose to store them, just keep these cookies in an airtight container or zipper bag.
How To Include This Recipe In Your THM Meal Planning This Week.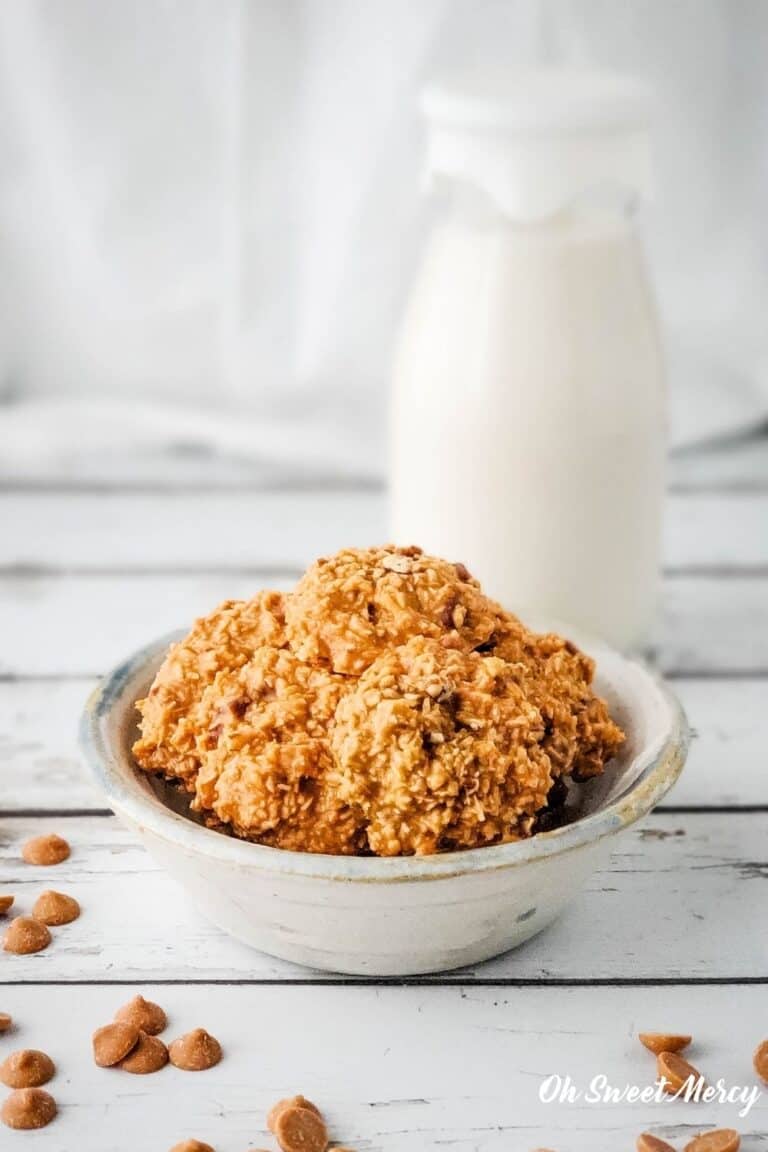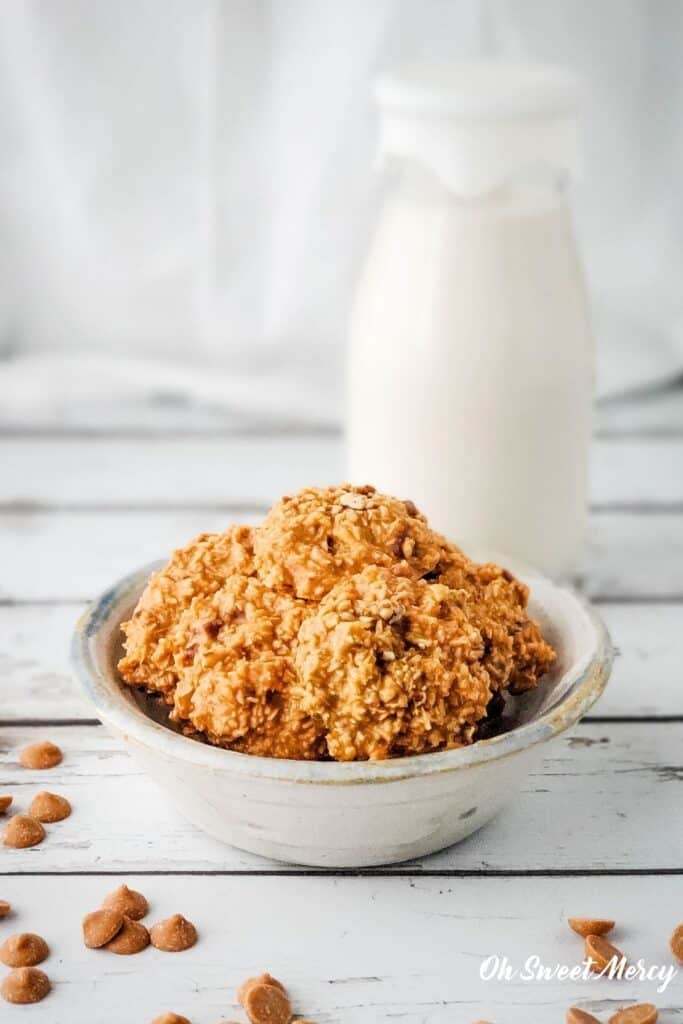 These are a THM S recipe, so that means they're low in carbs and higher in fats. Eating after an S or FP meal is fine. After an E meal, you'll have a Crossover, or XO.
Enjoy these cookies responsibly, they're treats! Each one has 10.5 grams of fat. They're pretty rich so one or 2 are plenty for me.
They're great for taking along to potlucks or family dinners to make sure you have an on-plan sweet treat for you.
Do keep in mind, especially for little ones, that sometimes these sugar free baking chips may cause some digestive upset if too many are consumed. They contain chicory root, which is problematic for some people.
A great way to keep your meals in balance, and still enjoy a rich treat like this, is to enjoy them after a Fuel Pull meal. This then makes your FP meal an S, but it also keeps you from going way too overboard with the fats.
Have them as a snack with a mug of your favorite hot drink. Tea, coffee, a Trimmy Light…all go well with these tasty little cookies.
They make perfect little treats when that urge for sweets hits.
Want more sweet treat ideas using sugar free baking chips? Try these:
Chocolate Covered Cheesecake Bites
No Bake Chocolate Chip Cheesecake with Peanut Butter Crust
Special Occasion Chocolate Chip Parfaits
Caramel White Chocolate Macadamia Nut Blondies
PIN IT!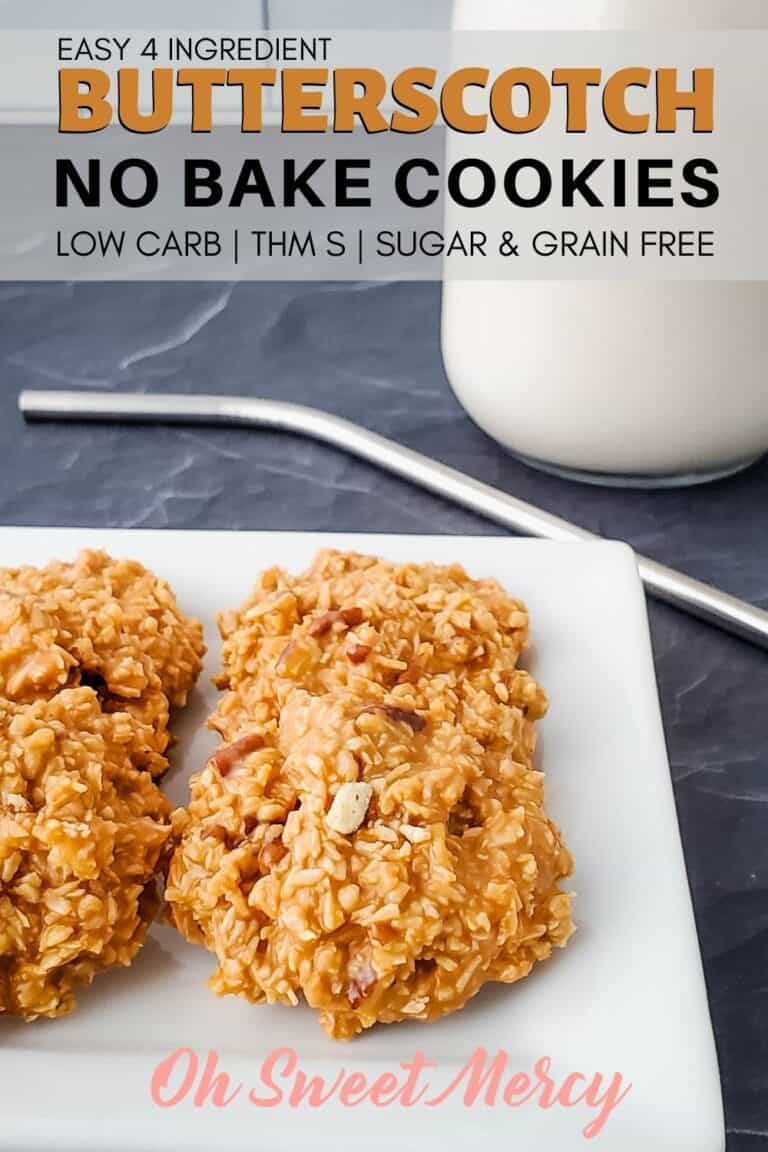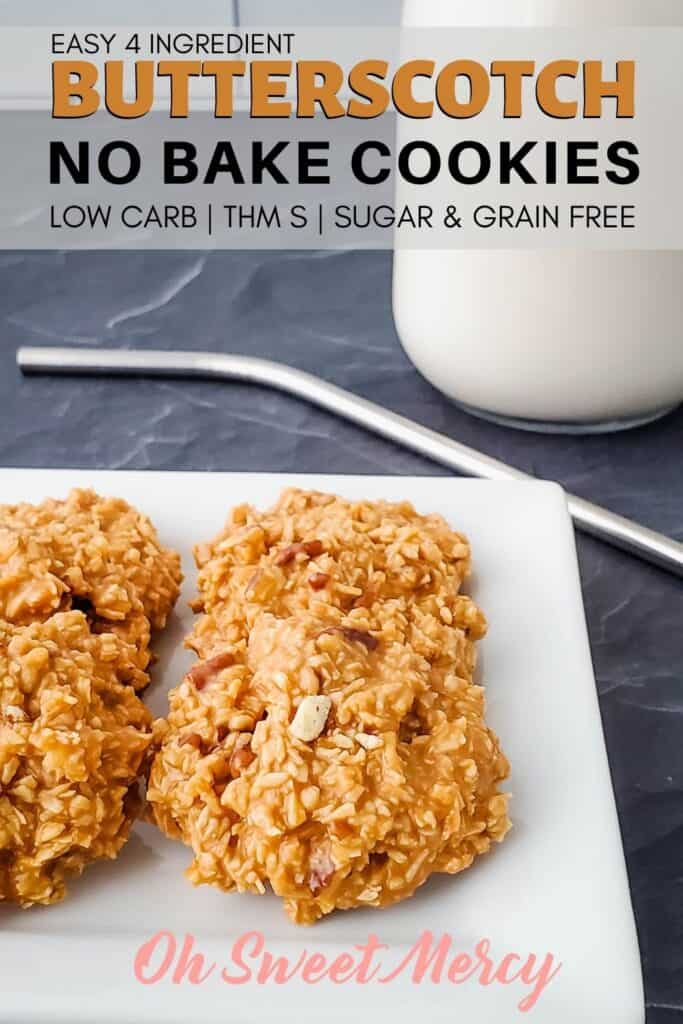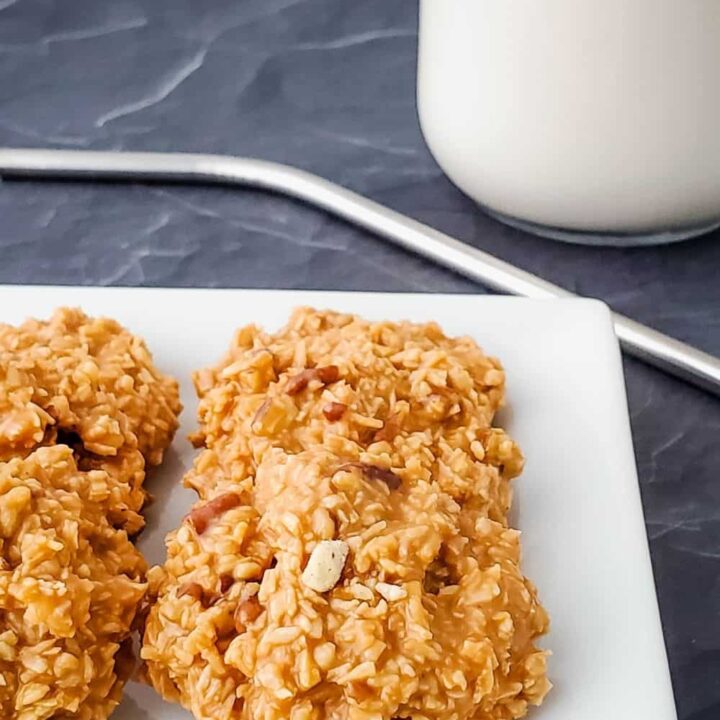 Easy Butterscotch No Bake Cookies | THM S, Low Carb, Sugar & Grain Free
Yield: 14
Prep Time: 20 minutes
Chill Time: 5 minutes
Total Time: 25 minutes
Quick and easy, these butterscotch no bake cookies are low carb, sugar, and grain free! Perfect treats for the Trim Healthy Mama or anyone watching their sugar intake.
Ingredients
7 oz Lily's Butterscotch Baking Chips
2 teaspoons coconut oil (refined or virgin)
1 1/3 cup finely shredded coconut
2 tablespoon chopped pecans
Instructions
Prepare a baking sheet with a sheet of parchment paper.
In a double boiler (or sauce pan with steaming water and a heat-safe bowl placed on top) melt together the butterscotch chips and coconut oil. Stir constantly and remove from the steaming water when most of the chips are melted.
Stir in the shredded coconut and chopped pecans and mix well.
Using a teaspoon, scoop out a slightly rounded spoonful onto the prepared baking sheet. Flatten and shape into a cookie as needed.
Put in the freezer for about 5 minutes, or refrigerator for 10 minutes, or until they're hardened.
Store in an airtight container or zipper bag, at room temp (unless kitchen is warm), or in the refrigerator or freezer.
Recommended Products
As an Amazon Associate and member of other affiliate programs, I earn from qualifying purchases.
Nutrition Information:
Yield: 14
Serving Size: 1
Amount Per Serving:
Calories: 115
Total Fat: 10.5g
Saturated Fat: 3g
Trans Fat: 0g
Unsaturated Fat: 1g
Cholesterol: 0mg
Sodium: 12.6mg
Carbohydrates: 8.2g
Net Carbohydrates: 4.1g
Fiber: 4.1g
Sugar: o.6g
Protein: .6g
Nutrition information is approximate and based on the best knowledge available at the time of recipe publication. Your results may vary due to differences in ingredients. You can make your own calculations if this recipe does not include nutrition info by using an online calculator such as https://recipes.sparkpeople.com/recipe-calculator.asp