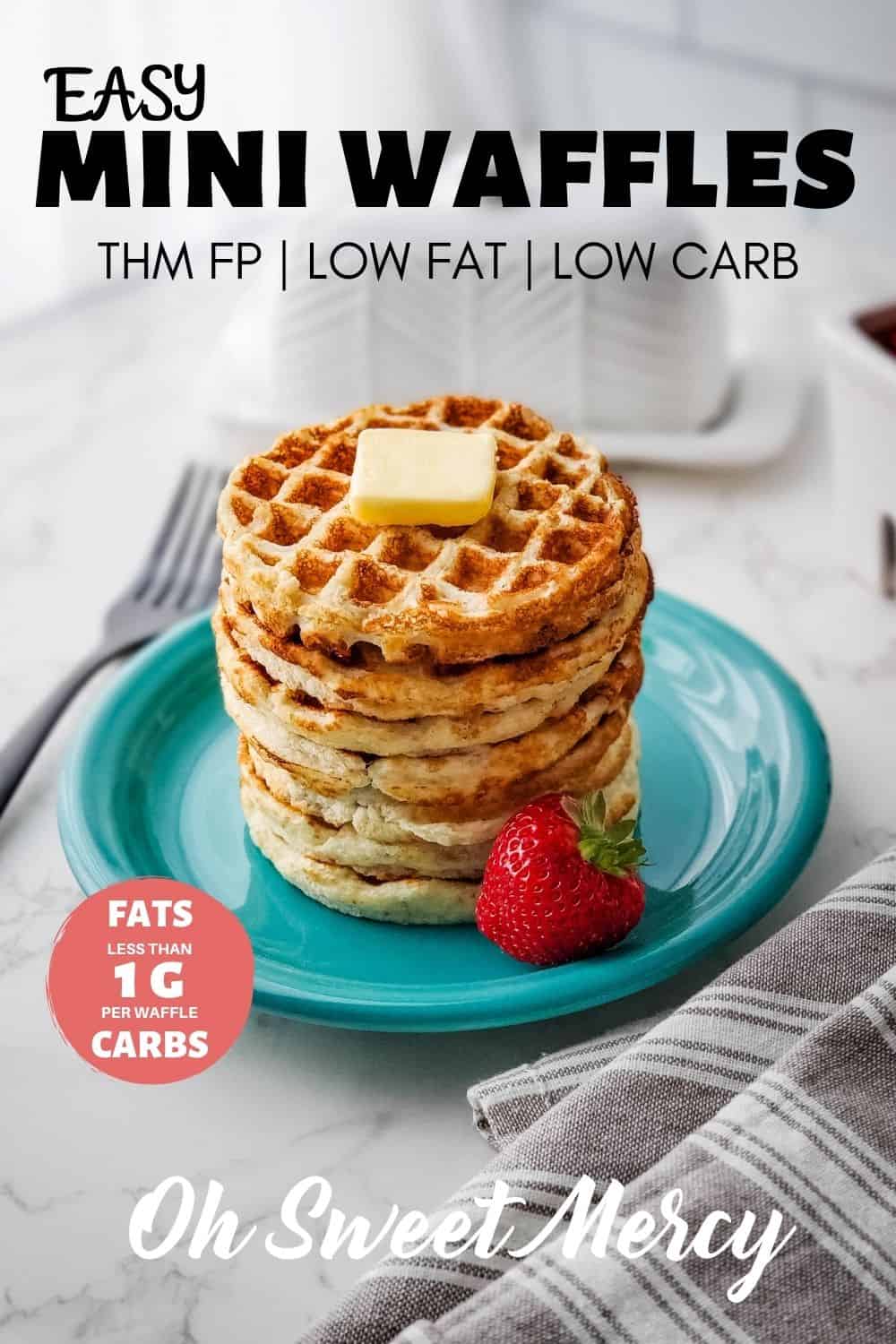 ---
Do you miss waffles? These easy mini waffles will satisfy that craving! Even though they're low in both fats and carbs they still deliver that great waffle taste and texture. Trim Healthy Mamas, these Fuel Pull waffles are a great way to lighten up breakfasts and snacks.
---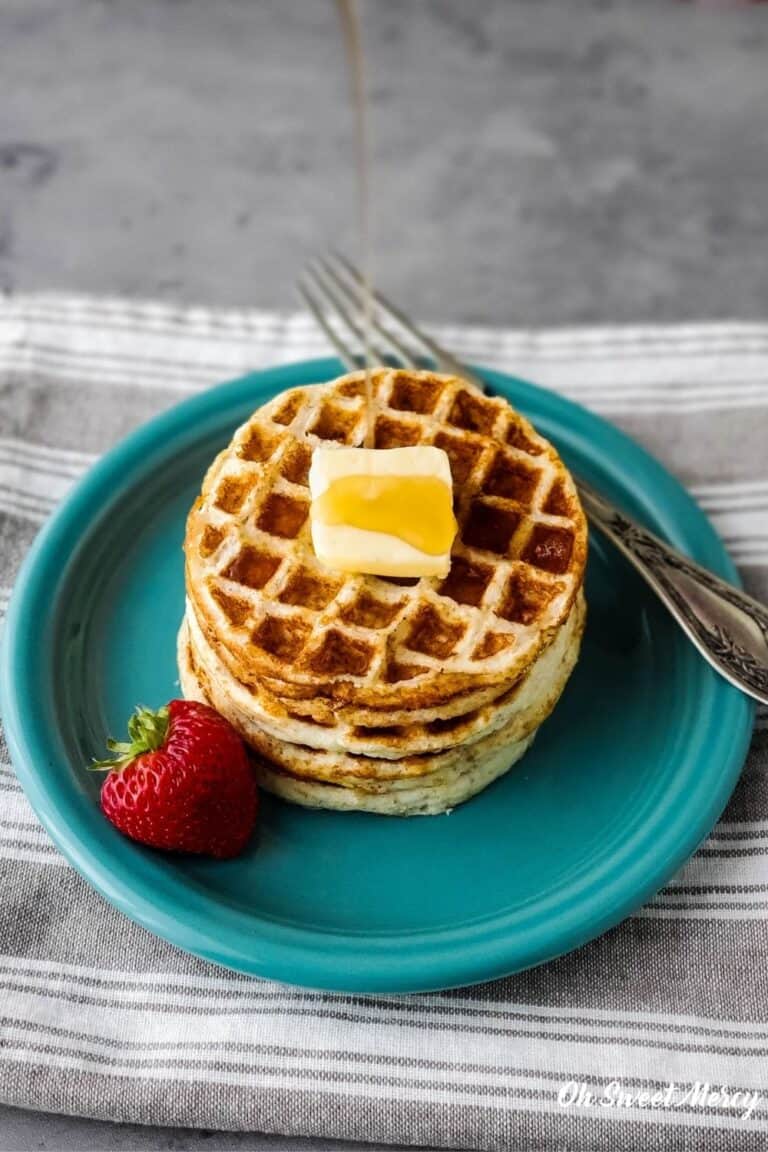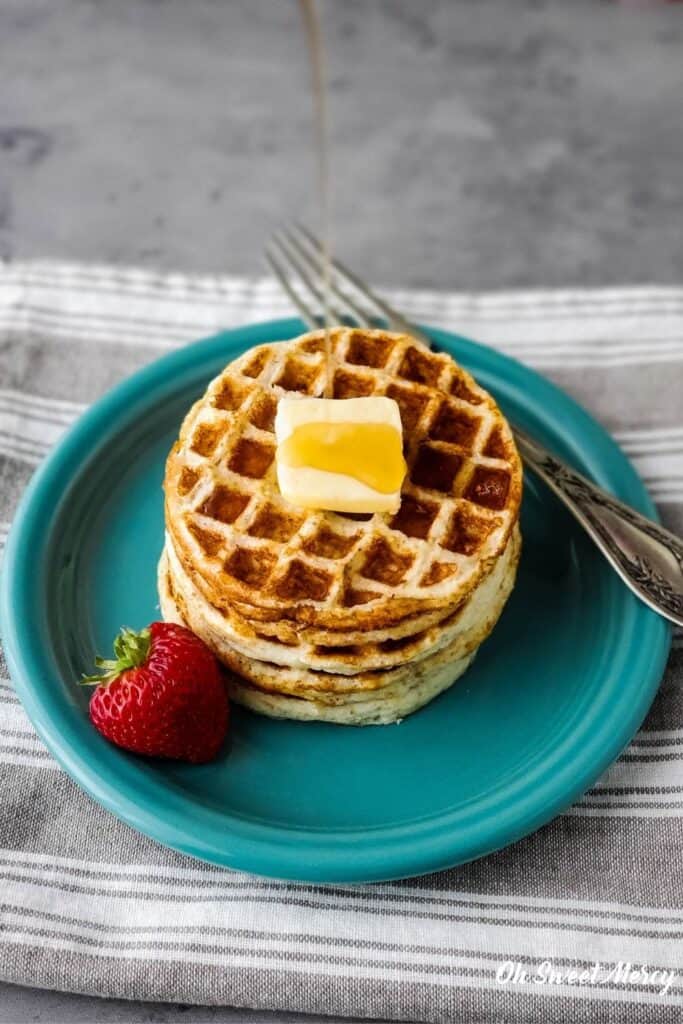 I'm a little late to the Dash mini waffle maker party, I'll admit. But when I saw this one at TJ Maxx recently I was suddenly overcome by how much I need a cute li'l waffle maker in my life.
Or maybe the store uses some kind of ultrasonic subliminal messaging.
Either way, I now have one of these wonderful little waffle makers. So, of course I need a waffle recipe on the blog!
My kiddos were very happy to see me churning out the waffles on this thing. The first few batches though…well, let's just say the chickens enjoyed them very much.
It took a bit of trial and error but I finally got the recipe dialed in to create a waffle that:
Is a low fat, low carb THM FP (Fuel Pull)
Is crispy outside, soft inside
Tastes like waffles
Smells like real waffles cooking
Reheats well in the toaster
In short, it ticks all the boxes for the kids and I!
What Do I need To Make These Easy Mini Waffles?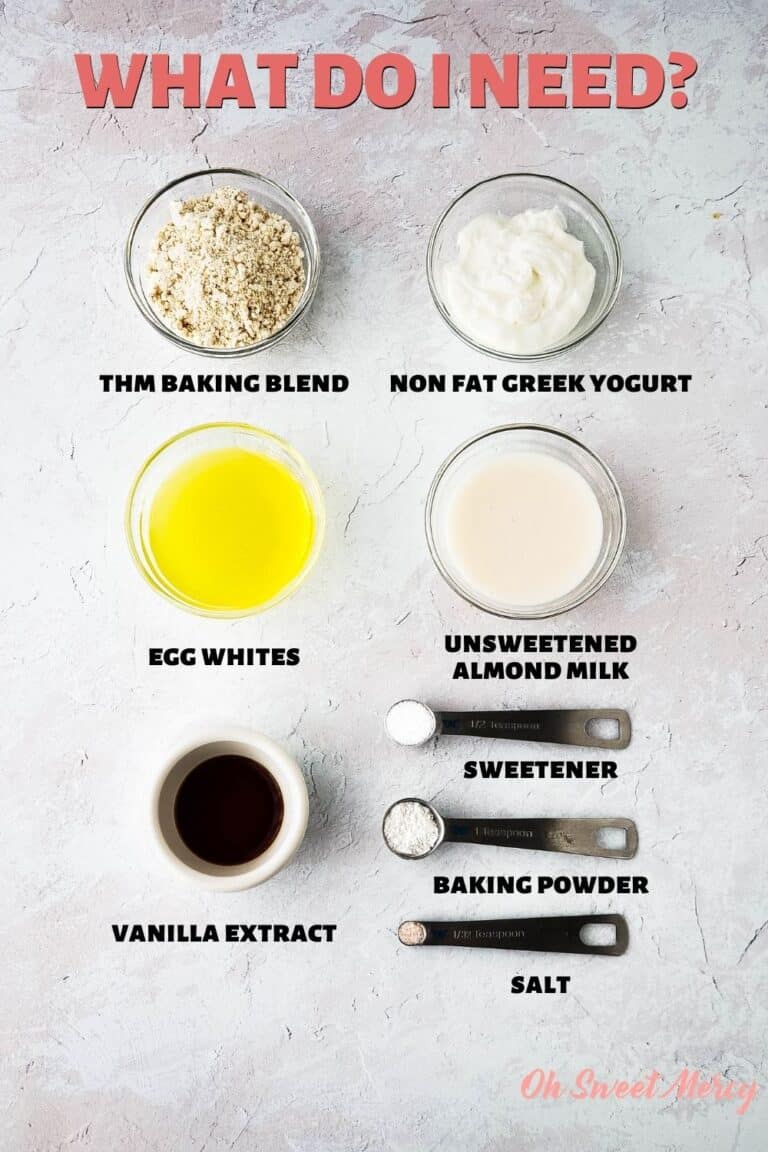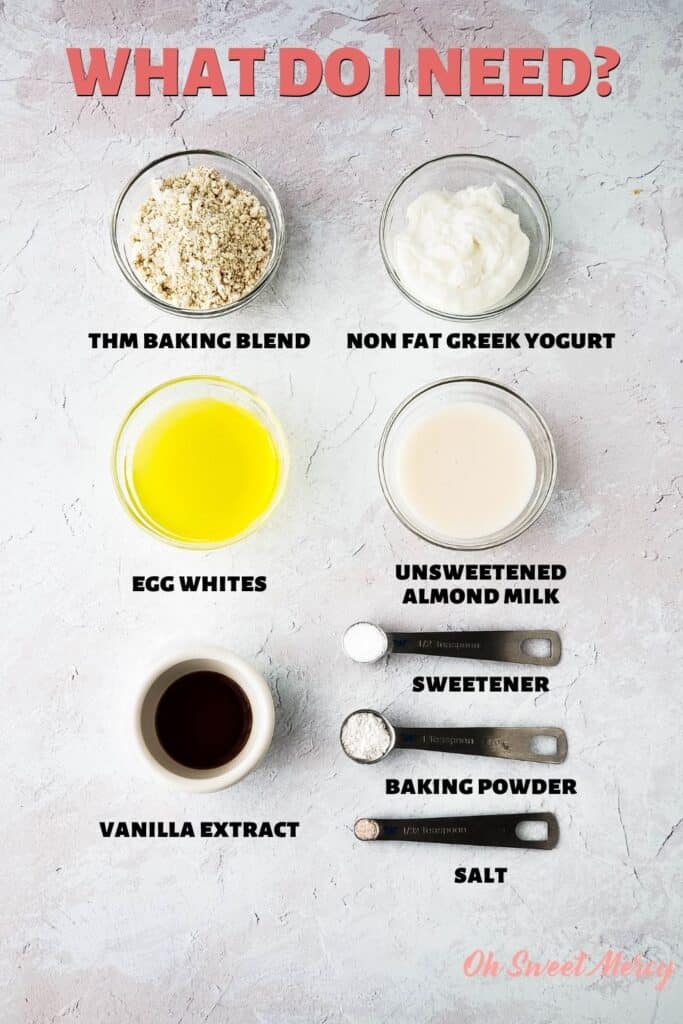 I used THM Baking Blend for this recipe. If you use a DIY baking blend recipe (such as Briana's Baking Mix, Low Carb Baker's Blend, or TJs Basic Baking Mix, you may need to alter how much liquid you use. Be sure to read the notes in the author's recipe to see how it compares to THM Baking Blend. If it's a 1:1 substitution it should work fine in this recipe.
The Frugal Flour mentioned on page 40 of Trim Healthy Table is not a FP and would make these waffles an S, but I can't say how it would perform in this recipe.
Other than that, you just need a few simple, wholesome ingredients:
THM Baking Blend
Sweetener
Baking powder
Mineral salt
Egg Whites
Nonfat Greek yogurt or Skyr (I prefer Skyr so that's what I usually have on hand)
Vanilla extract
That's it! Super simple!
Why Make Low Fat, Low Carb Mini Waffles?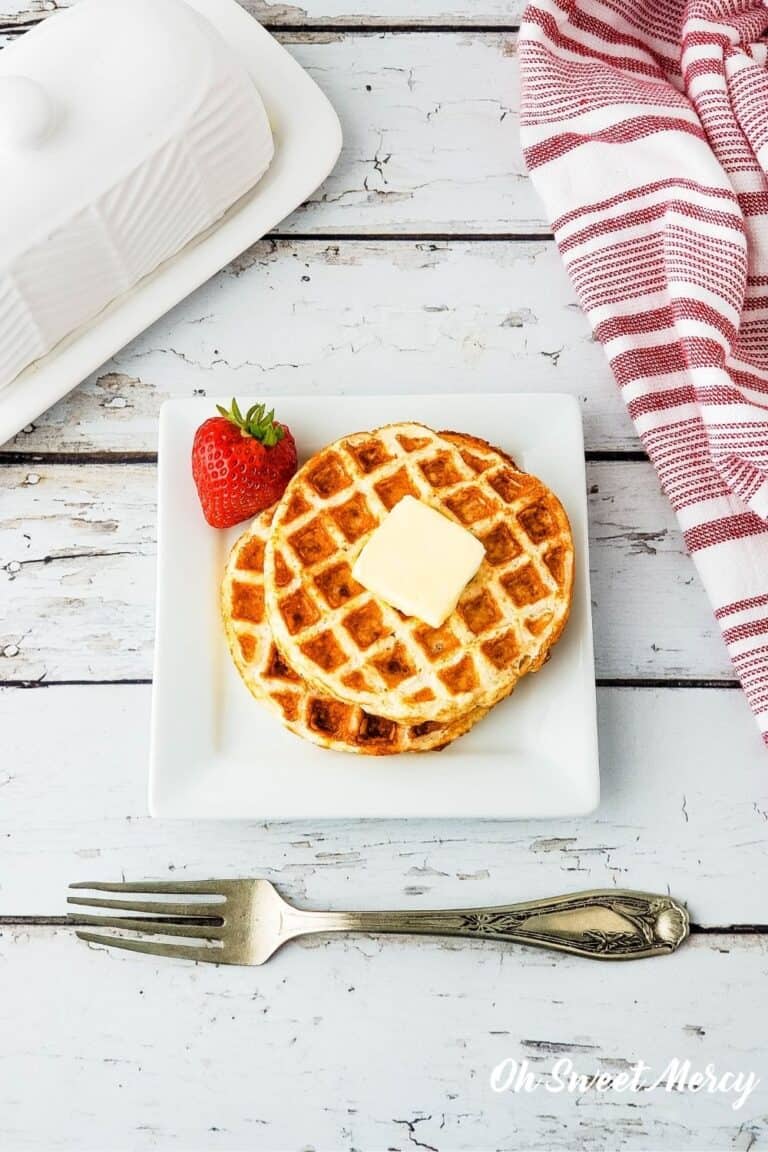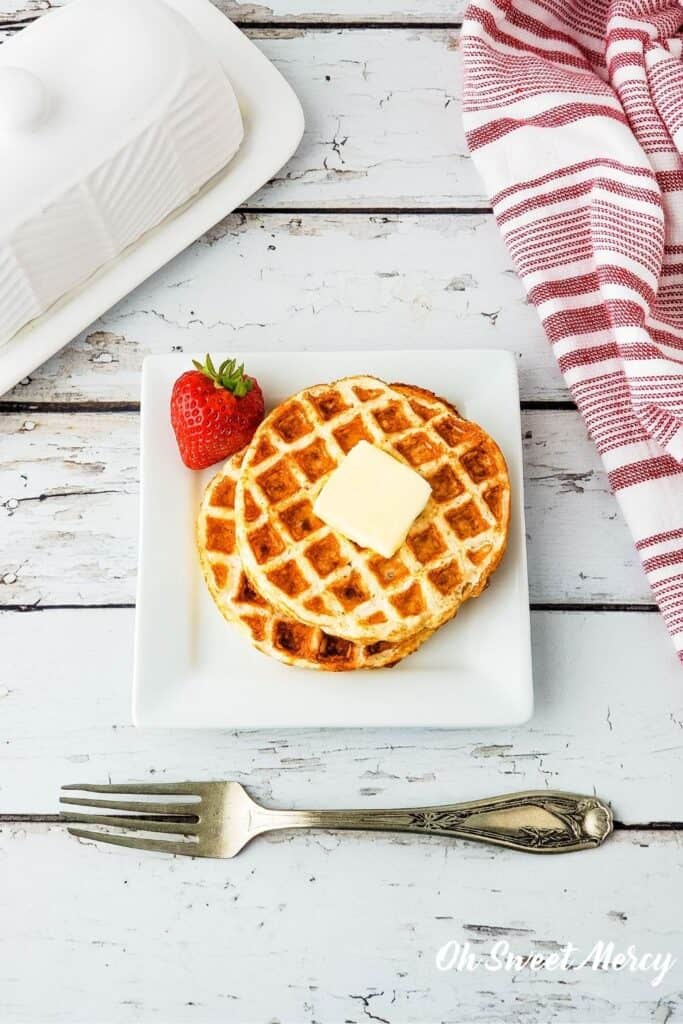 If your interest shuts off after reading low fat and low carb, can I ask you to hang on a moment and consider the benefits of such a thing?
If you're a Trim Healthy Mama plan follower, you know that balance is a key component of the plan.
Yes, we love and fully embrace the healthy fats! Want some delectable keto recipe? Go ahead and enjoy it!
But, we also balance out our eating with lower fat options, such as THM E meals (which have healthy carbs) and THM FP meals.
Fuel Pull foods are extremely versatile. Most generally work with all the fuel types.
Whether you're eating an actual Fuel Pull meal or just including these tasty mini waffles in your S meal, they're a great way to lighten things up a bit.
I love them for both an S and FP. For an S, I can be liberal with the butter, which is part of what makes waffles so yummy. But, I'm not going crazy overboard with the fat like with Chaffles or other keto waffle recipes.
For a FP, I top with fat free, stevia-sweetened Skyr (or Greek yogurt) and my easy Sugar Free Strawberry Sauce. So delicious!
Tips For Making My Easy Mini Waffles.
This recipe was specifically developed for using the Dash Mini Waffle Maker. I've not tried any other mini waffle makers.

I've also not tried using my regular waffle maker. If I had to guess, I'd say it would make one, possibly 2 batches of 4 square waffles (the type of regular waffle maker I have).

I'll be testing that in the future, but for now I can't answer any questions about using this recipe on a regular waffle iron. If you give it a try, please let me know how it goes!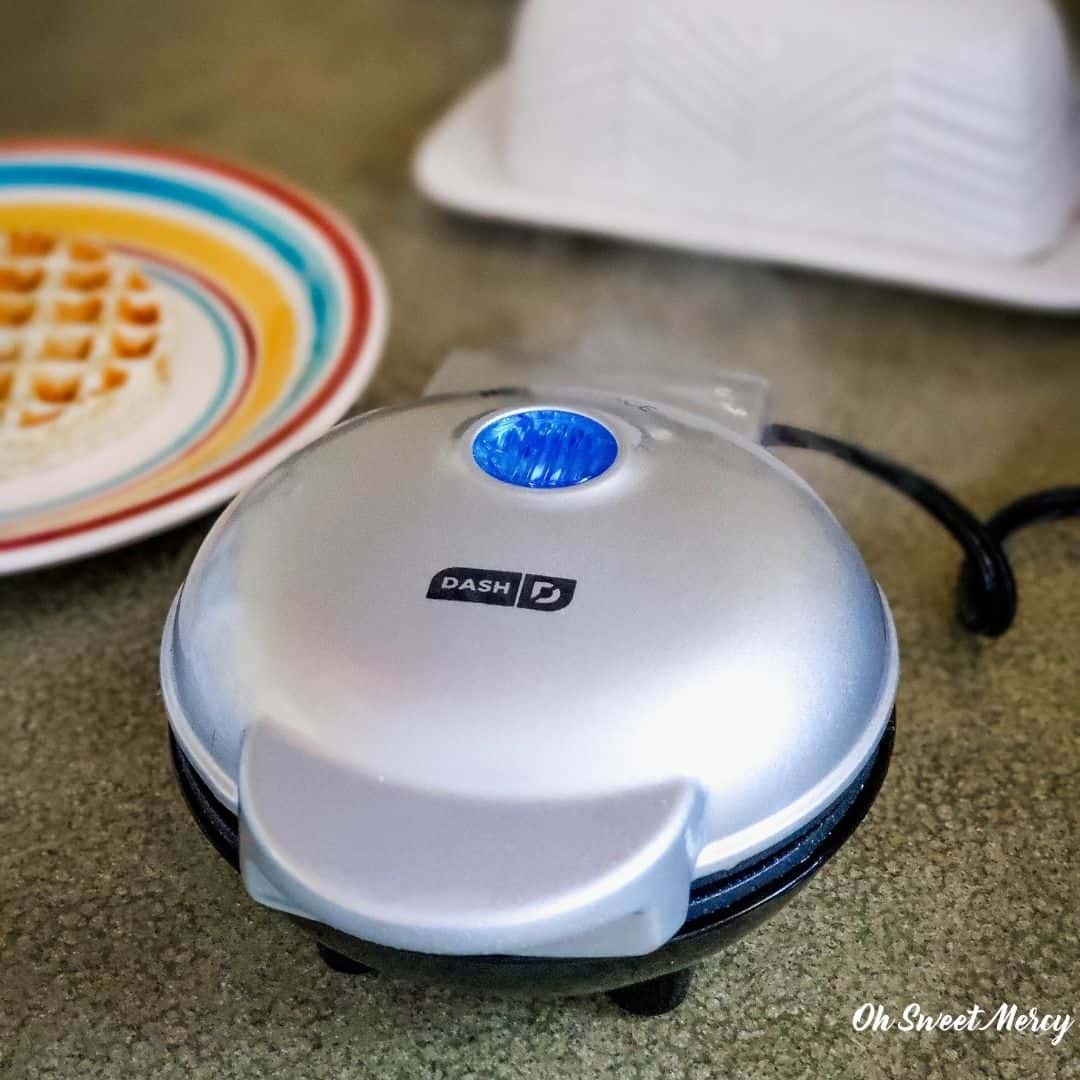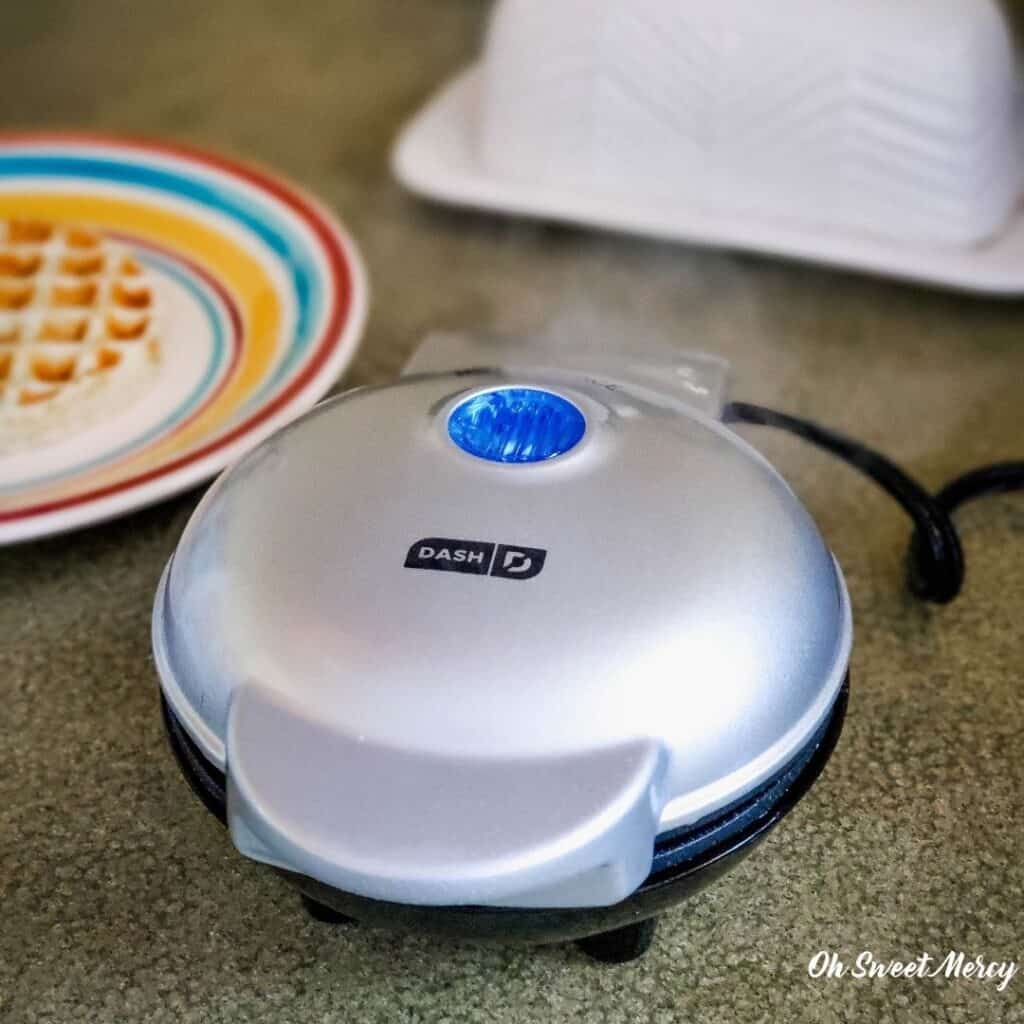 Spray Your Waffle Maker With Healthy Cooking Spray Before Making Your Waffles – Every Time.
The instructions say to do this, and I highly recommend it. I forgot one time and the waffle stuck a bit. It wasn't terrible and the whole waffle came out intact, but I wouldn't chance it!
The Batter Will Expand So Don't Add Too Much!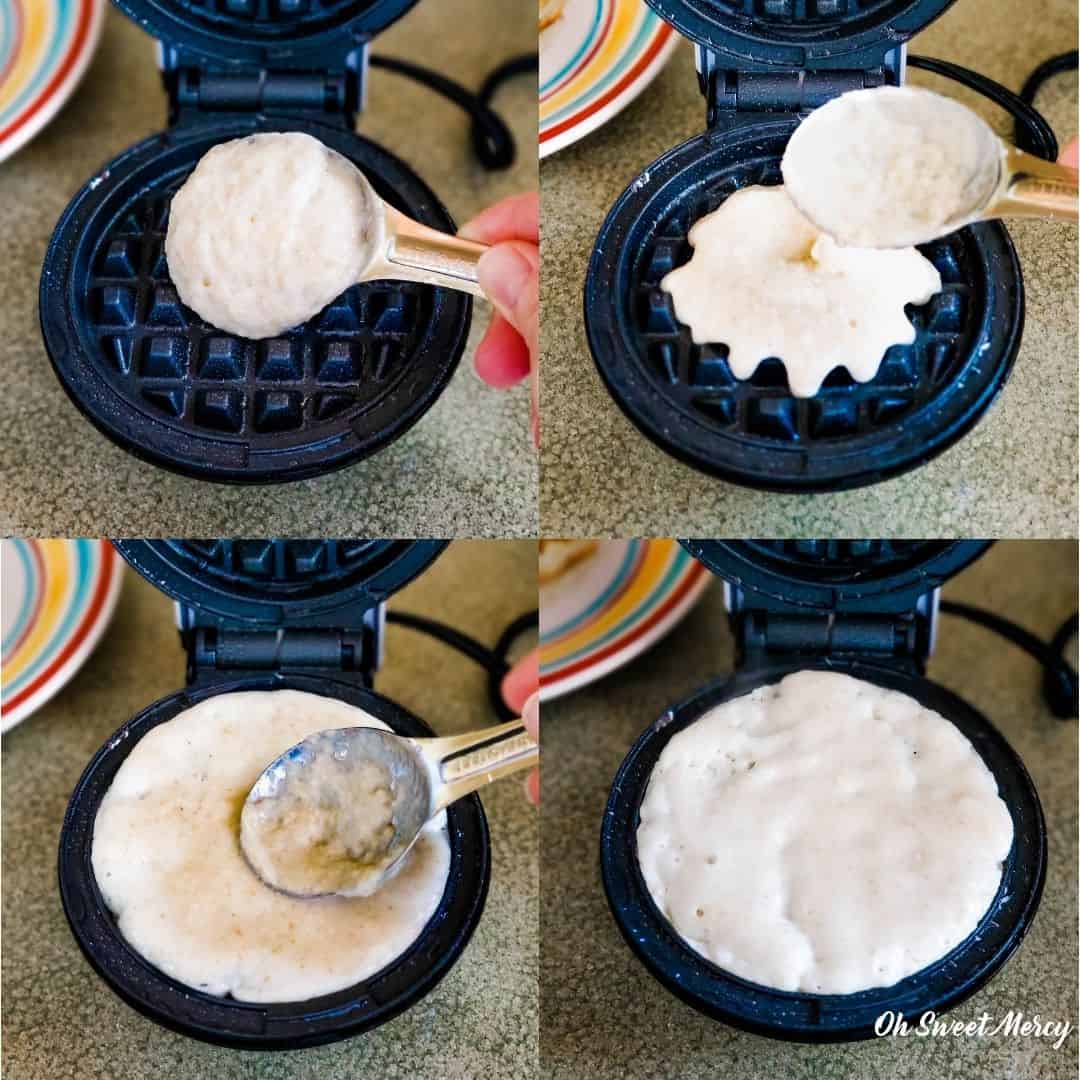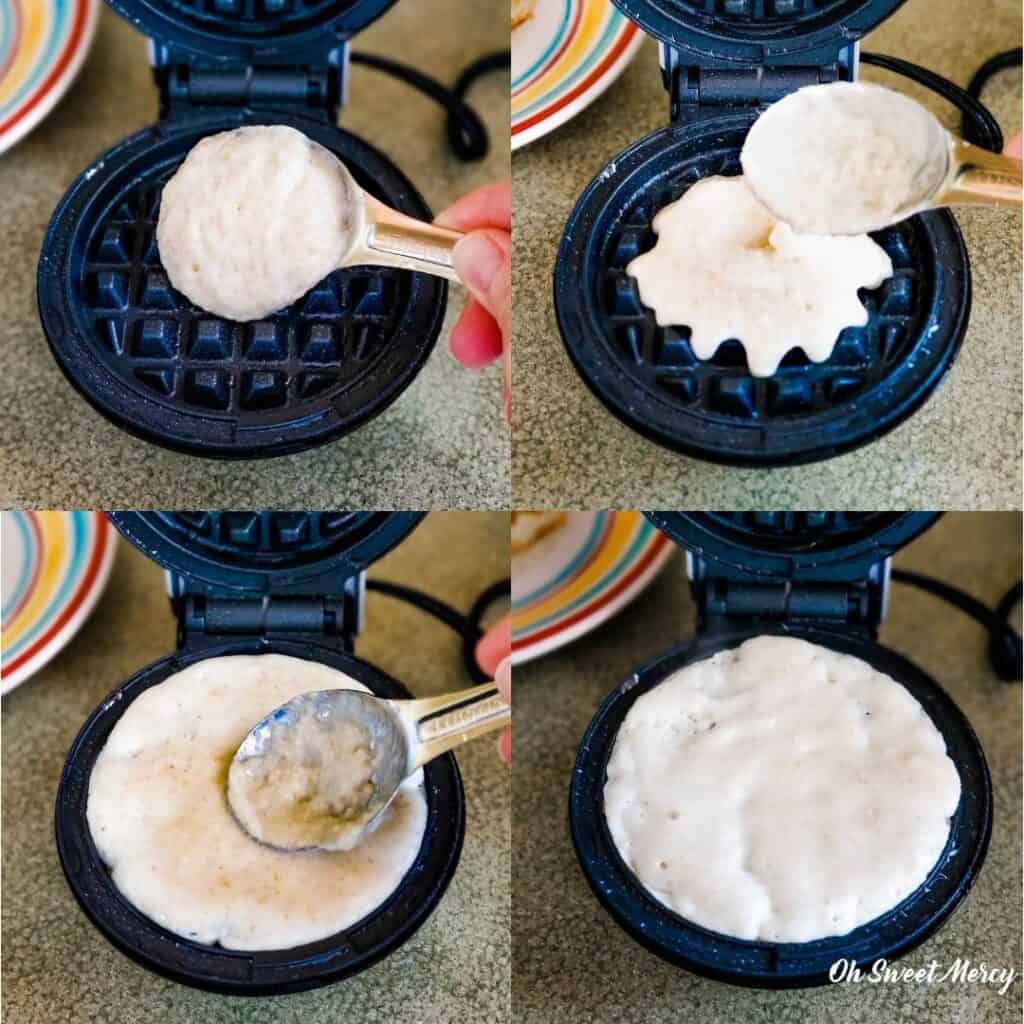 Several times, while testing this recipe, I thought "that's not enough batter" and I added just a bit more, maybe a teaspoon or so.
Next thing I knew, batter was oozing out all over.
The batter thickens a bit as it sits, so just scoop up a slightly heaped tablespoon and pour it onto your hot, sprayed waffle maker. Don't thin the batter down or your waffles will end up flat.
Carefully spread it around evenly. Before you get done spreading you'll see it has expanded quite a bit. Close the lid, of course, and let it cook.
Let The Waffle Cook A Bit Longer After The Light Goes Off.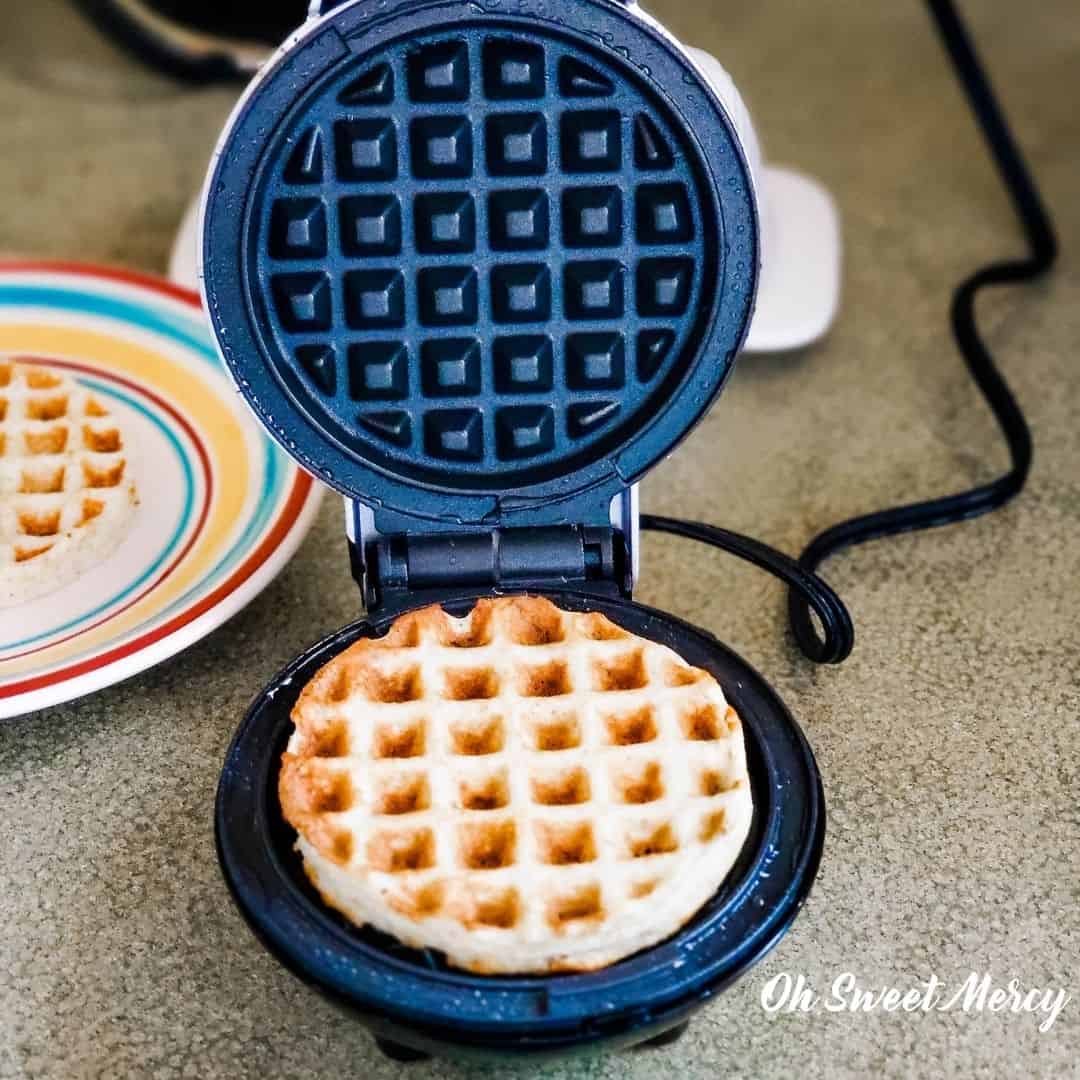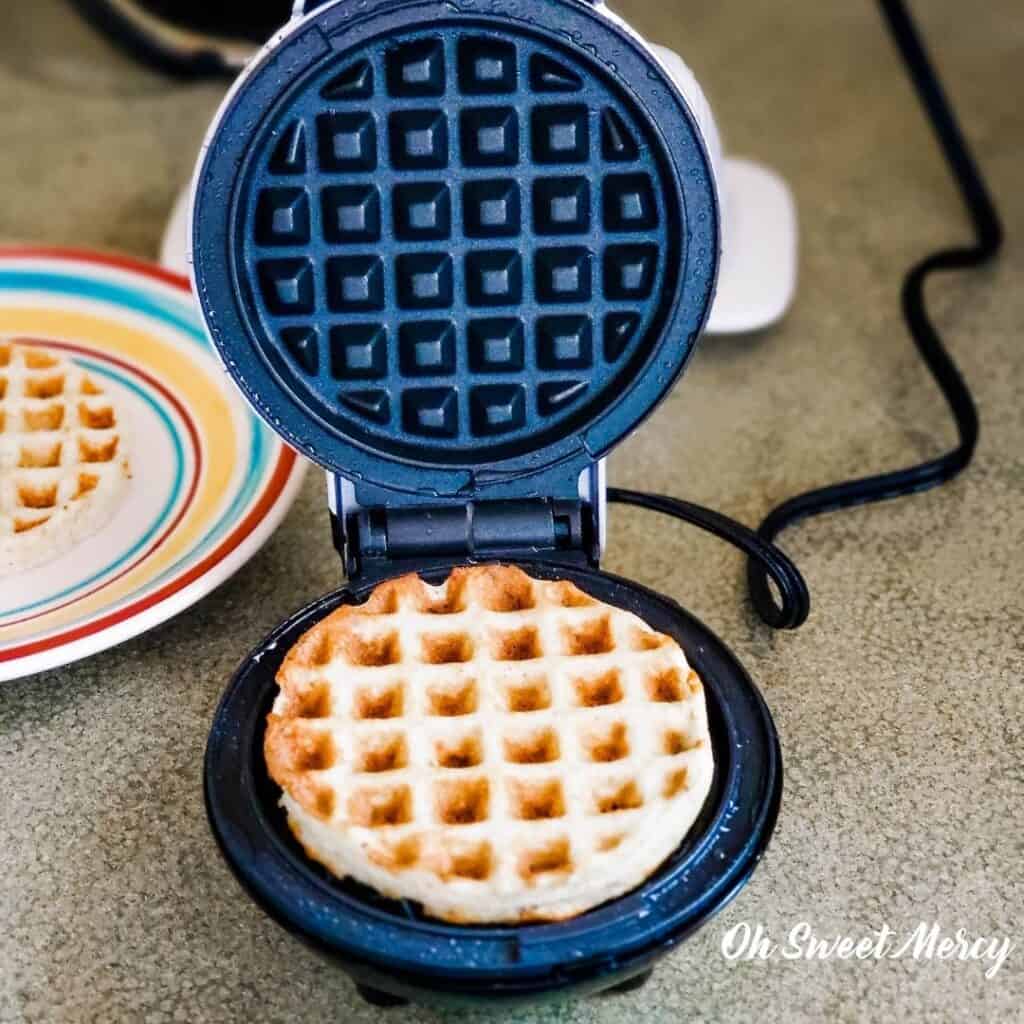 There's a little light on the top of the Dash. I personally find it hard to tell much difference between when the light's on and off, but it will make a clicking sound when the light goes off.
I let it cook a bit beyond that. Someone in one of the THM groups mentioned they go by when there's not much steam coming out of the waffle maker. I've found that to be great advice!
Following these tips should result in perfect mini waffles!
Can You Freeze Them?
Yes, they're great for the freezer.
To avoid sogginess, put your cooked waffles on a cooling rack to cool completely before freezing.
Then, lay on a baking sheet and freeze for an hour or until frozen. Then store in a zipper freezer bag.
How To Reheat Them.
Just pop them in the toaster! We found that 2 waffles fit in one slot, so heating up 4 waffles at a time is super easy.
I don't have a microwave but I assume you could nuke them. Or, warm them on a skillet on the stove. They heat up quickly!
How To Fit This Recipe Into Your THM Meal Plan This Week.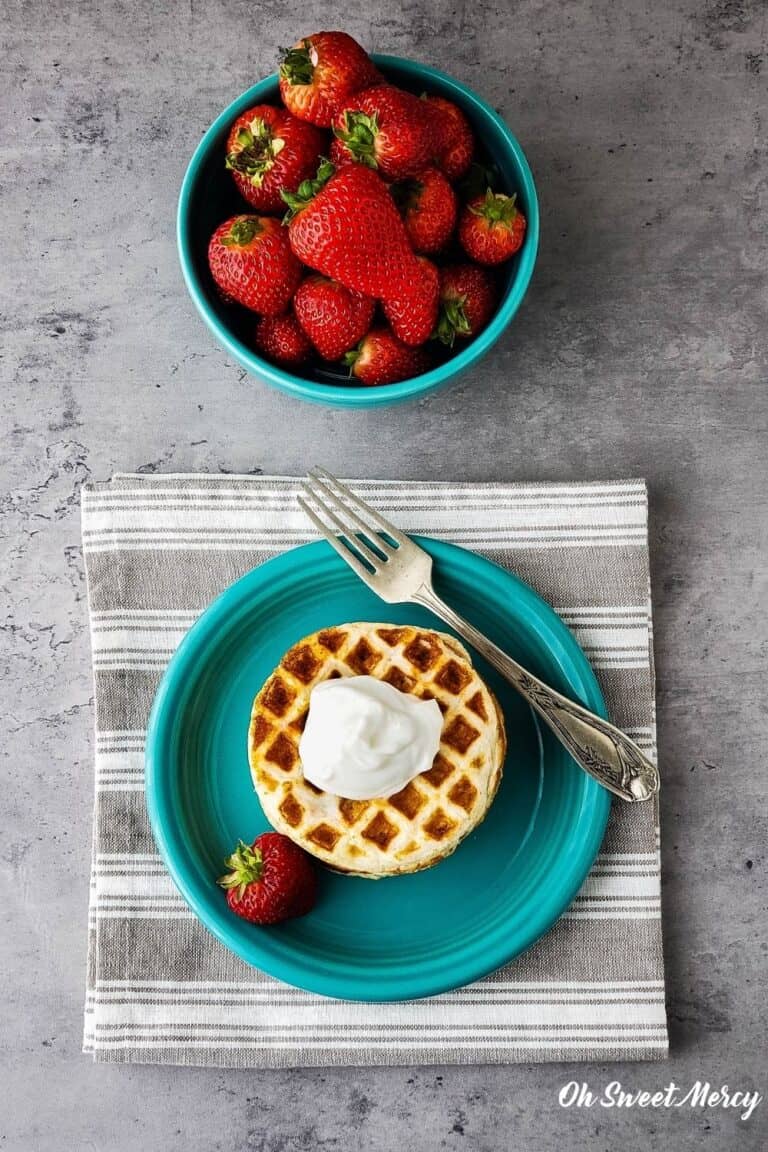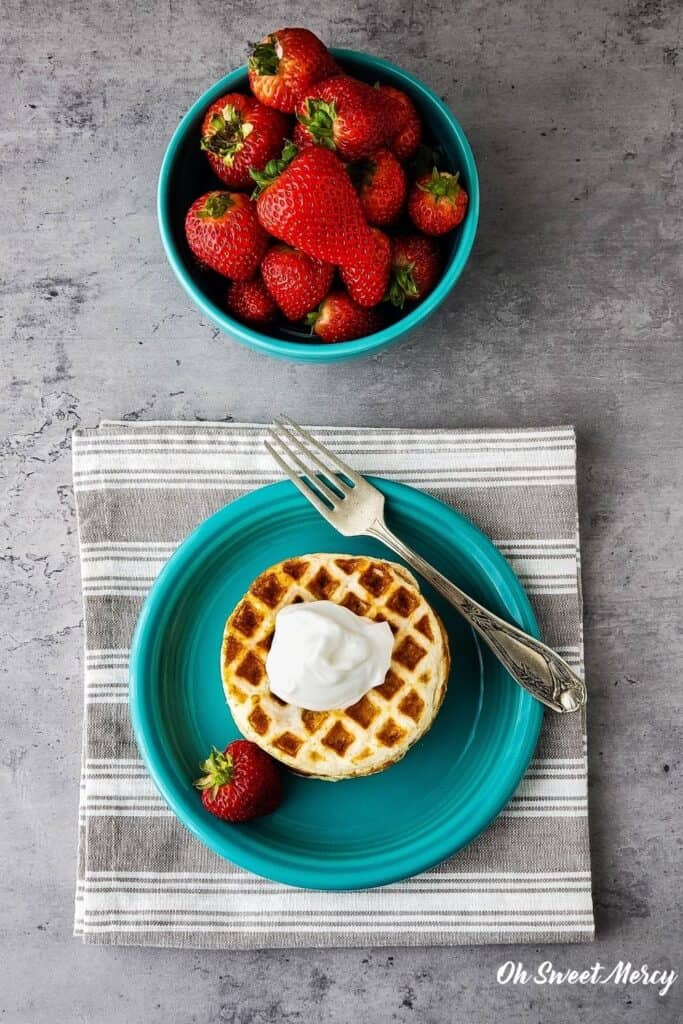 Since this is a versatile THM FP recipe that's low in fat and carbs, it works with E and S meals, too. Since there is dairy, though, it's not suitable for Deep S.
I'll be working on a dairy free version though.
For an S, enjoy with butter and an on-plan pancake syrup.
For FP, keep your added fats to 5 grams or less for your whole meal. So, a teaspoon of butter or less if you're also having coffee with some half and half.
For E, keep your added fats to 5 grams or less, like a FP, but include an E fuel source. Fruits like peaches, apples, mango, pineapple, banana, etc. make great choices.
With all fuel types, make sure to include protein if you're having mini waffles for a meal.
For E and FP, choose lean protein sources. Here's some great choices to consider:
Turkey bacon (2 slices would make up your 5 grams of fat for E and FP)
Turkey Breakfast Sausage (make it FP style for E and FP)
Egg White Omelette (for E or FP)
Egg white scramble with veggies (for E or FP)
Scrambled or fried eggs (for S)
Fat free Greek yogurt or Skyr, I sweeten mine with stevia and add vanilla
Smoothies with whey or collagen (my Strawberry Beet Smoothie (FP or S) or Secret Blueberry Smoothie (E) are delicious!
Collagen in your coffee or tea
How To Top Your Waffles.
If you like pancake syrup on your waffles, there's plenty of on-plan, sugar-free choices.
The first THM Cookbook has a recipe on page 480. Or, give one of these a try:
NOTE: the Lakanto Sugar Free Maple Flavored Syrup is NOT on plan. The soluable vegetable fiber it contains may have an effect on blood sugar.
Want something other than maple-like syrup? How about one of these:
Or, simply top your waffles with on-pan yogurt and fruit that matches the fuel type you're wanting. So simple!
I'm so excited about having these FP waffles on hand! They make really quick and easy breakfasts when reheating. And honestly, it's not all that time consuming to make them to begin with.
How do you like to top your waffles?
PIN IT!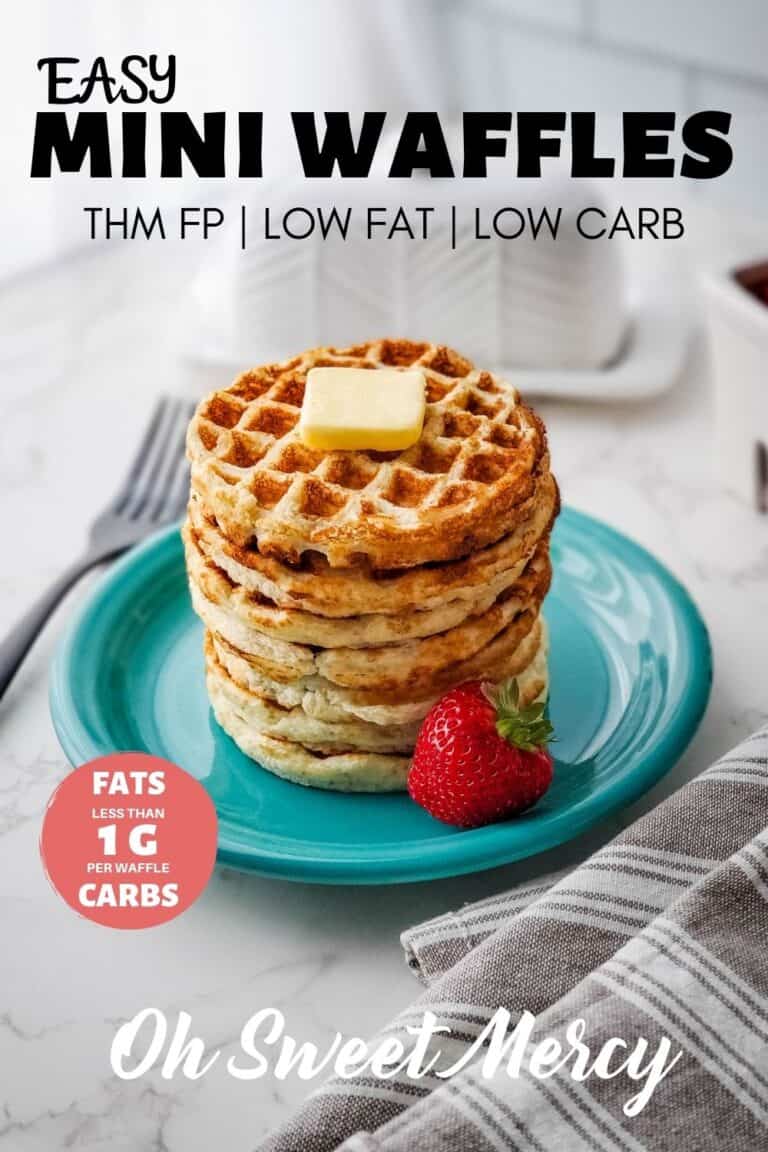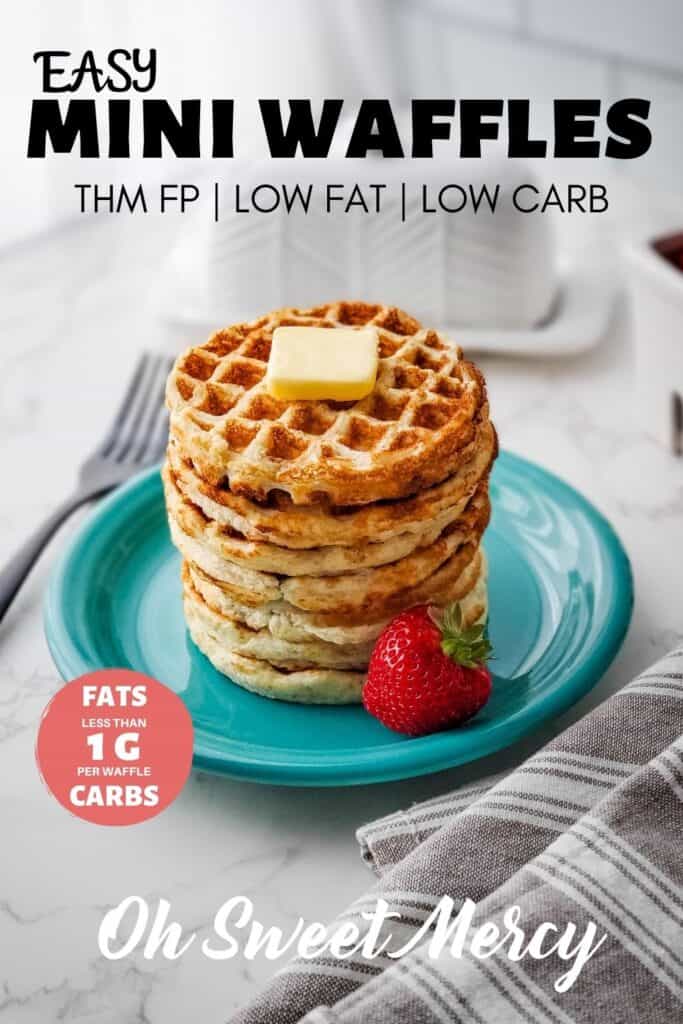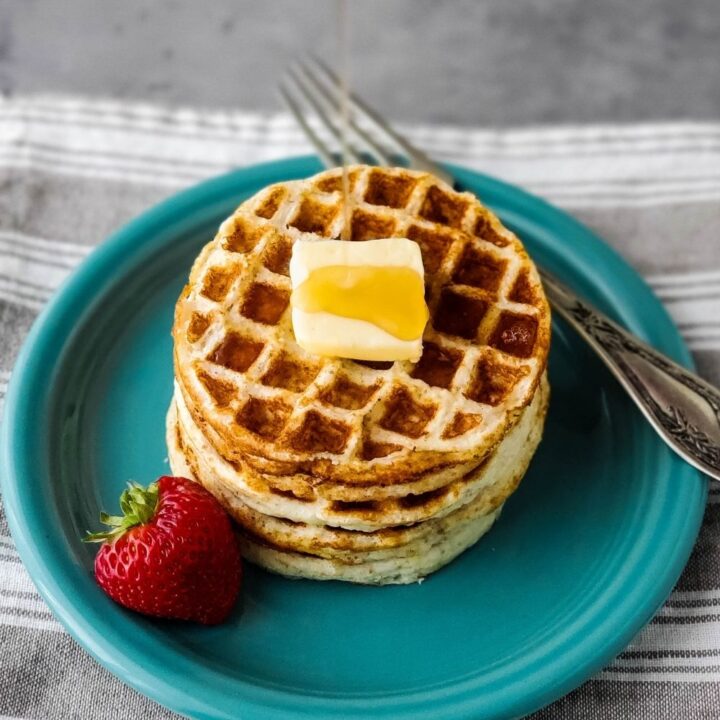 Easy Mini Waffles | THM FP, Low Fat, Low Carb
Yield: 6 waffles
Prep Time: 5 minutes
Cook Time: 25 minutes
Total Time: 30 minutes
These easy low fat, low carb mini waffles taste like real waffles, crispy on the outside and soft inside, and are perfect for THM meals! As a Fuel Pull, these waffles work with S, E, and FP meals. Great for freezing and reheat easily in a toaster.
Ingredients
3/4 teaspoon baking powder
1/4 cup egg whites
1/4 cup unsweetened almond milk
2 tablespoons fat free Skyr or Greek yogurt
1/2 teaspoon vanilla
Instructions
Plug in your mini waffle maker and let it heat up.
In a mixing bowl, whisk together the dry ingredients.
In a separate bowl, whisk together the wet ingredients, then add to dry and whisk well.
Spray the top and bottom of your waffle maker before each waffle!
Spoon a generous tablespoon of batter onto the bottom plate of your waffle maker and evenly spread the batter around.
Close the lid and let it cook a bit longer after the light shuts off, or when the steam coming from the waffle maker is almost gone. OR cook until your preferred level of doneness.
Remove the waffle to a plate (or cooling rack, if freezing).
Repeat with remaining batter.
Notes
FREEZING AND REHEATING
Cool completely, then lay out in single layer on a baking sheet. Put in the freezer and freeze for an hour or until frozen. Store in a zipper freezer bag.
Reheat in a toaster or in a skillet on the stove. I can't speak on microwaving, sorry!
Recommended Products
As an Amazon Associate and member of other affiliate programs, I earn from qualifying purchases.
Nutrition Information:
Yield: 6
Serving Size: 1 waffle
Amount Per Serving:
Calories: 22.9
Total Fat: 0.8g
Unsaturated Fat: 0.1g
Cholesterol: 0.3mg
Sodium: 91.9mg
Carbohydrates: 3.1g
Net Carbohydrates: 0.6g
Fiber: 2.5g
Sugar: 0.5g
Protein: 3.1g