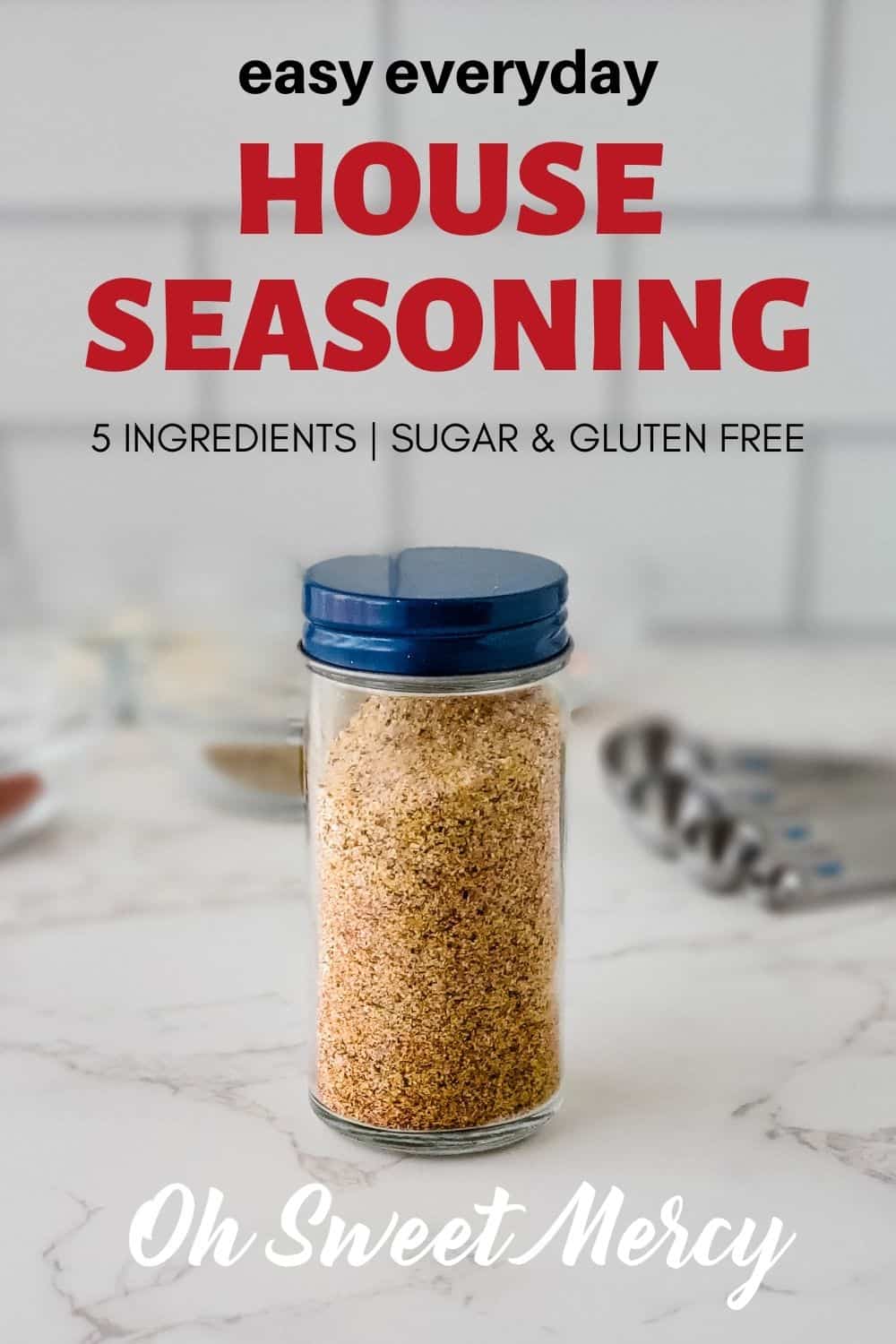 Jumping to the recipe? Please come back and read when you have the time, I include helpful info in my posts like how to fit my recipes into your THM meal plan! Get notified of new posts by signing up for my newsletter at the end of the page. Thanks for stopping by!
---
My easy house seasoning blend is the one you'll grab over and over for adding flavor to your meats, veggies, and more. It's a simple blend of the spices I reach for every day, combined in one jar.
---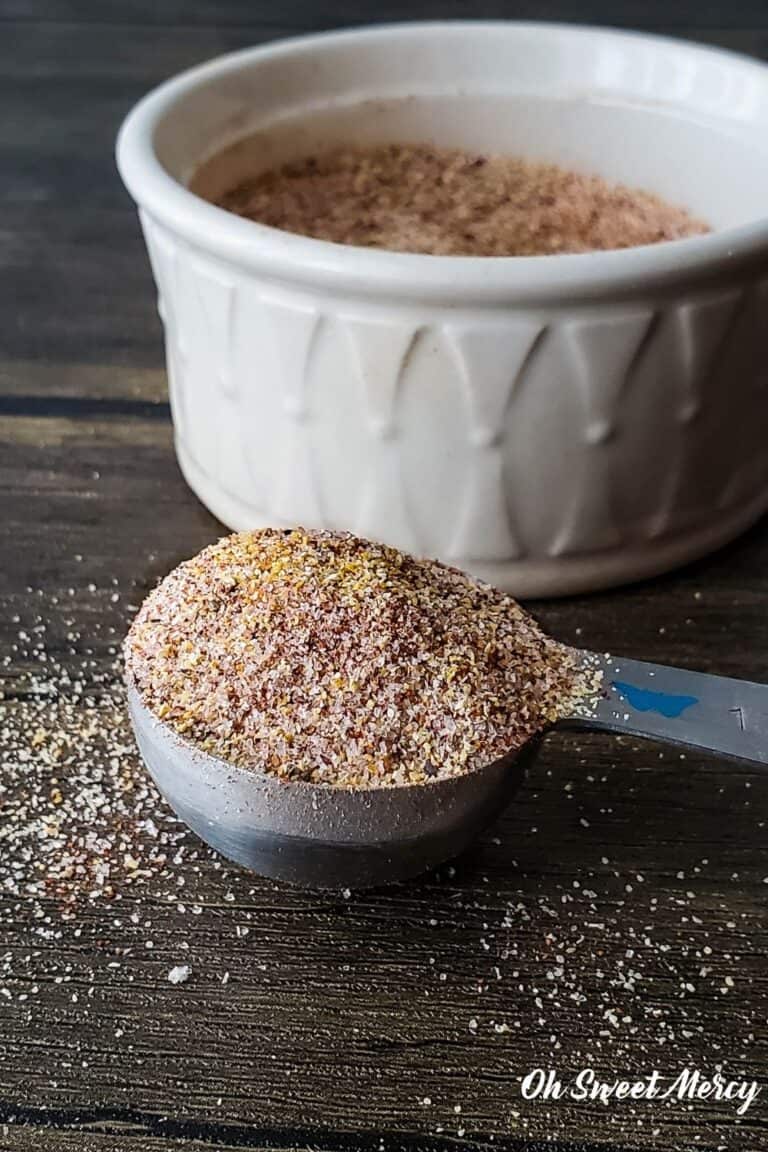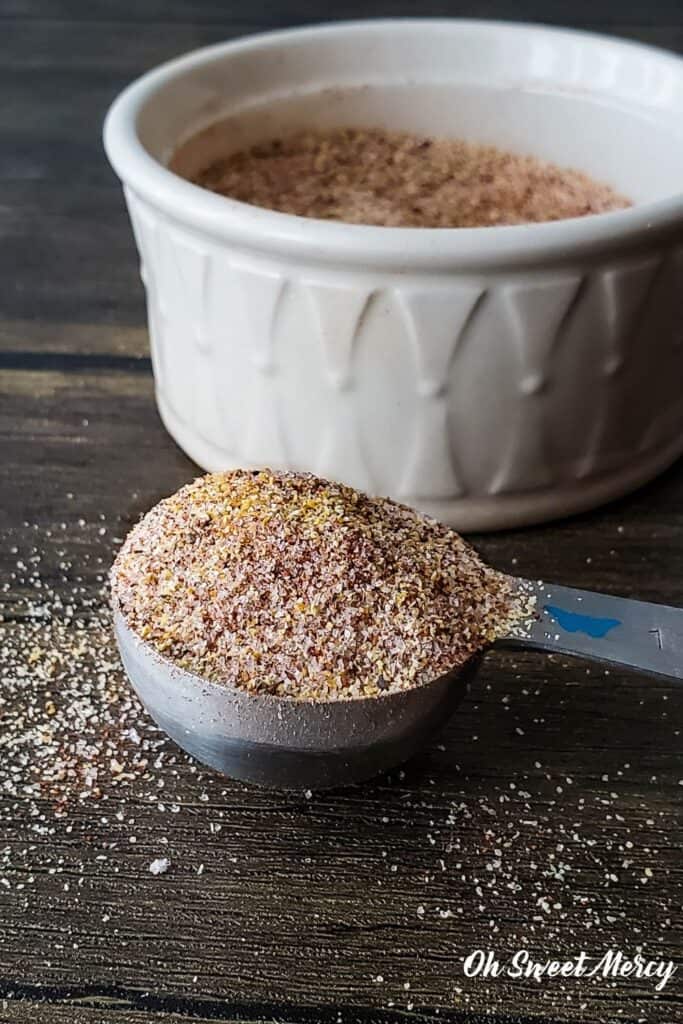 Do you find yourself grabbing the same spices and sprinkling them into your foods every day?
I do, so why not mix those everyday spices into one handy seasoning blend?
It's super easy to scale this up for big batches, too (ever work in food service…or feel like it? 😉 ).
I've included instructions for a 2 ounce spice jar amount (about 5 tablespoons) and 2 1/2 cups of seasoning blend. That's around 120 teaspoons.
When I'm just cooking for the family or myself I rarely measure anything. Of course, if I'm following an actual recipe I'm more inclined to actually measure ingredients but even then I often just shake a little of this and that in there.
That's just how I roll. So, keeping this easy everyday house seasoning mix in a shaker jar in your spice cabinet makes it easy to quickly season meats, veggies and more.
What Do I Need For This Recipe?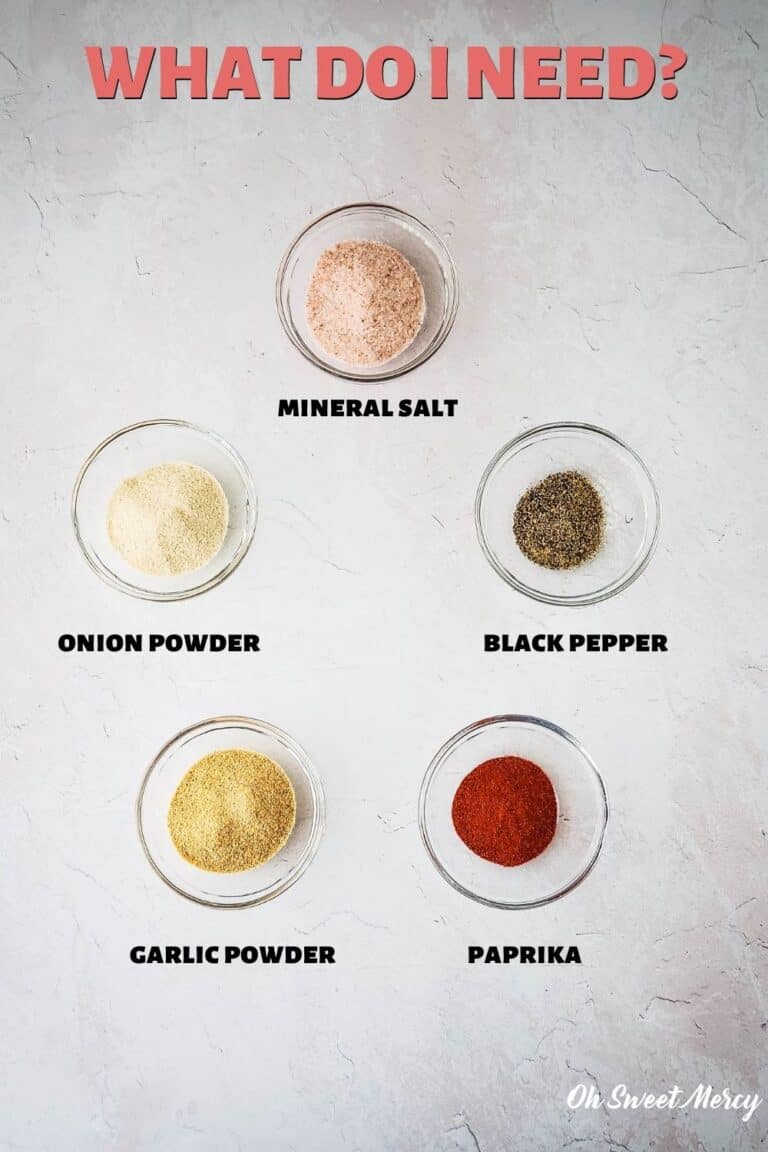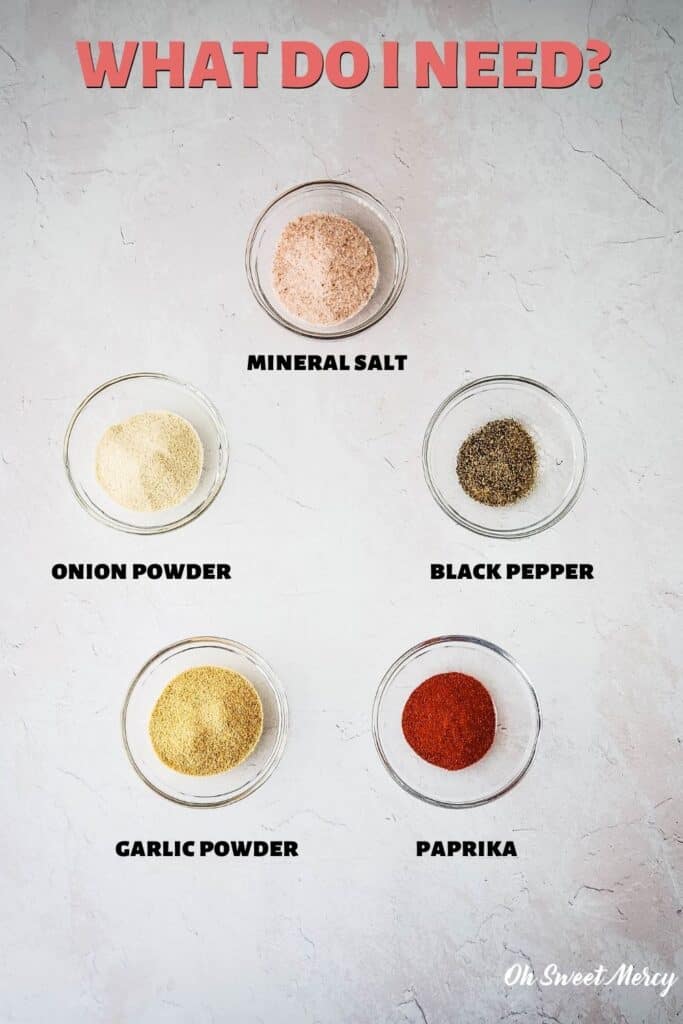 My easy house seasoning recipe uses just a few simple ingredients:
Salt (I prefer a mineral-rich salt, like pink Himalayan salt)
Onion powder
Garlic powder
Paprika
Black pepper
You can easily substitute with other seasonings, if you prefer. Paprika is a nightshade, for example, so omitting that and adding another seasoning or herb makes this house seasoning recipe suitable for those who need to avoid nightshades.
Like your foods spicy? Add cayenne pepper or another hot spice. Hey, it's your house, right?
I also sometimes add nutritional yeast, so adding that is also an option. You might want to increase the salt a bit if you add any more spices or seasonings to this recipe.
How To Use This Everyday House Seasoning Blend In Your THM Cooking.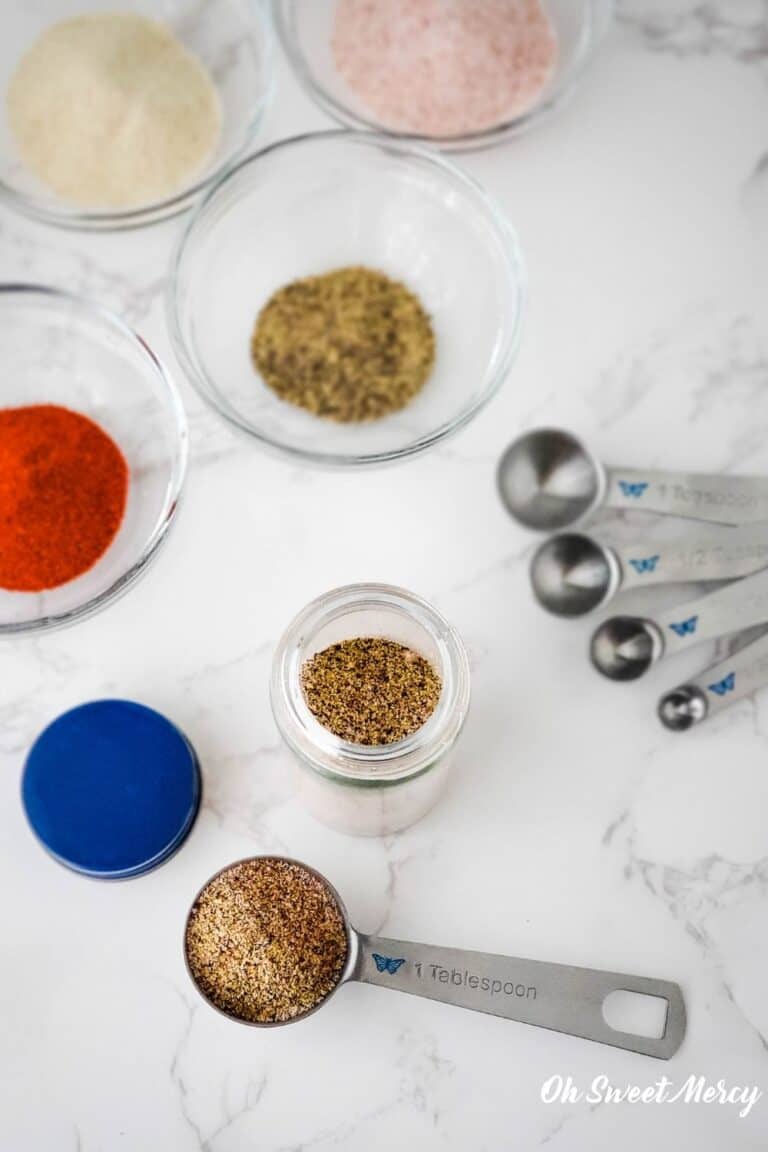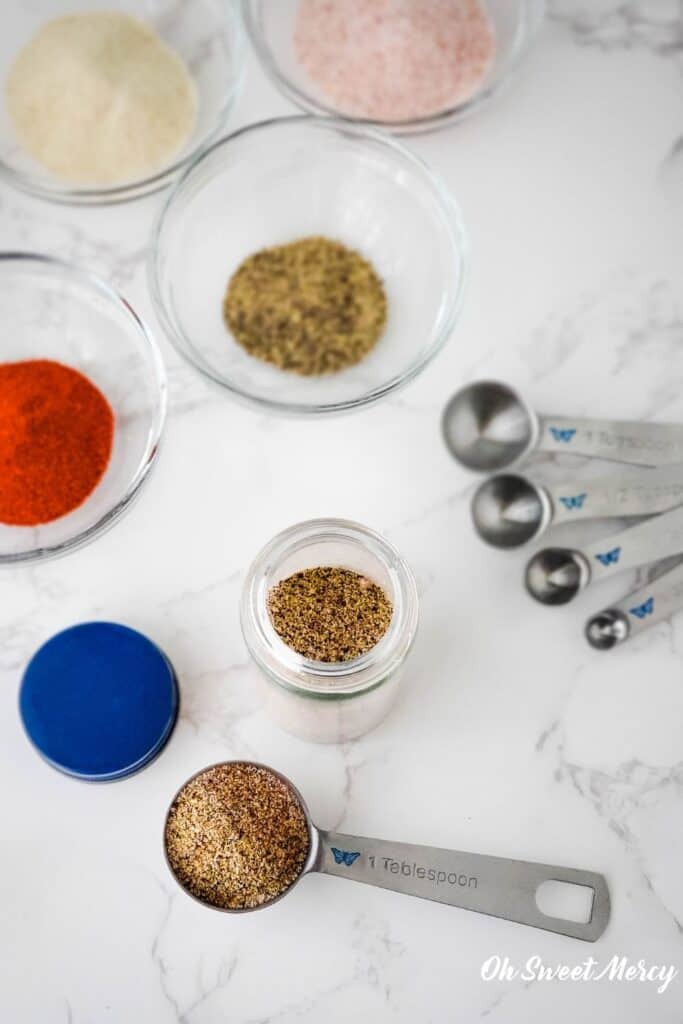 This homemade spice blend won't affect the fuel status of any of your THM meals. That's great news! Use it on your favorite THM foods:
Poultry
Ground meats
Burgers
Meatloaf
Fish
Eggs
All the veggies
Sauces
Soups
Stews
Breads
Salads
More Homemade Seasoning Blends And Spice Mixes To Try.
Making your own homemade spice blends saves money and ensures your spices don't contain any off-plan ingredients.
Some spice blends have things like maltodextrin, modified corn starch, or wheat flour, for example. Mixing up seasonings yourself means you control what goes in them.
Years ago I quit buying pre-made mixes and spice blends at the store and learned to make my own.
I've got several healthy and tasty recipes for you!
Easy Spicy Dry Rub for Grilled Tuna (also tasty on other foods!)
My Favorite Creole Seasoning Blend
How To Make Bulk Breakfast Sausage Seasoning
How To Make Homemade Chai Spice Blend
Easy 3 Ingredient Gingerbread Spice Mix
I've got an Italian seasoning in the works (plus homemade Italian sausage) and will get that up soon.
And, since we love ranch around here I need to get my ranch seasoning into a bulk format and get that up on the blog.
Finally, I'll leave you with another seasoning blend you'll definitely want in your cupboard: Hubby Lovin' Seasoning Mix. It's a bulk version of the very popular seasoning in the Hubby Lovin' Chicken recipe in the THM cookbook.
It's so good! And don't limit it to just chicken. Put that stuff on all the things!
I hope this easy recipe helps simplify your cooking. Instead of grabbing 5 different containers, just grab your jar of everyday house seasoning blend and season away!
Pin It!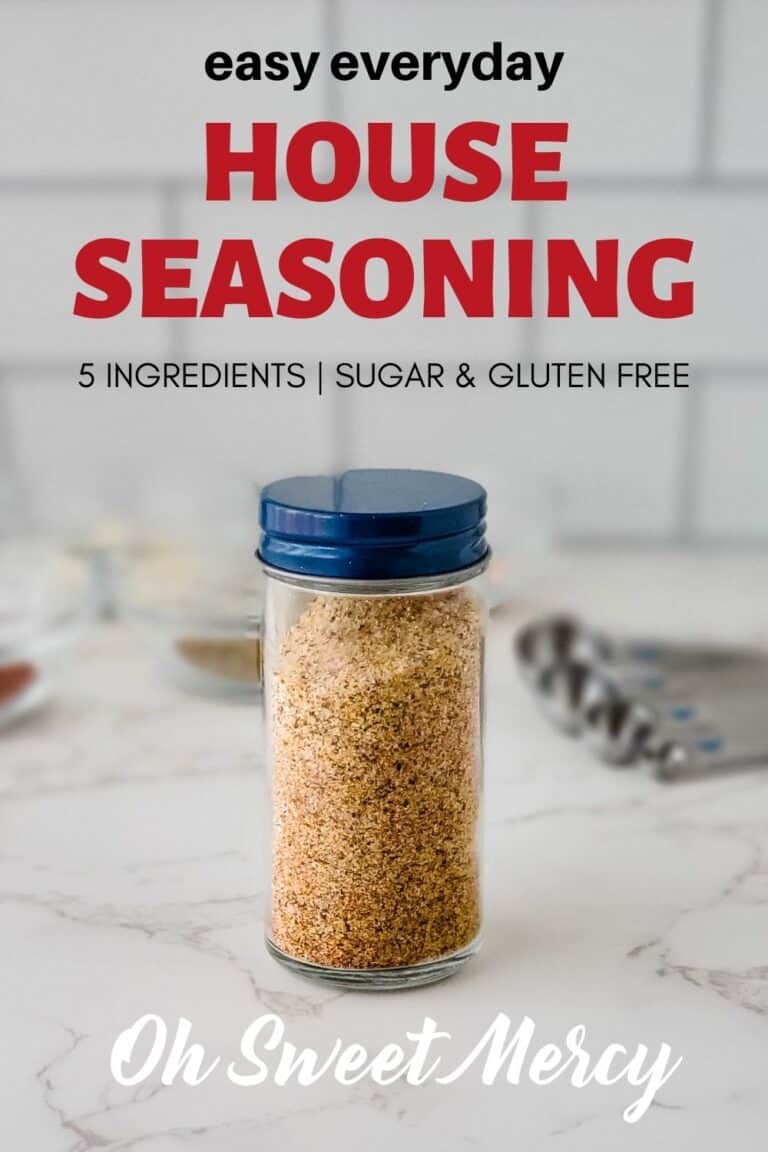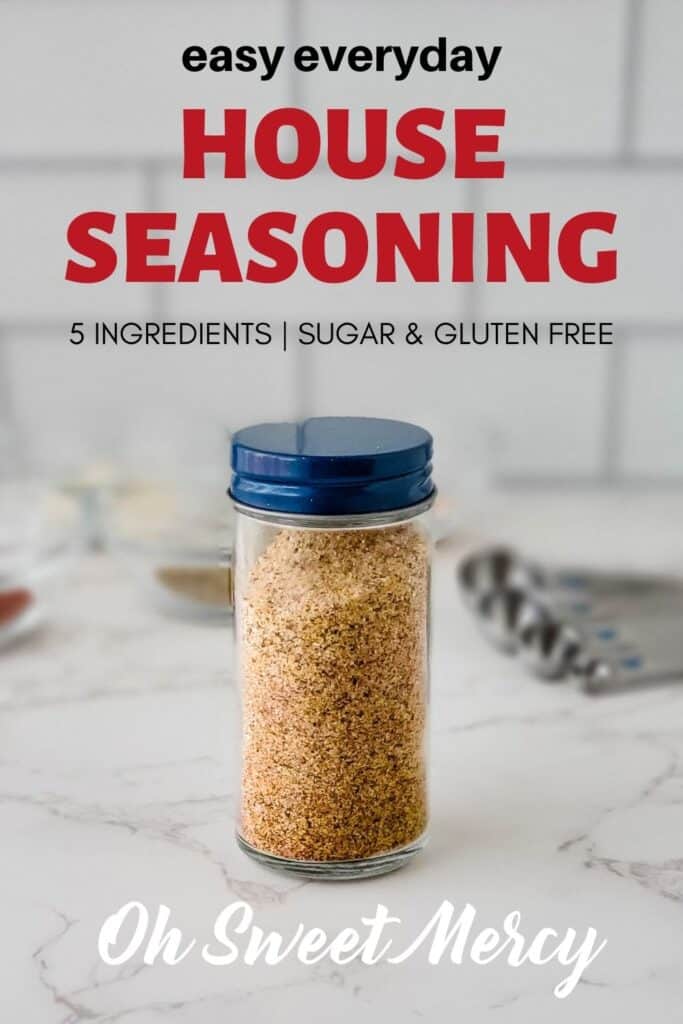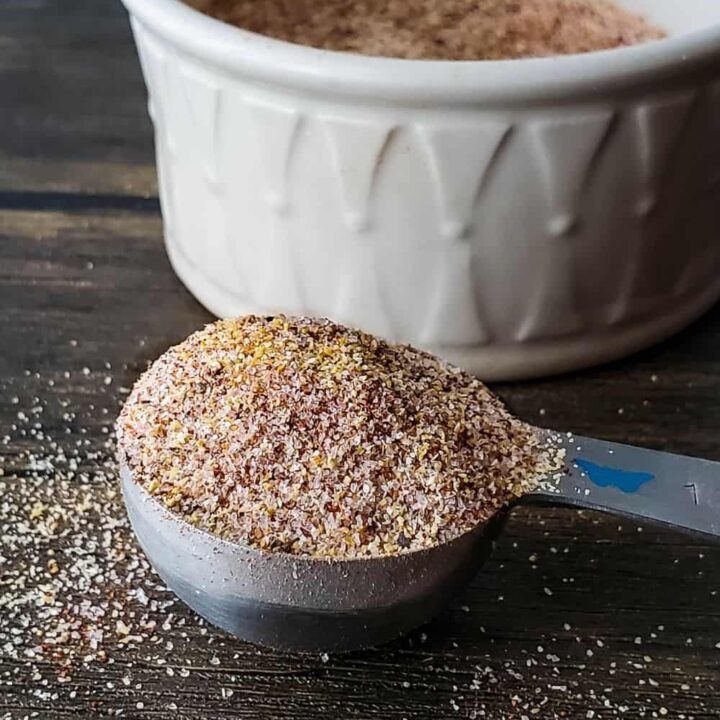 Everyday House Seasoning Blend
Yield: About 5 tablespoons
Prep Time: 5 minutes
Total Time: 5 minutes
Quit grabbing all the spice jars when you're cooking, mix together this simple blend of spices and seasonings and just grab one jar! Simple everyday seasonings perfect for meats, veggies, eggs, and more.
Ingredients
2 Ounce Recipe (about 5 tablespoons)
1 tablespoon garlic powder
1 tablespoon onion powder
1 tablespoon paprika
1 teaspoon ground black pepper
Bulk Recipe: 2 1/2 cups/120 teaspoons
1 cup mineral salt
1/2 cup garlic powder
1/2 cup onion powder
1/2 cup paprika
2 1/2 tablespoons ground black pepper
Instructions
Mix everything together with a whisk until well combined, or measure ingredients into a mason jar, screw on the lid, and shake until well combined.
Store in an airtight container.
Recommended Products
As an Amazon Associate and member of other affiliate programs, I earn from qualifying purchases.
Nutrition Information:
Yield: 18
Serving Size: 1 teaspoon
Amount Per Serving:
Calories: 4.2
Total Fat: .1g
Saturated Fat: 0g
Trans Fat: 0g
Unsaturated Fat: 0g
Cholesterol: 0mg
Sodium: 96.2mg
Carbohydrates: .9g
Net Carbohydrates: 0.7g
Fiber: .2g
Sugar: .1g
Protein: .2g
Nutrition information is approximate and based on the best knowledge available at the time of recipe publication. Your results may vary due to differences in ingredients. You can make your own calculations if this recipe does not include nutrition info by using an online calculator such as https://recipes.sparkpeople.com/recipe-calculator.asp