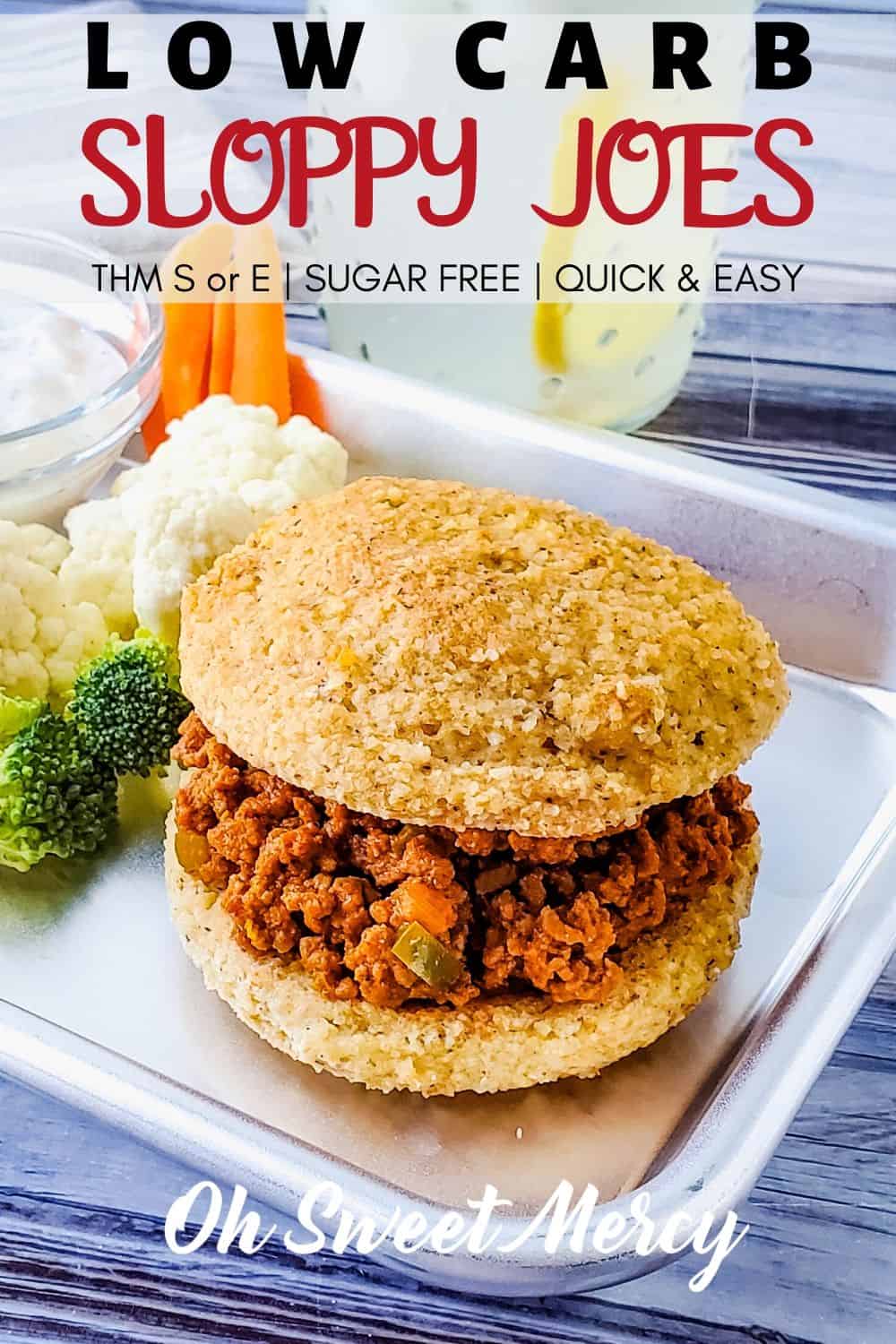 ---
Sloppy Joes are a super easy weeknight meal! No need for canned sauces or seasoning packets, just a few simple ingredients come together for a bit of sweet and a bit of tangy tomato-y goodness. Trim Healthy Mamas, you'll find no off-plan ingredients in this easy low carb sloppy joe recipe (or, easily convert it for a THM E meal)!
---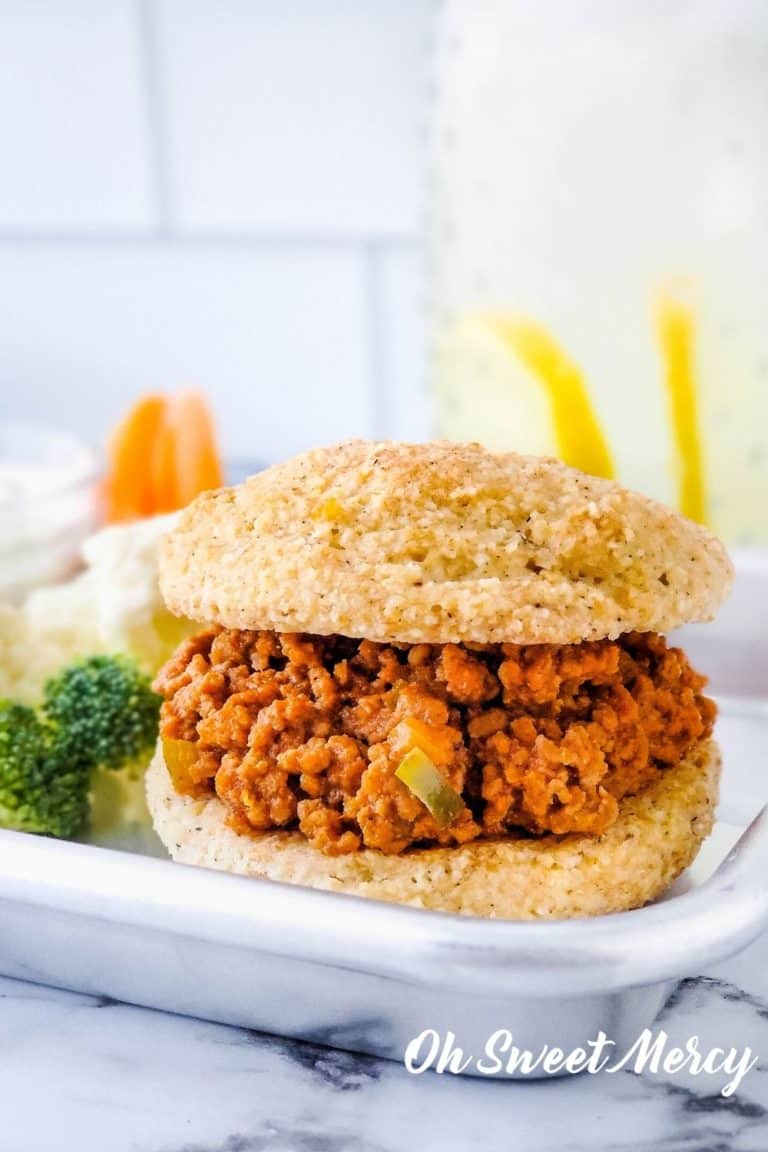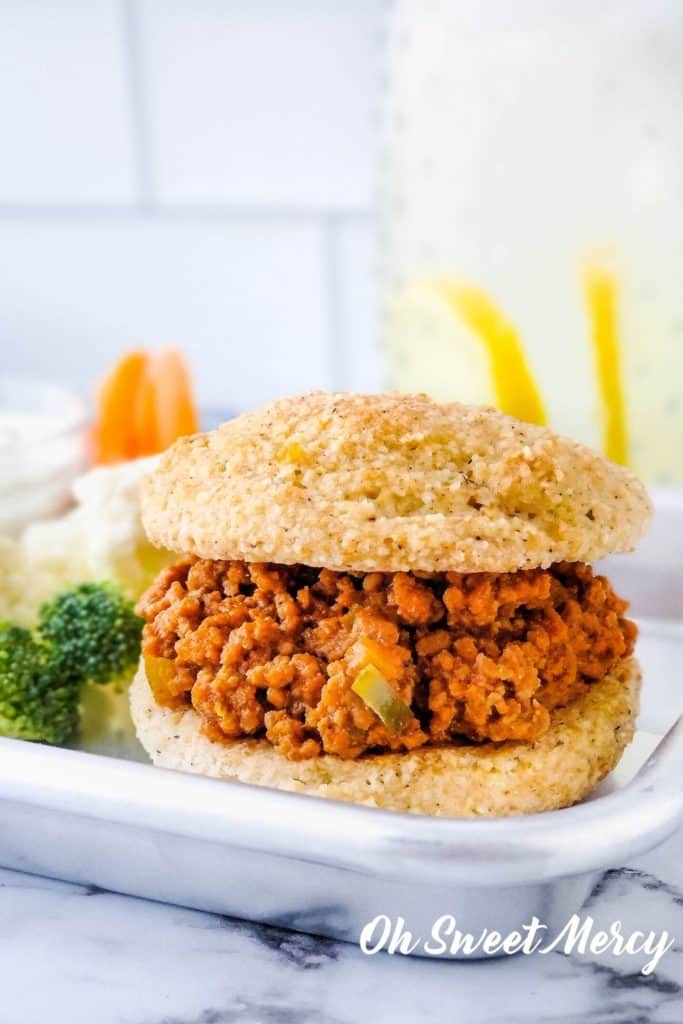 When I was a kid I always wanted my mom to use Manwich. Probably because of the effectiveness of TV commercials more than because it was actually that amazing.
I was disappointed to find the commercials were wrong. Turns out, I much preferred her simple sloppy joe recipe to sloppies actually made with Manwich.
Perhaps that's where my deep distrust and dislike of television advertising took root.
I digress.
Sure, just opening a can of something is super easy. I get it! But if you've got the time, making sloppy joes from scratch is so much healthier.
Honestly, making homemade sloppy joes isn't that much more time consuming. With about 5 minutes of prep, you'll be serving your family meaty, tomato-y sloppy joes in about 25 minutes.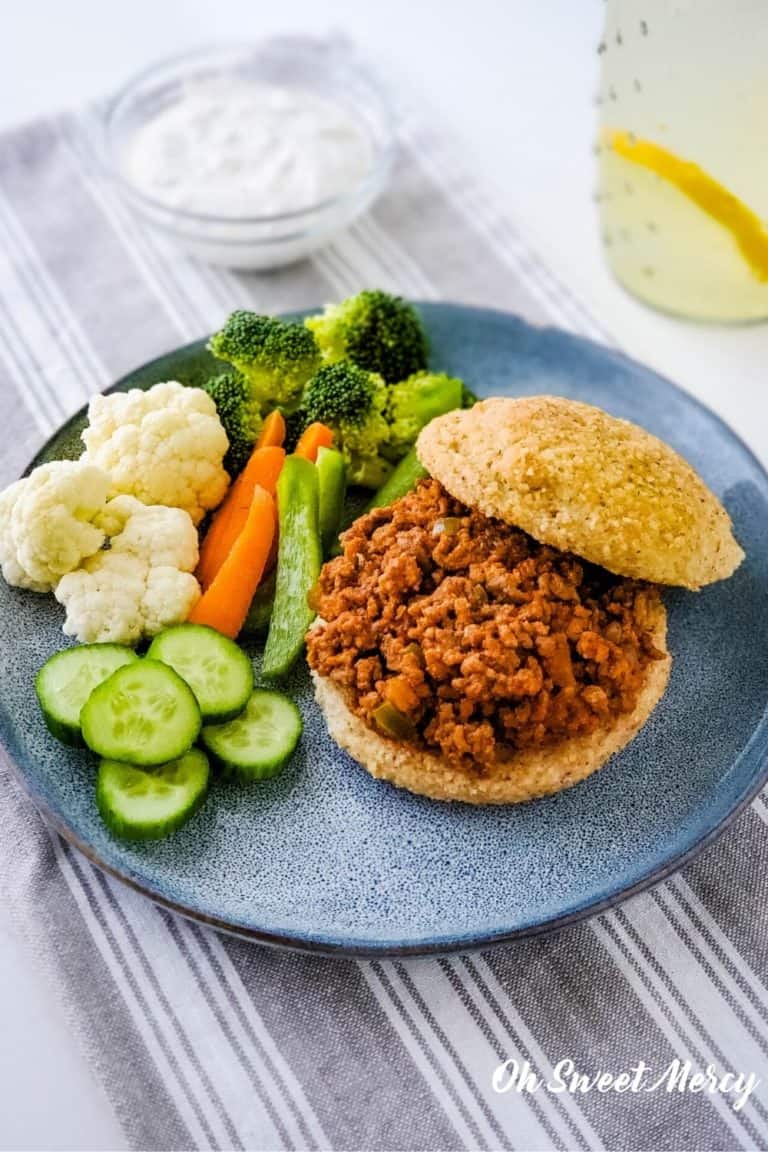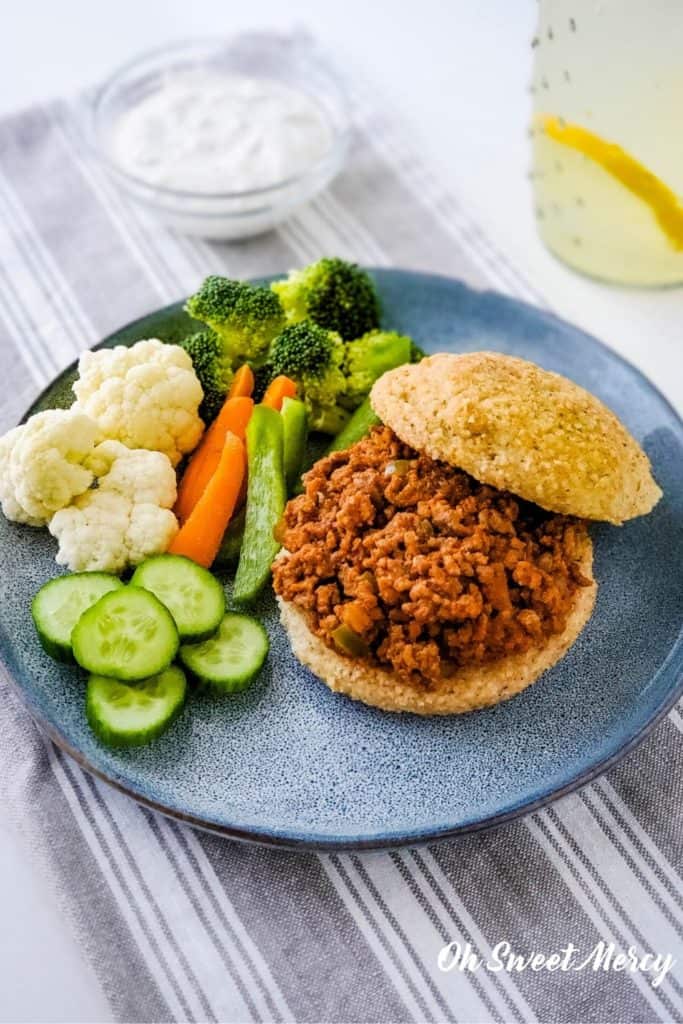 How Did The Sloppy Joe Get Its Name?
Interestingly, there are 2 theories behind the naming of this iconic American classic.
Theory 1: The Loosemeat Sandwich And A Cook Named Joe…
This theory proposes that a cook named Joe in Sioux City, Iowa — where the famous loosemeat sandwich originates — got the brilliant idea to mix in tomato sauce with the cooked ground meat and onions.
The loosemeat was popular in the 1920s and even made appearances on the late-80s TV show, Roseanne. The Conner family operated a diner called the Lunchbox where they served up the famous loosemeat.
Theory 2: A Cuban Bar Owner Named Joe…
This theory says a Cuban bar owner named José Garcia served his soused patrons hand-held ropa vieja. Apparently, his bar was very messy and patrons nicknamed him Sloppy Joe. The name stuck to his hand-held ropa vieja as well.
Ropa vieja is a stewed beef and vegetable mixture, sometimes with chickpeas. However, it's typically shredded beef.
I'm inclined to go with Theory 1, as ground beef is what sloppy joes are made of, not shredded. But, no matter how the name derived they're a delicious and family friendly meal idea!
How To Make Sloppy Joes.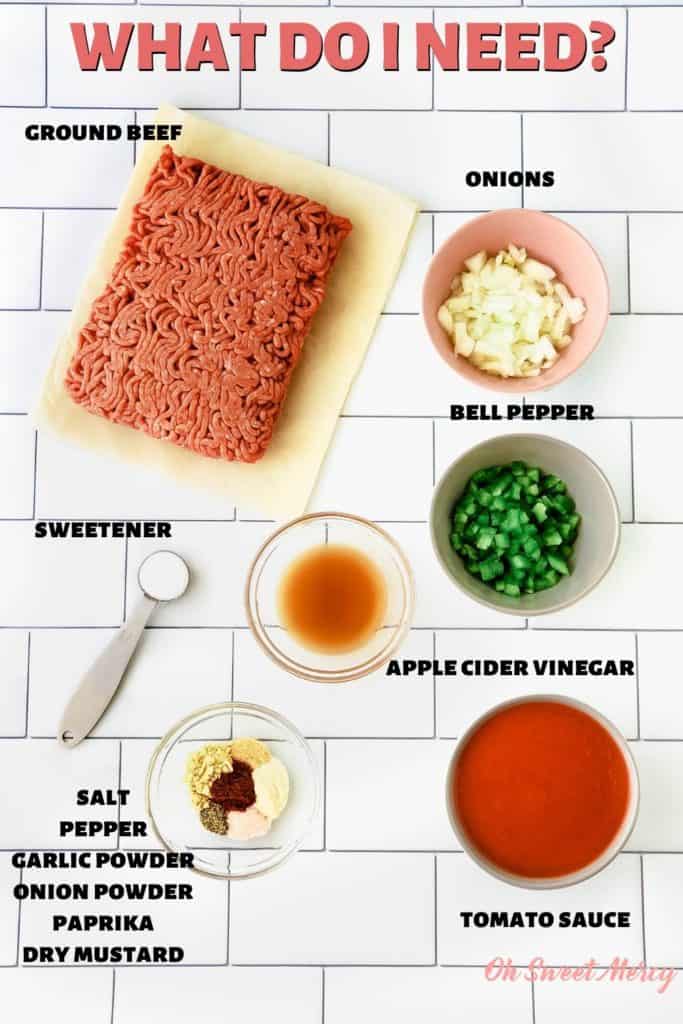 First, brown your meat and drain the fat. I love cooking in my cast iron skillet, but since tomatoes are acidic and can affect the seasoning I usually use a stainless steel sauce pan for sloppy joes.
Then, add the remaining ingredients and bring to a simmer. Cook for 5 to 10 minutes, adjusting seasoning as desired.
I prefer a sweet and tangy sloppy joe myself. Feel free to adjust the sweetness or tanginess to your own tastes.
Finally, serve with THM friendly bread options and sides. Couldn't be easier!
How To Fit My Low Carb Sloppy Joes Recipe Into Your THM Meal Planning.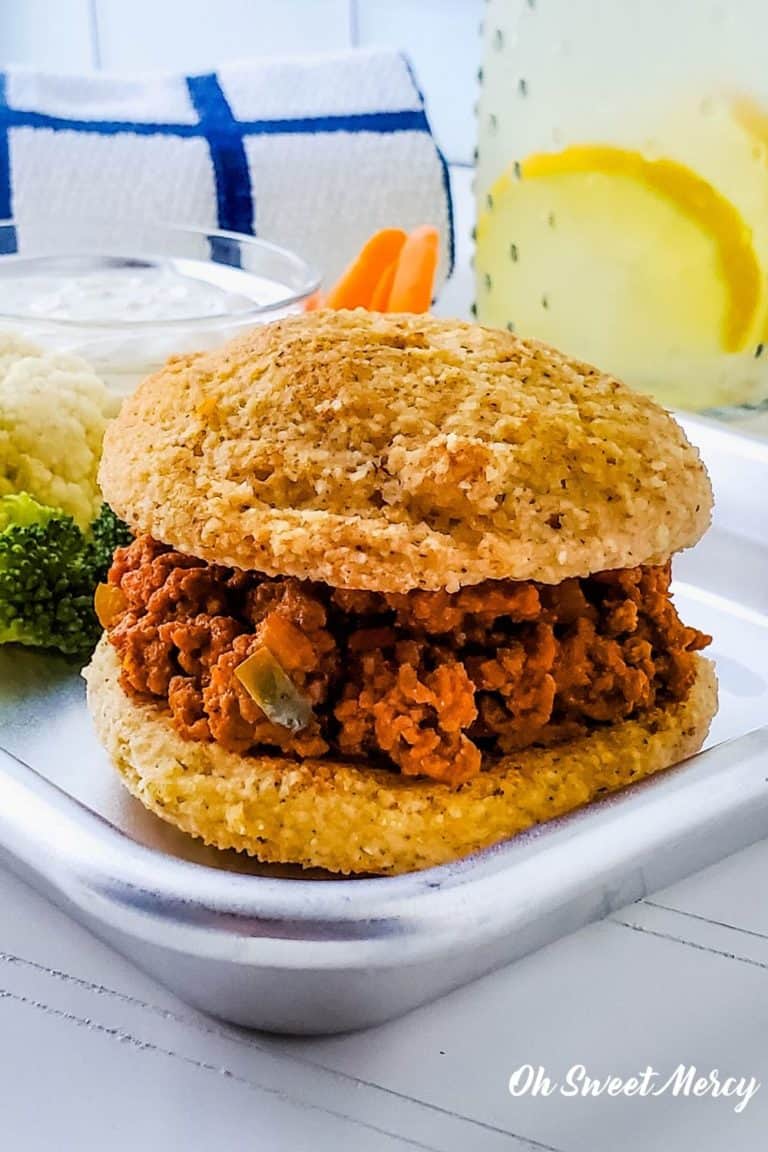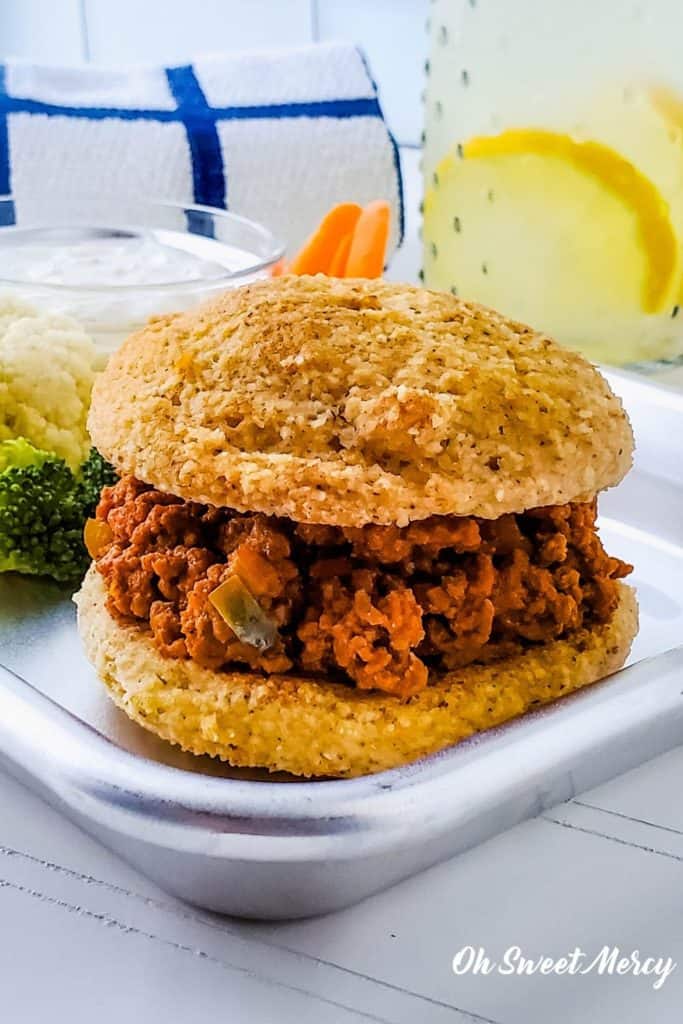 Whether a sloppy joe recipe fits for THM S (or low carb) or THM E (low fat, healthy carbs) depends on the meat and the bread.
For a THM S recipe, use any ground beef. We're not concerned about how much fat is in our S meals (though moderation is always good 😉 ).
For a THM E, if you're not using ultra-lean ground beef (96% or higher), after cooking, rinse with very hot water for several minutes.
Then, use an on-plan, low carb bread option. Here's a few to try:
Low Carb Bread in a Mug THM S
Mock Rye Bread THM S
Coconut Flour Flat Bread THM S
Best Keto Dinner Rolls (in the photos on this page) THM S or FP
Healthy Breads, Buns, and Biscuits THM S or E RECIPES LISTED
Swiss Bread, THM FP, page 196 in the first Trim Healthy Mama Cookbook
Soft Sprouted Bread, THM E, page 200 in the first THM Cookbook
Or, simply enjoy your sloppy joe meat over a pile of dark, leafy greens and eat with a fork. Not quite the same as holding a bun with sloppy joe meat falling out, of course, but a delicious on-plan option!
THM Friendly Side Dishes To Make Your Low Carb Sloppy Joe A Meal.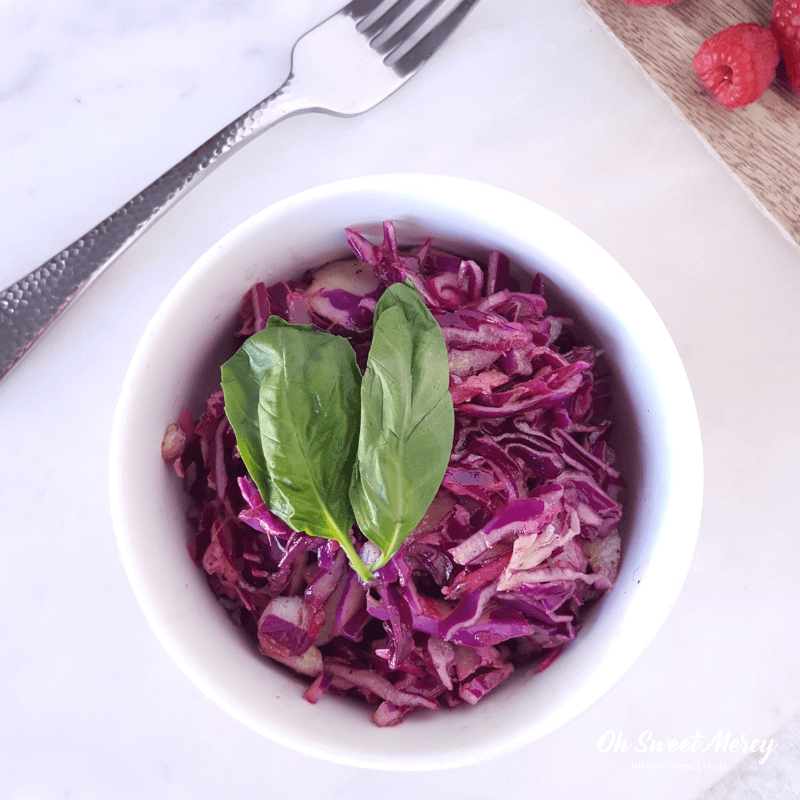 Choose lots of non-starchies as often as possible for any THM meal type!
THM S OR FP SIDES
Creamy No Mayo Coleslaw THM FP
Raspberry Basil Coleslaw THM S
Creamy Cucumber Tomato Salad THM S
Probiotic Cauliflower Potato Salad THM S
Air Fryer Chicken Crisps THM S (like chips!)
Seasoned Jicama Fries THM FP
Fresh non-starchy veggies and dip:
Chunky Blue Cheese Dip THM S
Best French Onion Dip THM S
Easy Ranch Dressing THM S or FP
THM E Sides
Chipotle Lime Roasted Sweet Potato Salad
Heirloom Cherry Tomato Corn Salad
Air Fryer Sprouted Corn Tortilla Chips
Serves 4 or More, Great For Meal Prep Too!
This low carb sloppy joe recipe, as written, serves our family of 4. If you have a big family or big eaters, scale it up.
It's also great for feeding a crowd or freezer cooking. Simply double, triple, quadruple or more for your needs.
Do you have childhood memories of sloppy joes? How does my recipe compare to what you remember? I'd love to hear how your mom or other family members made their sloppy joe recipes, leave a comment below if you like.
PIN IT!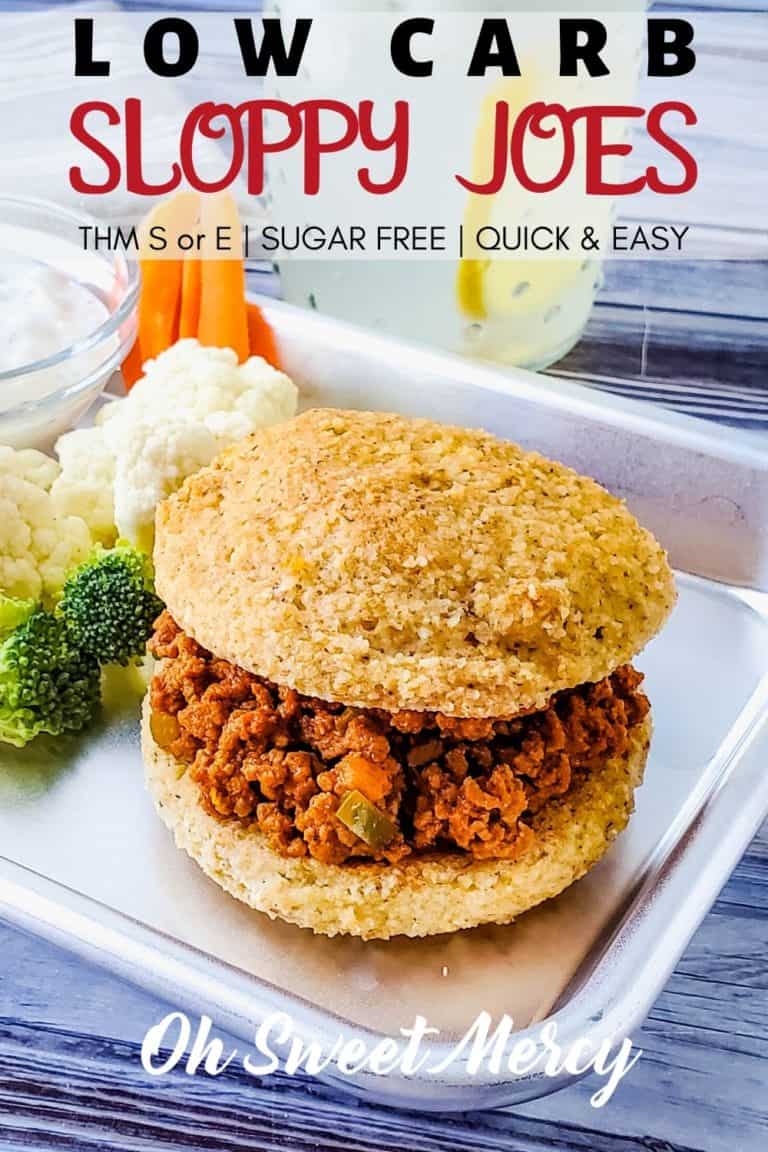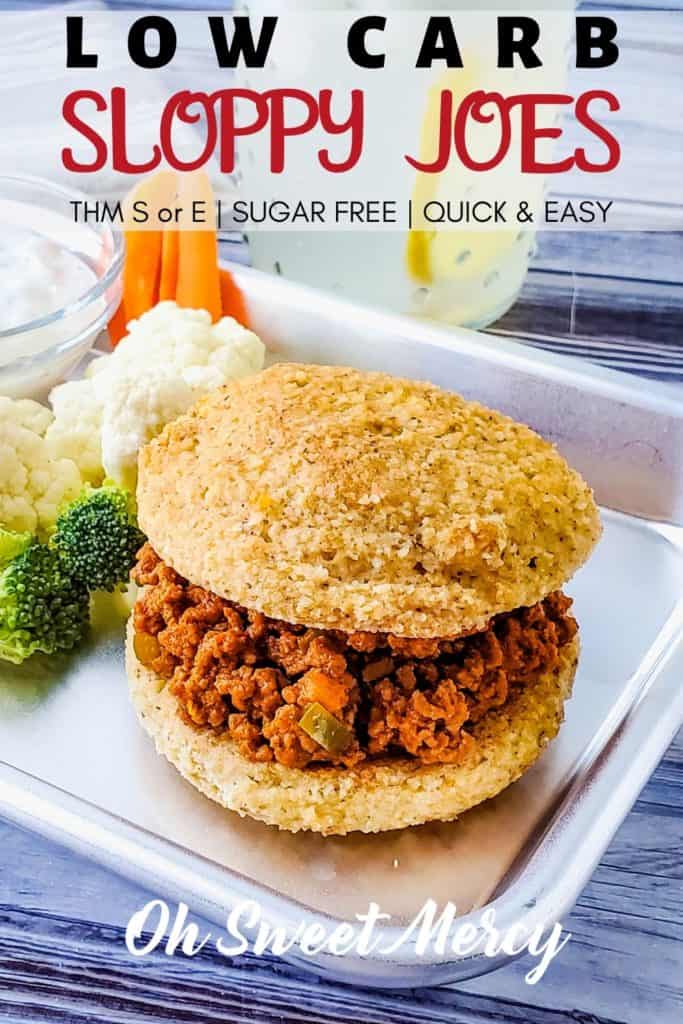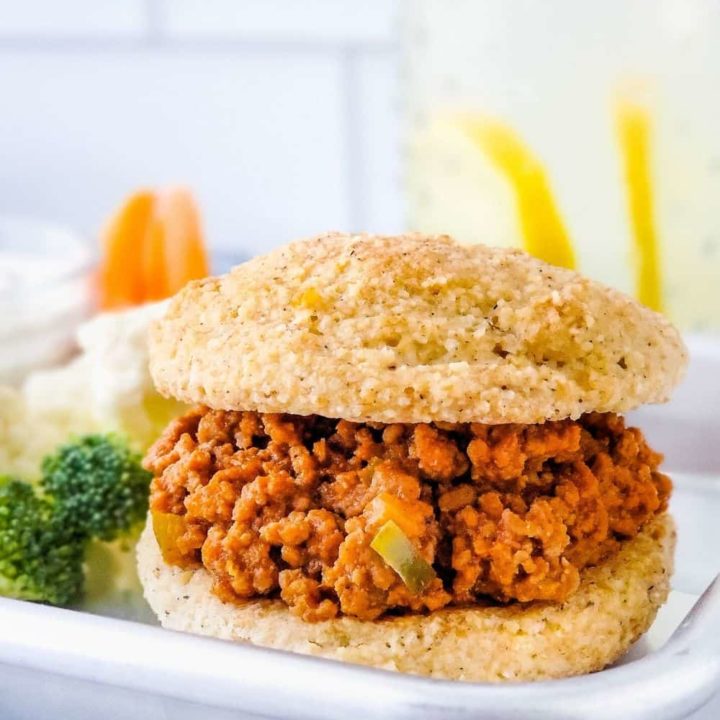 Low Carb Sloppy Joe | THM S or E, Keto, Sugar Free
Yield: 4 half cup servings
Prep Time: 5 minutes
Cook Time: 20 minutes
Total Time: 25 minutes
The best sloppy joe recipe is a little sweet, a little tangy, and on the table in under half an hour. With simple, healthy ingredients you'll be feeding your family a healthy meal in no time. Trim Healthy Mamas, make this for THM S or E meals!
Ingredients
1 pound ground beef (see notes for THM E)
1/4 cup diced onion
1/4 cup diced green bell pepper
8 ounce can of tomato sauce
1 teaspoon garlic powder
1 teaspoon onion powder
1 teaspoon paprika
1/2 teaspoon dry mustard powder
1/4 teaspoon ground black pepper
Instructions
In a skillet, brown ground beef, onions, and bell peppers.
Drain fat if necessary.
Add remaining ingredients, mixing well.
Bring to a simmer and cook for 5 to 10 minutes.
Enjoy!
Notes
For THM E Meals:
Use ultra lean ground beef (96% or higher) OR use ground turkey or chicken breast.
OR, if using a higher fat meat, after cooking rinse the meat under very hot water for several minutes.
Serve with on-plan bread, such as sprouted rolls or buns, or with a THM E side dish or dessert. Keep the total fat grams in mind for your meal when choosing sides or desserts to not go over fat guidelines for THM E meals.
Recommended Products
As an Amazon Associate and member of other affiliate programs, I earn from qualifying purchases.
Nutrition Information:
Yield: 4 servings
Serving Size: 1/2 cup
Amount Per Serving:
Calories: 341.3
Total Fat: 20.3g
Saturated Fat: 7.6g
Unsaturated Fat: 9.5g
Cholesterol: 102.7mg
Sodium: 463.3mg
Carbohydrates: 6.5g
Net Carbohydrates: 4.9g
Fiber: 1.6g
Sugar: 2.9g
Protein: 30.7g