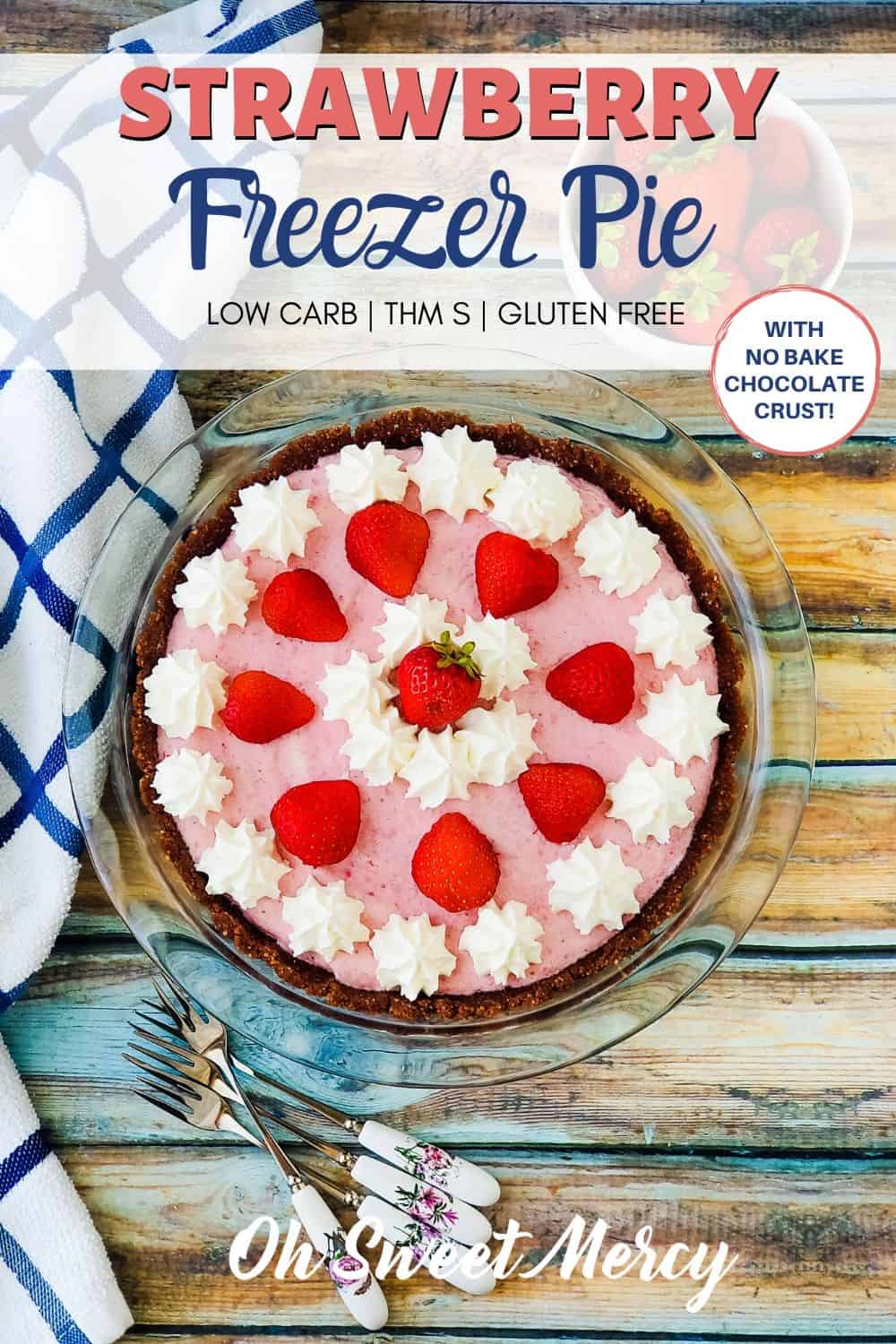 ---
Who wants to turn on the oven in the thick of summer? Not you? I've got just the recipe for you, then! My low carb Strawberry Freezer Pie combines sweet, juicy strawberries and fluffy, rich, whipped cream over a chocolate no-bake crust. A perfectly refreshing and delicious summer treat. Trim Healthy Mamas, this is a low carb THM S dessert the whole family will love!
---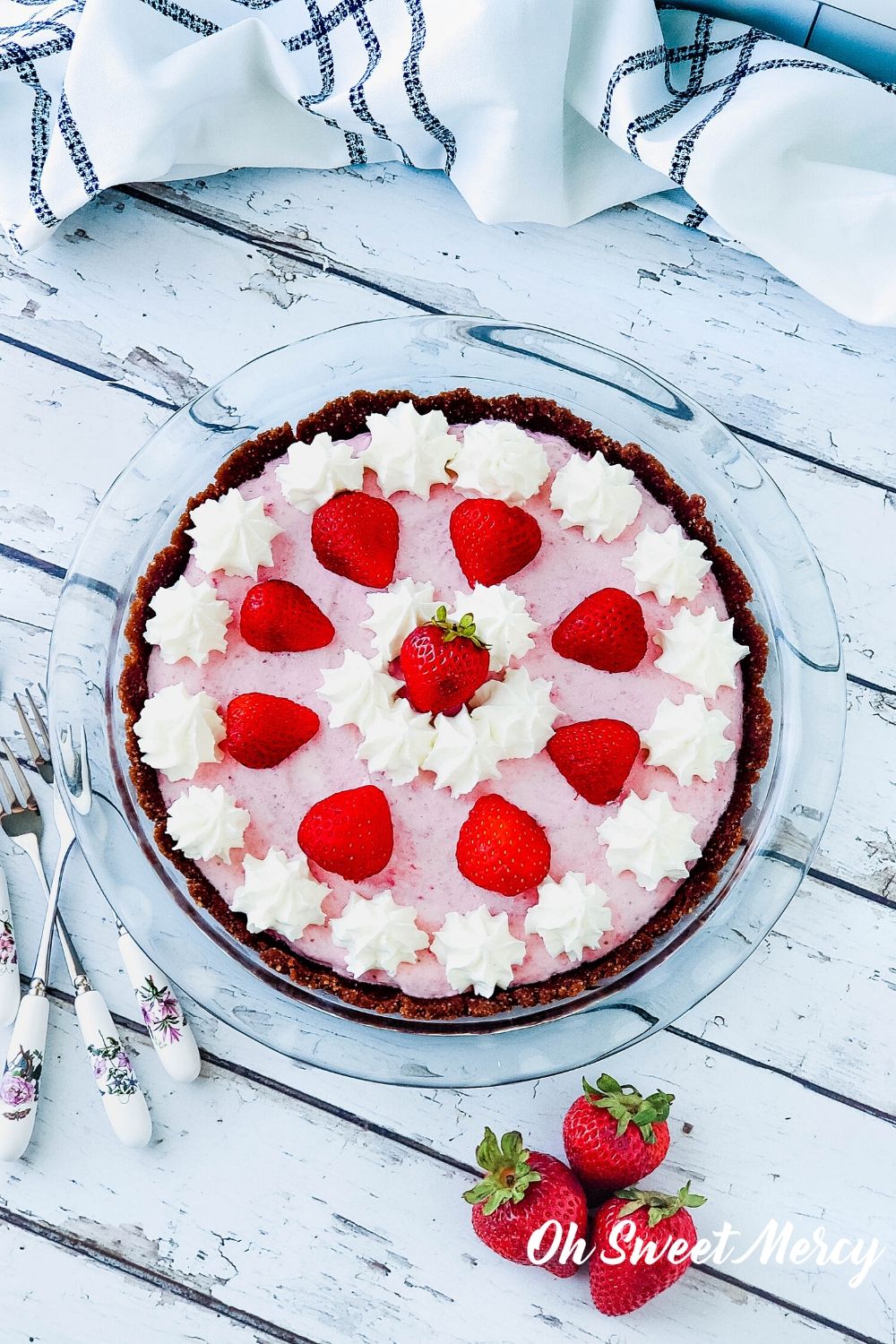 While this can be made with any summer berries, I'm particularly fond of strawberries and cream. And, have fond memories of my mom's strawberry freezer pie from my childhood.
Remember that one? Typically made with a graham cracker crust, it also included ingredients such as cream cheese, sweetened condensed milk, and cool whip.
It was tasty, not gonna lie! But, not so kind to the pancreas if you know what I mean.
I've transformed that childhood favorite into a sugar free, low carb, and gluten free strawberry freezer pie that's THM friendly!
How To Make Low Carb Strawberry Freezer Pie.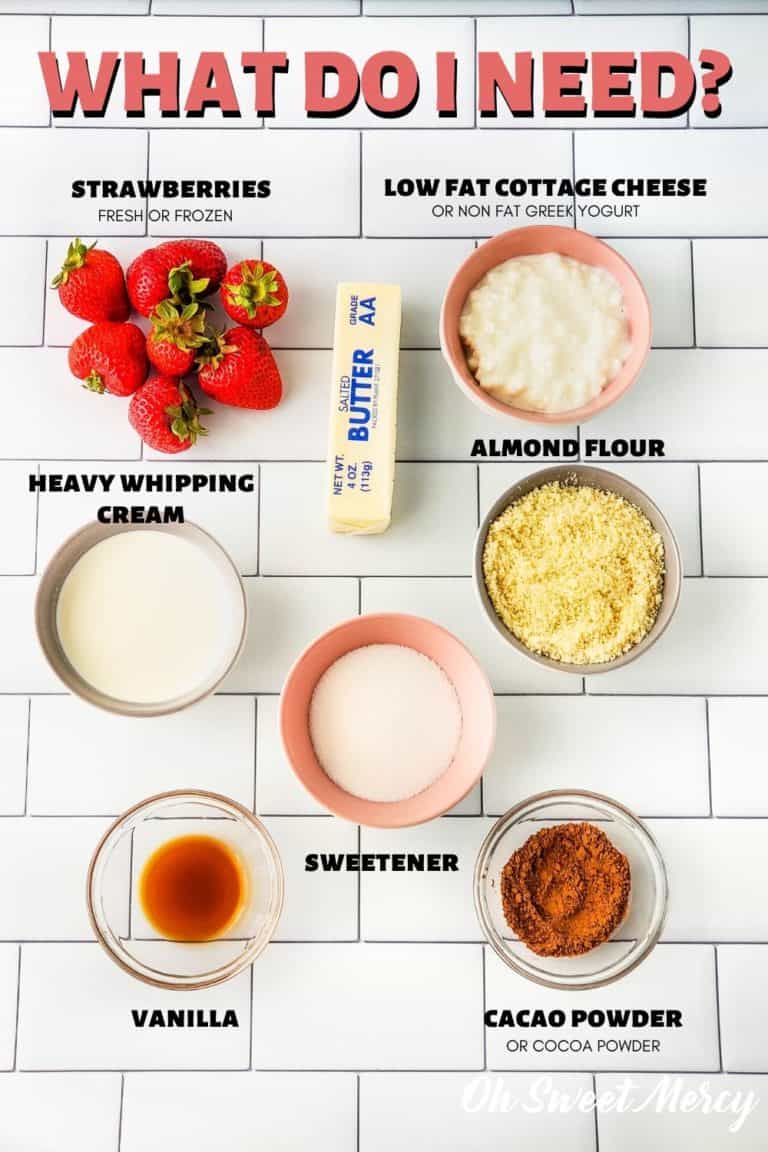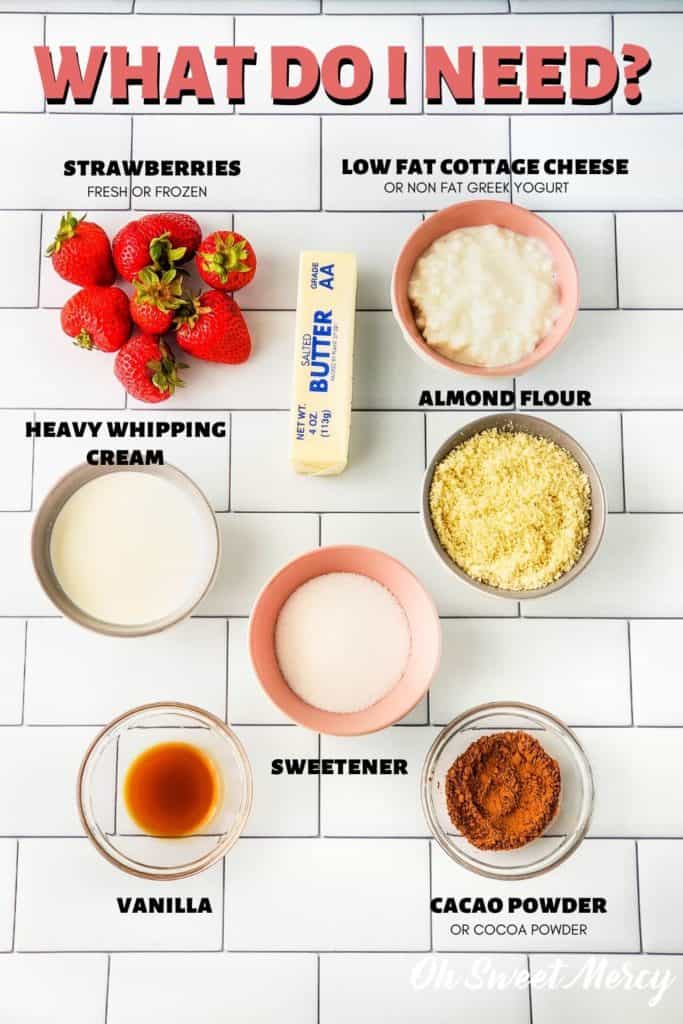 Just a few simple, healthy ingredients are all you'll need to make this easy strawberry freezer pie. The hardest part is waiting for it to freeze!
I use cottage cheese for this recipe but if you don't like cottage cheese, feel free to substitute with 0% Greek yogurt to help keep it a bit lighter.
You could also use cream cheese if you like. It will just increase the fat grams a bit.
Simply puree the strawberries (fresh or frozen), cottage cheese, sweetener, and vanilla until smooth. A blender or food processor both work equally as well.
In addition, an immersion blender or hand mixer with a whisk attachment makes whipping cream quick and easy.
Then, pour into your chocolate no-bake crust and freeze. At least 4 hours is good, or overnight. If freezing overnight, let it set at room temperature for about 15 minutes to make cutting and serving easier.
Decorate with more whipped cream and fresh strawberries, if you like.
Finally, enjoy!
How To Fit My Low Carb Strawberry Freezer Pie Into Your THM Meal Planning.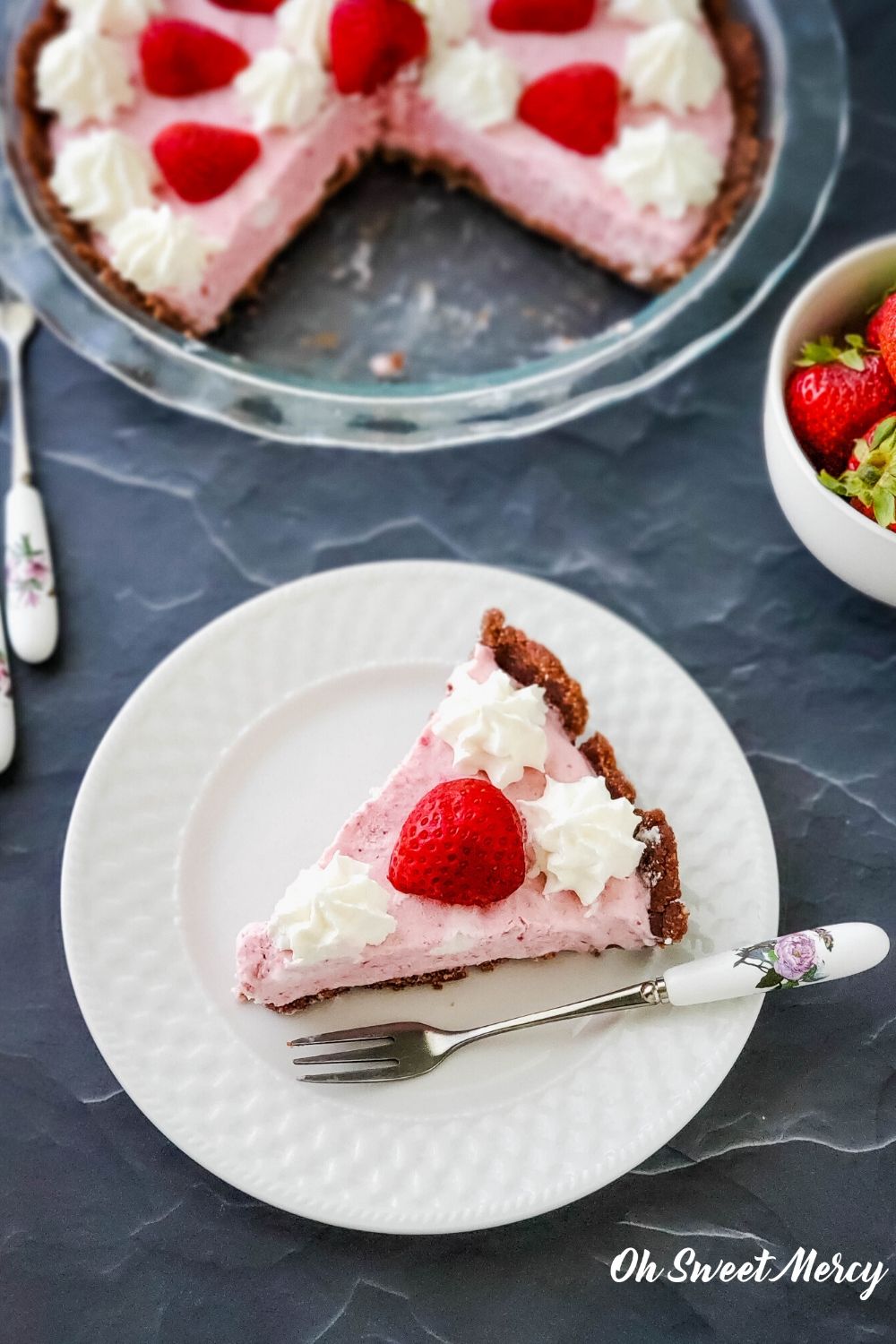 This is a THM S dessert, more along the lines of a Heavy S. This is due to using almond flour in the crust and heavy whipping cream.
As such, enjoy this on occasion (or for special occasions). It's perfect for family get togethers and potlucks — as long as you don't have far to drive and can keep it frozen before serving.
Take note of the serving size: 1/16 of the pie. This is accomplished by cutting the pie in half vertically, then horizontally so you have 4 pieces. Then, cut each piece in half for 8, then in half again for 16.

While you can have a 1/8 size slice, it will be pretty heavy on calories and fats. Keep that in mind and indulge wisely!
Have a slice after a Light S meal of baked or grilled chicken breast and a large, leafy green salad with a homemade vinaigrette.
If you have a Fuel Pull (FP) meal first, you can enjoy this for dessert and transform your meal into a THM S. Try Wonder Wraps with turkey deli meat and lettuce, along with fresh veggies and a Fuel Pull dip like my Creamy Cajun Ranch or Easy Ranch Dressing.
Maybe you need a THM XO (Crossover)? No problem! Enjoy after a THM E meal, such as baked chicken breasts with Easy Herbed Quinoa or grilled fish and Chipotle Lime Roasted Sweet Potato Salad.
Finally, enjoy a slice as a snack on a hot summer day. It's cool, creamy, and full of summer strawberry deliciousness!
Need more summer strawberry recipes? I've got a few for you…
Sugar Free Strawberry Sauce – THM FP
Sugar Free Strawberry Rhubarb Sauce – THM FP
Strawberry Rhubarb Whipped Cottage Cheese – THM FP
Layered Berries and Cream Dessert – THM S
Strawberry Rhubarb Swirl Ice Cream – THM S
Refreshing Cucumber Strawberry Smoothie – THM FP
Easy Peanut Butter and Jelly Smoothie – THM FP or S
Strawberry Mascarpone Tart – THM S
Chocolate Covered Strawberry Smoothie – THM FP or S
Special Occasion Chocolate Chip Parfaits – THM S
PIN IT!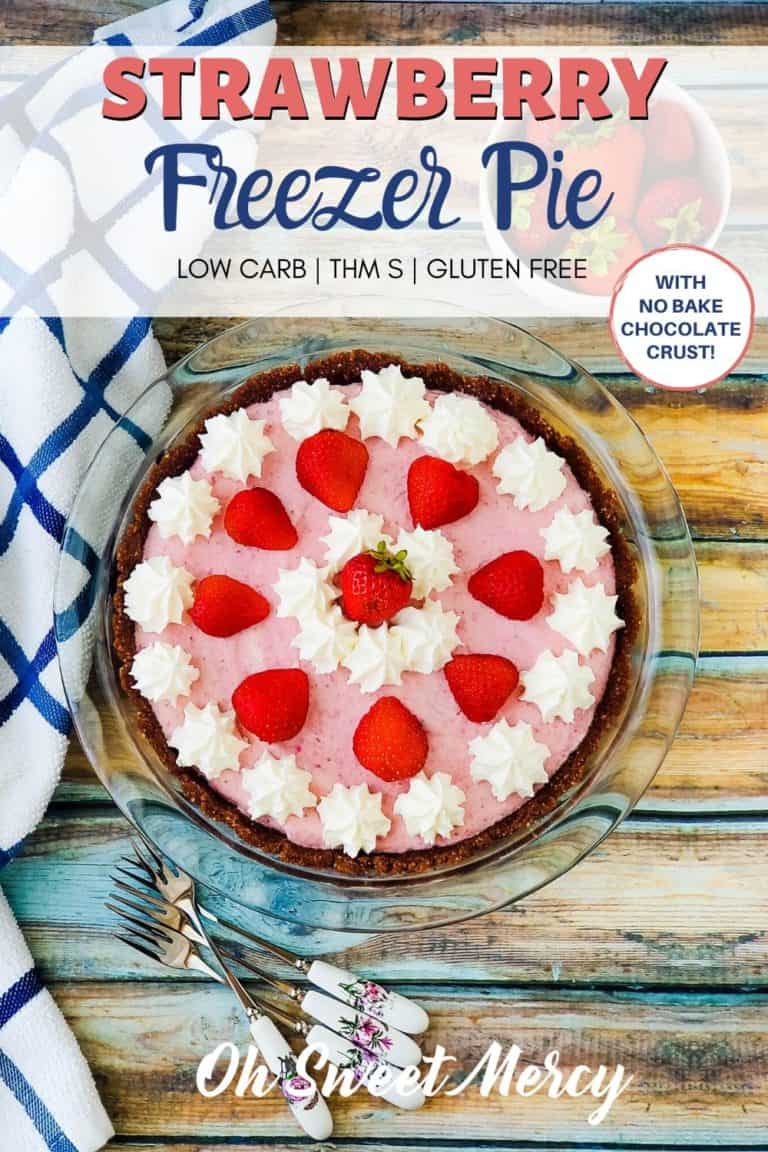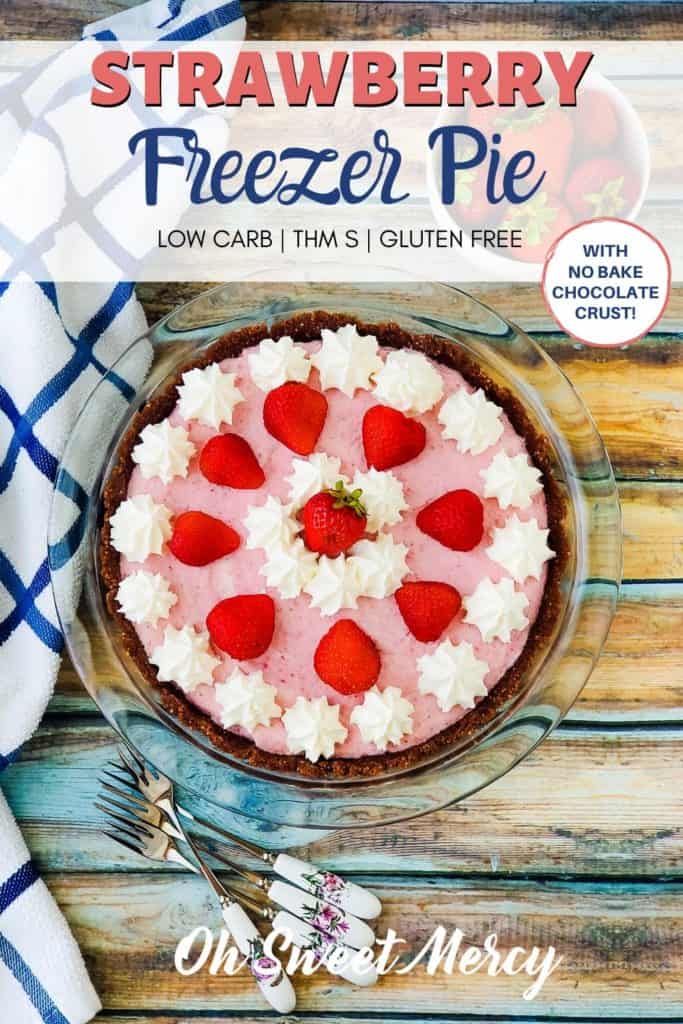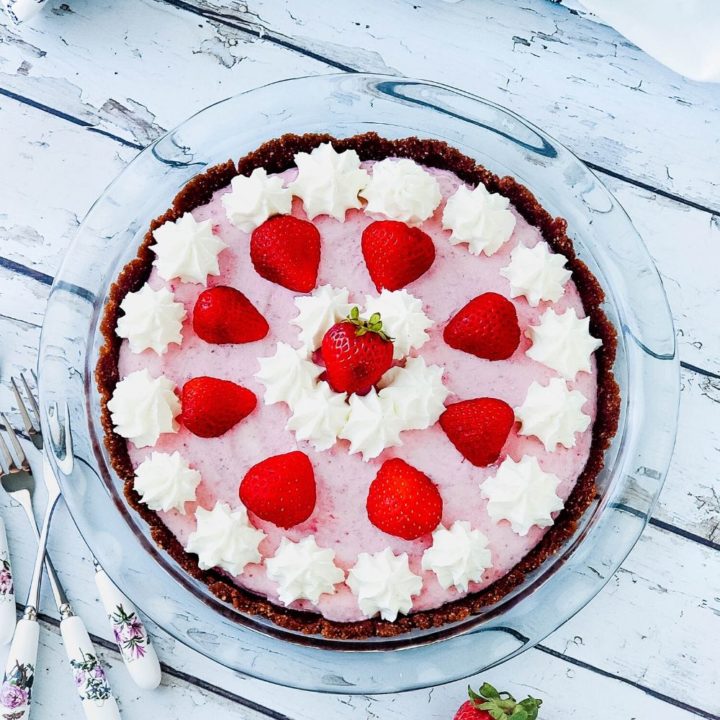 No Bake Strawberry Freezer Pie | Low Carb, THM S
Yield: 16 slices
Prep Time: 25 minutes
Freeze Time: 4 hours
Total Time: 4 hours 25 minutes
Strawberries and rich, whipped cream on a no-bake chocolate crust and frozen instead of baked. This Strawberry Freezer Pie makes a delightful summer dessert or snack. It's low carb, sugar and gluten free, too.
Ingredients
No Bake Chocolate Crust
1/3 cup butter, melted
1 1/4 cup almond flour
2 tablespoons raw cacao powder (or regular cocoa powder)
Strawberry Filling
2 cups sliced strawberries, fresh or frozen
1/2 cup low fat cottage cheese or 0% Greek yogurt
1 cup heavy whipping cream, whipped (about 2 cups whipped)
3 tablespoons Mercy Sweet, or preferred sweetener to taste
1 teaspoon pure vanilla extract
Topping (Optional)
1/2 cup heavy whipping cream
1/2 teaspoon pure vanilla extract
1/2 to 1 teaspoon Mercy Sweet, or preferred sweetener to taste
Strawberry halves or slices
Instructions
MAKE THE CRUST
In a mixing bowl, combine almond flour, sweetener, and cacao powder and whisk together to mix well.
Stir in melted butter until well incorporated.
Press crust mixture evenly into a 9 or 9.5" pie plate and set aside.
MAKE THE FILLING
In a food processor or blender, puree the strawberries and cottage cheese until smooth.
In a mixing bowl, whip the 1 cup heavy cream, sweetener, and vanilla until stiff peaks form.
Fold the strawberry mixture into the whipped cream then spread the mixture over the prepared crust.
Cover with plastic wrap and freeze at least 4 to 5 hours or overnight.
DECORATE (OPTIONAL)
Remove the pie before serving to thaw a bit and decorate, if desired.
Whip the remaining 1/2 cup whipping cream, sweetener, and vanilla until stiff peaks form.
Fill a decorator, piping bag with decorator tip, or ziplock bag and snip the corner, with the wipped cream and pipe onto the pie as desired.
Top with strawberry slices or halves as desired.
Cut into eighths then cut each slice in half to get 16 servings.
Notes
My homemade sweetener, Mercy Sweet, is about twice as sweet as regular sugar and is comparable to Pyure.
Nutrition Information:
Yield: 16
Serving Size: 1/16 pie
Amount Per Serving:
Calories: 177.1
Total Fat: 16g
Saturated Fat: 8.9g
Unsaturated Fat: 1.2g
Cholesterol: 40.8mg
Sodium: 57.9mg
Carbohydrates: 4.8g
Net Carbohydrates: 2.9g
Fiber: 1.9g
Sugar: 2g
Protein: 3.1g